We all know that WhatsApp is an application that is widely used all over the world. The app has taken over the instant messaging service with over a billion downloads. Due to this, whenever a user switches the phone, they need to transfer the WhatsApp messages and media files as well. The process is swift when users are transferring data files between the same OS, but the same can't be said across the platform. Multiple brands have provided official solution of phone migration, so as Huawei.
In this guide, we will discuss if it is possible to use Huawei Phone Clone for WhatsApp transfer and the best way to transfer WhatsApp.
What is Huawei Phone Clone?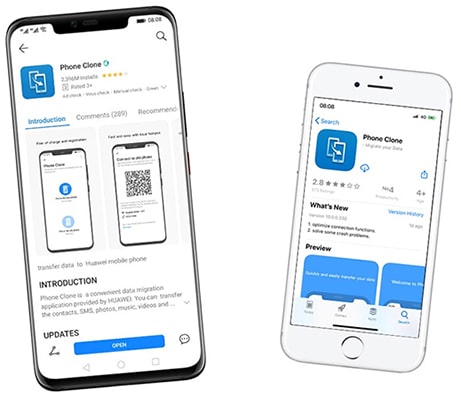 For the users that still don't know about Huawei Phone Clone, it is an application developed by Huawei for several purposes. The primary goal of designing the app is to enable data transfer across Android and iOS platforms. You can easily use the Huawei Phone Clone transfer feature to transfer the messages and media files from your old phone. It is a fast and efficient way to get all your data on the new device safely.
The transferring process is actually really smooth as Huawei Phone Clone can easily transfer data with a speed of 10MB or more per sec. So if you are switching from an Android phone to Huawei, especially from Huawei to Huawei, it is highly recommended to use this Phone Clone app.
Does Huawei Phone Clone Transfer WhatsApp?
Actually, it depends. If you are transferring from Huawei to Huawei, the Phone Clone app will support the WhatsApp transfer. But if you are switching from other phones such as Samsung or iPhone, it will not support the WhatsApp transfer. For iPhone devices, Huawei Phone Clone only supports contacts, photos, videos and schedules data. While you can also use Huawei Phone Clone alternatives to have a complete data transfer.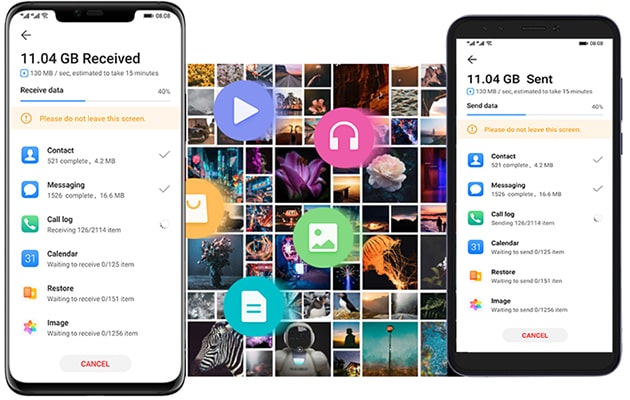 If you hope to move your WhatsApp data (chats, photos, videos & files) from old phone to new Huawei phone, we recommend a third-party tool which supports WhatsApp transfer from iPhone to Huawei as well as Android to Huawei.
Best WhatsApp Transfer Tool – iTransor for WhatsApp
This tool is specially designed for WhatsApp data transfer between Android and iPhone. Whether you need to transfer messages or the attachments, iTransor for WhatsApp will transfer photos, videos, documents, and other attachments shared via WhatsApp along with messages. No other tools or apps are needed for the process.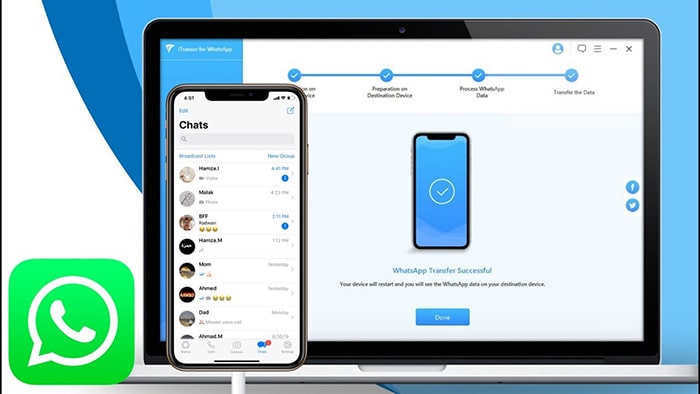 The key features of the software include:
Fast and reliable solution for WhatsApp data transfer from iPhone to Huawei and from Android to Huawei.
Transfer WhatsApp messages and multimedia files across Android and iPhone.
Backup & Restore feature for both Android and iPhone devices.
Support for a wide array of devices from iOS 9.0 to iOS 13 and Android 2.0 to 10.0.
Recommended by various reputable review sites such as MacWorld, Mack Use Of and etc.

You can download the software from the official website directly. It is important that you install the software specifically designed for WhatsApp transfer. Here is a step-by-step guide for using iTransor for WhatsApp.
Step 1

Connect Both Devices

Launch the program, choose Transfer WhatsApp between Devices mode from the left panel. Connect both the source device and your Huawei with the system.

For Android phones, it is necessary that you have enabled the USB debugging option. For iPhone, click on "Trust This Computer" and give access to the device data.

You can switch the places between Android and iOS accordingly to specify the source and destination for the transfer. By default, the Transfer tab will open up once the devices are connected with the system properly.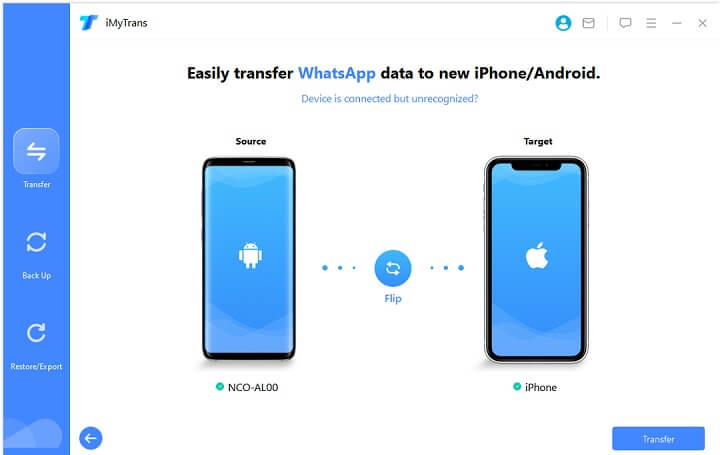 Step 2

Transfer WhatsApp

As you click on the "Start" button, the software will prepare the devices and process data carefully. The only thing you need is to wait.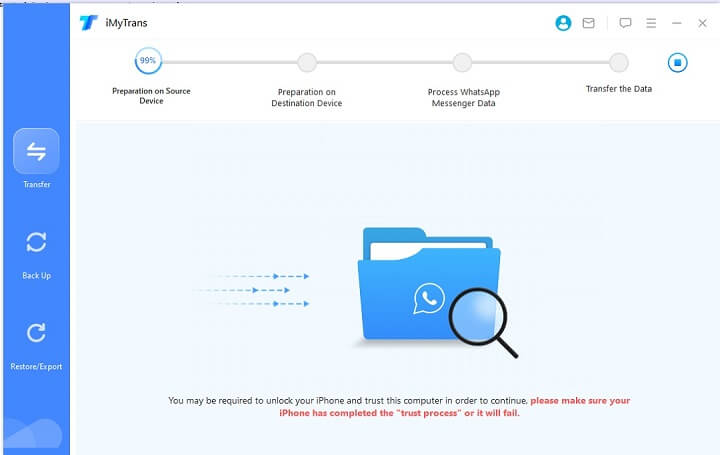 Step 3

Finish WhatsApp Transfer

It will take a while for iTransor for WhatsApp to finish the task. You will be notified when the data transfer is complete.

After the transfer, your destination device will reboot, and the changes done by the software will reflect on the device. Then, you will be able to see the chats and media files on your target device. In case you don't wish to transfer all files to the other device, you can create a backup and restore it whenever you want.