How to Download/Export WhatsApp Group Members List Phone Numbers
Category: Transfer WhatsApp
6 mins read
More than 2 billion people in over 180 countries use WhatsApp to stay in touch with friends and family, anytime and anywhere. WhatsApp phone numbers are not just people we have chats with, group phone numbers in the list can sometimes be an invisible fortune. Learn how you can export WhatsApp group members list phone numbers.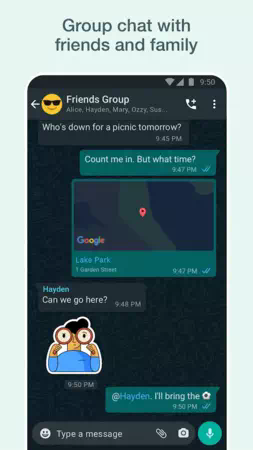 Except for chatting with individuals, almost every WhatsApp user joins several group chats containing family group, school mates group, colleague group, working group, bf group, b/g friend group, etc. We all like to catalog people we've met and lived with to enjoy more cozy and smooth conversations. It's no surprise we find out someday the phone runs so slow and reminds us that numerous data including pictures, videos, audio, messages need to be deleted.
Then comes to our topic today. How can we export WhatsApp group members list phone numbers to create extra backup and avoid insufficient phone memory, or just for business goals?
Part 1: Performance Shortcuts
For this exporting WhatsApp group phone numbers issue, we believed that you have tried quite a lot of different methods and may have solved this. Here we list 3 effective and easy-to-operate ones for those who are still in trouble exporting contacts from the WhatsApp group. First we'd like to walk you through a pretty simple table to see their difference.
Part 2: Export WhatsApp Group Members List Phone Numbers with One Click: iMyFone iMyTrans
If you wanna try something that not too technical, take a look at this tool iMyFone iMyTrans (new version of iTransor for WhatsApp), which is designed to manage WhatsApp data in a quick and direct way.
With this tool, you can export not only your WhatsApp members list phone numbers but all the WhatsApp data. The process is as easy as ABC and works for both Android and iOS devices. It works for both WhatsApp and WhatsApp Business so your WhatsApp Business phone numbers can also be kept to your computer. You can flexibly restore the backup if you have lost some of the contacts, even to a phone with different operating system.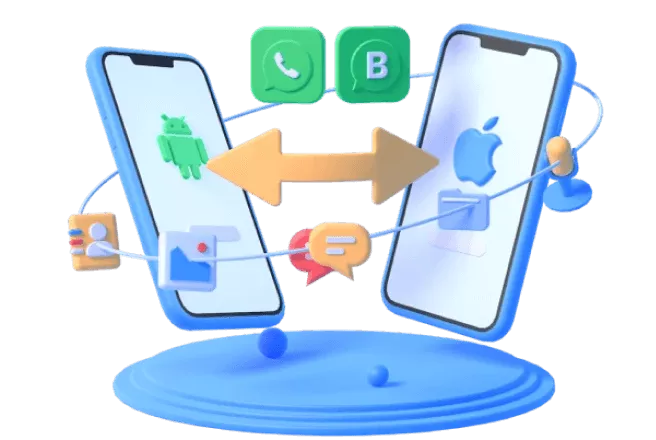 Most Impressive Features:
Direct Transfer: A cable and computer are all you need.
Easy to Operate: One click to transfer WhatsApp chat history and attachments
All Chats and Attachments Are Covered: The program will transfer all WhatsApp messages, photos, videos, contacts, and other attachments.
Safe and Sound: You don't need to worry about data loss.
You may want to see this related tutorial video: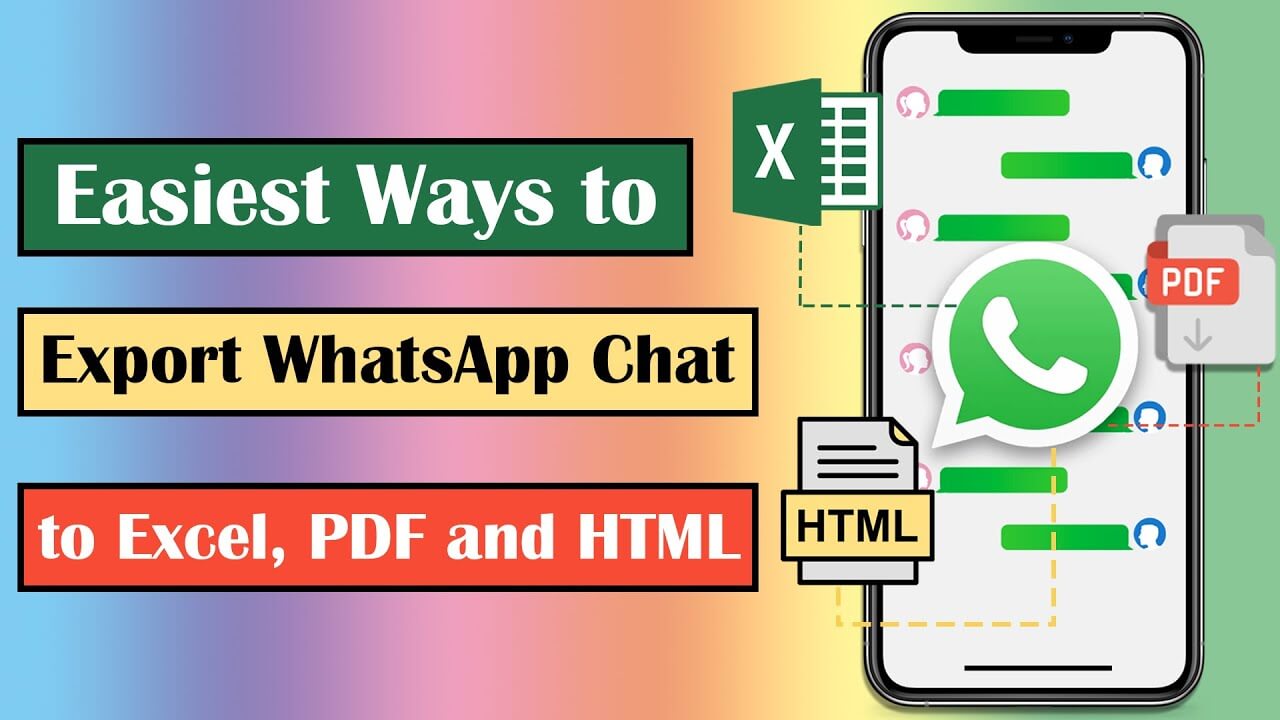 Step 1. Connect your Android device or iPhone to a computer. To get them connected enable USB debugging and allow access to phone data, or unlock the screen and trust the computer on phone. Once done, click "Back Up".

Step 2. Once it's done, select "Restore/Export WhatsApp Backup". You will see a list with the backup you just made. Select it and click on "Export to Computer", the program will start to scan the WhatsApp data in this backup.

Step 3. After that, all your WhatsApp chats will be shown in the screen. At the bottom of the interface, select XLS, HTML, or PDF (we have all covered) and click "Export".

Step 4. We recommend HTML here as it will allow you to read the WhatsApp chat on the browser just like it is on your phone. In the exported file such as XLS, you will see all the chosen group contacts and your chats.
Part 3: Copy WhatsApp Group Members List Phone Numbers through HTML
WhatsApp offers a dedicated web version that lets us access the application on our computers. Therefore, you can first access the web version of WhatsApp on your computer to copy your group members list phone numbers. To learn how to copy WhatsApp Group members list phone numbers to Excel manually, the following steps can be taken.
Step 1. Access WhatsApp Web on Your Computer.

Before you begin , you would like A WhatsApp enabled mobile, a laptop or desktop with Firefox or Chrome browser and a lively internet connection for the PC and mobile.

Go ahead and open WhatsApp on your mobile and attend Settings > WhatsApp Web. This may open the mobile camera to scan the QR Code. Now attend your desktop/laptop and open WhatsApp Web on your browser.

Step 2. Copy the WhatsApp Group Phone Numbers.

Now, you've got to pick the WhatsApp group on PC that you simply want to extract the phone numbers. This may open the group chat section on the proper side. Here you would like to right-click on the highest ribbon bar where names and details of the group are visible.

Then select "Inspect" (see highlighted elements in the below image). you can also perform CTRL+SHIFT+I for an equivalent. This may open the developer's tool within the browser.

Step 3. Go to the Elements Section.

Place your mouse on details text then press CTRL+SHIFT+C. This tool is worked as "Element" selector so you'll as many classes or attributes as you hover over the screen.

This will open all the backend codes of the WhatsApp Web app including the front information. But since our main motive is to urge all contacts from the group to stay the mouse cursor nearby details of the group.

Step 4. Select and Copy Element.

Click on the names and you'll see the HTML div and span tag with the names or mobile number digits. Now again do right-click on the span tag and click on "Copy OuterHtml". Once Copied, minimize the browser by pressing Window key+ D.

Step 5. Export WhatsApp Group Phone Numbers to Excel.

Open Notepad or other Windows Text Editor in your system and paste the copied HTML. Now, you can manually get rid of any unwanted and unreadable code from the text. You can also use the Replace feature of the text editor to replace them with a blank.
Part 4: Download WhatsApp Group Members List Phone Numbers via Export Contacts for WhatsApp
Besides a manual operation you may wanna use another readily available app which takes fewer efforts to download WhatsApp group phone numbers. The last method mentioned in this article will directly download the WhatsApp contacts in a CSV file, no complicated measure is needed.
More importantly, you can directly reach to people who are using WhatsApp easily and quickly without investing a penny because this application is totally free. However, Export Contacts for WhatsApp has one huge limitation. It only allows 100 phone numbers to export in its free version. For people who are doing businesses with Bulk SMS Advertising and promotion on WhatsApp, you may wanna try the paid plan or just go back to the last two methods - WhatsApp Web or iMyFone iMyTrans (new version of iTransor for WhatsApp).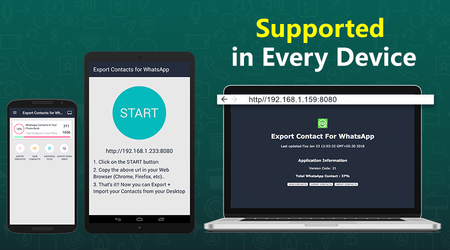 Step 1. Download and launch the app.
Step 2. Click on Export Contacts. A Pop-up Window will generate notifying you can only export up to 100 contacts for free.
Step 3. Enter the file name as per your requirement and Click Export.
Successful Message and Location of Exported File Will be displayed. Furthermore, the exported file is directly stored in the Mobile for usage.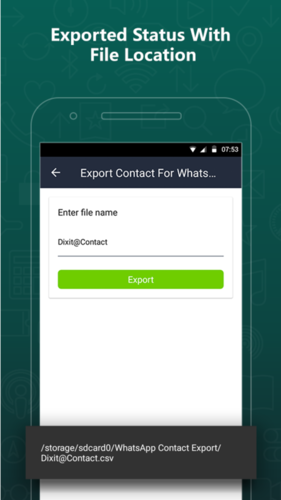 The reason why this app still stands out is the exported WhatsApp group phone numbers in CSV format through this way can then be further converted into VCF or vCard format. Now allow me to walk you through how people move their group phone numbers of WhatsApp via this handy app. WhatsApp is also used on PC nowadays and so is this application. So if you like to know more about how does it work on Window Desktop, please come to this page:
Conclusion
We are living in an era of smartphone's where Bulk data appears and save on our phones, while around 1 Billion active users are using WhatsApp every day. No matter for a personal reason to free up phone,or to promote business, products and services on WhatsApp, having a handy app or technique is beneficial for people who wish to export WhatsApp group phone numbers easily.
In the post we recommended 3 ways to achieve this goal, we are not sure which you prefer, but we're always happy to help!