2 Simplest Way to Hide WhatsApp Online Status
Category: Transfer WhatsApp
5 mins read
WhatsApp is undoubtedly one of the most popular messaging apps in the world, with millions of users relying on it for their daily communication needs. However, there are times when you may prefer to keep your online status hidden for various reasons, such as privacy or simply wanting to avoid unnecessary interruptions.
In this article, we will explore the two simplest ways to hide your online status on WhatsApp and also provide a bonus tip on seamlessly transferring your WhatsApp data to GB WhatsApp.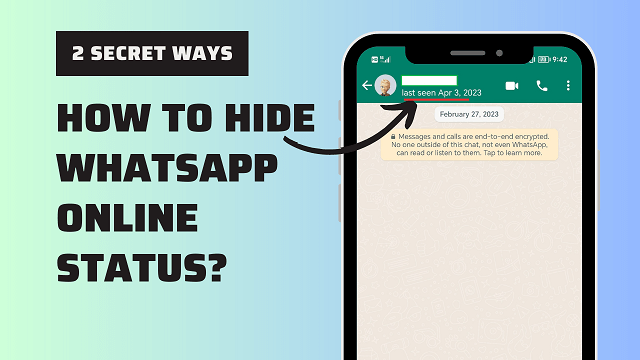 Method 1: Set Up WhatsApp Last Seen [For Android & iOS]
WhatsApp provides a built-in feature that allows you to customize your last seen status, giving you control over who can see your online activity. In this way, you can also hide WhatsApp online status while chatting to someone you want to block. Follow these simple steps to set up WhatsApp last seen:
Step 1. Open WhatsApp Settings
Open WhatsApp on your smartphone and tap on the three-dot menu icon located in the top-right corner of the screen. From the dropdown menu, select "Settings."
Step 2. Go to Account Privacy
In the settings menu, navigate to "Account" and then select "Privacy."
Step 3. Customize Last Seen Options
Within the privacy settings, you'll find various options to customize who can see your last seen status. By default, it is set to "Everyone," but you can choose to restrict it to your contacts or even hide it from everyone by selecting the "Nobody" option.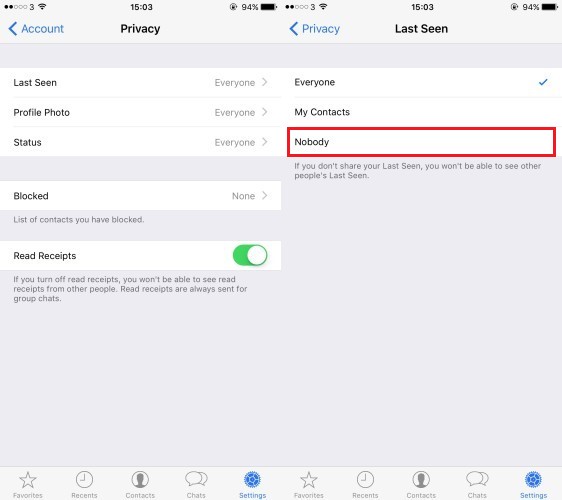 By following these steps, you can effectively hide your online status on WhatsApp, allowing you to browse and communicate without constantly being seen as online.
Method 2: Use WhatsApp Mod – Hide Online Status on GB WhatsApp
If you're looking for a more comprehensive solution that goes beyond just hiding your online status, you can consider using WhatsApp Mod. WhatsApp Mod is a modified version of WhatsApp that offers additional features and customization options, including the ability to hide your online status. Here's how you can hide online status on GB WhatsApp: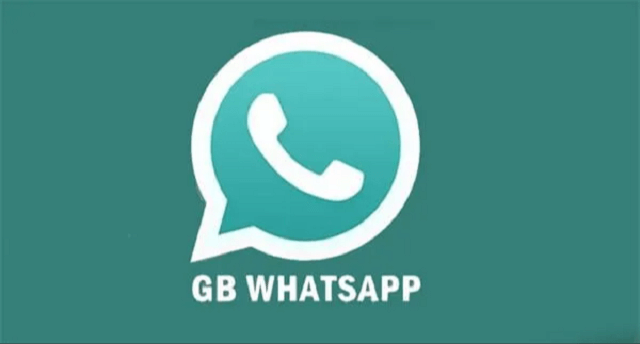 Step 1. Download and Install WhatsApp Mod
To get started, you'll need to download the WhatsApp Mod APK file from a trusted source. You can find it by performing a quick internet search. Then, install the APK file.
Step 2. Set Up WhatsApp Mod
After installation, open GB WhatsApp and proceed with the initial setup, including verifying your phone number.
Step 3. Enjoy Hidden Online Status
Once you're set up on GB WhatsApp, you'll find additional privacy settings that allow you to hide your online status. Explore the settings menu and customize your preferences to keep your online activity private.
Using GB WhatsApp gives you greater control over your privacy, with options to hide not just your online status but also other information like blue ticks and typing indicators.
Bonus: How to Transfer WhatsApp Data to GB WhatsApp Seamlessly?
If you're considering switching to GB WhatsApp, a popular modified version of WhatsApp, you might be wondering how to transfer your existing WhatsApp data seamlessly. Follow to ensure a smooth transition:
iMyFone iMyTrans - Transfer WhatsApp from Android to iPhone With a few Clicks!
Seamlessly transfer WhatsApp data between devices with different operating systems, such as moving from iOS to Android or from Android to iOS.
Compatible with over 6000 smartphone models running on iOS and Android, ensuring widespread support.
Safely transfer data without the need to reset devices or delete any original data.
Offers multiple transfer options, including phone-to-phone transfer, phone-to-computer transfer, and backup & restore functionality.
Fully compatible with the latest operating system versions, ensuring optimal performance and reliability.
Step 1. Backup WhatsApp Data
Before uninstalling the original WhatsApp, make sure to back up your data. Open WhatsApp, go to "Settings," select "Chats," and then tap on "Chat backup." Perform a manual backup to save your chats, media files, and other data.
With iMyFone iMyTrans (pre iTransor for WhatsApp), you can back up WhatsApp data free (for iOS).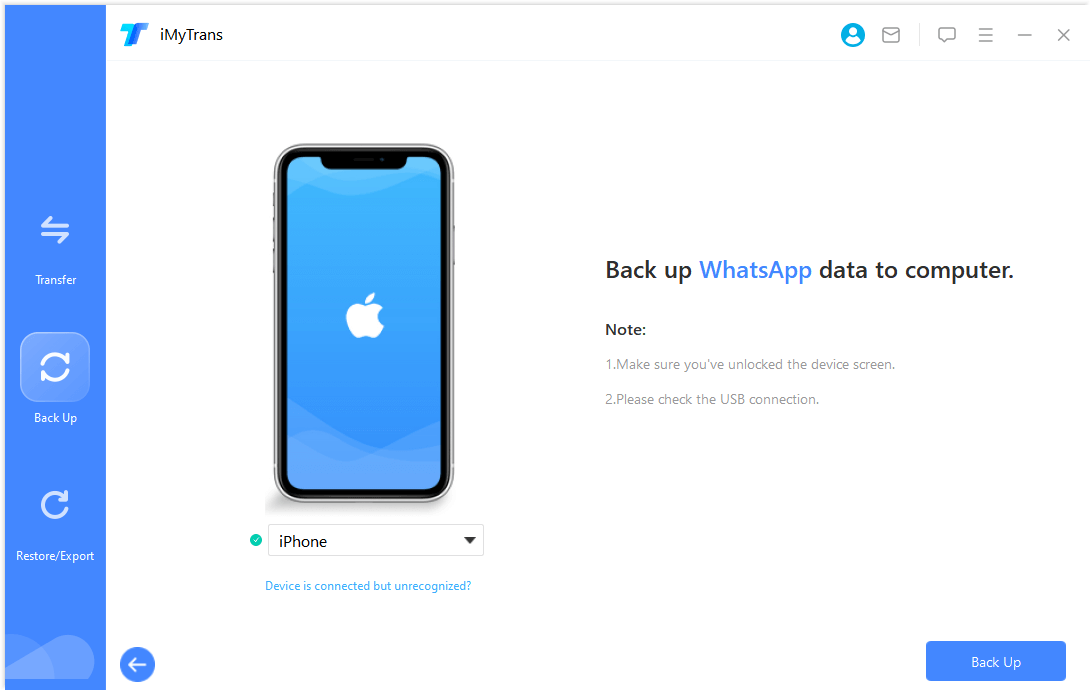 Step 2. Uninstall WhatsApp
After creating a backup, uninstall the original WhatsApp from your smartphone. You can do this by long-pressing the app icon, selecting "Uninstall," and confirming the action.
Step 3. Download and Install GB WhatsApp
Proceed to download the GB WhatsApp APK file from a trustworthy source. Then install the APK file.
Step 4. Restore WhatsApp Data on GB WhatsApp
After installing GB WhatsApp, open the app and follow the setup process, including verifying your phone number. During the setup, you'll be prompted to restore your WhatsApp data.
Select the option to restore from the previously created backup.
By following these steps, you can seamlessly transfer your WhatsApp data to GB WhatsApp and continue using the modified version without losing any important conversations or media.
Nevertheless, you can transfer GB WhatsApp to WhatsApp on Android with one app – iMyFone iMyTrans. Only a few clicks to operate!
Transfer/Backup/Restore WhatsApp in one App!
168,282 people have downloaded it.
Transfer WhatsApp data from GB WhatsApp to WhatsApp with few clicks.
Compatible with 6000+ mobile phones.
Transfer data safely without cloud storage.
Transfer and backup WhatsApp data across iOS/Android/Win/Mac
Conclusion
Hiding your WhatsApp online status can provide you with privacy and control over your availability. By following the methods outlined in this article, you can easily hide your online status on WhatsApp. Whether you choose to utilize the built-in last seen settings or opt for a modified version like WhatsApp Mod, the choice is yours. Additionally, if you decide to switch to GB WhatsApp, you now know how to transfer your WhatsApp data seamlessly. Remember to always prioritize your privacy and choose the option that best suits your needs.
FAQs
FAQ 1: Will hiding my WhatsApp online status affect my ability to see other people's online status?
Yes, hiding your online status on WhatsApp will affect your ability to see other people's online status. You won't be able to see their last seen status, whether they hide it from you.
FAQ 2: Can I still receive messages when my online status is hidden?
Yes, even if you hide your online status, you will still receive messages on WhatsApp. Hiding your online status only affects the visibility of your own activity, not your ability to receive messages.
FAQ 3: Is it possible for someone to know if I'm online even if I've hidden my online status?
In some cases, it is still possible for someone to know if you're online, even if you've hidden your online status. For example, if you respond to a message immediately after receiving it, the other person may deduce that you're online.
FAQ 4: Are there any other benefits of hiding my online status on WhatsApp?
Apart from privacy reasons, hiding your online status can provide you with the freedom to use WhatsApp without constantly being seen as available. It allows you to browse messages and respond at your convenience.
FAQ 5: Is it legal to use WhatsApp Mod or GB WhatsApp?
Using modified versions of WhatsApp like WhatsApp Mod or GB WhatsApp is not officially supported by WhatsApp and may violate their terms of service. While these modified versions offer additional features, it's important to understand the potential risks and use them responsibly.