WhatsApp is one of the biggest message platforms nowadays. It allows you to connect with people all around the world while keeping your messages encrypted and safe. If you are still new to this platform, then you need to learn how to add someone on WhatsApp.
In this article, I will share how to add contacts in WhatsApp for Android and iPhone versions to you! And you can learn how to add someone on a WhatsApp group and add their number to your mobile device. Let's get start now!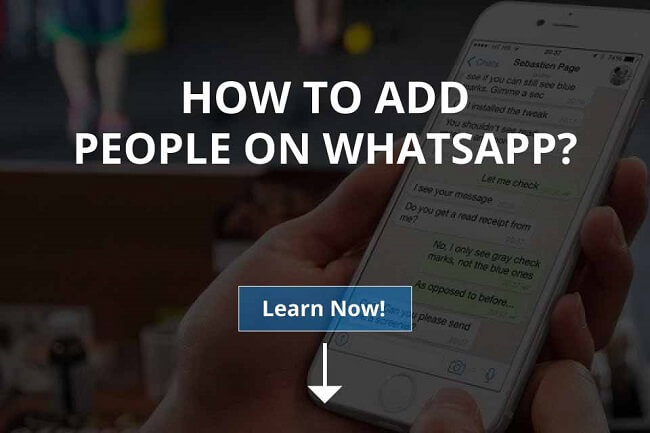 Add Someone to WhatsApp [Android & iPhone Version]
To add someone on WhatsApp, you need the other person's number. If a person writes a message to you and you do not have this contact added, you will only see the contact number as their name. Also, you are not available to see a person's stories if you do not have them added to your contacts.
Remember that to use WhatsApp without any issue, you need to be connected to a high-speed internet network. Also, make sure the contact information is being saved in a safe location. Here are the detailed instructions for users from Android and iOS.
For Android
Install WhatsApp on your phone and synchronized with your phone number. Then launch the application.
Go to the "Chat" tab. Here you will be displayed all the current chats you have with all your contacts.
Tap on the "Settings" > "New Contact".
Here you need to enter the new contact information and necessary details. The number and name are indispensable.
Tap on "Save" to apply the contact information.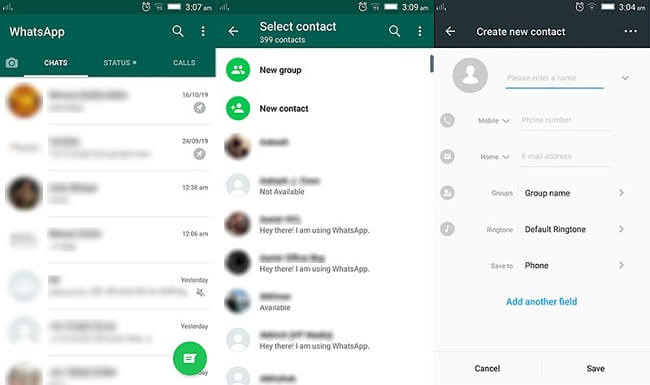 Tips
It also works if you save the contact on your phone contacts. If the user has a WhatsApp profile, then after you refresh your WhatsApp contact lists you will see the new contact added.
For iPhone
On the iOS version of WhatsApp, you need to add the contact to your iPhone Contact list first. To do so open your Contacts app on your iPhone,
At the upper right corner you will see the "+" icon that allows you to add new contacts. Tap on this option.
The New Contact screen will be displayed. Here, you need to enter all the information for the new contact. The contact number and name are required as the minimum information.

Now, once you refresh your WhatsApp contact list, you should be able to see the new contact displayed if that contact has a WhatsApp profile.
How to Add Someone on WhatsApp Group
On WhatsApp, you can create group chats where multiple users share their messages and files simultaneously. A WhatsApp group has administrators that are the users with the permission to add or to remove users to the group. The administrators from a group can also decide to block the group chat. Let us focus first on how to add someone to the WhatsApp group.
As we mentioned, to add someone to a WhatsApp group, you need to be a group administrator. Here is a detailed guide for Android and iOS users:
For Android
Open WhatsApp and go to the "Chats" tab. There you will see all the previous chat with other users displayed.
Tap on the new chat option at the lower right corner of the screen.
A new chat screen will be displayed. Among the first options, you will see the option "New Group". Tap on this option.
Now, you will be displayed your entire contact list. Select the persons you want to add to your WhatsApp group. Tap on the green arrow to proceed.
Lastly, type the group number to complete the group creation.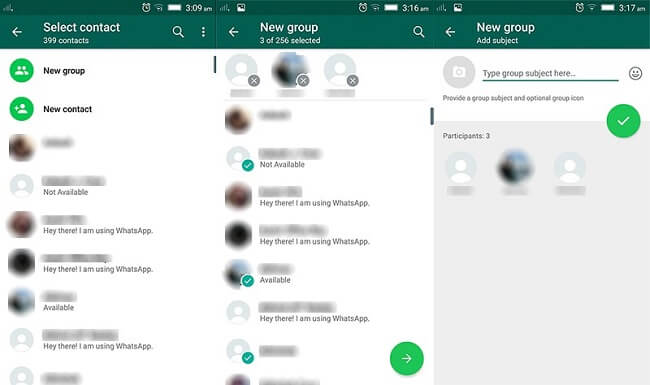 For iPhone
Launch WhatsApp and click the "Chats" tab, located at the bottom of the screen.
Tap on the "New Group" option located right below the search bar.
The "New Group" screen will be displayed. Here, you enter the group name, description, and picture. Then you can tap on "Next".
The last step is to select among your contact list, all the members of the new group. Once you are done, tap on "Create" .

Add Someone on WhatsApp from another Country

You can add contacts from another country on WhatsApp. To do this you can follow the normal procedure to add a new contact. The main difference is that you need to enter the country code while inserting the contact number.

Each country has a specific code for its phone users. It only has two numbers and a "+" at the start. It is included at the beginning of the number. For example, if you are adding a contact from Germany, then you exchange the zero at the start of the phone number with the code number from Germany "+49".

How to add a contact via QR Code

You can save time if you decide to add a contact using a QR Code. This also avoids any mistype of the contact information. Once you scan the QR code it will be automatically saved on your contacts with all the required information.

First, tap on the "Settings" option at the upper right corner of the screen on your WhatsApp.
Then, tap on the "Scan" icon, it looks like four squares placed together.
 

Hold your cellphone camera and scan the whole QR code.
Once it vibrates in recognition, tap on the "Add Contact" option. Ant the contact will be saved on your device and WhatsApp contacts.

Bonus Tips: A Recommended App to Backup Your WhatsApp Data

WhatsApp can prepare backups of all your chats. However, it does not guarantee to keep all your contacts information or files. Also, you only can install WhatsApp at one device at a time using the same number. That can be troublesome if you want to synchronize two devices' WhatsApp using the same number of information.

In this situation, you can use an external app tool to keep all your WhatsApp information with backup. We recommended iMyFone iTransor for WhatsApp. It is compatible with iPhone and Android devices.

It has the following useful features:

Transfer WhatsApp data from iPhone to Android devices.
Allows you to save your WhatsApp backup on your computer.
Export your WhatsApp chats and information in different formats like HTML, PDF and CSV/XLS.
Keeps all your chats and information safe and secured.
It backups all the shared files on the conversations, that includes pictures, videos, voice recordings, and documents.

Just 3 steps to use iMyFone iTransor for WhatsApp

Download iTransor for WhatsApp and connect your device to PC, and allow access to phone data. Click "Backup", then choose backup "WhatsApp" or "WhatsApp Business".

For Android phones, the program will install customized WhatsApp to access your WhatsApp data. And you need to follow the instruction guide on the screen to finish this part.

Note

If you use an iPhone, just wait for the program to finish.

There will have a notification when the backup is completed. Just wait for a few minutes.

FAQ

1

How to invite someone to WhatsApp?

Open your Settings menu on WhatsApp (The three dot icon) and tap on the "Settings" option. Click on "Invite a Friend" and you will be displayed all the mediums you can use to send the invitation to your friend.

---

2

How to create a chat group on WhatsApp?

Go to the "Chats" on WhatsApp. There, tap on "New Chat" and then select the option "New Group". Select the contact you want to add to the group and then tap on "Next". Now, add the group name and image.

---

3

Why can't I add a contact to WhatsApp?

It is possible that the contact you want to add does not have a WhatsApp profile created. Make sure that you are typing the new contact information correctly, with the right country code and the right phone number. Another alternative is that the person has blocked your user.

---

4

How to Delete WhatsApp Contact?

On the Chat tab of WhatsApp, tap on the "New Chat" option that looks like a small message with a green circle. Tap on the contact you want to delete, then select the settings option and go to the Address Book information. There, you choose to delete the user.

Conclusion

WhatsApp is one of the most used communication services. It is reasonable learn how to add someone on WhatsApp and other functions. You can communicate for free with persons from other countries if you save their contacts with the right country code.

We hope that this guide helped you understand some of the basic features from WhatsApp. For example, learning how to add someone on a WhatsApp group could be a useful knowledge to communicate with your friends and colleagues.