If you are like most people and you use WhatsApp a lot, you probably have a lot of WhatsApp messages on your device. It would be a shame to lose some or all of the messages on the device which is why there is a safeguard against data loss; a backup. Most people choose to back up their devices via Google drive which is a great solution but can be problematic when you want to restore the data. To get more control over their WhatsApp backup, most people choose an SD card instead. This article will show you how to restore WhatsApp data from an SD card.
Make Sure You Have a Recent Backup to Restore from
Before you can learn the various ways to restore a backup from an SD card, you must first ensure that you have a backup to restore from and the best way to do that is to create a recent backup. Follow these simple steps to create a full backup of all WhatsApp data to your SD card;
Step 1: Open WhatsApp on your phone and the go to "Menu > Settings".
Step 2: Begin by disabling the automatic Google Drive Backup. To do that tap on "Chats > Chat Backup> Backup to Google Drive" and the select "Never"
Step 3: Once the automatic Google Backup has been disabled, tap on "Back Up" and a backup will be crated to your SD card instead.
Step 4: Once you have created the backup, go to Chats > Chat Backup" and then check the date of the most recent backup.

How to Restore WhatsApp Backup from SD Card
Once you are certain you have a recent backup on your SD card, you can restore it to WhatsApp using the following simple steps;
Step 1: Download a file manager app from the Play Store and install in on your device
Step 2: Use the file manager app you've just installed to locate the folder named sdcard/WhatsApp/Databases which is where your WhatsApp backup is stored.
Step 3: In this folder, you should see the backup file named "msgstore-YYYY-MM-DD.1.db.crypt12" rename it to "msgstore.db.crypt12". If the backup if on a much earlier protocol, it may be "crypt 9" or "crypt 10". Don't change the number of the crypt extension.
Step 4: Now uninstall WhatsApp and then reinstall it from the Play Store.
Step 5: When WhatsApp detects the backup, Tap "Restore" and then follow the prompts to complete the setup.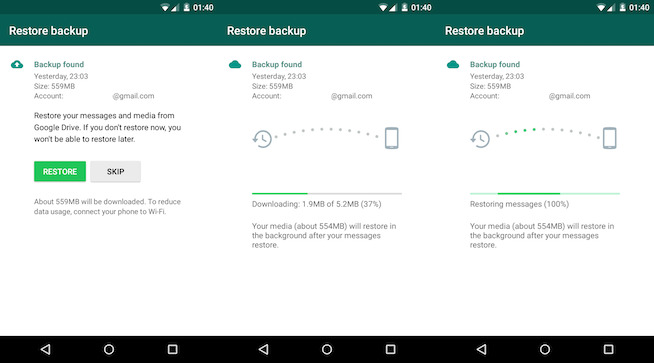 Alternative Way to Backup and Restore WhatsApp
While you might be able to backup WhatsApp data on your SD card, there are certain risks associated with this solution. To begin with, SD card are susceptible to damage and when they do become damaged or corrupted by a single file, it can be impossible to get any data out of the SD card. Fortunately, there is a far easier way to backup and restore WhatsApp data on your device and it is known as iTransor for WhatsApp.
iTransor for WhatsApp allows users to easily backup all WhatsApp data on Android or iPhone device and restore the data back on an Android or iOS device without os-restriction. It's worthy to try if you want to find an alternative way to backup and restore the WhatsApp on your smartphone.
How to Use iTransor to Backup WhatsApp
Follow these simple steps to use iTransor for WhatsApp to create a full backup of all WhatsApp data;
Step 1: Install iTransor on to your computer and launch it. Click on "Backup WhatsApp on Devices" and then connect the device to the computer using USB cable.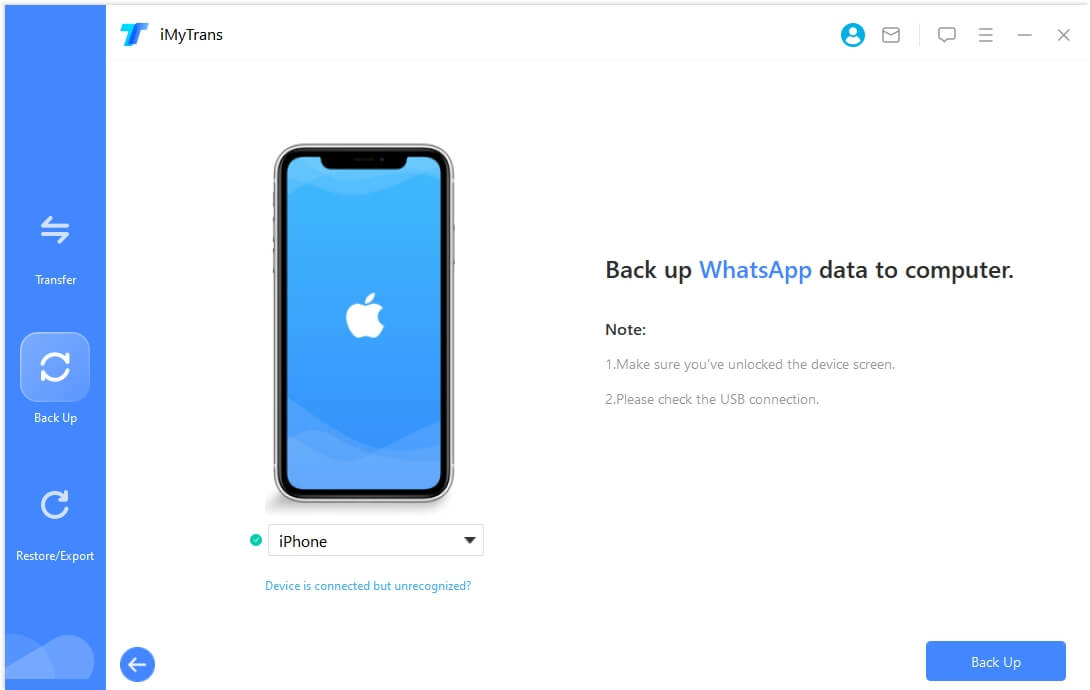 Step 2: Click "Backup" as soon as the program detects the device and then keep the device connected to the computer until the process is complete. Disconnect the device when you receive notification that the backup has been successful.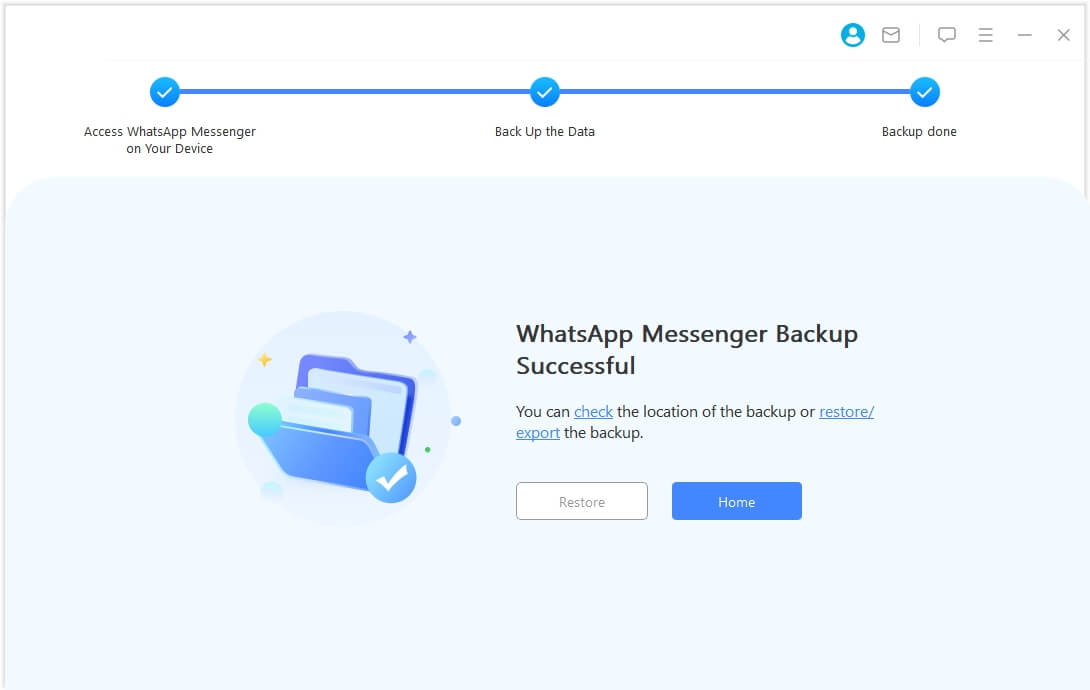 How to Use iTransor to Restore WhatsApp Backup
Follow these simple steps to restore the backup on your device using iTransor for WhatsApp;
Step 1: In the program's main window, select "Restore WhatsApp to Devices" and then select the backup file you would like to restore to the device.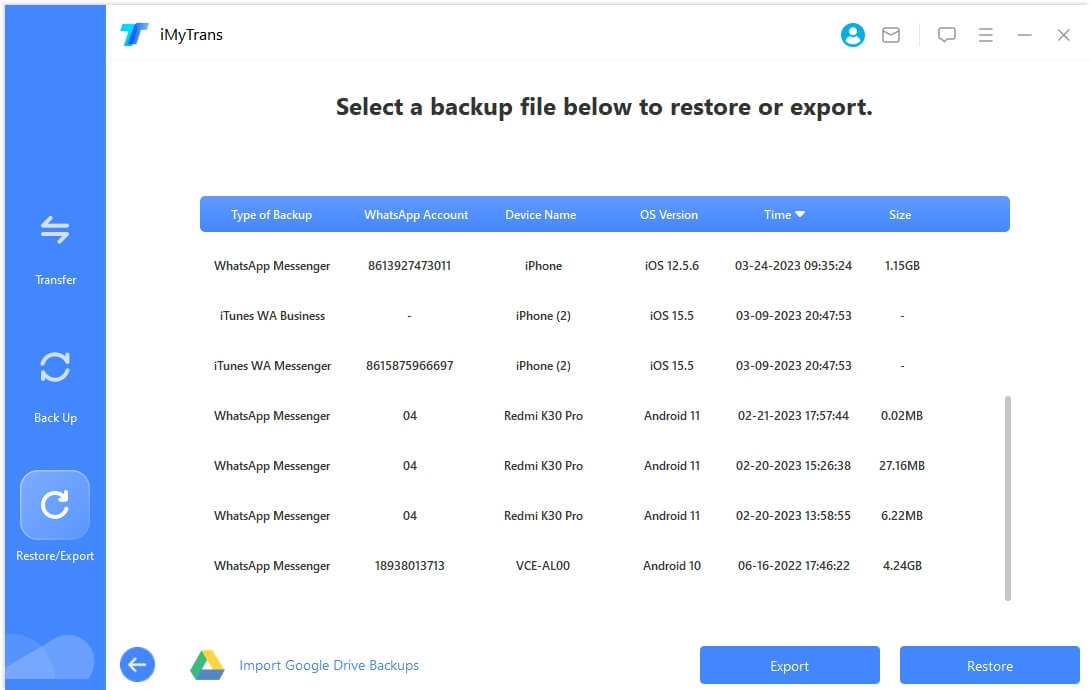 Step 2: Now, connect our device to the computer using USB cables and when the program detects the device, click on "Restore" to begin the process. The WhatsApp data on the device will be erased, therefore back them up before the restore. Once the restore process is complete, you should be able to see all the WhatsApp data back on your device.