Have you ever had moments when you checked a message on WhatsApp after a while, the message disappeared? If that's the case, congratulations! You just experienced the unique disappearing messages on WhatsApp! For those who would like to know how to send disappearing messages on WhatsApp, we will show you the steps in this article.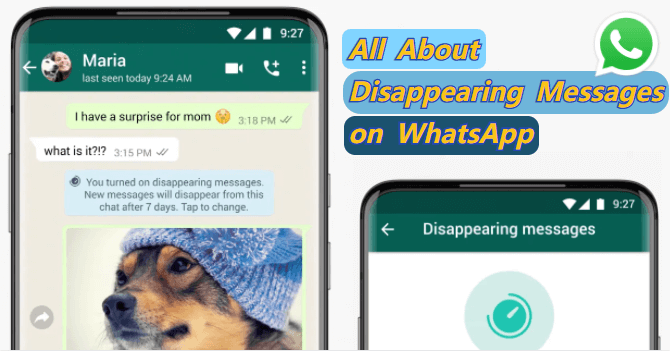 1. How to Send Disappearing Messages on WhatsApp
Sending disappearing messages on WhatsApp might look like magic, but making disappearing messages can be done easily by everybody. Check out the details below on how to send disappearing messages on WhatsApp!
About Disappearing Messages on WhatsApp
As stated early in the beginning, disappearing messages on WhatsApp is the condition when someone's WhatsApp messages disappear after some time. For example, A sends a message to B. When A sent the message, he activated the disappearing messages after 7 days. When this feature is activated, B won't be able to see the messages 7 days after opening it because it will be gone after the set time. However, the other party can also save WhatsApp messages before they disappear.
Steps to Send Disappearing Messages
No need to worry about steps to activate disappearing messages. Doing it is as easy as counting, and it can be done in less than 5 steps. Here's how to send disappearing messages on WhatsApp:
Open WhatsApp, go to Chat or Contacts and search for the contact you would like to apply the disappearing messages to.
Open the chat and click the contact name at the top.
Scroll down and find Disappearing messages. It should be off right now.

Pick the time you would like the message to disappear (24 hours, 7 days, or 90 days).
After you tweak the feature according to your preference, save the settings.
2. How to Deliver View Once Photos & Videos on WhatsApp
Now that we know how to send disappearing messages, we can move to another "disappearing" feature that's meant for media, to be specific photos. The feature is no other that the option to view once for photos.
About View Once on WhatsApp
View once option is pretty similar to disappearing messages, except that it does not rely on the time but on the amount of time you have seen the photo or video. For example, if you tweak the view once so that the person can only see the photo once, it means that the photo or video won't be accessible after the person opens them once. Still remember, the receiver can still save the media files before they really open.
Steps to Send View Once Photos and Videos
The steps to send a view once photos and videos are relatively easy, but users don't start by searching the contact. Here's the proper steps to do it:
Go to the Chat and hover to the chat bar.
Click on the icon on the left of the camera icon, and click on Gallery or Camera.

Find the photo or video you would like to send.
When you upload the file, look at the chat bar and turn on the 1 icon on the right side.
Once the 1 icon has been turned on, send the file away.
3. Can I Back Up WhatsApp Disappearing Messages/Photos/Videos?
If you're on the receiving end of the feature, don't worry because you can still back up disappearing messages, as long as it doesn't disappear before the chat expires. If you want to backup the WhatsApp message without fuss, look no other than iMyFone iTransor for WhatsApp.
Although we can backup files from WhatsApp directly, iMyFone iTransor for WhatsApp offers features the original software does not give us. It offers security that will prevent data loss and leakage, making it perfect for those who need to guard their files tightly.
Main Features about iTransor for WhatsApp
Backup all WhatsApp messages including disappearing messages and view once media files before they disappear.
You can also easily import your WhatsApp Google Drive backup without OS restrictions.
WhatsApp data can be transferred between devices of same platform and also cross-platform.
You can store WhatsApp from phone into PC or vice versa, no more worries about privacy.
Also, you can export your WhatsApp backup to PDF, HTML, or CSV/XLS, etc.
Step 1.Connect Devices and Choose Mode
Download and run iTransor for WhatsApp on your computer. Then choose Back Up WhatsApp on Devices from the left panel and connect your phone to computer.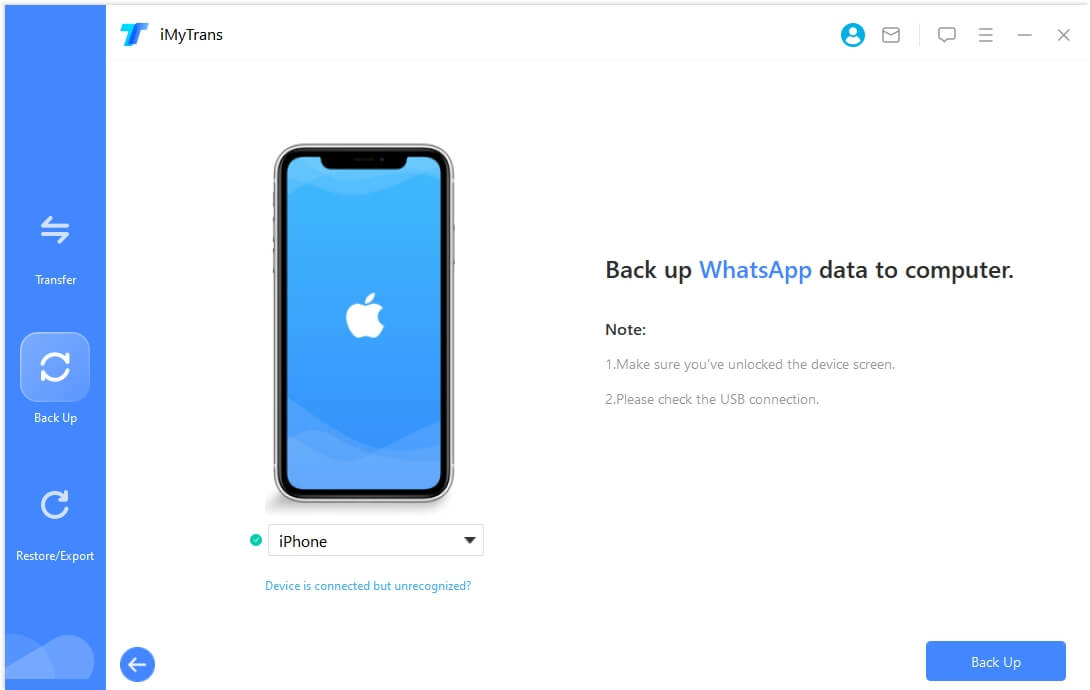 Note
Remember to
enable USB debugging
on Android and
Trust the computer
on iPhone.
Step 2.Start Backup and Process
The program will start to process after pressing Back Up button. You may need to do manual operation according to the notes on computer if you are an Android user.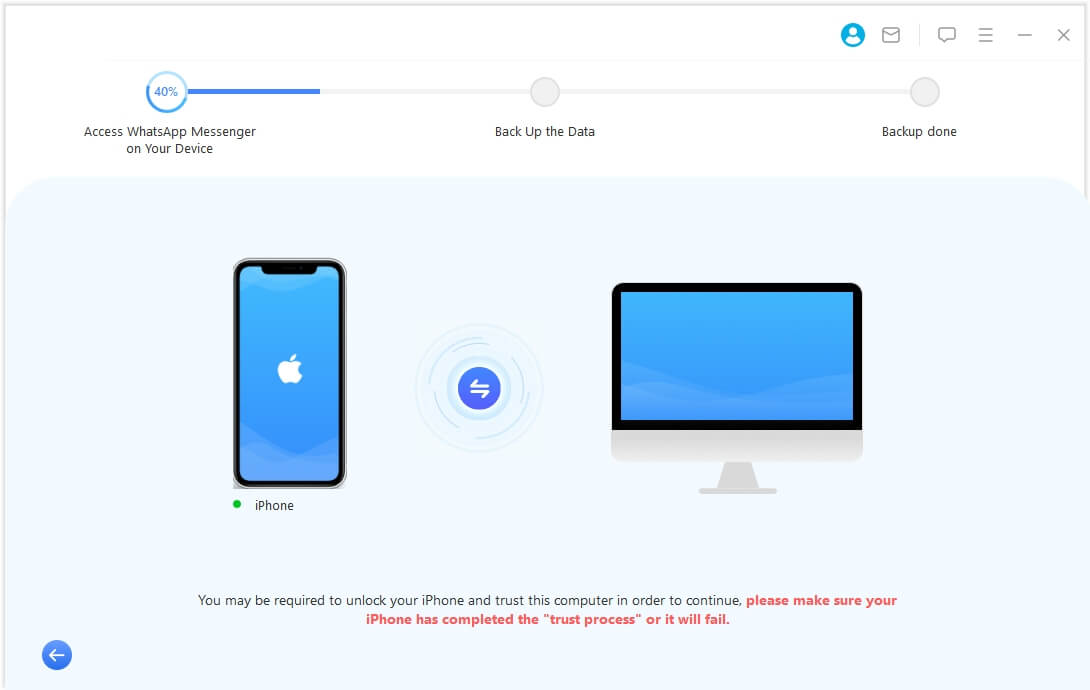 Step 3.Finish Backing Up and Check
Wait until the process is done. And you can check the backup by clicking on check.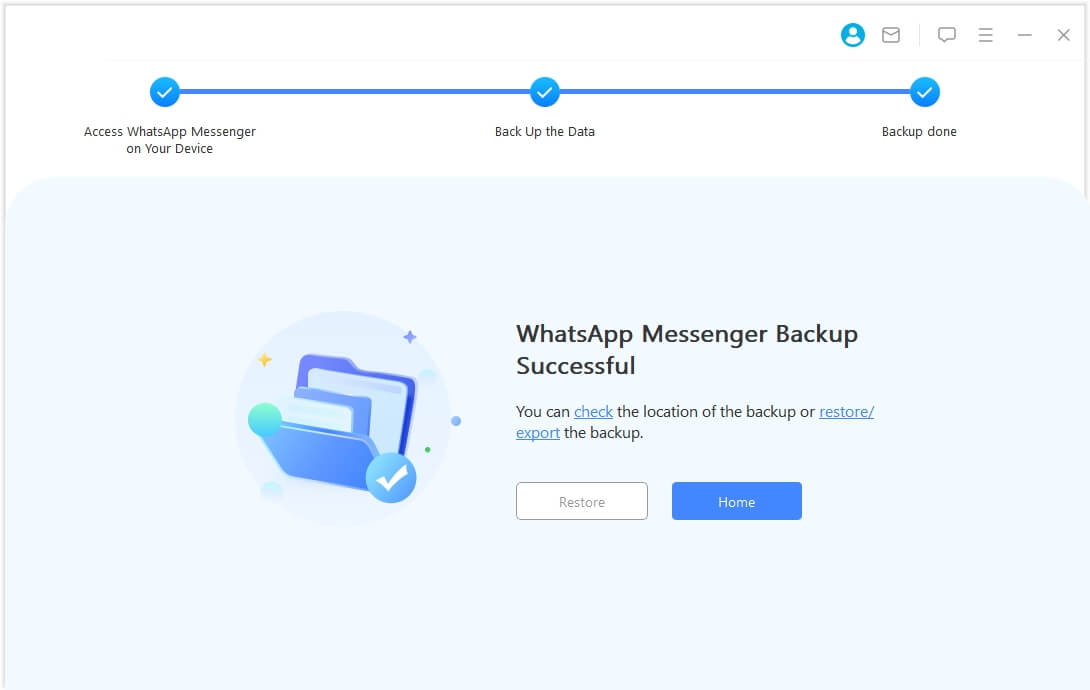 FAQs: More About WhatsApp Disappearing Messages
1. Can someone see if I turn on disappearing messages in WhatsApp?
Yes, the other party will know that you toggle the feature on for them. When the feature is turned on, the other party will be notified by WhatsApp.
2. Does WhatsApp disappearing messages delete media?
Yes, WhatsApp disappearing messages also delete media! However, the media will automatically be saved if the other party toggle automatic download on. And also you can save the media filels previously.
Conclusion
Knowing how to send disappearing messages on WhatsApp and the view once feature is very important, as it allows us to safeguard against data leak and keep our privacy. However, there are times when we need the file for future use. When this happens, you can rely on iMyFone iTransor for a secure, complete, and successful backup. Are you ready to use iMyFone iTransor?