You are not alone, a lot of people are facing this issue and having hard time trying to delete their data from Google Drive. Despite of its convenience, there could be problems caused by limited storage and privacy worries. This guide will show you how to delete WhatsApp backup permanently from Google Drive, and also provide an alternative to manage your WhatsApp backup without needing Google Drive!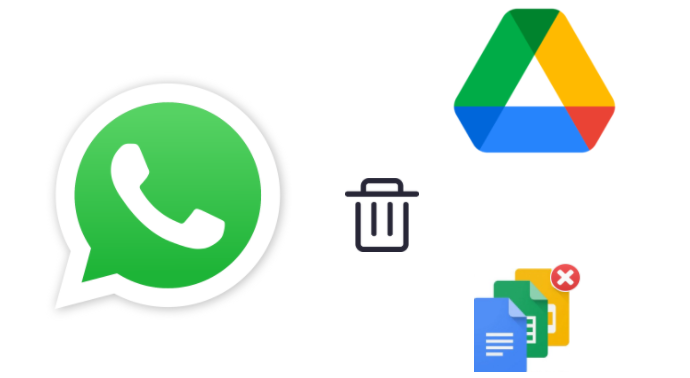 Part 1. How to Delete WhatsApp Backup from Google Drive
01

Delete WhatsApp Backup with Google Drive App
Open Google Drive app.
In the top-left corner of your screen, tap on the three horizontal lines, this should show you your saved backups in your Google Drive.
Find your WhatsApp backup, you can know it by the date listed alongside it which tells you when it is done.

When you find your backup, tap on the three dots next to it and choose Delete backup.
02

Remove WhatsApp Backup using Web Google Drive
Open Google Drive website on your computer.
At the top you will see the settings icon, click on it then select settings.
On the left, choose manage Apps, you will see WhatsApp Messenger on the right.
The options button will be next to WhatsApp Messenger, select it then select delete hidden App data.
If you want to unlink your WhatsApp from Google Drive, select Disconnect from Drive.

Part 2. How to Permanently Remove WhatsApp Backup from Google Drive
If you want to delete your WhatsApp backup permanently from your Google Drive, then these previous steps will not be enough because the backup files will be found locally on your phone, so you need to remove these files and clear your chats to permanently remove your WhatsApp backup from Google Drive.
Step 1. Clear Local WhatsApp Backup
Open your file manager app on your phone, then go to your internal storage and select WhatsApp folder.
delete all the files in your databases folder.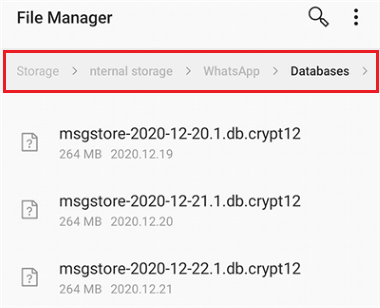 Step 2. Remove All Chats in WhatsApp
Open WhatsApp.
From settings select chats.
Select chat history.
Select Delete all chats to clear all chats from your phone. You can also do this by selecting Clear all chats option.
Step 3: Disable WhatsApp Back Up to Google Drive
Now you have deleted your WhatsApp backup on Google Drive and cleared all local data on your phone, the last step is to disable the automatic WhatsApp backup option on your phone. This step is very important because without it your phone will back to saving another backup on your Google account and nothing will be changed.
Open WhatsApp and select settings.
Select Chats then Chat Backup.
Select Back up to Google Drive option, then select never.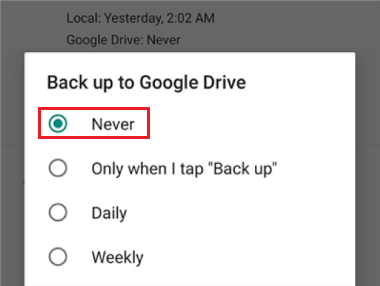 Now your WhatsApp will not transfer your backup data to your Google Drive, also it will not make another copy after deleting the existed one.
Part 3. A New Way to Manage WhatsApp Backup without Google Drive
With so many latent problems, you can turn to a third-party application to access your WhatsApp data in a various way. Using iTransor for WhatsApp, you can either backup your WhatsApp directly to PC, or read backup as they appear on the phone. Moreover, if you happen to change your system from Android to iOS, you can even download WhatsApp backup from Google drive no need of Android device anymore.
Completely Safe: storing data on your PC, you store it locally away from any chance of losing it.
Saves all Backups: backups will not override on each other, every backup will stay in your PC.
Restore from iTunes and Google Drive: you can transfer these data from Google Drive and iCloud to your PC.
Free Storage: once you started to deal with your PC, you don't have to purchase more storage for your data.
01

How to Directly Backup WhatsApp to PC
Here we will cover how to backup data to PC; this will help keeping your data safe and accessible whenever you want.
Step 1.Open this software and connect it to your device, if you are using an android, enable the USB debugging option; in case of iPhone, in order to allowing access, you have to select trust this computer option.
Note
This permission is only required when accessing for first time.
Step 2.when the device is connected, Select Back Up WhatsApp on Devices from the right and click on the Back Up.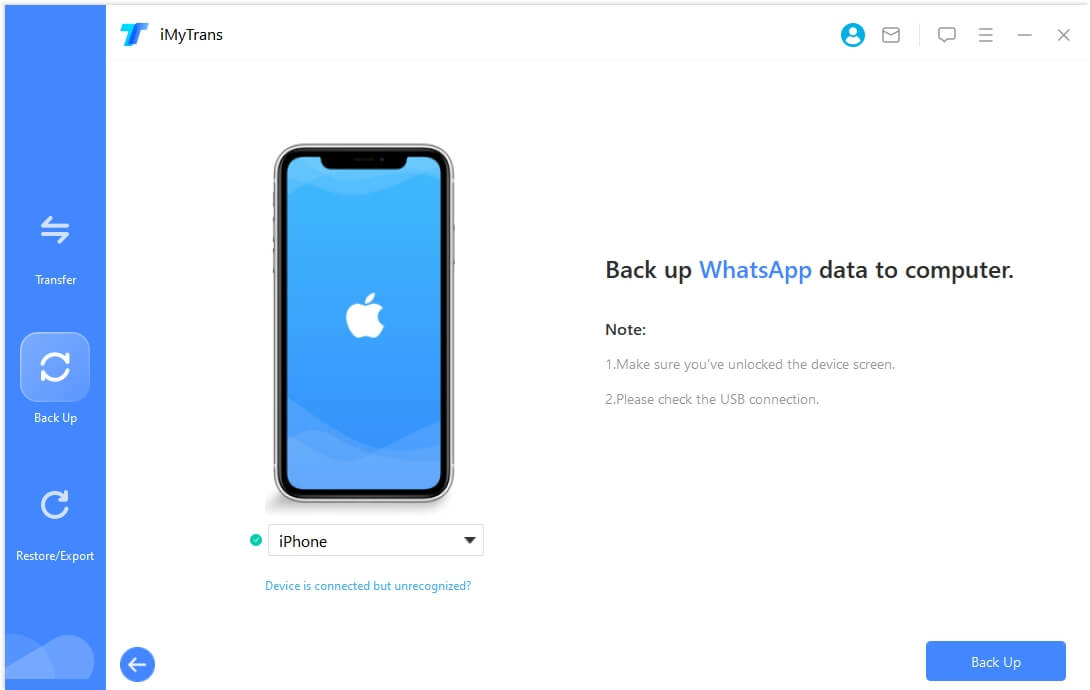 Step 3.After that the process will start, and you will be able to locate the progress on the screen. The process will be done easily.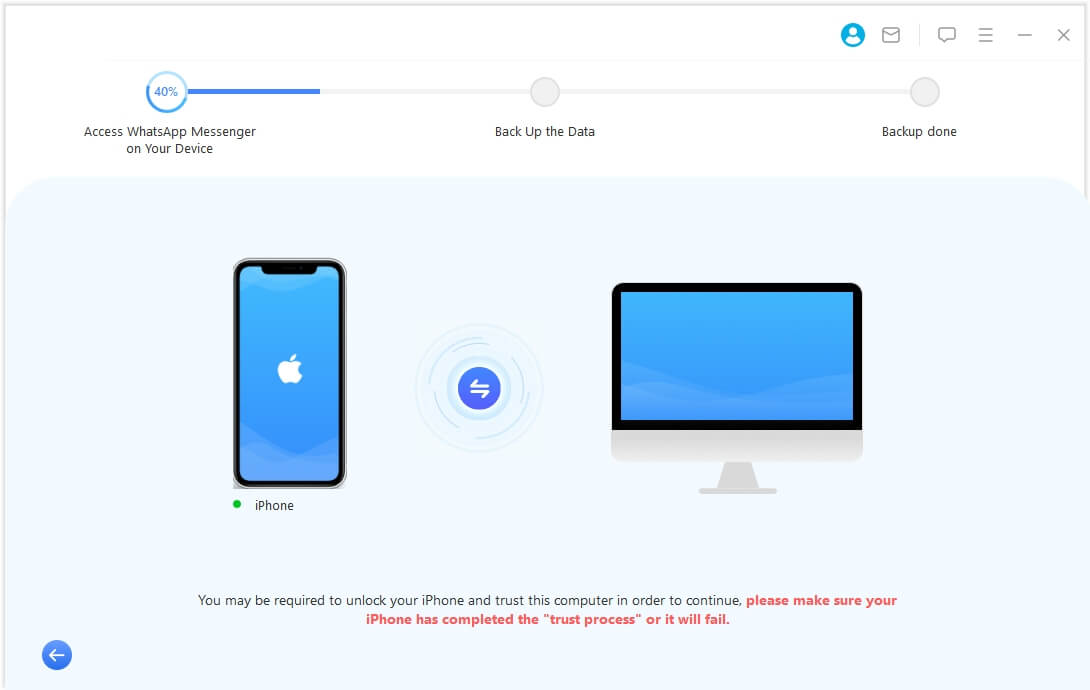 Step 4.You will see that the backup is done on your screen, and you can see the backup folder place.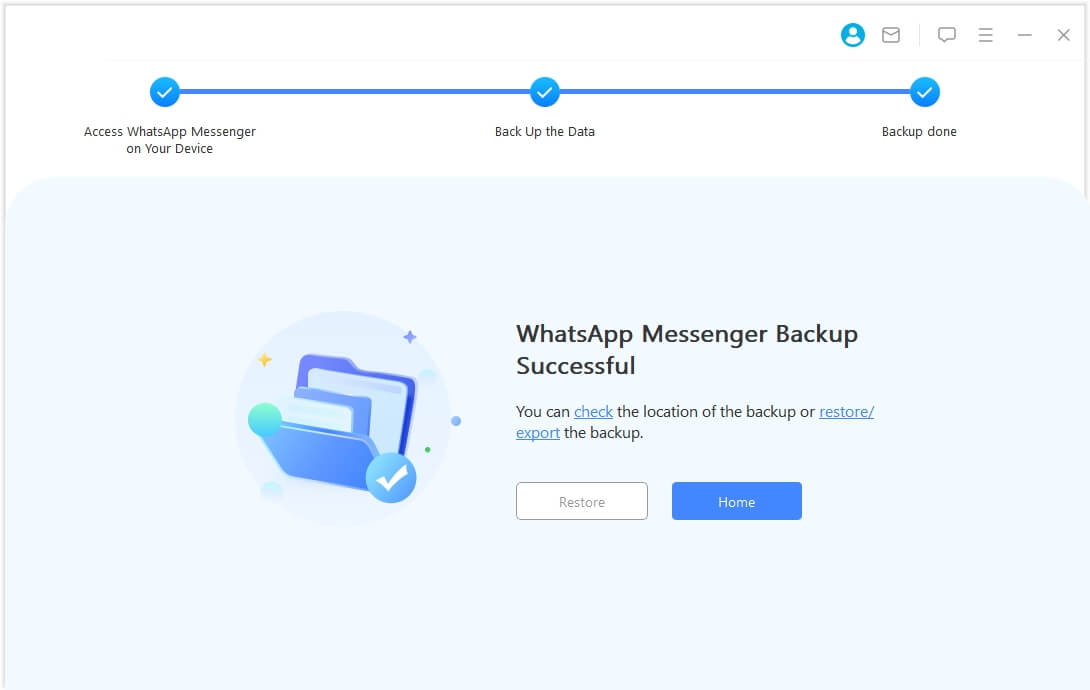 02

Open WhatsApp Backup on PC and Read as They Appear on Phone
Is knowing How to Back up your WhatsApp enough? Well you also need to know how to open this data; you can do this easily using Export function of iTransor for WhatsApp. Follow these steps to know how to do this:
Step 1.Choose Restore/Export WhatsApp Backup, you can find backup you recently created, then select the Export to Computer option.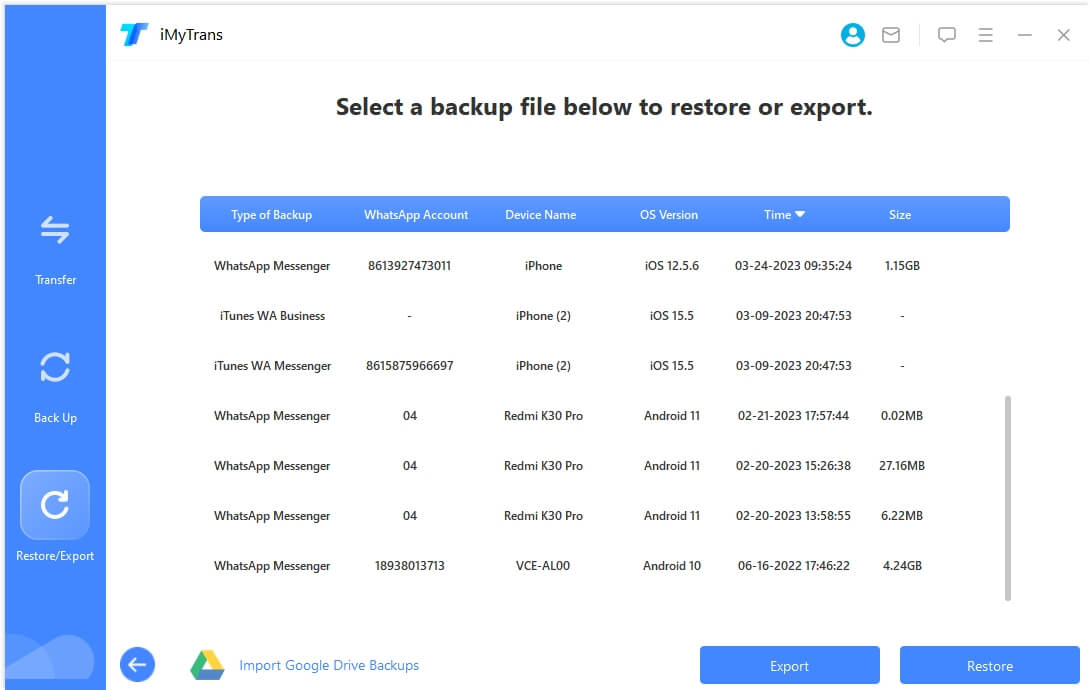 Step 2.Now wait till the scanning process is done, once it is, you will see your chats and attachments in your software screen.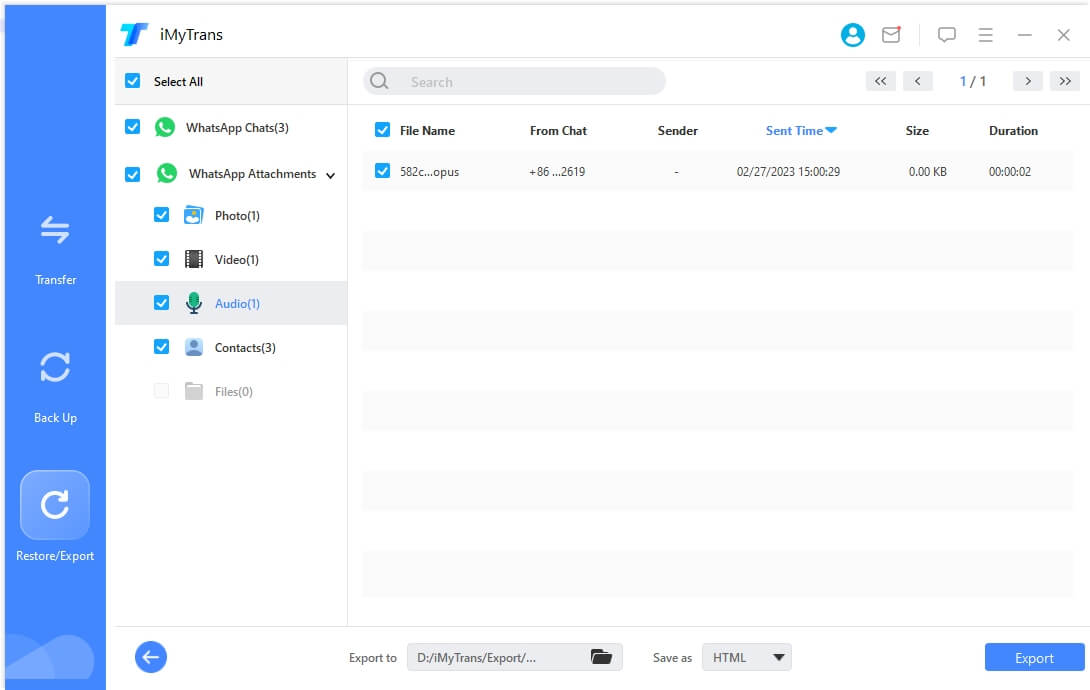 Step 3.Select any chat you want then select Export button to export it; if you want to download everything on your PC then click on Select all and all data will be on your PC.
03

Tip: Download WhatsApp Backup from Google Drive to PC before Deletion
Without using any android, here is a method to help you download WhatsApp backup placed in Google Drive to PC just by using iTransor for WhatsApp.
Step 1.Go to Restore/Export WhatsApp Backup and choose Import Google Drive Backups to retrieve your WhatsApp backups.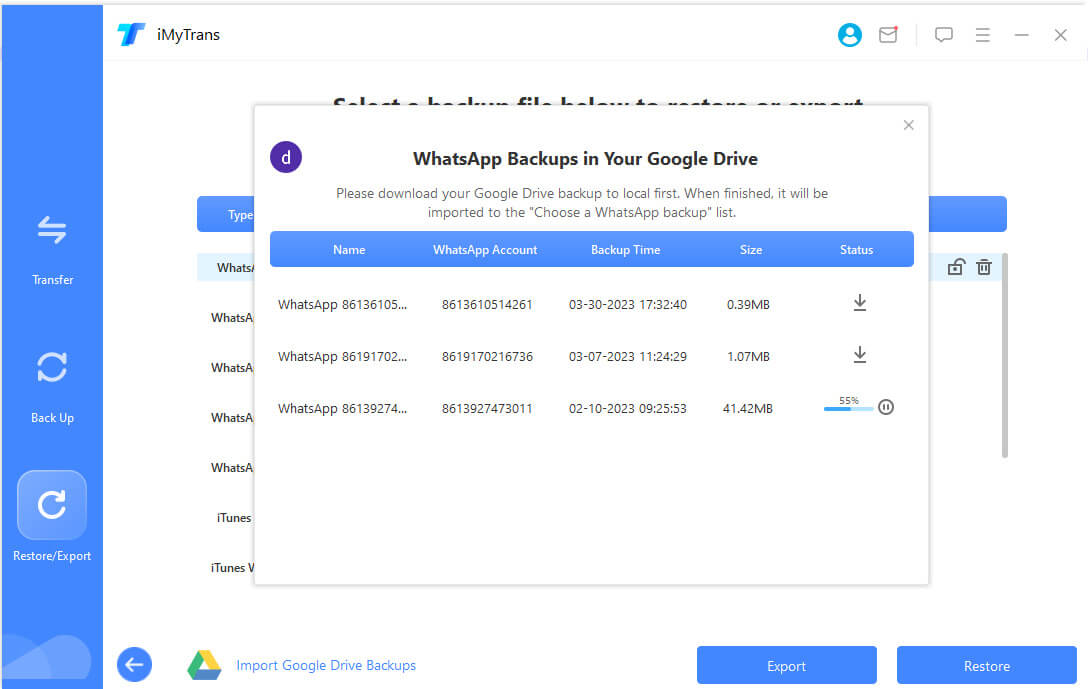 Step 2.Access to your Google account and you will see all your WhatsApp chats, then click Download to get the WhatsApp backup you want from your google drive.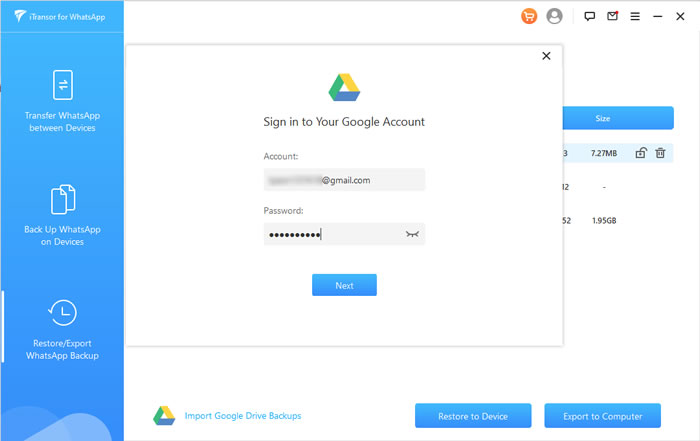 Step 3.You will need an analysis process to restore your WhatsApp backup, to do this enter the phone number you entered to your google account; after that, enter the verification code.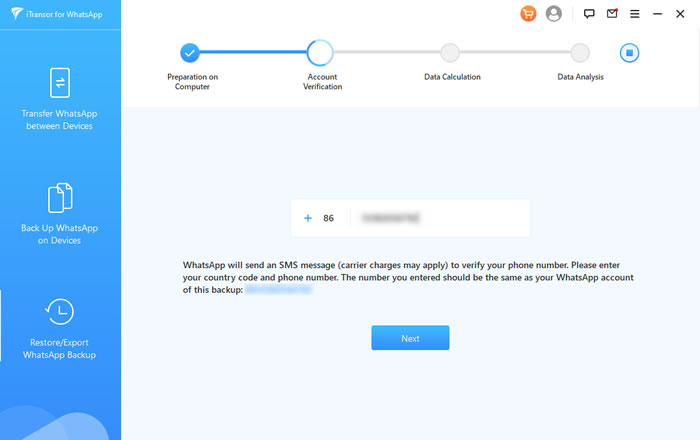 Step 4.Wait until the analysis process is done, now you can preview and download WhatsApp backup from Google Drive to PC.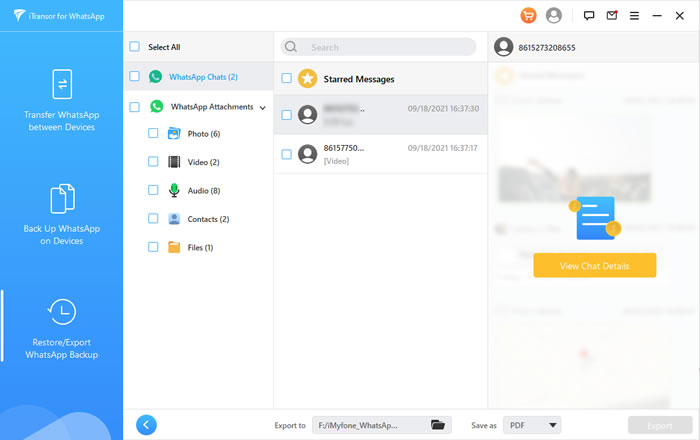 FAQs: More About WhatsApp Backup on Google Drive
1. Why can't I see my WhatsApp backup in Google Drive?
Because you can't read it directly, and any WhatsApp backup data enter Google Drive is end-to-end encrypted. So whatever you do you won't be able to access it through your pc or any third-party App. Therefore, the only way to access this data on your Google Drive is through your WhatsApp by restoring the chats to the same account.
2. How long does WhatsApp backup stay on Google Drive?
If you did not update your WhatsApp backup within a year it will be removed automatically since the old backups stay approximately for a year, after that it will be removed so you have to update your WhatsApp backup regularly.
Conclusion
Because of security, lack of adaptation with Google Drive and complexity of storing WhatsApp data, there is a need for a new way to control it more, not also how to delete your previous backup but also to find a new way to manage, export and restore it through different operation systems and to save it locally in your PC. This article might be helpful to people who want to change their backup storing place, and have accessibility on it whenever they want.