Are you unsure how to print out photos sent to you on WhatsApp?Being able to print WhatsApp photos quickly is a feature many users are unfamiliar with, however, once you have read this article, you'll know how to quickly and easily print photos from WhatsApp.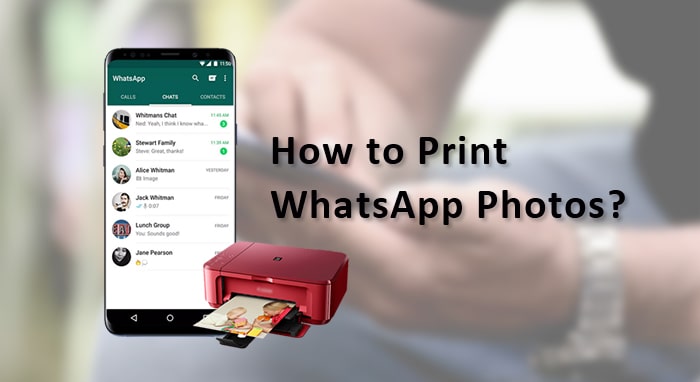 There are two methods to print WhatsApp photos, the first is to print out all of the photos together at once, and the other option is to print the photos/chats as they appear in the app on your phone i.e. if you were only wanting to print a recent photo that was sent to you in a WhatsApp conversation, or just a snippet of the conversation, perhaps from a specified date.
Stage 1. Export Photos from WhatsApp on Phone
Before printing, we have to extract all the photos we hope to print from our phone. In this part, we will first introduce two ways to extract all WhatsApp photos at once, then mention the way to print the WhatsApp photos in PC/Mac.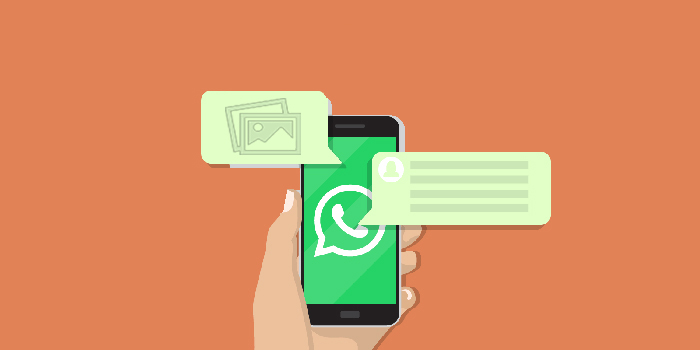 1.1

Export Photos in a WhatsApp Chat via WhatsApp Export Chat

This chat exporting method provided by WhatsApp is often used to back up the messages, but you can also export the media files including stickers, photos, and videos. Each time you can only export one of the chats, so if you are hoping to print all of the photos in WhatsApp, it is impossible, unless you do it one by one. But if you only need the WhatsApp photos from the chats with your family, best friend or love, it can perfectly do that. To make that happen,
Step 1. Open the chat with the photos you want to print. iPhone users tap on the topof the screen. Android users tap on the three dots on the top right corner.
Step 2. From the list provided, find Export Chat and click on it. WhatsApp will ask if you would like to attach media files, which in our case, yes, so tap on Attach Media.
Step 3. WhatsApp will startprocessing the data. After that, it will ask which app you would like to exportto, just choose the one that you can easily access on the computer such asGoogle Drive, or Mail.
Done! Your WhatsApp photos will be attached in the zip file. Just download it from where you export to your computer.
1.2

Export All the Photos from WhatsApp to Computer

iMyFone iMyTrans (new version of iTransor for WhatsApp) is a dedicated tool and desktop application that enables WhatsApp users to backup, export and restore files between devices. It has a user-friendly interface and the option to preview photo and conversation backups before you need to use them for purposes such as emailing, printing, sharing, etc.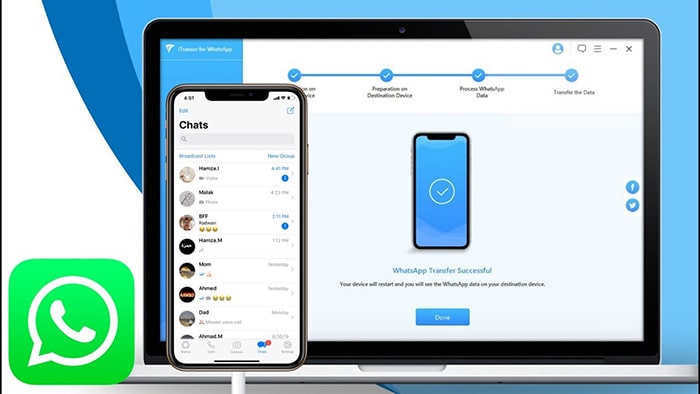 iMyFone iMyTrans (new version of iTransor for WhatsApp) has a free and paid version, the free version enables you to back up your WhatsApp conversations and files, preview the files on your computer; while the paid version allows for more advanced solutions, where you can transfer and restore files between multiple devices with WhatsApp installed. To print specific photos from a WhatsApp conversation on your Android or iOS device, follow these steps using the iMyFone iMyTrans:
Step 1. Download and open iMyFone iMyTrans on your Windows PC or Mac. Connect your Android or iOS devices via USB to your Windows PC or Mac.
Step 2. Create a backup of your WhatsApp conversation using the steps provided on your screen – The program will need to install a customized version of WhatsApp; this just ensures that no files are forgotten in the backup process. Don't worry if your phone begins to move on its own, this is the desktop application scanning your WhatsApp conversations.

Step 3. Once the backup is complete, you can click Done.
Step 4. Change to Restore/Export WhatsApp Backup tab on the left panel. Choose the backup you just made from the list. Click Export to Computer.

Step 5. After scanning, all the WhatsApp chats in your backup will show up, including the media files. You can search to select the photos or the chats you hope to export, or just tick the select all and export them all. Choose the HTML format and then click Export to start the export process.
iMyFone iMyTrans is a great desktop application people can use to make photo printing from WhatsApp a simple, easy and quick process. Whereas a standard backup and export to a Google Drive or OneDrive account can take hours, iMyFone iMyTrans can back up your photos, ready for you to print separately or all together at once, almost instantly.
Stage 2. Print the WhatsApp Photos on Computer
Now you have got all the WhatsApp photosyou want to print on computer. In this part we will mention two ways or let'ssay two styles you can print with these exported files.
2.1

Print WhatsApp Photos Directly on PC

To print WhatsApp photos on pc, you just need to
Step 1. Open the folder with your photos.
Step 2. Choose all the photos you would liketo print holding the Shift key. Right-click on them and choose Print from the menu.
Step 3. Make the print settings and click onthe Print button to start printing.
2.2

Print WhatsApp Photos Directly on Mac

To print your WhatsApp photos directly on Mac,
Step 1. Open the Photos app on Mac, choose one or more photos you would like to print. To choose multiple photos, you needto hold the command key and click on each of them.
Step 2. Select Files > Print on the top menu.
Step 3. From the window, you can start to set up the way you like to print these photos, either one, two or four photos for each page.
2.3

Print WhatsApp Photos as they Appear on Phone

This method will help you print WhatsApp photos as the way they were sent to you in WhatsApp on your phone, which means the messages and photos will come together, as you can see in the below gif.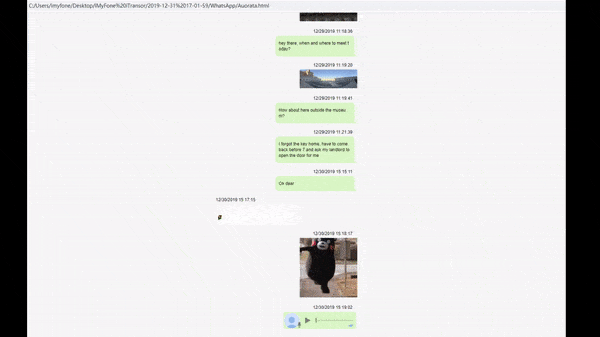 To print your WhatsAppphotos like this, you need to use the second method we mentioned above. YourWhatsApp chats will be exported as an HTML file. Just open the HTML file using your browser. From the browser settings, you can find the Print option. Click on it, and you can set up the way you like to print your WhatsApp.
Conclusion
All the three methods are proved to be working. Using iMyFone iMyTrans is definitely the most convenient one. If you are looking for a way to export or print out photos, it really worth a try!
Customer Reviews