How to Transfer WhatsApp Messages to GBWhatsApp?
Category: Transfer WhatsApp
4 mins read
Transfer/Backup/Restore/Export GBWhatsApp on iPhone/Android with One Click.
Despite the fact that WhatsApp has a lot of options for keeping in touch with our connections, users frequently ask for new features. Modified applications like WhatsApp Plus and GBWhatsApp are available to enable users personalize their WhatsApp experience. Even yet, these modified programs have considerable drawbacks, and continued use of them may result in account banning. You should thus learn how to transfer GBWhatsApp messages to WhatsApp once more if your account has also been blocked. You may use this article to learn how to move GBWhatsApp to current or new phones in various methods.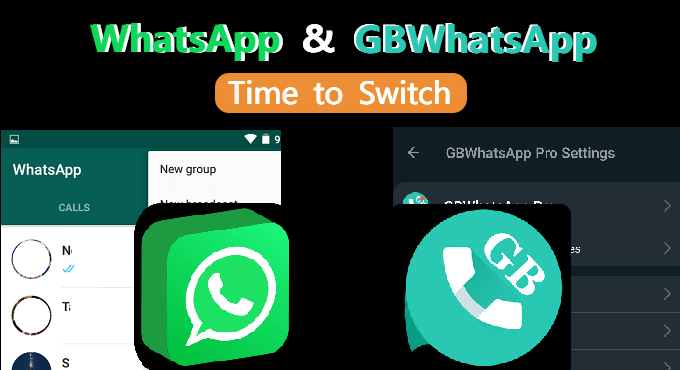 Introduction to GBWhatsApp
WhatsApp has long been the go-to messaging app for millions of people worldwide. However, some users are seeking additional features and customization options, which is where GBWhatsApp comes in. This alternative app offers an enhanced experience for those looking to get more out of their messaging app.
Features of GBWhatsApp
GBWhatsApp is packed with features that are not available in the standard WhatsApp application. Some of these features include:
Theme customization
Enhanced privacy settings
Auto-reply functionality
Increased media sharing limits
Ability to view deleted messages
Reasons to switch to GBWhatsApp
You might be wondering why you should switch to GBWhatsApp. Besides the additional features mentioned above, GBWhatsApp also allows users to run multiple accounts simultaneously. This can be particularly useful if you want to separate your personal and work accounts on the same device.
How to Transfer WhatsApp Data to GB WhatsApp?
Preparing for the Transfer
Before transferring your WhatsApp data to GBWhatsApp, you need to take a few preparatory steps.
1

Backup WhatsApp data
Tap "WhatsApp" on your phone and go to the "Settings" menu by tapping the three-dot button.
Tap "Chats" and then "Chat Backup."
Tap "Back Up" to create a backup of your chats and media files.
Uninstalling WhatsApp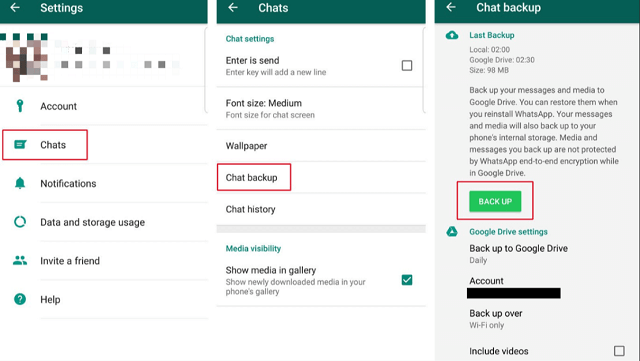 Once you have backed up your data, you can uninstall the original WhatsApp application. To do this:
Go to your device's "Settings" menu.
Tap "Apps" or "Application Manager."
Find "WhatsApp" and tap "Uninstall."
2

Installing GBWhatsApp

After uninstalling WhatsApp, you can proceed with the installation of GBWhatsApp.
Downloading GBWhatsApp
Visit the official GBWhatsApp website or a trusted third-party source to download the latest version of the app. Tap "Download" to installing the app.
Locate the downloaded APK file in your device's "Downloads" folder.
Tap the file and follow the on-screen instructions to install GBWhatsApp.
3

Transferring Data to GBWhatsApp

With GBWhatsApp installed, you can now transfer your WhatsApp data.
Restoring backup in GBWhatsApp.
Open GBWhatsApp and enter your phone number to set up your account.
After verifying your number, you will be prompted to restore your chat backup.
Tap "Restore".
Verifying transferred data.
Once the restoration process is complete, you can open GBWhatsApp and check your chats and media files to ensure that all your data has been transferred successfully.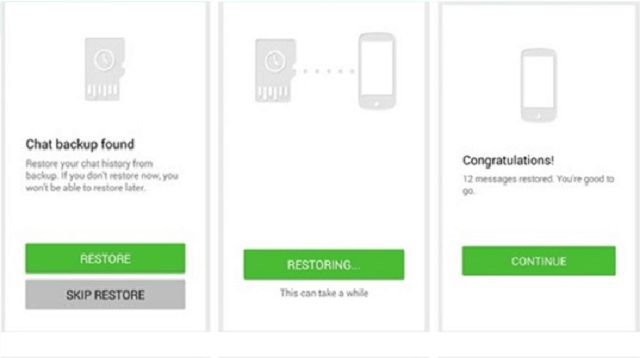 Troubleshooting Common Issues
While transferring data from WhatsApp to GBWhatsApp is generally smooth, you may encounter some issues during the process. Maybe you will encounter some issues when transfer GB WhatsApp/ WhatsApp messages, here are the solution:
1

Dealing with compatibility issues

In some cases, you may face compatibility issues with your device or operating system. If you encounter any issues, ensure that you have downloaded the latest version of GBWhatsApp compatible with your device. The other solution is to try restarting your device and reinstalling the app.
2

Resolving backup restoration problems

Make sure that the backup file is placed in the appropriate location if you are having difficulties restoring your backup in GBWhatsApp. The backup file must be located in the "WhatsApp/Databases" folder of your device's internal storage. You can use a file manager app to verify the location of the backup file.

If you still face issues, try creating a new backup in WhatsApp and repeating the restoration process in GBWhatsApp.
Bonus: How to Transfer GBWhatsApp Messages to WhatsApp?
Let us begin by showing the shortest period technique to transfer data from GBWhatsApp to WhatsApp. Use iMyFone iMyTrans (iMyTrans) to move GBWhatsApp to your new or old phone if you don't want to deal with any unnecessary hassles. It offers a simple one-click method for backing up and restoring your WhatsApp data to the PC. You are able to keep a dedicated backup of your GBWhatsApp data and restore it on WhatsApp in this way. These instructions will show you how to quickly move data from GBWhatsApp to WhatsApp:
Step 1. To get started, just plug your phone into the computer and run iMyFone iMyTrans. Launch the "GB - WhatsApp"> "Transfer GBWhatsApp to WhatsApp" module from its main page.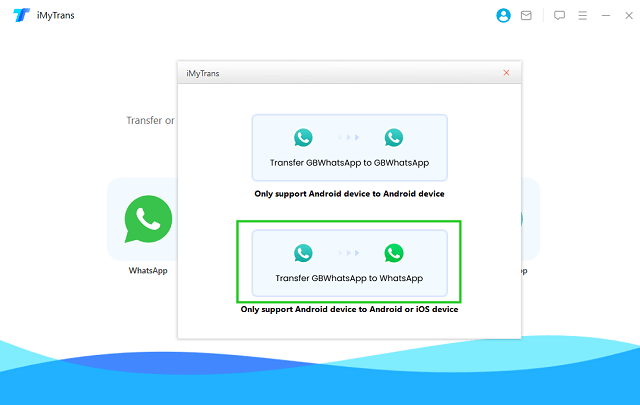 Step 2. After the system has identified your device, just click the "Transfer" option and indicate that you want to use WhatsApp to transfer your GBWhatsApp data from your old phone to your new one.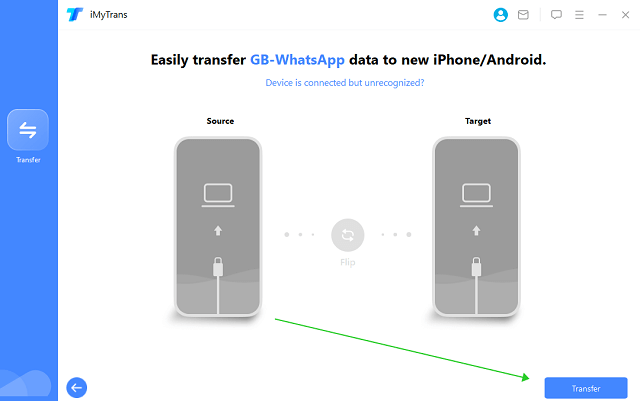 Step 3. Just wait till the transfer process is finished.
Step 4. You can back up your WhatsApp data first before moving it, just in case it is overwritten and is no longer accessible on the new phone. To back up your WhatsApp account on your PC, go to WhatsApp > Backup.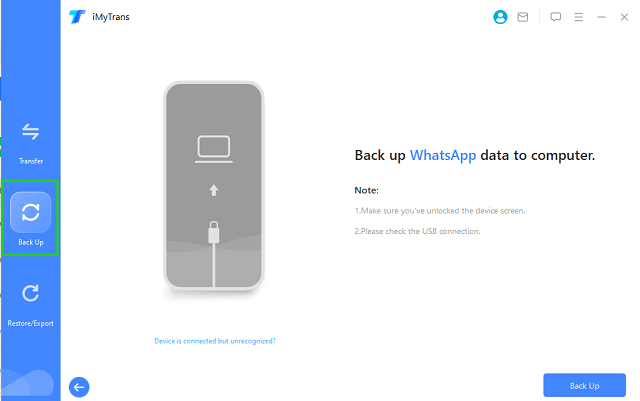 Step 5. iMyFone iMyTrans will alert you when the backup is finished so you may remove the device without risk. From here, you may also decide to access the backup files.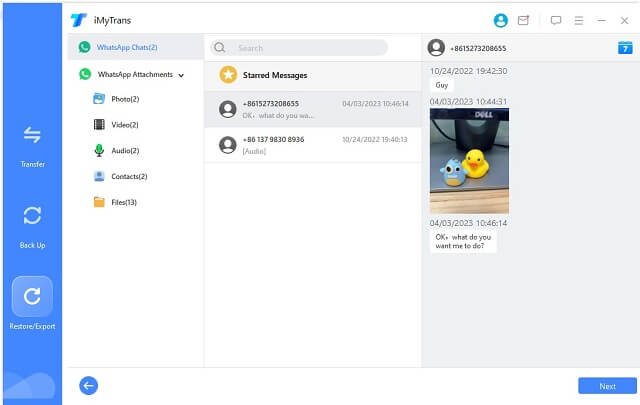 Transfer/Back up/Restore WhatsApp in one App
100,000+ people have downloaded it.
Transfer WhatsApp between devices with different OSs, i.e., iOS to Android, Android to iOS.
Supports 6000+ different smartphone models running on iOS and Android.
Transfer safely without resetting devices or deleting original data.
Supports phone-to-phone transfer, phone-to-computer transfer, and backup & restore.
Fully compatible with the latest OS version.
Conclusion
Transferring your WhatsApp data to GBWhatsApp is a simple process that allows you to enjoy the benefits of GBWhatsApp's additional features and customization options. By following the steps outlined in this guide, you can successfully transfer your data and start using GBWhatsApp without any hiccups.
If you encounter any issues during the transfer process, refer to the troubleshooting section for help. Don't forget to use the most recent version of GBWhatsApp to ensure it works with your gadget and operating system.
Frequently Asked Questions (FAQs)
1. Is it safe to use GBWhatsApp?
The use of GBWhatsApp is generally regarded as secure. But here are some key points to remind:
Download the program from a reliable source.
Make sure it is the most recent version (because it is not an official WhatsApp product).
2. Will I lose my WhatsApp data if I switch to GBWhatsApp?
No, you may do it by following the instructions in this tutorial to move your WhatsApp data to GBWhatsApp. Make sure to create a backup of your data before uninstalling WhatsApp.
3. Can I use both WhatsApp and GBWhatsApp on the same device?
On the same phone, you may use both WhatsApp and GB WhatsApp. You may operate numerous accounts simultaneously on GBWhatsApp, which is useful for sorting personal and professional accounts.
4. Is GBWhatsApp available for iOS devices?
For Android devices, GBWhatsApp is largely developed. There may be unofficial versions available for iOS, but these might not be as reliable or safe to use as the Android version.
5. How often is GBWhatsApp updated?
GBWhatsApp updates vary, but developers typically release new versions with bug fixes, security improvements, and additional features. Always ensure you are using the latest version to keep your app secure and up-to-date.