Data has significant importance for everyone. No one can afford data loss. There are several data-generating applications available on the internet such as WhatsApp. This messaging app has millions of users that are utilizing it for personal and professional use. Therefore, WhatsApp auto backup is extremely important to keep your data safe.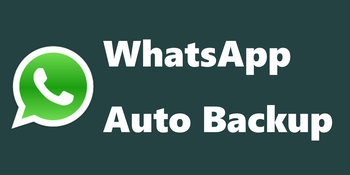 WhatsApp automatic backup helps you to transfer data between mobile devices and avoids data loss. Sometimes, different problems occur that prevent WhatsApp to backup data. You must be familiar with different issues so that you can resolve them quickly. Here are some common backup problems:
WhatsApp auto-backup option is off.
Network issue.
iCloud storage is not enough.
WhatsApp Chats stored on Google Drive will lose encryption.
The problem occurs due to the last incomplete or corrupted backup.
This detailed guide expresses everything you need to know about WhatsApp automatic backup. Choose your device operation system first:
If you are facing WhatsApp auto backup not working problem, please click here.
WhatsApp Auto Backup Tutorials For Android Devices
Part 1. The Official Way of WhatsApp Auto Backup
WhatsApp is the most popular messaging app. People use this app to exchange important data. What if you lose data mistakenly? Luckily, WhatsApp provides data backup capability. So, we strongly suggest you keep a backup of your data.
This method is straightforward and doesn't require any third-party software for WhatsApp auto backup Android. You can easily backup your data by using the inbuilt or official method of WhatsApp. Simply, you need to turn on the backup feature of this instant messaging app. After turning on that feature, your app will automatically backup your data.
Follow these steps to turn on the backup feature:
Run the WhatsApp application on your smartphone.
Tap on the Three Dotted Icon and go to Settings.
Select the Chat Backup option and choose an auto-backup or manual backup option.
Select the frequency of backup. It means you want WhatsApp to create a backup after a week, month or daily.
If you want video backup, you can enable the video backup option. Now your backup is ON!
If you want your backup data on Google Drive, you will find a "Backup to Google Drive" option in Chat Backup. Just tap on that option and start uploading your data on Google Drive for backup.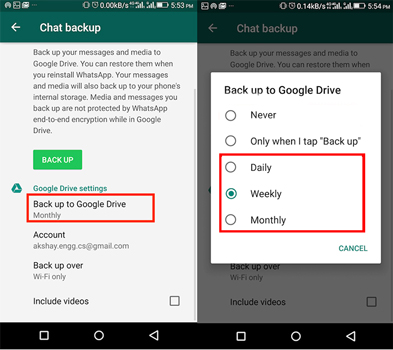 Part 2. Where Is the Auto Backup of WhatsApp Stored?
WhatsApp stores all data for backup on Google Drive for Android devices and iCloud for iOS devices. WhatsApp saves this data as hidden data on drives.
For Android devices, you can still check this data by following these steps:
Login to your Google account and open Google Drive.
Go to setting and click on the Manage Apps option.
Scroll down a little bit and find the WhatsApp option. If you don't find it, it means you didn't connect WhatsApp with Google drive correctly.
When you find the WhatsApp option in the list, wait a while until you see hidden app data size.
You can understand by looking at backup size whether data has backed up or not.
You can just see the size of data but have no provision to alter that.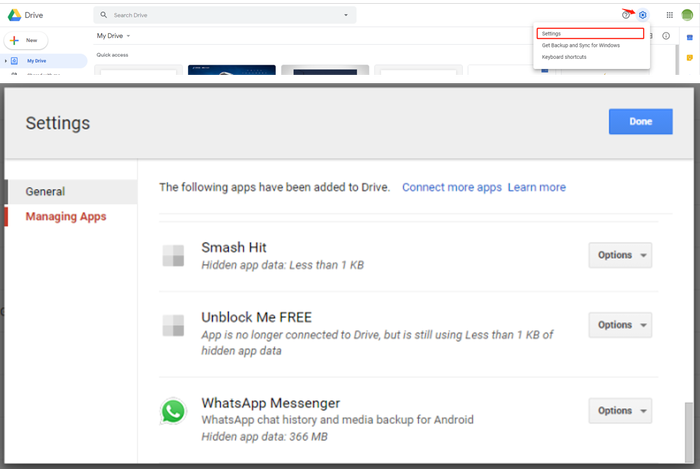 Part 3. How to Stop WhatsApp Automatic Backup?
Sometimes you need to stop WhatsApp automatic backup. For example, WhatsApp messages backed up in Google Drive will lose encryption. There could be some other possible reasons. So how to stop WhatsApp backups on Google Drive?
Here is a procedure:
Open your Google Drive.
Click on the Gear Icon on the screen's top right corner.
Select settings and tap on Manage Apps.
A list of apps will appear. Go to WhatsApp. WhatsApp can take a few minutes if the data size is large.
Click on Options and press Disconnect from Drive.
It will stop WhatsApp to backup data automatically.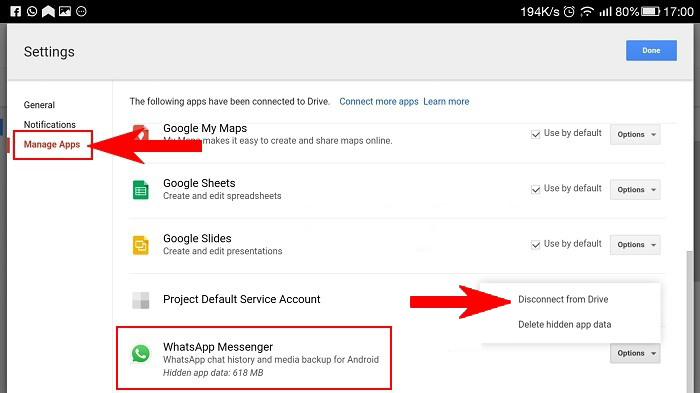 Click here to see how to fix WhatsApp auto backup not working problems.
WhatsApp Auto Backup Tutorials For iPhone Devices
Part 1. The Official Way of WhatsApp Auto Backup
WhatsApp ensures the security and safety of your data and allows you to backup your files automatically and manually. However, most of the users prefer an automatic backup method to save time.
You can find different ways to create a backup for iOS devices. The official method is easy to follow and doesn't require any third-party software for WhatsApp auto backup iPhone.
Follow these steps to backup your data to iCloud:
Launch WhatsApp on your smartphone.
Tap on the Gear Icon and go to Settings.
Selects Chats option and go to Chat Backup.
Tap Backup Now to start your data to iCloud storage.
If you want backup automatically, tap auto backup.
You need to select the backup frequency such as daily, weekly and monthly.
If you want to include videos in backup, you can turn on "Include Video".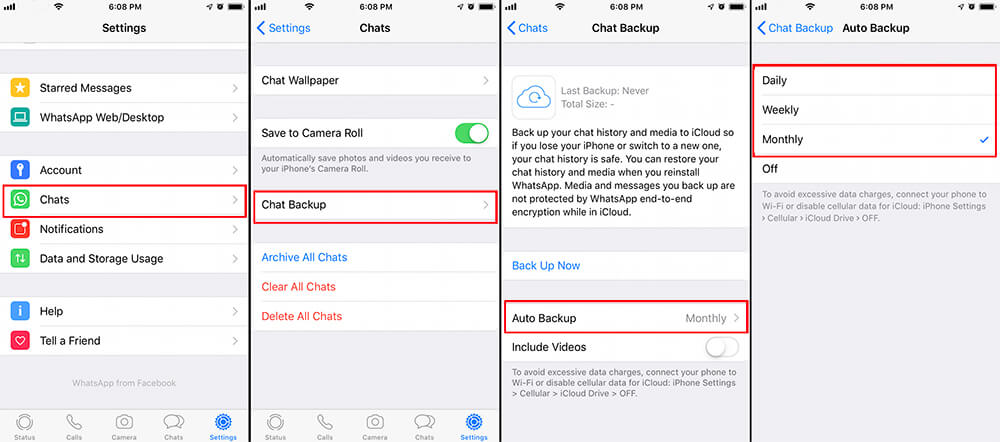 Part 2. Where Is the Auto Backup of WhatsApp Stored?
iCloud stores your WhatsApp backup in the iCloud Drive folder, which you have no access to this backup. But you can always manage your iCloud storage in your device, go to settings > Apple ID > iCloud > Manage Storage.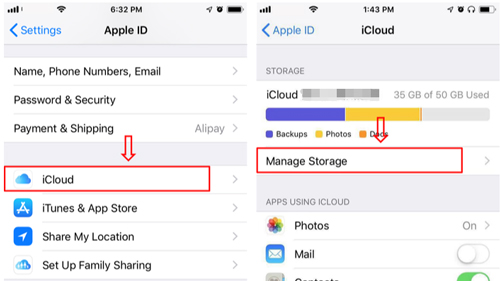 Part 3. How to Stop WhatsApp Automatic Backup?
For iPhone users, there could be some other possible reasons. Our WhatsApp chats, photos and videos can sometimes take up more than 10GB of our storage spaces. If we turn on auto backup on iCloud, it's a burden that we have to pay every month to have our WhatsApp backed up.
Here is the way to turn off iCloud backup:
Go to WhatsApp > Chats > Chat Backup.

Tap on Auto Backup.
Choose Off to turn off your WhatsApp auto backup.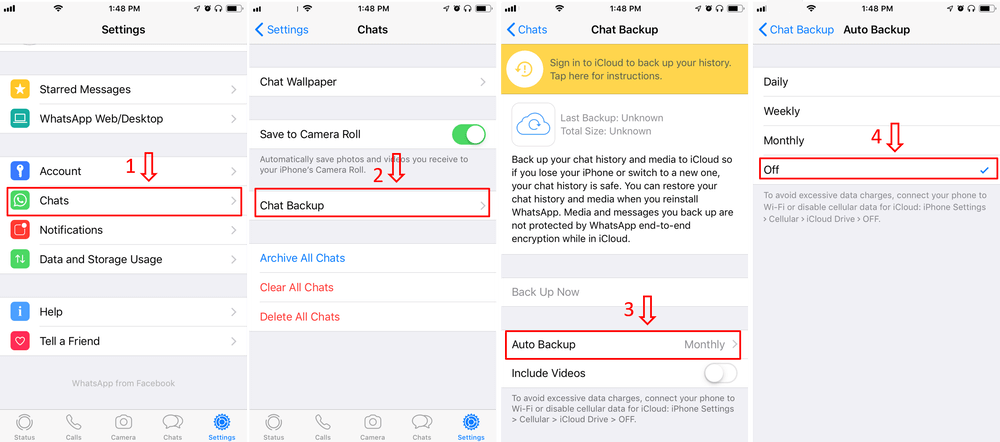 Next you need to disable cellular data for iCloud, to avoid excessive data charges. Open your iPhone Settings.

Tap on your Apple ID.
Select iCloud.
A list of apps using iCloud backup will appear.
Tap on the WhatsApp button to turn off iCloud backup for WhatsApp.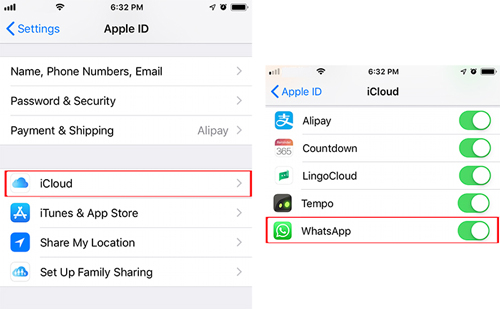 Delete the iCloud WhatsApp backup to purge your iCloud storage.

Choose Manage Storage on the top of the screen.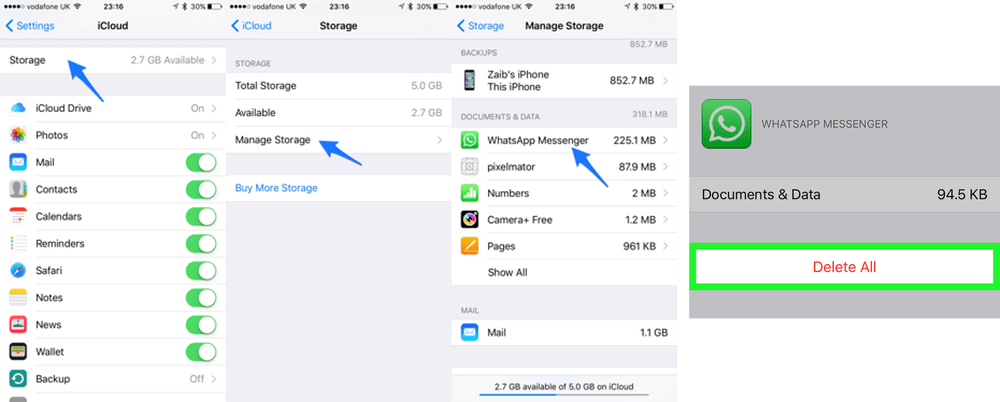 The Best Alternative Way of WhatsApp Auto Backup
What? All 5 aforementioned ways are not working properly? Well, it is a common story of almost all users. Auto backup works well at the start but a few days later you stuck into the data backup problems. Do you think is it easy to go through all upper mentioned techniques again and again? Not at all! There is a permanent solution to manage your backup and much more!
iTransor for WhatsApp – the best WhatsApp Transfer Tool
In this entire article, you have learned numerous solutions for different unseen problems. When all methods and tools fail, iTransor for WhatsApp helps you to tackle with enigmatic glitches. A professional team of developers has specially designed this app to deal with disastrous situations.
Here are some incredible features of this app to completely maintain your WhatsApp backup.
It has a 100% success rate!
It helps you to backup WhatsApp for both Android and iOS devices.
The app maintains a backup of all types of media.
You can restore backup data to your cellphone just in a few clicks.
It offers transferring capability from Android to iPhone and vice versa.
How to backup WhatsApp using iTransor for WhatsApp?
iMyFone iTransor for WhatsApp is the most powerful app to secure your all WhatsApp data. If no backup method works, use this phenomenal app to eradicate the problem. Here is the complete method of WhatsApp auto back up Android and iPhone:
Step 1. Connect your device
It is the first and foremost step to get started. Connect your iOS or Android device to a computer. Grant data transferring permission. Once your mobile phone connects successfully, click Backup.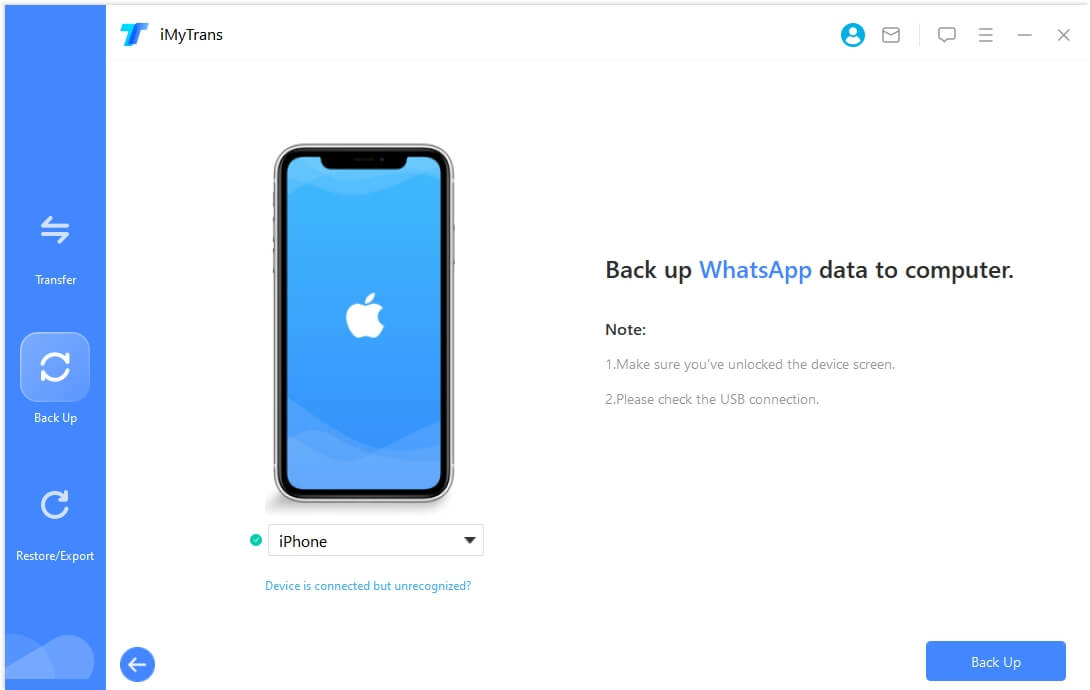 Step 2. Start backing up data
This process is extremely easy and straightforward. The backup is stored on your own computer. You can change the location of your WhatsApp backup by clicking the Settings option in the top right corner.
If you are an iPhone user, you just need to wait! For your ease, iTransor for WhatsApp will do the rest of the job.
If you are an Android user, you just need to follow prompted steps. Just in a few steps, it will start creating your backup.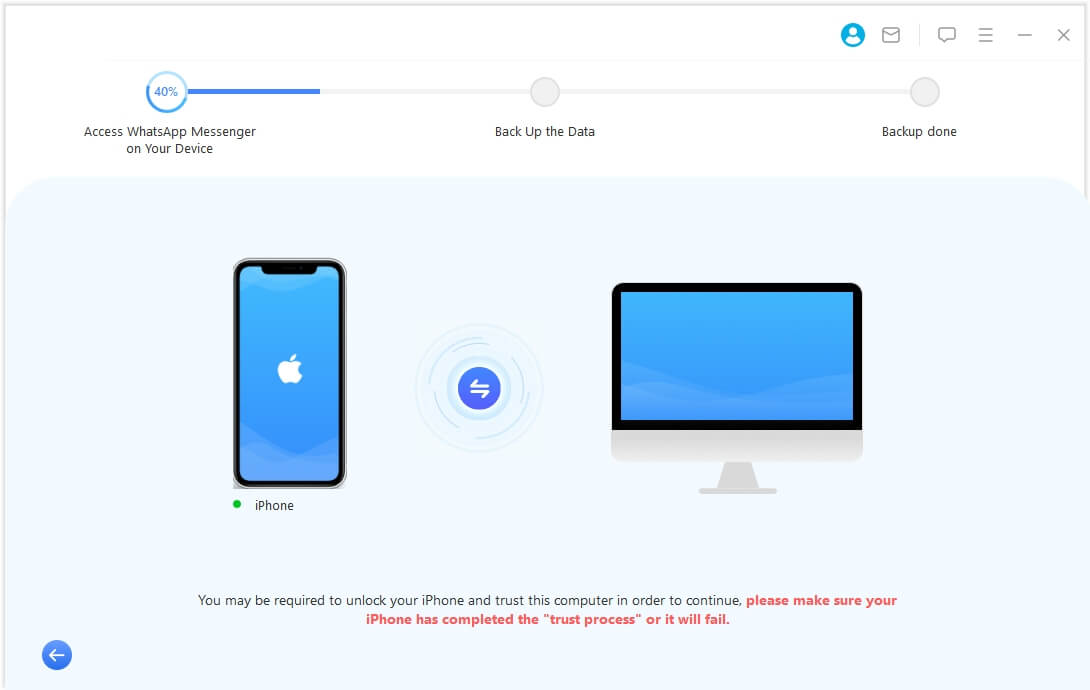 Step 3. Finished!!!
The program will not let you wait for a long time. It will take just a while. The program will notify you after completion.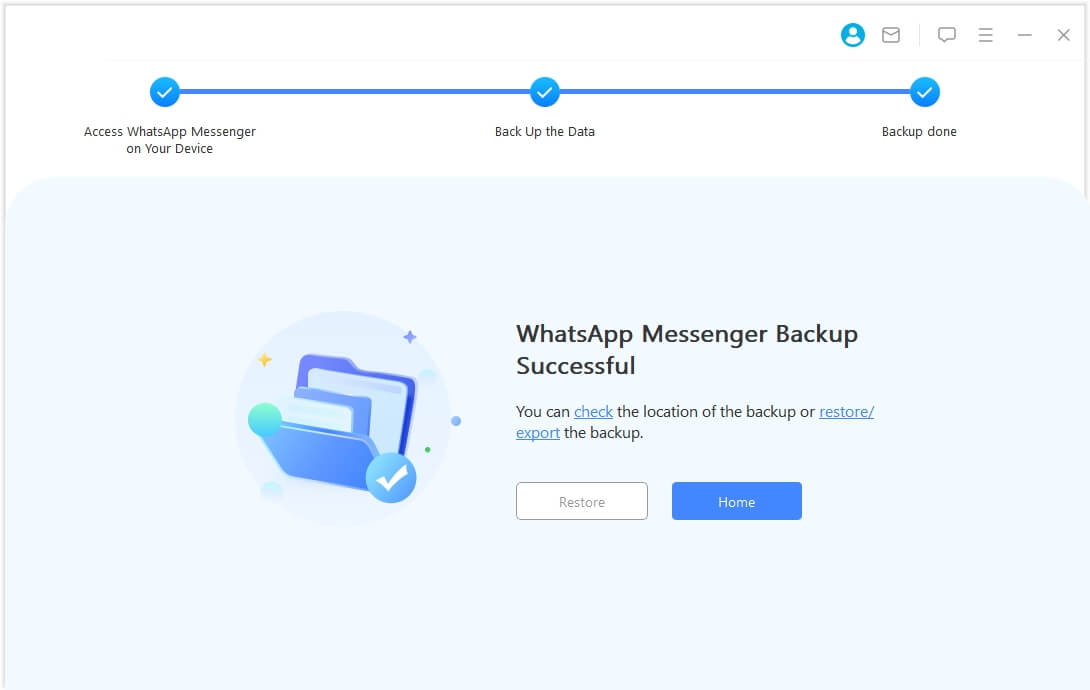 Why choose iMyFone iTransor for WhatsApp?
There are numerous apps available on the internet that claims to provide WhatsApp auto backup iPhone and Android. However, this app literally provides what it claims to provide. There are different features that give iTransor for WhatsApp dominancy over all other apps. Here are different reasons:
The app contains a user-friendly interface that makes it easy to use.
You can transfer your huge amount of data without worrying from irritating space running out notifications.
It is compatible with both iPhone and Android devices.
No need to worry about chats losing encryption because the backup is on your own computer.
It keeps all your backups. Each backup will be kept individually, you can restore any one of them anytime.
You can easily transfer your Android WhatsApp data to iPhone and vice versa. It is one of the most amazing features of iTransor for WhatsApp. During cross-platform data transferring, data is at risk. So you can perform this operation 100% safe and sound.
Auto Backup NOT Working, How to Fix?
No one can deny the importance of data. Data in every form is useful. It contains entertainment, remembrance, and other confidential information as well. So these days, all applications including WhatsApp provide data backup capability. So if any disastrous situation occurs, you can easily restore your data from backup!
What if WhatsApp auto backup stops working? Many iPhone and Android users face enigmatic backup problems. If you are facing the same issue, follow these steps to fix the issue:
Method 1. Check network environment
Sometimes due to instability of network, data doesn't upload properly. Once backup fails, it will consistently start problems for auto backup. So if you have a stable internet connection, try uploading data. Still failed? It may require to reset network settings. Go to Settings and tap General. Choose Reset option and Reset Network Settings.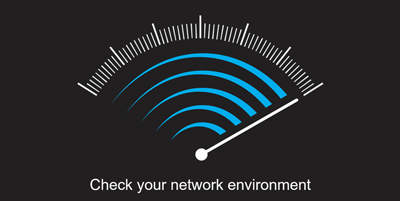 Method 2. Restart WhatsApp and your device
It is another possible way to fix the backup issue. You just need to Force Stop WhatsApp and start again. It may resolve your issue. Otherwise, restart your device. Most possibly, you will be successful to fix your issue.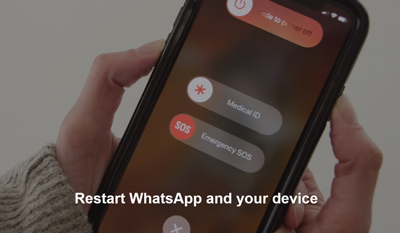 Method 3. Enable Background App Refresh/Mobile Data Usage
If you are capable to create a manual backup, you may require to enable Background App Refresh/Mobile Data Usage. It can help you to backup your data automatically.
For iOS users, go to Settings and tap the General option. You will find the Background App Refresh option. Refresh WhatsApp to resolve the issue.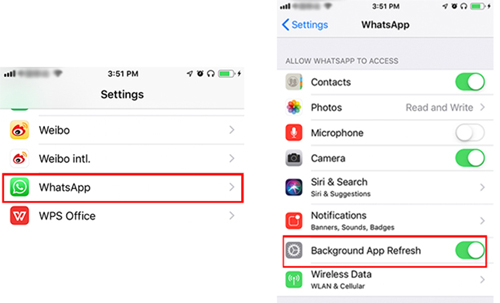 For Android users, find the Data Usage option in your device Settings. Select WhatsApp and Allow Background Data Usage.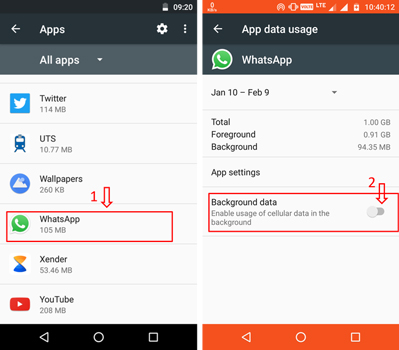 Method 4. Turn on iCloud for WhatsApp
For backing up data, you need to turn on iCloud for WhatsApp. Go to Settings and click on your Name (Apple ID). Tap on iCloud and Apps Using Storage.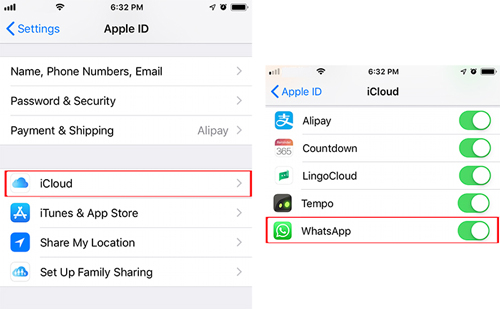 Method 5. iCloud storage running out?
Sometimes, WhatsApp doesn't upload data just because of low iCloud Storage space. Go to iPhone Settings and tap on your Name (Apple ID). Select the iCloud option and check Storage. If storage is full, you will have to delete unwanted files to resume data uploading.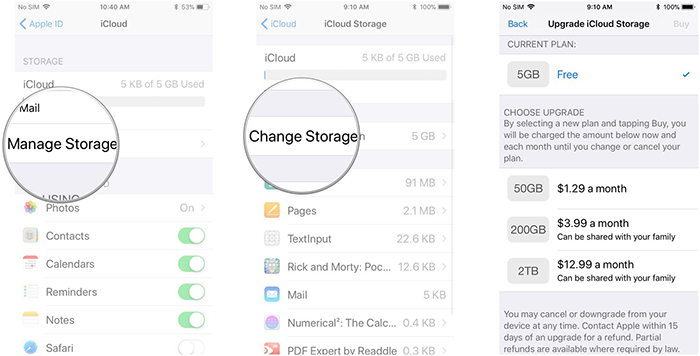 Final Words
This detailed guide deals with different unseen WhatsApp backup problems and their possible solutions. There are different methods to resolve critical issues. You can try all methods one by one and get your problem resolved. If you want to save your time and want to maintain your data smoothly and secure, iTransor for WhatsApp is one of the best options. There are several other third party software available to maintain a backup. However, we suggest you go with the iTransor for WhatsApp because it is 100% secure and available at an affordable price.