People use WhatsApp as the common messaging application. But some users face the WhatsApp crash issue. Mainly, this error is becoming common after the new release of iOS 15. This article is going to be all about solving the issue of WhatsApp keeps crashing when opening on iPhone by following some simple steps. We will also give you information about the reasons that cause this problem.
Part 1. Why Is My WhatsApp Keeps Crashing on iPhone?
First of all, let's have a look at the major reasons for WhatsApp crash on iPhones. A person should consider these factors first before going into further processes.
Outdated WhatsApp: An outdated version of WhatsApp can cause this type of problem. The version of the device operating system and WhatsApp application should be updated and latest.
Less Storage: The shortage of device storage can result in WhatsApp crashes. Less space on your device makes many applications work abnormally.
Poor Internet Connection: WhatsApp is an online application that works smoothly if a good internet connection is in access. Any problem with your internet connection will cause irritation while using any online application or software like WhatsApp.
WhatsApp Settings: Sometimes, different unwanted setting changes disturb an application. WhatsApp should be used without making any unwanted changes to its setting. Moreover, the uncleared cache can also be the reason for WhatsApp crashing on iPhone.

Part 2. How to Fix WhatsApp Message Keeps Crashing When Opening on iPhone

There are several ways to fix this issue within a few seconds. These are the very common errors that result in abnormality in different application processing. Follow these easy ways; otherwise, go with the software that can make your iPhone perfect to use WhatsApp without any crashes.

Solution 1. Free Up Storage & Force Restart Your iPhone

The space shortage problem in your device does not allow applications and software to work smoothly. Your WhatsApp crashes can also be because of this reason. For this, follow these simple steps to free up the storage.

Free Up Storage:
To collectively free up storage, power on your mobile and go to Settings. You will get a list of many options; scroll down the screen and tap on Generals.
It will direct you to a new screen with other options. Scroll down the screen and tap on the option Phone Storage. Your stats about the storage data and storage space will appear on the screen. You will also be able to see the free space and used space in terms of numbers.

This screen will show you how much space is being used and how much is available for use. Just below the line showing stats, you will see a heading named Recommended. It means your iPhone is recommending you delete some unnecessary applications and software from your mobile to free up space.
Select by tapping on a single application one by one, or you can also tap on the Select All option to automatically choose all files for deletion. After that, tap on Enable; it will offload all the unusable apps from your device without any damage.
For Restart:
Press and hold the side button or power-on button until a slider appears. Once you see the power-off slider, drag it down and wait for your mobile to be powered off.

To power on your device, press and hold the same side button until you see the iPhone logo.
Solution 2. Update or Reinstall WhatsApp
In order to see if your WhatsApp is outdated or not, go to the App Store on your mobile and search for WhatsApp.
If WhatsApp on your device is outdated, it will show you an option of Update.

Tap on the Update option and wait for a few seconds. Your WhatsApp application will be updated soon.
Solution 3. Upgrade or Downgrade Operating System of iPhone
Go to Settings > General. Tap on the About option and see if there is any update available for the iPhone operating system. If yes, then tap on it and update the operating system on your device and restart it.
You can also allow your mobile to automatically adopt and install all the updates on your device. For this, go to Settings > General > Software Updates. You will see the option of turning on the automatic updates. Tap on it, and it will update all your software whenever needed.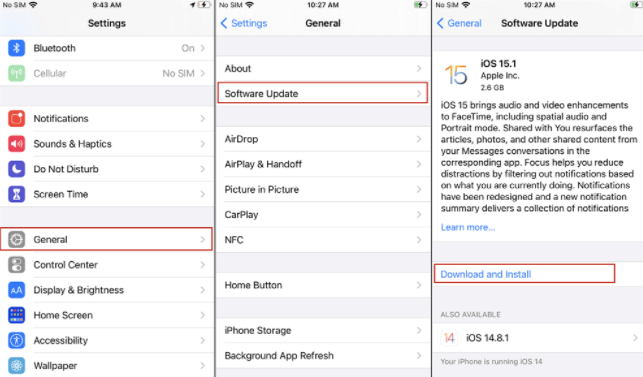 Solution 4. Turn off Auto Backup to iCloud in WhatsApp
Open WhatsApp on your mobile and go to the WhatsApp Setting > Chat > Chat Backup. After that, you will be on the next screen. Choose the option Auto Backup. Here, you will see many options, click on Off, and it will disable the chat backups easily.

You can also disable the WhatsApp sync options from your iCloud setting. For this, go to Settings of your mobile and then tap on the Apple ID. Tap on iCloud and disable the WhatsApp option from that screen.
Bonus Tip: Backup Your WhatsApp Data to PC Before Fixing Crashes
iMyTrans is a desktop-based and mobile-based application of iMyFone especially designed as a WhatsApp data transfer tool. It is easy-to-use software with extraordinary features and a simple user interface. The WhatsApp management tool has a powerful algorithm that backs up all the data, and it is suitable for both Mac and Windows.
Step 1.First of all, download the software iMyFone iMyTrans from the website and install it on your device. It is totally free to download and install.
Note
Open the software and connect your device to the computer with a USB cable. Android users will have to allow access to connect their device to a computer, while iPhone users will have to trust the computer on their mobiles.
Step 2.Click Back Up to start the backup process. Choose the type: Business WhatsApp or WhatsApp. The iTransor program will create all backups for iPhones automatically, but for Android users, it will guide them to follow some manual steps on mobile.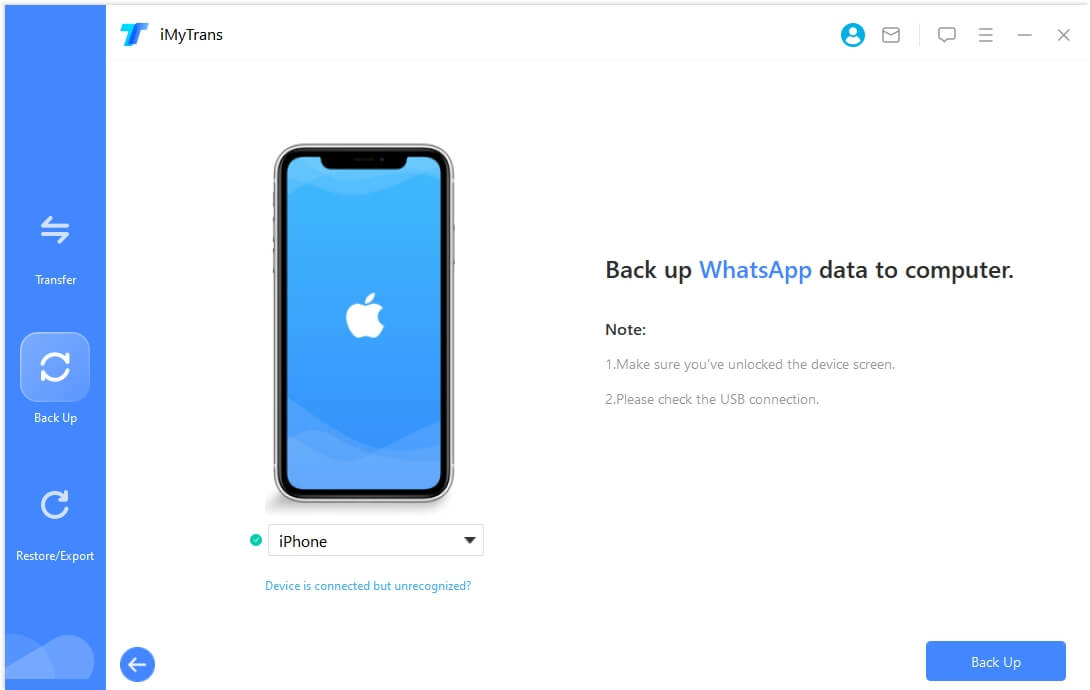 Step 3.You will be notified after completing the process of backup. To finish, click on the blue Done button. You can also check the location of your restored data on your device with the check option at the bottom of the screen.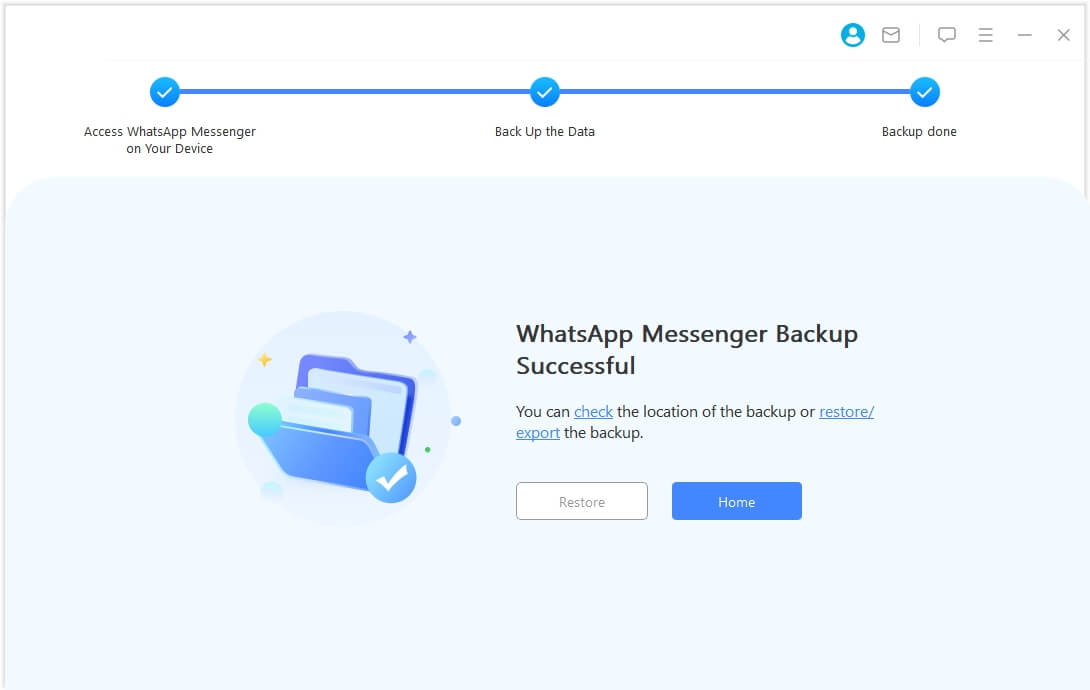 FAQs: More About WhatsApp Crashing Issues
1

What is WhatsApp Crash Code Message?
WhatsApp crash code messages crash your WhatsApp. These messages were reported in Brazil. Due to a bug in WhatsApp, such messages were able to crash the application. However, the company has patched the bug. There is no need to worry about such messages.
2

What may lead to a WhatsApp group chat crash?
Your WhatsApp group can be crashed because of many reasons. Some of them are poor internet connection, software bugs, malware, and less device storage. Solve these issues as described above, and all problems regarding WhatsApp will be fixed.
Conclusion
Many WhatsApp users have experienced crashing of the application. It is quite common, especially for IOS 15, but it can be fixed easily. You can follow the above-mentioned simple steps to solve the problem. We have listed some important reasons that cause this crash issue, so avoid those things first. Moreover, we have also shared iMyFone iMyTrans backups and data transfer from mobile to mobile & mobile to computer. You can use this to create a backup and then easily reinstall WhatsApp.