You do not want people to know that you have read their messages, right? At some point, we all do. In this article, you are going to learn how to turn off read receipts on WhatsApp, otherwise known as "blue tick", and prevent other people from knowing that you have actually read their messages. But before we proceed, let us look at some basic terms.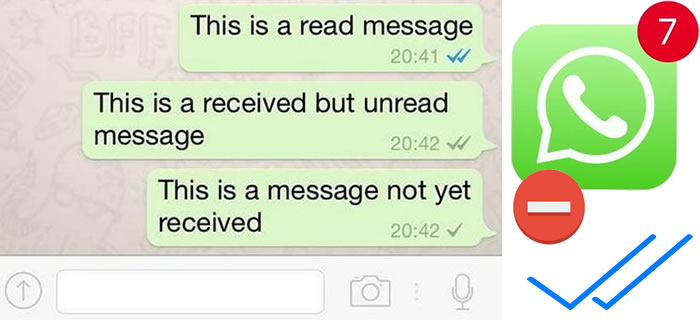 What's the Blue Tick on WhatsApp?
What does blue tick mean?
"Blue tick", as most people often call it, is an indication that the WhatsApp message you sent to a contact on your list has been read by them, or at least opened by them. It confirms that the recipient has read the message.
What's the difference between grey tick & blue tick?
When you send a message to your contact on WhatsApp, it undergoes different stages of delivery before they are actually delivered and read. These stages include:
√ The single grey tick stage: at this stage, you have successfully sent your message, but it has not reached the recipient.
√√ Double grey ticks stage: this time, your message has been delivered to the recipient, but they have not read it.
√√ Double blue ticks stage: at this point, the message has been sent successfully on your side, the message has been delivered to the recipient, and the recipient has opened or read it.
What will happen if you hide blue tick from WhatsApp?
Since the blue tick reveals to a sender that you have read or opened their messages, turning it off simply means that they will not be able to confirm that you have either read or opened the message they sent to you. In the same vein, you also will not be able to know whether your recipient has read or opened your message.
Steps to Remove Read Receipt on WhatsApp
Now that we have known the meanings of the basic terminologies involved in this little hack, we can now proceed to the steps we need to take to remove read receipt on WhatsApp for both iPhone and Android.
For iPhone
Step 1.Launch WhatsApp on your iPhone and tap on the gear icon from the bottom to visit its "Settings".
Step 2.Browse to "Account" > "Privacy" settings.
Step 3.Find the "Read Receipt" feature and toggle it off.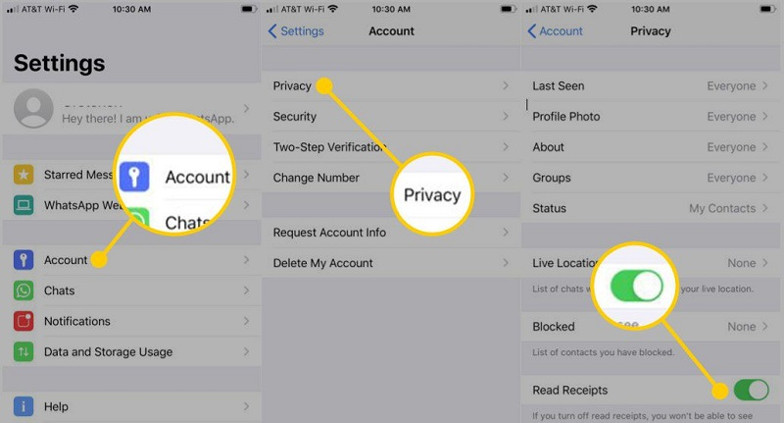 When you disable the Read Receipt option, your contacts will no longer see a blue tick for messages sent to you. Similarly, you will not get a blue tick for your messages on WhatsApp.
For Android
Step 1.Launch WhatsApp on your Android device and tap on the three-dot icon from the top to visit its settings.
Step 2.Browse to "Account" > "Privacy" section and look for the "Read Receipt" feature.
Step 3.To disable blue ticks, just toggle the "Read Receipts" feature off.

Following that, your contacts will no longer see a blue tick for messages sent to you. Because you also will not receive blue ticks for your messages, you may simply switch it on by repeating the process.
Tips
Can I Disable Read Receipts for WhatsApp Group and Voice Messages? How?
While it is possible to disable read receipts for WhatsApp messages sent to your contacts, both on the official version of WhatsApp and modded versions, it is impossible to do so for group messages and voice messages.
What this means is that even if you turn off the read receipts, it will only be effective and functional for messages sent to contacts and not messages sent on groups. In the same manner, voice messages sent either on personal chats or groups cannot be affected by turning off read receipts. Maybe in the future, this feature will be available across all platforms, but for now, you have to bear it.
You May Also Wonder:
How to Fix WhatsApp Not Sending Voice Messages Issues
Bonus Tips: Backup and Restore WhatsApp Messages at Any Time
If you wish to back up WhatsApp text messages, voice conversations, media, and attachments and recover them at any time, or if you need to transfer WhatsApp data between iPhone and Android, iTransor for WhatsApp can assist.
With this do-it-all application, you can easily transfer WhatsApp data from iPhone to Android and Android to iPhone. You can also back up your WhatsApp data on Android and iPhone to your computer and restore it anytime you want it.
iMyFone iTransor for WhatsApp
Transfer WhatsApp between Android and iPhone.
Back up WhatsApp on Android and iPhone to a computer.
Restore WhatsApp backup to iPhone and Android devices.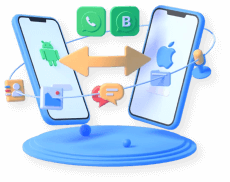 Back Up WhatsApp Messages
Step 1.Download and install iTransor for WhatsApp on your PC. Choose "Back Up WhatsApp on Devices" module. Connect your Android or iOS device via the appropriate USB cord to your computer. Start backing up WhatsApp by clicking the "Backup" button.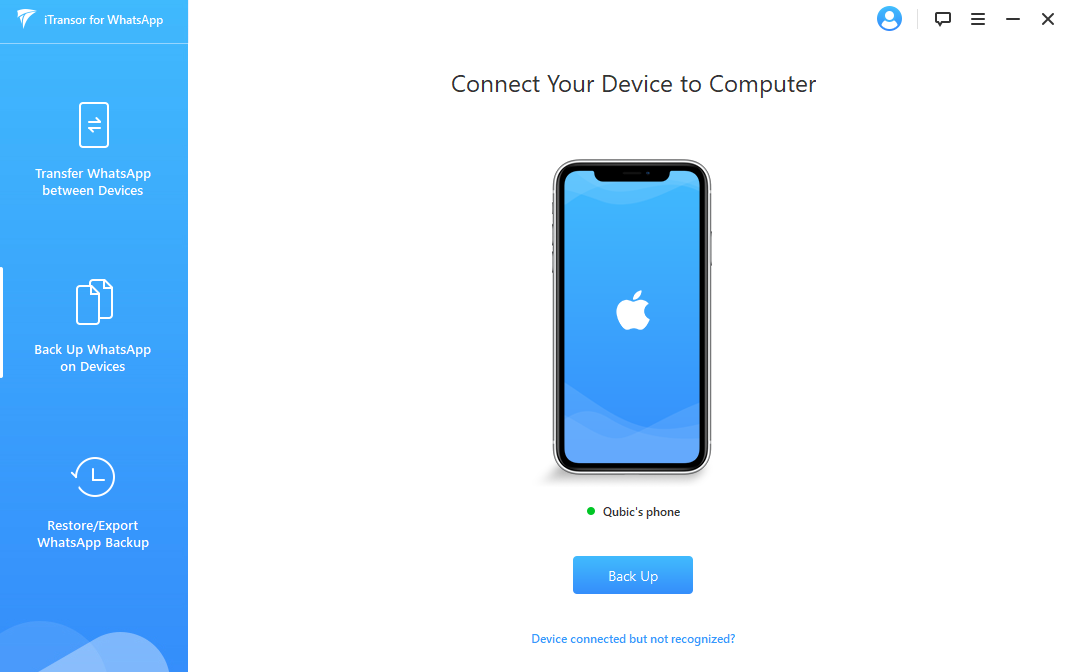 Step 2. Back up WhatsApp following the on-screen commands and instructions. Finish WhatsApp back up.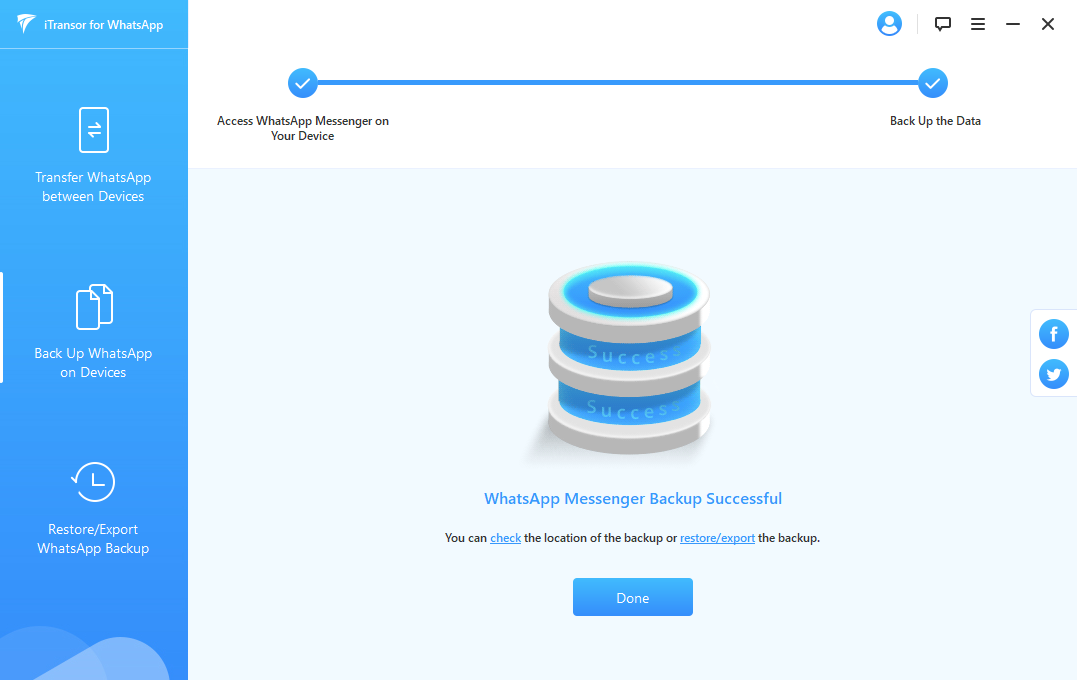 You can also use iTransor for WhatsApp to retrieve backed up WhatsApp stickers, messages, media and more to iOS and Android device.
FAQs: More Tips About WhatsApp Read Receipts and Messages
1

Can I turn off blue ticks on WhatsApp for one person?
Unfortunately, you cannot turn off blue ticks on WhatsApp for just one contact. However, you can always read their messages from the notification panel without opening the WhatsApp app at all.
This way, they will not get the blue tick on their side, meaning that they won't know whether you have read their message or not. But make sure to not open the chat.
2

How to turn on blue tick on WhatsApp?
Turning on blue tick on WhatsApp is the same process as turning it off, as explained in the body of this post. Simply open your WhatsApp app on your Android or iPhone and follow the processes above.
3

How do I know if someone is checking me secretly on WhatsApp?
There is no proven way of knowing if someone is secretly checking you on WhatsApp. WhatsApp does not notify a user when another user is checking their profile or secretly doing so. However, there are some times that you will receive a voice call or video call from your contact or a strange number. This kind of a scenario suggests that the person was on your profile when they mistakenly clicked the call button. Notwithstanding, this is not to categorically state that the user was checking you secretly on WhatsApp. Or you may want to know if someone has blocked you on WhatsApp.
Conclusion
This concludes our comprehensive instruction on how to remove blue ticks from WhatsApp on iPhone and Android. Anyone can learn how to remove blue ticks in WhatsApp by removing the read receipt function because the technique is so straightforward. Apart from that, if you don't want to lose your WhatsApp chats, then try utilizing iTransor for WhatsApp to back up your data to your PC and recover it any time you wish to.