I'm stuck in a bit of a pickle with my Samsung phone – some of my text messages have gone poof and vanished into thin air. I'm scratching my head trying to figure out how to bring 'em back. So, if any of you awesome folks out there have the scoop on finding and rescuing these AWOL messages, I'd be forever grateful for your wisdom.
Text messages play a crucial role in maintaining strong connections with friends, family, classmates, colleagues, and business partners in our daily lives. However, it's common to accidentally delete important messages. Is it possible to recover deleted text messages on Samsung Galaxy phone? Does Samsung offer solutions for its smartphones like Samsung S3/S5/S6/S7?
Indeed, they do. Additionally, there are several other methods to restore deleted text messages on a Samsung Galaxy phone. This article explores the reasons behind the disappearance of Samsung text messages and delves into various techniques to recover vanished texts on Samsung devices.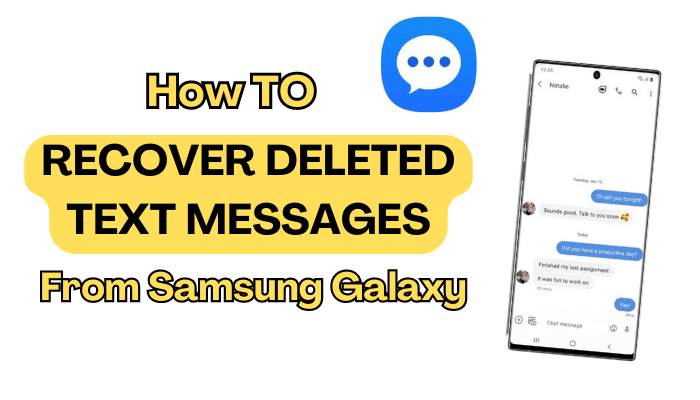 Part 1. Can I Recover Deleted Text Messages from Samsung Phone
Yes, you can! When you remove a text message on your Samsung phone, it's not gone completely. The message stays on your phone but in a hidden way. If you don't put new stuff in that place, you can get it back.
You need to stop using your phone right away if you deleted a message by mistake. If you keep using it, the new stuff might cover the message, and you can't get it back.
Part 2. How to Recover Deleted Text Messages on Samsung Galaxy Phone
If you accidentally deleted text messages and don't have a backup, you can use a tool called D-Back to help you get them back. D-Back is a helpful tool that not only can it effectively recover deleted text messages on Samsung Galaxy phones, but it also has the remarkable ability to recover blocked text messages. Able to recover deleted text messages from Samsung phones and tablets, whether you have a backup or not.
Capable of retrieving your lost or disappeared texts due to accidental deletion, water damage Samsung, factory reset, and more.
The application boasts a high success rate in recovering data and is very safe to use.
The recovery process is simple, requiring only a few steps to find your text messages.
Supports a variety of Android devices, including Samsung, Xiaomi, Huawei, Motorola, LG, and more.
Let's explore how to use this tool for text message restoration.
Step 1: Launch the tool and pick the needed recovery mode. You have three options: 'Recover Data from Google Backup', 'Android Data Recovery', and 'Broken Android Data Extractor'. Let's opt for 'Android Data Recovery'.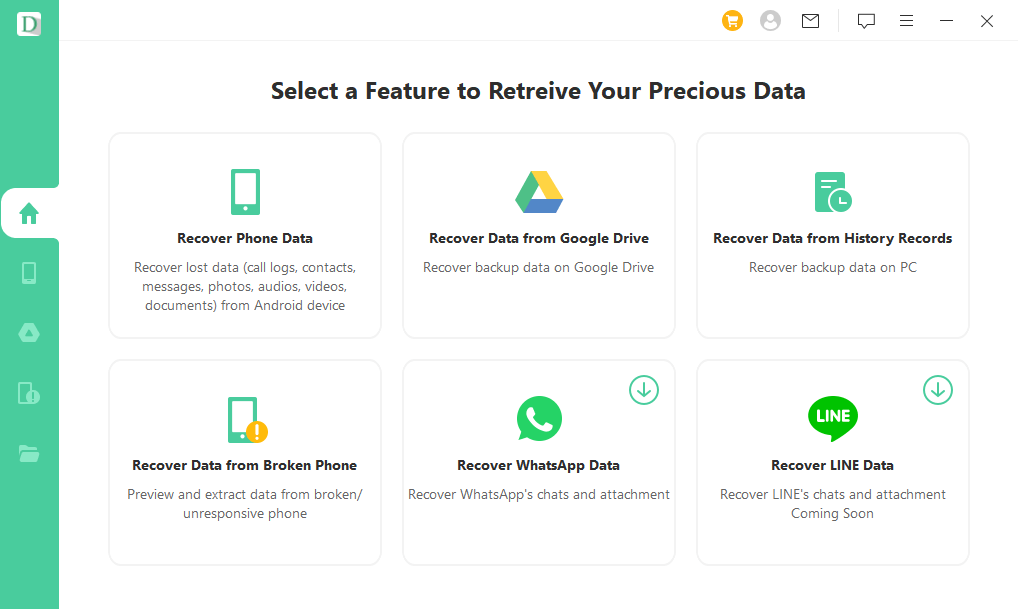 Step 2: Choose your device info. Select the accurate device name and model. Click 'Next', and the app will automatically fetch the data package.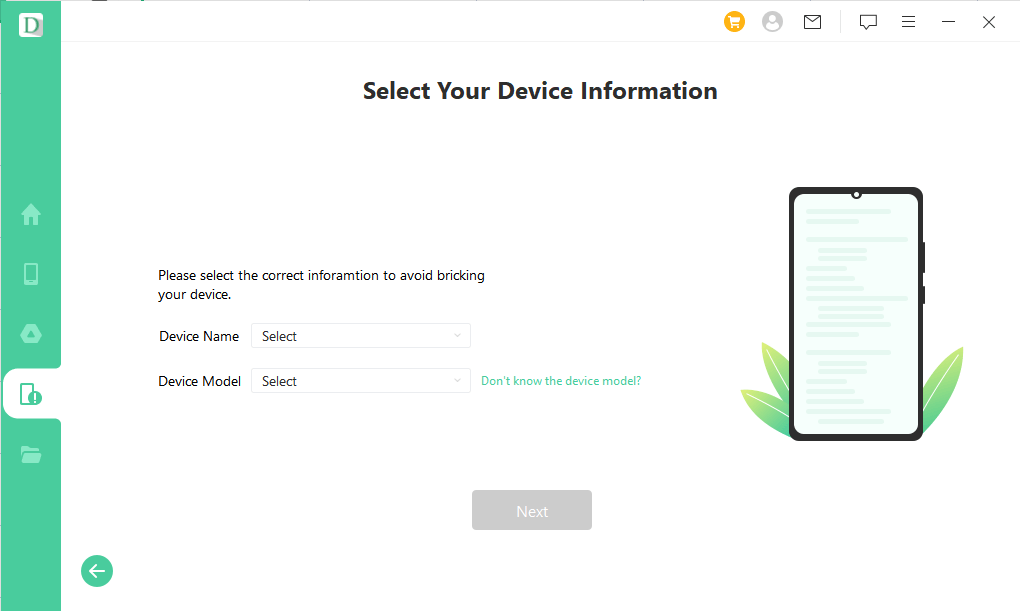 Step 3: Connect your smartphone to the PC via a USB cable. Follow D-Back's three simple steps to put your device in download mode.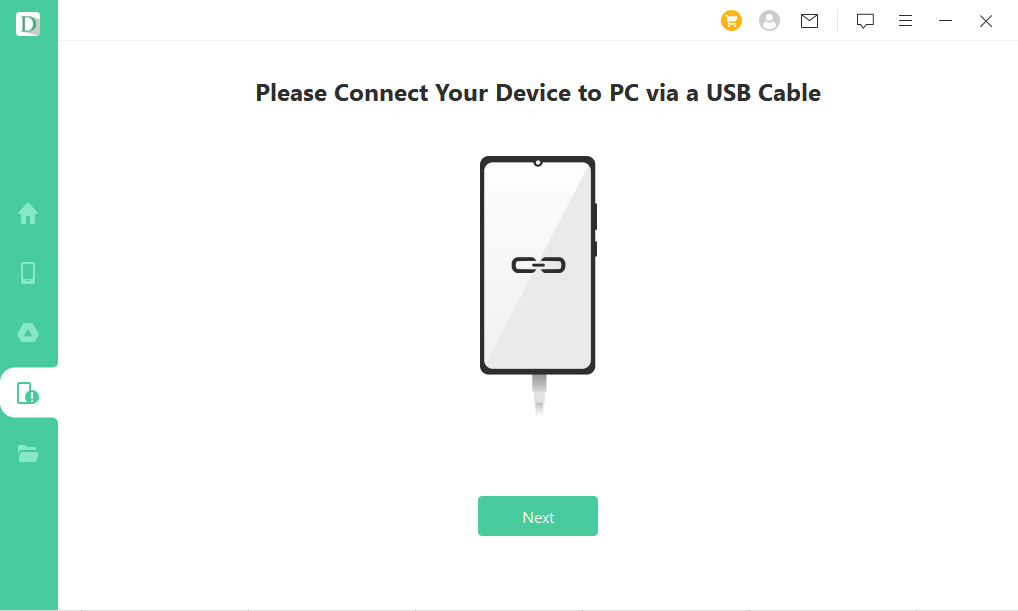 Step 4: Now, select the "Messages" file type you wish to restore. Click 'Next' to scan the chosen type.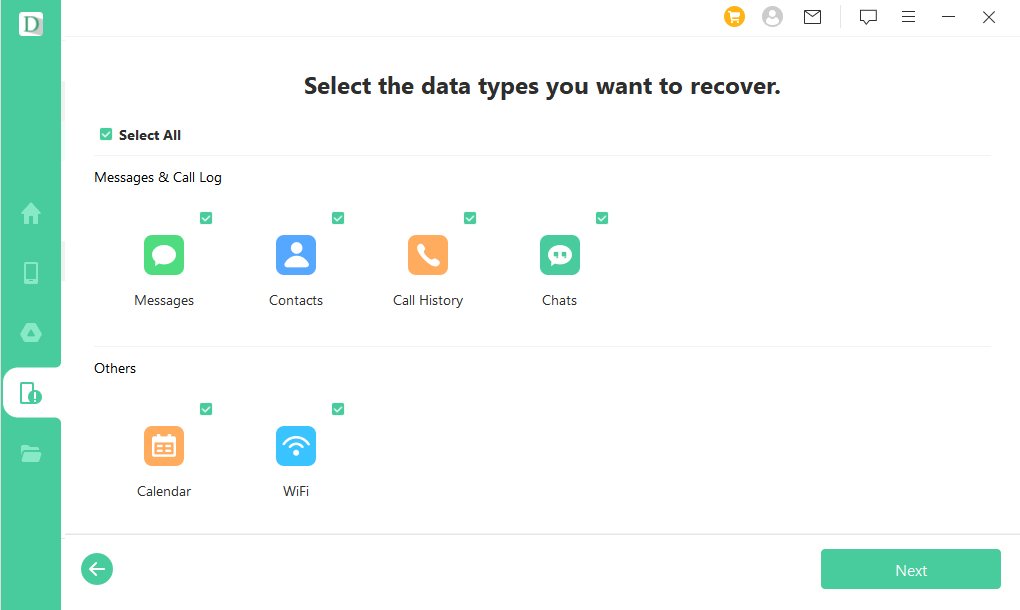 Step 5: Finally, view all the lost files on your screen. Preview and choose the files you want to recover. Click 'Recover', and the selected files will be saved to your PC.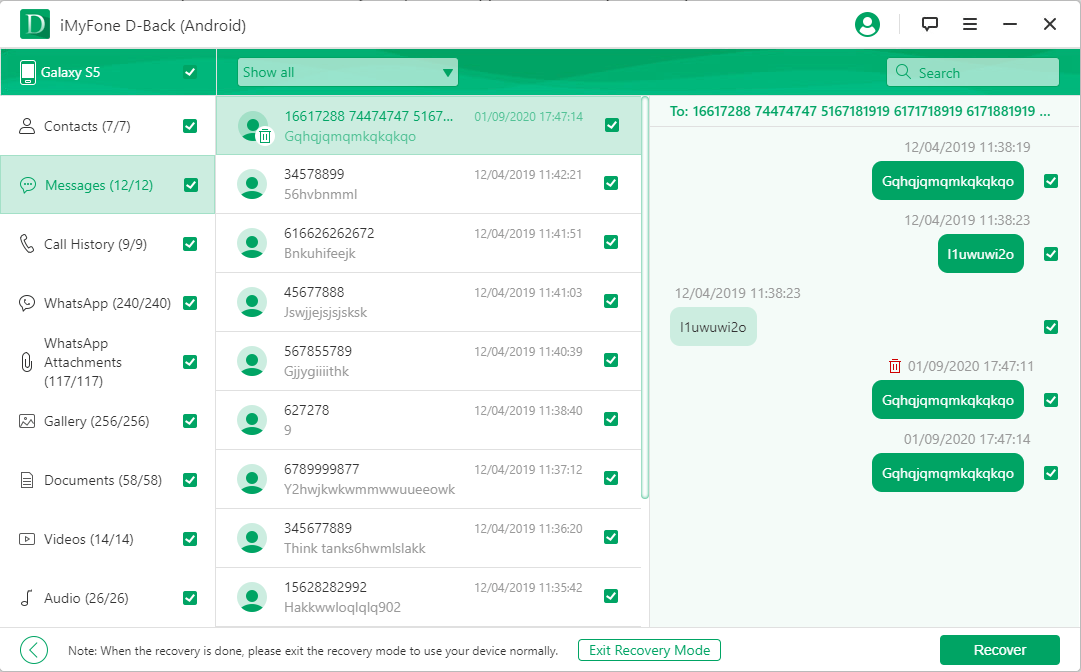 Part 3. Other Methods to Retrieve Deleted Text Messages from Samsung Galaxy Phone
Recover Missing Text Messages on Samsung Using Samsung Cloud
If you're a Samsung user, you're likely familiar with Samsung Cloud – an online backup service for Samsung smartphones and tablets. It's a straightforward data management tool that proves highly useful for recovering lost data.
So, if you've lost text messages on your Samsung device, don't worry. First, check if you've backed up your phone to the cloud. If you have, follow these steps:
Step 1. Access your phone's Settings and select Accounts and Backup.
Step 2. Select Backup and Restore.
Step 3. Choose Restore data and pick your Samsung smartphone.
Step 4. Next, select the content you want to restore – in this case, text messages.
Step 5. Finally, tap on Restore.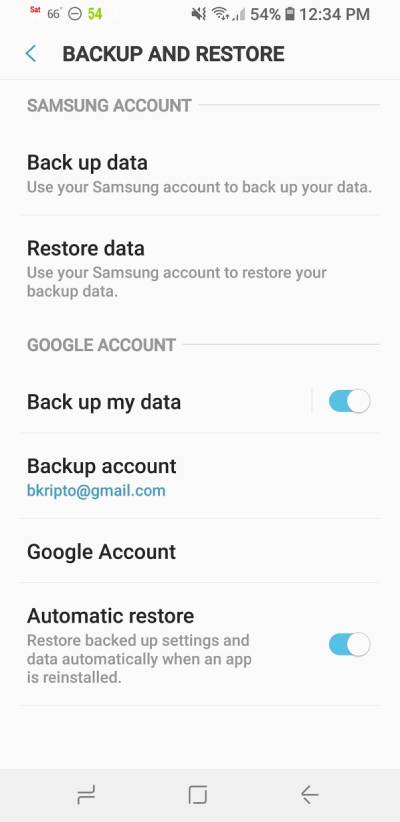 Retrieve Lost Text Messages on Samsung Using SMS Backup & Restore App
In addition to Samsung Cloud and service provider options, there's another valuable method for recovering lost text messages on Samsung devices. This involves using third-party applications available on the Play Store. Many such apps are available, but just like with Samsung Cloud, you should ensure you've backed up your messages to these apps. One highly regarded third-party app for message backup is SMS Backup & Restore.
Here's how you can use the SMS Backup & Restore app to restore messages on your Samsung smartphone:
Step 1. Install SMS Backup & Restore from the Play Store and launch the app.
Step 2. Tap on "Restore."
Step 3. Choose the backup files that contain the text messages you want to restore, and tap the checkboxes next to them.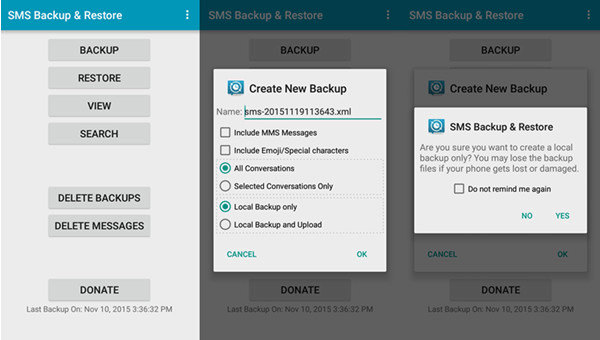 Step 4. If you want to recover multiple backups or a specific one, tap the arrow next to the SMS message backups.
Step 5. Tap on "Restore."
Step 6. The app will prompt you to temporarily set SMS Backup & Restore as the default messaging app. Choose "OK."
Step 7. Tap "Yes." The restoration process will begin.
Step 8. After the restoration process is finished, click on "Close."
While these apps are helpful, there's an important point to note. Your smartphone's memory contains a hidden folder with all deleted text messages. However, you can't access this folder through a file explorer without rooting your smartphone.
If you prefer not to root your phone, you can still recover text messages from Android phone without root.
Bonus Tip: Prevent Permanent Text Message Loss on Samsung
Deleted text messages remain on your device even after deletion until they're replaced by newly deleted data. To avoid losing texts permanently, follow these tips:
Refrain from using your smartphone before recovering the deleted text messages.
If you've lost text messages, aim to restore them promptly. Waiting can make message recovery more difficult due to a higher risk of overwriting.
Part 5. FAQs about Recovering Deleted Text Messages on Samsung
1

Will I need to root my Samsung phone to recover deleted text messages?

Not necessarily. While some methods may require rooting your Samsung phone for full access to deleted messages, there are also ways to recover messages without rooting, such as using third-party applications.
2

Can I recover text messages that were lost due to a factory reset on my Samsung device?

Yes, you can potentially recover text messages lost due to a factory reset by using data recovery software or restoring from a backup that was created before the reset.
3

Is Text Message Data Stored on SIM Cards After Deletion?

When a text message is deleted from your Samsung smartphone, it doesn't vanish instantly. The encrypted technical data of the message still resides on the SIM card, though it's marked for potential overwriting. This encrypted SMS data continues to exist on the device until enough new data is stored that replaces it. If SMS messages are directly downloaded to your Android device, a considerable number of "deleted" SMS messages might persist.
Conclusion
The methods mentioned above are valuable and can effectively aid in recovering lost messages. Remember, it's crucial to initiate data recovery promptly to prevent additional data loss. If the free approaches mentioned earlier don't yield the desired results, why not consider giving D-Back Android a try?
Restore deleted text messages/photos/videosfrom Samsung with One Click.