Google Drive is not an ordinary app that is limited to storing data, photos, and videos in cloud storage. Instead, it offers unlimited cloud storage to its users if they choose to upload high-quality multimedia content. While iCloud provides only 5GB of free storage shared with other Apple products, Google Drive offers a whopping 15 GB of free storage shared among other Google products. If you are wondering how to backup an iPhone to Google Drive, this article will guide you through the entire process.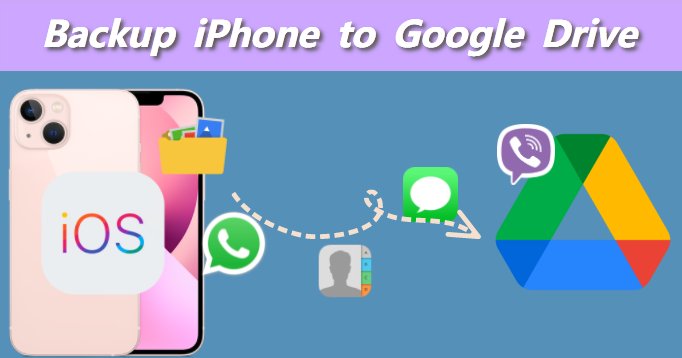 Part 1: Export iPhone to Google Drive in 2 Steps Using iOS Data Extractor
Step 1: Export iPhone to Computer
iMyFone iTransor Lite allows you to transfer your data easily from iOS devices, iTunes backup, and iCloud backup into your computer. This iOS data exporter also supports exporting data from 3rd party apps such as LINE, WhatsApp, Viber etc. With this program, you can view and select data on your iPhone before export, and you can choose to save text conversations in different formats.
Step 1.Download iTransor Lite and launch the program, then connect your device to the computer. Choose Export from Device & Backup from the left pannel and then Export from Device option.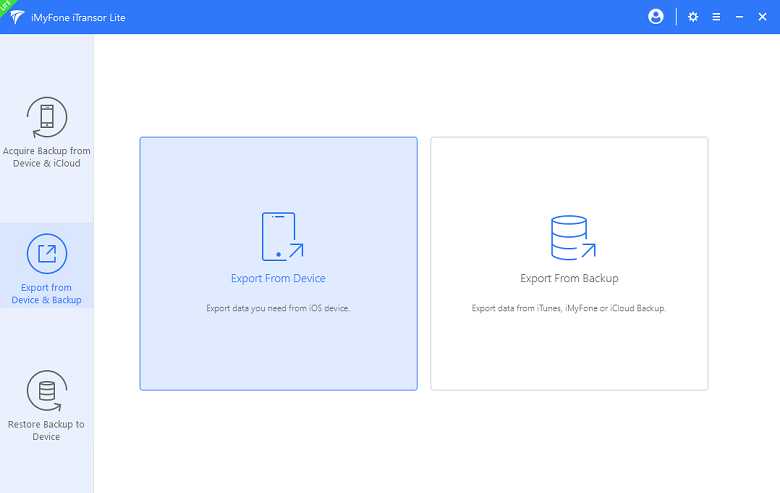 Step 2.Select the types of data you need in the box, and click on Scan once you finished.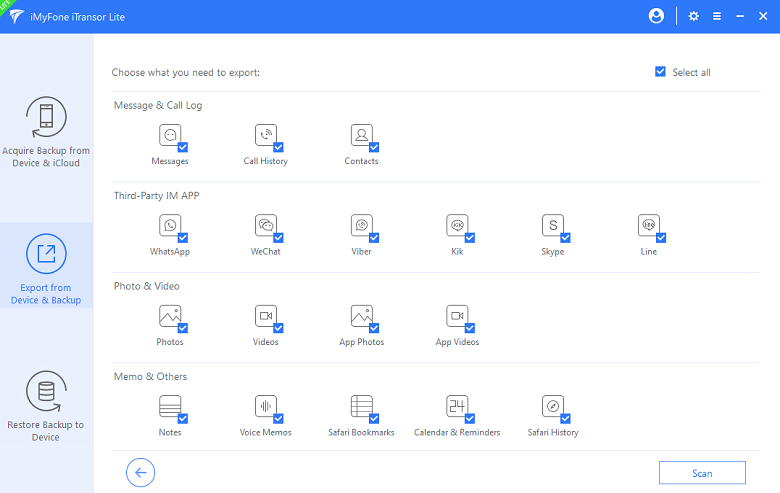 Step 3.After the process of scanning, you can now preview the specific data just as on your phone. Also you can selectively choose the data finally need to be exported, and then click on Export.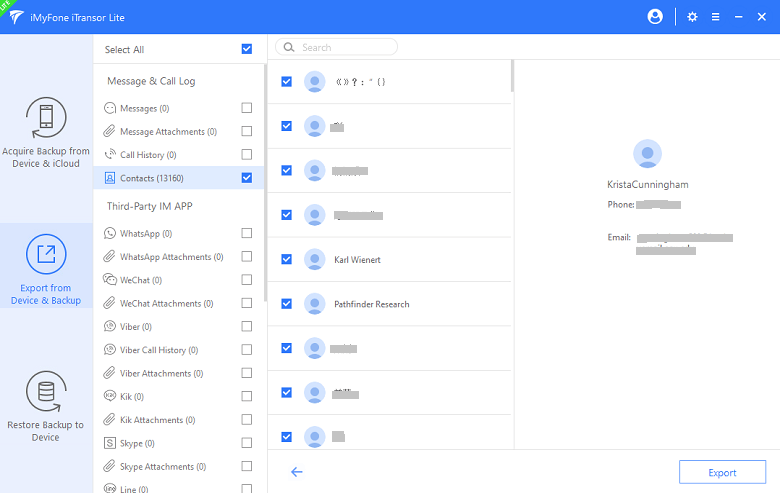 Step 4.Wait untill the process is done and do not disturb the connection between devices. Finally don't forget to check the storage place of your iPhone backup for your next step. Also, you can choose the path manually before backing up process.
Step 2: Backup Computer to Google Drive
Following these steps, you can backup your computer with iOS data to Google Drive easily and successfully:
Check the storage on your Google account. Download Google's Backup and Sync Tool. After completing the download, you can install the app and Sign in using your Google account.
Choose the folders that you you just set when backing up iPhone. If you want to select photos and videos, you can select Upload photos and videos to Google Photos as well. Then click on NEXT.

This tool also offers the function to chooose folders from Google Drive and sync them to your computer, you can decide whether to complete this step or not.
If the process takes too long and your internet connection is slow, you can limit the bandwidth the app uses for its processes. You can change this setting: Backup and Sync app > Settings > Network Settings.
Part 2: Backup Contacts/Calendar/Videos from iPhone to Google Drive with iOS App
Transferring content from iPhone to a non-iOS device can be challenging. However, there are several methods to carry out this process. iPhone users can easily backup their data to Google Drive, iPhone photos to Google Photos, and contacts/calendars to Google contacts.
It is important to remember that contacts and calendars from third-party social apps such as Instagram, Facebook, WhatsApp etc., will not be backed up.
Install the Google Drive app from the App Store and run it.
Sign in with your Google account and click on Menu.
Select Settings > Backup > Start Backup.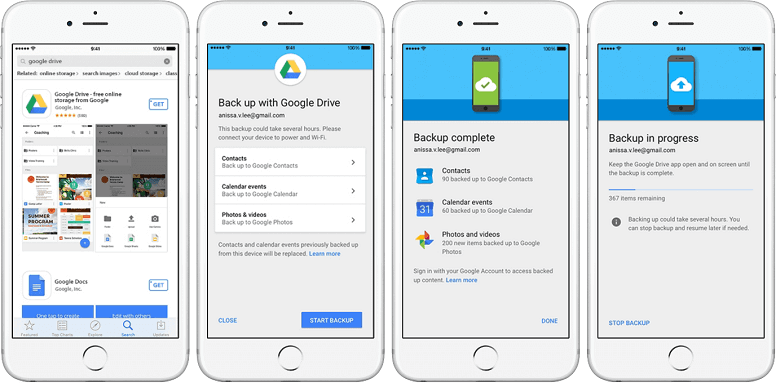 Part 3: Manually Backup Files from iPhone to Google Drive with Files App
Now that you have backed up your photos, videos, contacts, and calendars successfully, you can move on to backing up your files and folders. The documents and other files that you create using different apps or download from the web are stored on your iPhone and can be backed up on Google Drive for safety.
Give your iPhone access to Google drive. Open the Files app and select Browse.
Tap on Settings and select Edit.
Turn on the switch on Google Drive and click Done.

Sign in with your Google ID and navigate to On my iPhone.
You can select each file and folder by tapping Select, then Select All.
Tap the icon at the bottom-right of the screen and select Copy.
Navigate to Google Drive again and create a new folder titled iPhone Backup.
Paste all the previously copied files and folders into the new folder.
FAQs: More About Backing Up iPhone to Google Drive
Apple users can download iCloud backups and then backup iPhone data to Google Drive. You can back up iPhone photos to Google Photos, your contacts and calendar to Google Contacts and Calendars, and so on. Download and install Google Drive on your iPhone. Tap gear icon for Settings > Backup > Start Backup.
2. How can I increase my iPhone storage without iCloud except Google Drive?
Although you cannot increase your iPhone's internal storage, there are ways to expand it.
Plug in a flash drive and increase its external storage.
Carry a wireless hard drive with you to store data.
Keep your files at home with MyCloud.
Use servers such as DropBox and Amazon Cloud Drive to manage your files in the cloud.
To Conclude
Google Drive is a safe and secure platform to store your photos, files, etc. Even though its encryption protocol is not compatible with iOS system, you can still achieve backing up crucial data on iPhone to Google Drive. We hope this article helped you understand the different ways in which you can create a backup for your iPhone with Google Drive.