It is needless to say that online music streaming has become famous, but some people still like to download their favorite songs for offline listening. In fact, people have some of the oldest songs in their storage which you cannot find online anymore, while some use FLP Studio to create new tunes. Having said that, losing those files can be quite frustrating, but you can recover deleted FLP files pretty easily by following this guide. So, are you ready to find out more details?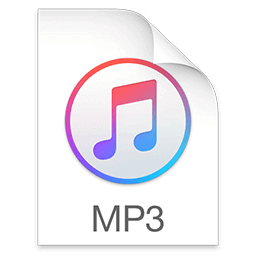 Part 1. How to Recover Deleted MP3/FLP/WAV Files
Recovering the deleted MP3/WAV/FLP files often seems challenging for people who have never done this before. However, you can easily recover deleted FLP files and recover deleted MP3 files by using the iMyFone D-Back Hard Drive Recovery Expert and other methods that we have outlined in this article!
1.1. What Is a WAV/FLP File?
If you have always wondered what FLP and WAV files are, we have the answers for you. To illustrate, the FLP file is the project file developed by FL Studio, which is a widely acclaimed software for composing, arranging, editing, and recording music. These files contain the music track settings as well as the plugins. On the other hand, the WAV file is the standard of audio files that are used for storing digital audio on your computer system.
1.2. Recover Deleted MP3/FLP/WAV Files with the Most Efficient Method
iMyFone D-Back Hard Drive Recovery Expert is one of the leading data recovery software out there. This is because it has cutting-edge features which can be used to recover data from multiple devices and supports an extensive range of file formats. Some of its features include;
Recovers data from hard drives, cameras, SD cards, USB flash drives, and SSDs
Supports more than one thousand file formats, including documents, videos, photos, audios, and archives
Allows the users to review the data before recovery
Unique algorithms help increase the scanning speed
Filter for locating the lost files by the date and type
Now that you know the features, let's see which instructions you can follow for recovering the files.
Step 1: Download iMyFone D-Back Hard Drive Recovery Expert
To begin with, download iMyFone D-Back Hard Drive Recovery Expert on the PC and make sure it is installed.
Step 2: Choosing the Location
Once the software is turned on, you will be able to check the interface, so start by selecting the disk where the FLP/MP3/WAV files are stored.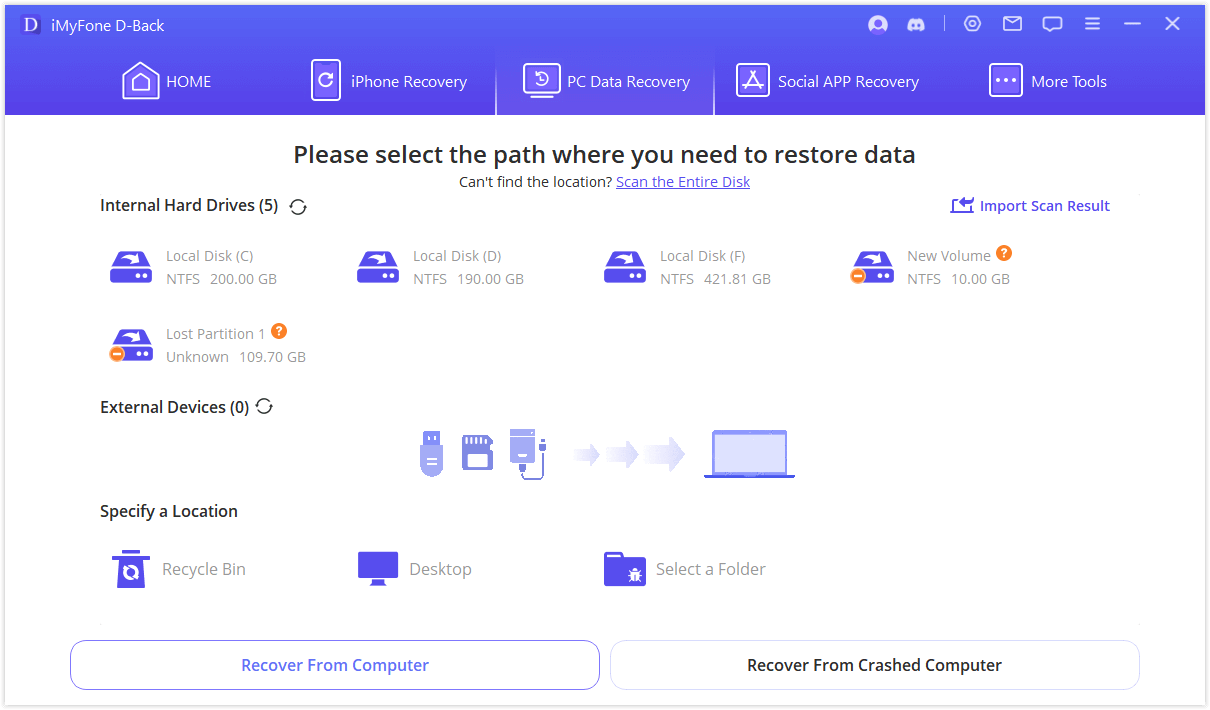 Step 3: Start The Scanning Process
Consequently, the iMyFone D-Back Hard Drive Recovery Expert will run the scan in an efficient manner, and you will be able to keep an eye on the status of the scanning process.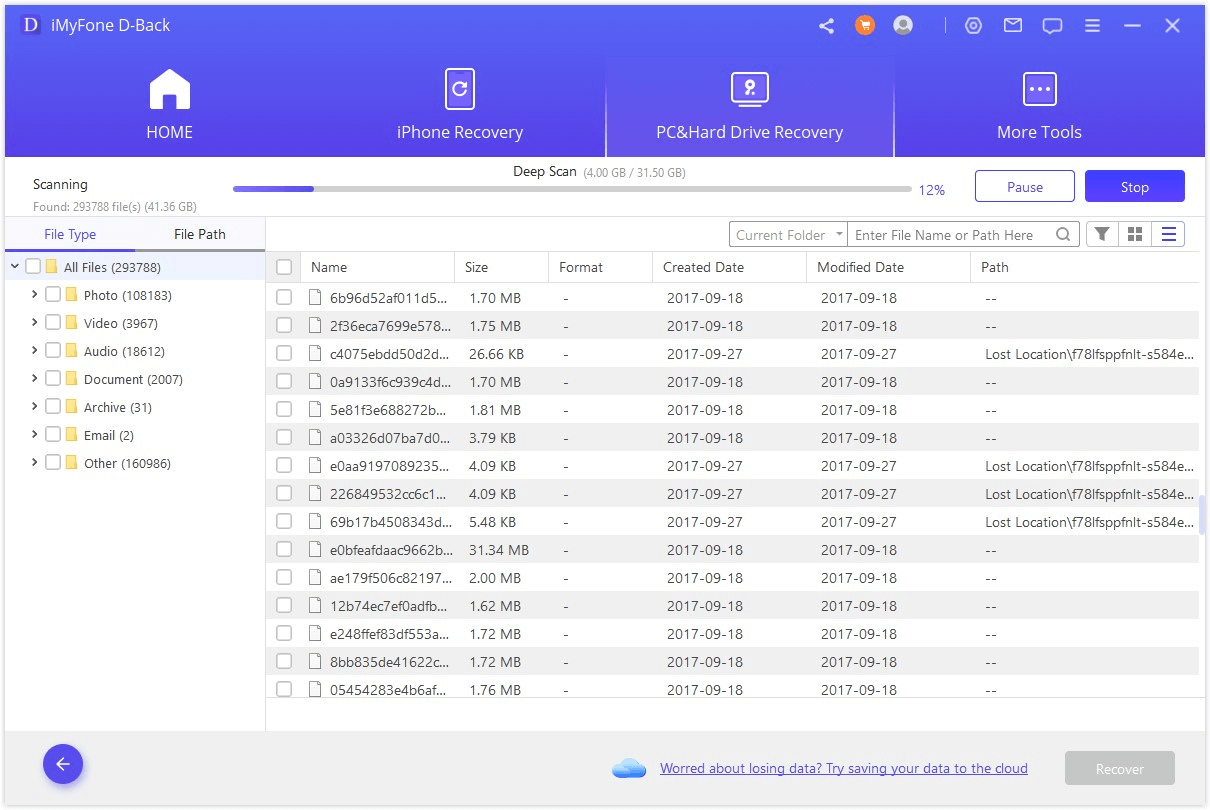 On the other hand, if you don't want to complete the scanning process for any reason, for now, tap on the pause button.
Step 4: Start Previewing & Recovering
Now, you will be able to preview all the important files, and you can use the search bar to find your desired files. You can also search the files by file type, date, and name.
Lastly, press the recover button, and you will be done recovering the file. Then, just store the files in your desired location.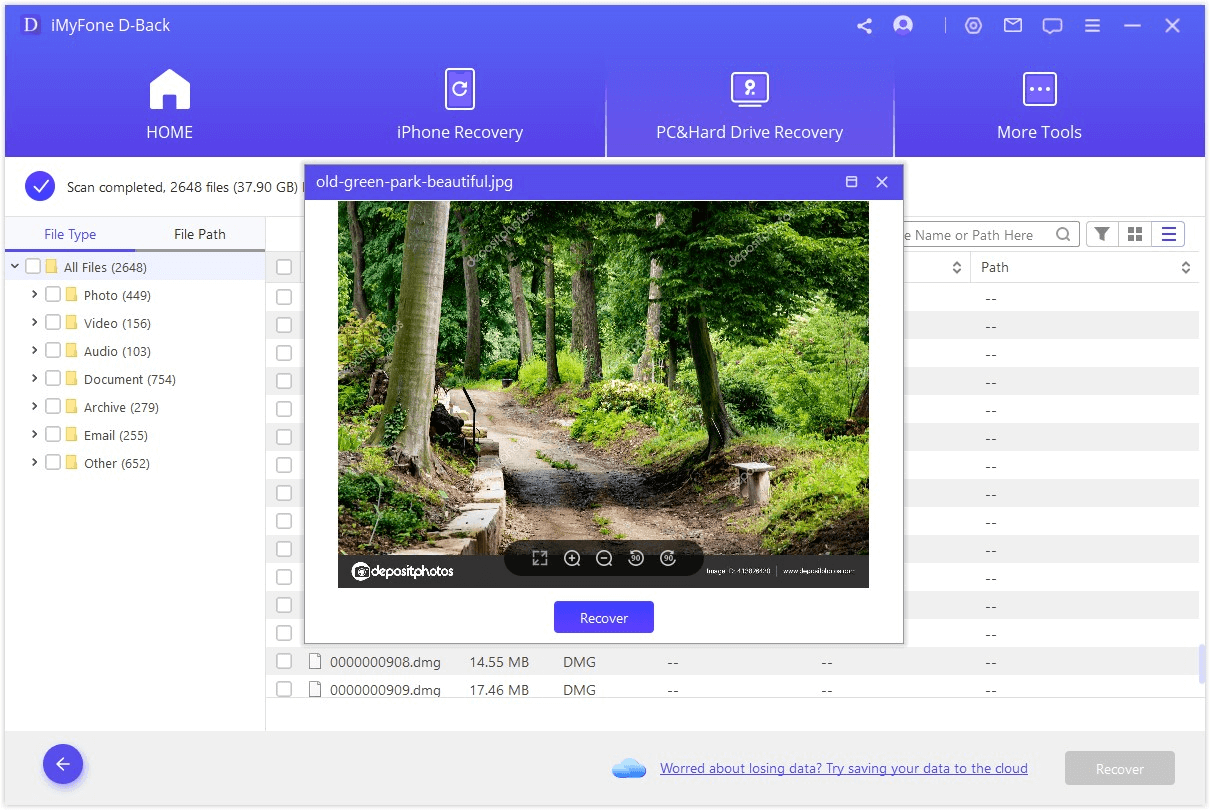 1.3 Recover Deleted MP3/FLP/WAV Files with Other Free Methods
iMyFone D-Back Hard Drive Recovery Expert is great software, but there are some other free methods that you can try out to retrieve the deleted files.
Using The Recycle Bin
If you deleted the files by mistake, fortunately, you will be able to recover the files from the Recycle Bin, and we have got the steps to help;
First of all, you have to open the Recycle Bin and locate the FLP, MP3, or WAV files that you want to recover.
Then, double-click or right-click on the selected file and hit the restore button, and the files will be restored to their original location.
Part 2. Pro Tip about Reasons of MP3/FLP/WAV Files Loss from PC
Now that you understand different ways of recovering the files from a PC, it's important to know the potential reasons, such as;
The PC is infected by the virus.
The abrupt system crash or power failure.
Incorrect formatting.
Accidental deletion of the files.
Improper ejection of the storage card.
Malware or virus attack.
So, to prevent such instances from happening, it's suggested that you create the file backup and don't remove the storage card during the read or write process. In addition, you should always use a high-end antivirus app to protect the files.
Part 3. FAQs About Recover MP3/FLP/WAV Files
1. How to recover corrupted FLP/WAV files?
Ranging from how to recover corrupted FLP files to how to recover corrupted WAV files, you can use iMyFone D-Back Hard Drive Recovery Expert to recover the corrupted and lost files.
2. How to recover deleted MP3/FLP/WAV files on a mobile phone?
With the smartphone, you can download iMyFone D-Back for Android on your PC, connect your smartphone to the PC, and let the software recover the files for you.
Also, if your Google account sync was enabled, then your data must have been uploaded to your account. You can also restore the files using the Google backup option. You've to simply log in to your ID and click on back up from the settings option.
3. How to export FLP files?
Once you're done working on the project, you can simply click on the file option, then export and then click on the Zipped loop package option.
4. Can I recover old FLP files?
Yes, you can recover the old FLP files with the help of the iMyFone D-Back Hard Drive Recovery Expert. In addition, you can use the backup folder of FLP Studio to gain access to older files.
Conclusion
It goes without saying that music enthusiasts are very sensitive about their music collection, and nothing is more frustrating than losing their favorite songs for them, especially when they have created the tunes themselves on FLP Studio.
However, if you are struggling with this issue, and want to recover your important data within a few minutes, then you should use the iMyFone D-Back Hard Drive Recovery Expert. It'll restore your data in simple 4 steps. Also, you can easily follow the other methods mentioned in this guide and help yourself to enjoy your favorite songs again.