You have probably been hearing more and more about iOS and its various features. One feature that you might find particularly useful is the ability to set your old chats on iMessage to automatically delete after a certain amount of time.
This can save you room (especially if you have a lot of large attachments) and also help to organize your conversations so that you don't have to constantly sift through irrelevant ones that no longer matter to you. So if you want to save some extra space and reduce the visual clutter, read on to find out how to use this new feature.
Part 1. How to Auto-Delete Old Chat Messages in iOS 15/14
Setting the auto-delete function in iOS 15/14 is fairly easy, whether you are using an iPhone or an iPad:
Unlock your iOS device and go to Settings -> General -> iPhone Storage -> Messages.
Go to where it says Auto-Delete Old Conversations and tap Enable.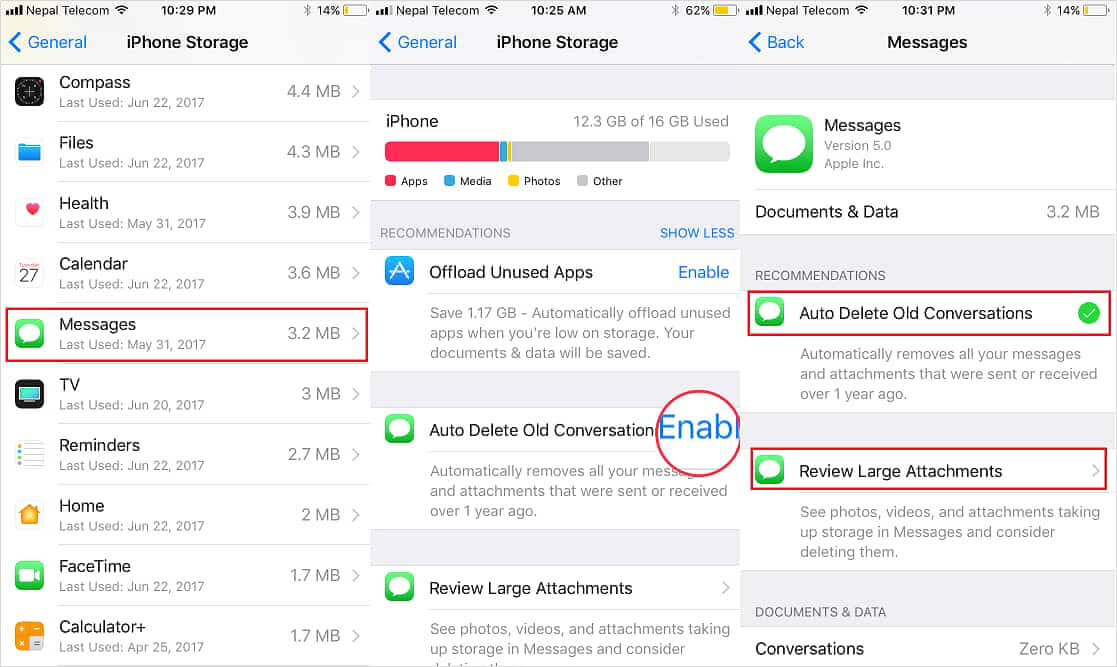 Part 2. How to Permanently Delete iMessage & iMessage Attachments
While the above is the way to auto-delete old chat messages in iOS 15/14, did you know that the method actually would not permanently delete the data? That's right; it's still lurking on your iOS, waiting to be overwritten. This means that anyone with special recovery software can potentially read your messages if they have access to your iOS 12. If you care about security, then using the above methods will not be enough.
Luckily, there is software available that can help you keep your privacy and fight snoops. It's called iMyFone iOS Eraser and it will erase your messages and attachments permanently and make them 100% unrecoverable.
Key Features of iMyFone Umate Pro:
Make deleted data 100% unrecoverable.
Permanently erase all kinds of iOS data: iMessage chats & attachments, contacts, call logs, notes, browsing history, WhatsApp.
Previously deleted messages and other data can be scanned out and completely destroyed.
Incomplete traces & fragments left behind by Snapchat, Line, Chrome, Facebook, Twitter, and 8+ third-party apps will be erased.
"iMyFone Umate Pro is one of the most advanced data erasers for iPhone, making recovery next to impossible." -- MacWorld, iPhoneinCanada, APPKED, etc.

So, how can we permanently delete iMessage data?
Step 1: Launch iMyFone iOS Eraser.. Connect your iOS device. Click Erase Private Data and let it thoroughly scan your iPhone.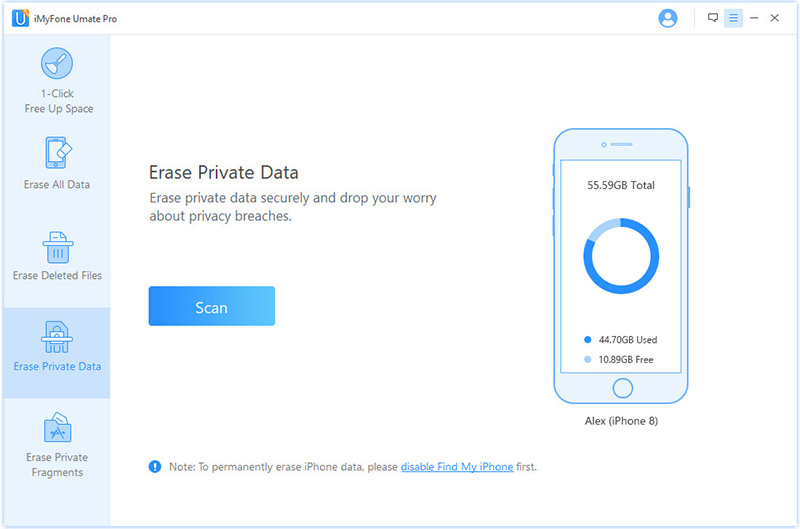 Step 2: You can double click on Message or Message Attachments to preview and select which files to erase. Then click on Erase Now to continue.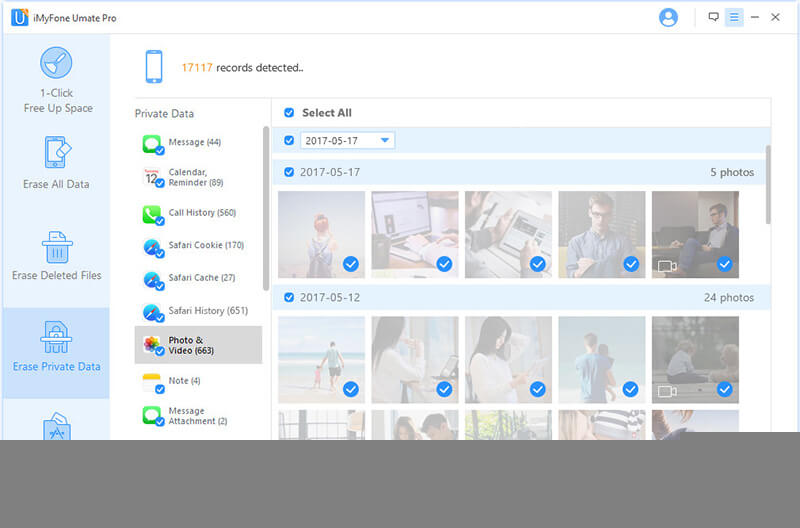 Step 4: Type Delete into the box to confirm and tap Erase Now button again to begin.
If you want to permanently erase previously deleted messages, just go to Erase Deleted Files.
Besides, iMyFone also has the basic function of cleaning:
Free trial to clear all app cache, corrupted files, crash logs, iTunes cache, etc.
Temporary files which easily occupy much space can be cleared to boost up iOS.
Photos can be losslessly compressed to save 75% space.
Photos/large files/apps can be mass removed to save huge available space on iOS 15/14.
Part 3. How to Delete Large iMessage Attachments in iOS 15/14
Do you need to delete attachments to clear up some space, too? You can do this easily in iOS 15/14. Just follow these steps:
Again, go to your Settings -> General.
Tap where it says iPhone Storage (or iPad Storage).
Look for where it says Review Large Attachments and tap that.
You will see a list of attachments. Tap on the ones you don't want and swipe to delete them. To delete more than one, hit Edit and then select multiple attachments. Tap the trash can throw them away.
Part 4. How to Delete Large iMessage Conversations in iOS 15/14
If you need to delete large conversations in iOS 15/14, you can also do that with a quite simple procedure:
Go to Settings -> General -> iPhone / iPad Storage -> Messages.
Finally, tap on Review Large Conversations.
You will see a list of your large conversations. You can swipe a conversation to delete it. To delete more than one, hit Edit, then select the ones you want to delete, and tap the trash can.
Conclusion
iMyFone iOS Eraser gives you option to preview and select private data to erase, and also, it gives you all-in-one erasure to completely wipe everything from iOS device. This is recommended especially when you want to sell or give away the old device. (Please note that reset is not safe enough to sell device as data is still recoverable.)