Twitter is an outstanding platform for connecting with others, staying up to date on current events, and directly debating with high-ranking political leaders. However, it can be a hostile environment at times, especially when things become personal. We teach you how to block someone on Twitter without them knowing.
Are you tired of seeing random Twitter feeds and self-promotional posts? Block/unblock someone on Twitter account allows you to enjoy your Twitter timeline without being bothered by these unwelcome messages. Do you understand how to block someone on Twitter? If not, don't panic; you'll discover how to block an account on Twitter after this post.
Part 1: What Happens When You Block Someone on Twitter
When you block someone on Twitter,
The person you block will have no idea you've blocked them unless they visit your profile.
When they're logged in, they can't see your Tweets.
They will no longer be able to follow you, and you cannot follow them neither.
They are unable to add you to Lists.
Direct messages will be disabled.
They have no access to your Followers, Following, Likes, or Lists.
They can't include you in a photo.
Even if they tag you, their Tweets will not display in your timeline.
Their comments will no longer show on your feed. But you may still see comments if other people you are following share them.
Part 2: How to Block Someone on Twitter
With more and more trolls on Twitter, it's critical to understand how to drown out the noise. Fortunately, it is relatively simple to do so. Learn how to block someone on Twitter.
1

Block Someone from A Tweet
Step 1: Click the More button (the down arrow to the right of the tweet).
Step 2: Select Block @[username].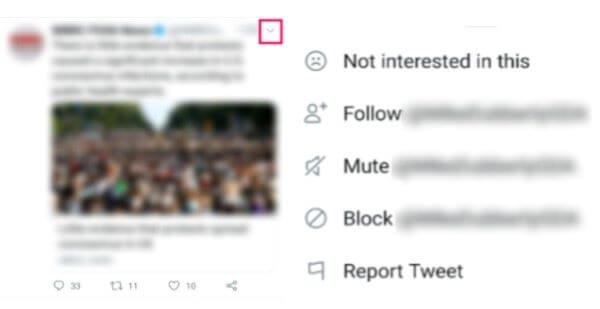 That's all! The mobile app interface may change somewhat based on your current operating system, but the result is the same. The individual will no longer display on your timeline or be able to tweet you.
2

Block Someone from the User Profile
It's sometimes necessary to double-check who you're blocking. Most Twitter usernames are obscure, so double-check that you're banning the proper person before venting about their rude Tweet. To remove someone from a user's profile:
Step 1: Click on the magnifying glass at the bottom and type the person's name into the search box at the top to get to their profile page.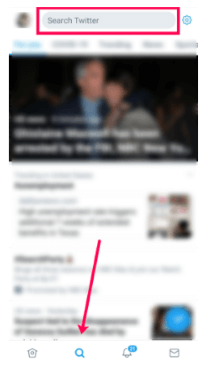 Step 2: Tap on the three vertical dots in the top right-hand corner (depending on your operating system, it may look like a gear).
Step 3: Choose Block from the right-hand dropdown menu.
Step 4: Confirm that you no longer want to block this individual, and you're done!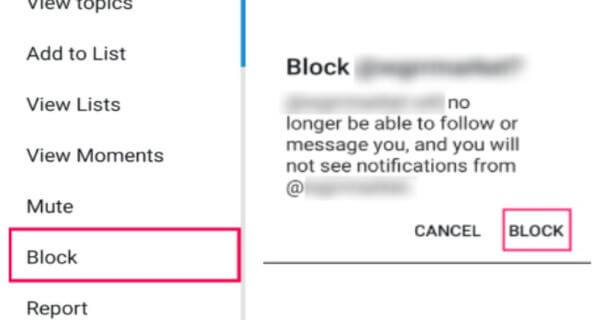 If you want to ensure the block is in place, go to the person's profile and look for a Blocked button.
Part 3: How to Unblock Someone on Twitter
It's so easy to block/unblock someone on Twitter if you need to. Whether you've reconciled with a buddy or realized quiet isn't golden, unblocking them restores access, assuming they haven't barred you.
Surprisingly, even if you've blocked another person, you may still view their tweets if you want to. They can't see yours, but before you unblock a nasty account, keep in mind that you may still snoop on their stuff without being noticed.
1

Find Blocked Accounts
There are several methods for locating a blocked account. The most straightforward way is to go to your search bar and enter their @[username] or scroll through the list of previously searched accounts. If you can't recall the username or it doesn't come up when you search, try this instead:
Step 1: Click the profile icon in the top left-hand corner.
Step 2: Select Settings and privacy.
Step 3: Select Privacy and security.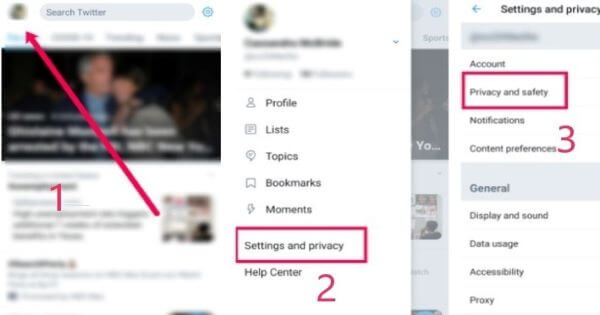 Step 4: Scroll down to the Safety section and choose Blocked Accounts.
Step 5: Tap on the account you want to view or unblock.
2

Unblock the Accounts That You Found
Once you've found the banned account, proceed as follows:
Step 1: Press the Blocked button.
Step 2: To confirm, select No or Yes.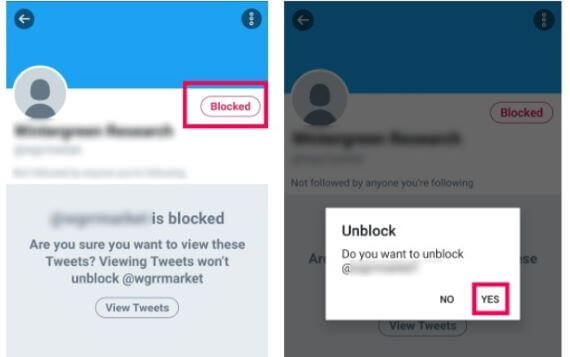 Part 4: Twitter: Block vs. Mute
You may come across a Twitter account that you wish to remove and block to avoid future contact. But there are also times when you want something a little less harsh. This is when the term "Mute" comes into play.
| Functions | Block | Mute |
| --- | --- | --- |
| Follow | | |
| @reply | | |
| Tweets visible | | |
| Receive notice | | |
While most of the experts favored blocking for accounts that consistently distribute spam or scams (both bots and organic accounts), they preferred muting for situations of online abuse and smear campaigns. This preference stems from the following factors:
Respects free speech: Unlike blocking, muted accounts can still tag the media source in their tweets, but moderators will not be exposed to harsh language because they will not get a notice.
Muting permits moderators to analyze still if the muted account has issued a severe and immediate threat against the media organization or its personnel. However, moderators cannot see blocked accounts, and possible genuine threats may go unnoticed.
Muting dissipates social media abuse directed at the media outlet and its staff: muted individuals are unaware that they have to get muted, and their abusive tweets do not reach the targeted account. On the other hand, Blocked users are alerted, resulting in a reaction and other harassment.
FAQs: More About Twitter Block And Space Free
1. Can you tell if someone blocked you on Twitter?
If you've been blocked on Twitter, you won't receive a notification, nor will you be able to locate a list of everyone who has blocked you. To find out whether someone has banned you on Twitter, go to their profile page and look for a notice that says you've got blocked.
2. What does it look like on Twitter when someone blocked you?
You will be unable to view the profile if you are blocked. Instead, you'll get a notice saying, "You've got blocked. You are unable to view or follow [the blocker's] Tweets."
3. How to clear data cache on Twitter?
You can clear your Twitter cache by its own storage manage function. Go to Settings and Data Usage, then manually clear data. Or you can also free up your phone space with a single click by using iMyFone Umate Pro. Hidden junk and deleted files can easily be permanently deleted with Umate Pro.
The Bottom Line
Twitter and other social media sites can bring out the best or worst in individuals. Excellent material gets often accompanied by a fair amount of criticism and hatred. That is why Twitter's Block function can assist in keeping unwelcome Tweets at bay.