In iOS 8, Apple introduced recent contacts on its multitasking menu i.e. app switcher. This new feature is very useful when it comes to quick text or call your most-contacted family and friends. With just a single tap on any of the contact bubbles, different kinds of options like message, call and FaceTime will appear.
But sometimes we need to remove recents on iPhone, such as;
To free up iPhone memory;
To wipe out private data;
It is annoying to some people, especially when it means seeing a particular face constantly;
Some people feel the recent feature on the app switcher is obscuring half of the screen, especially when it's in landscape mode;
Do not just like the feature and would prefer it as a widget in the notification center.
How to Manually Remove Recents on iPhone
1. How to Delete Recent Calls on iPhone
Everything concerning call history on iPhone is revealed by the recent calls feature in "Phone" app. Below is a complete guide on how to delete recent call on iPhone:
Step 1: Launch the Phone app on your iPhone. Then tap the Recent Calls tab at the bottom of your iPhone screen.

Step 2: Here you can view all incoming or outgoing calls, or all missed calls in the list.All incoming missed calls will be shown in the Missed section. Now swipe left to delete/remove one call from the phone app's recent call history.
2. How to Delete Recents on App Switcher Screen (for iOS 8)
Step 1: Go to "Settings" app.
Step 2: Inside, tap on "Mail, Contacts and Calendars".
Step 3: Scroll down the screen to the "CONTACTS" tab and click "Show in App Switcher".
Step 4: Switch "Phone Favorites" and "Recents" off.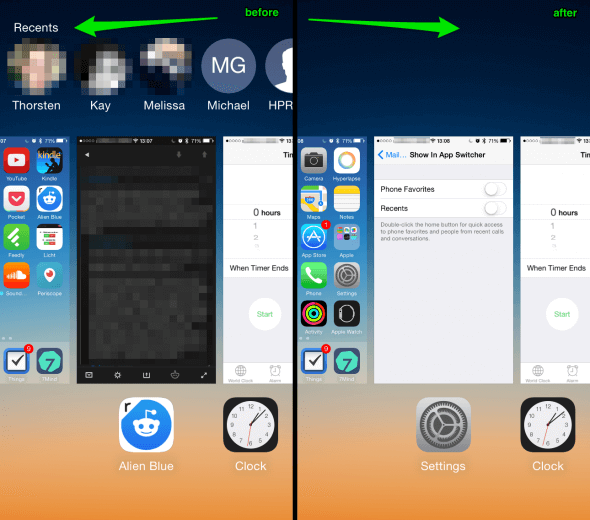 3. How to Remove Recent Contacts on iPhone
At the point of typing text messages, typing the first letter of the name in the "To" field will bring out recently contacted lists. But if the current lists is occupied by some unwanted contacts. Besides, if you the contact has change the phone number but it still shows the old contact when you type the first letter. You may want to remove some unwanted or incorrect contacts there.
Step 1: Open Messages app on your iPhone.
Step 2: Tab the icon from the upper right corner to pen the window for new messages.
Step 3: Start tying into the To line with the first letter of the contact you want to remove.
Step 4: Find the contact from the list and lick on the i with circle icon.
Step 5: Click Remove From Recents.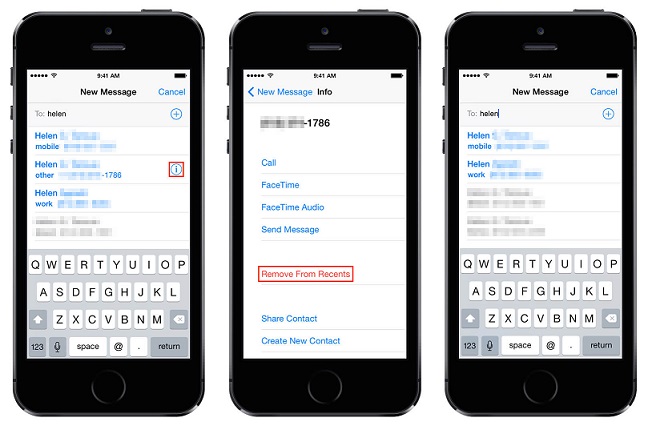 4. How to Delete Recent Destination and Search History in iOS 14 Map
Map app will automatically record your search history and destination recently. Don't want to keep track of where you have been? Delete the recent destination and route history.
Step 1: First, set a secure password for Notes.
Step 2: Open the Maps application.
Step 3: Swipe up to open the Recents menu.
Step 4: Tap the destination you want to save.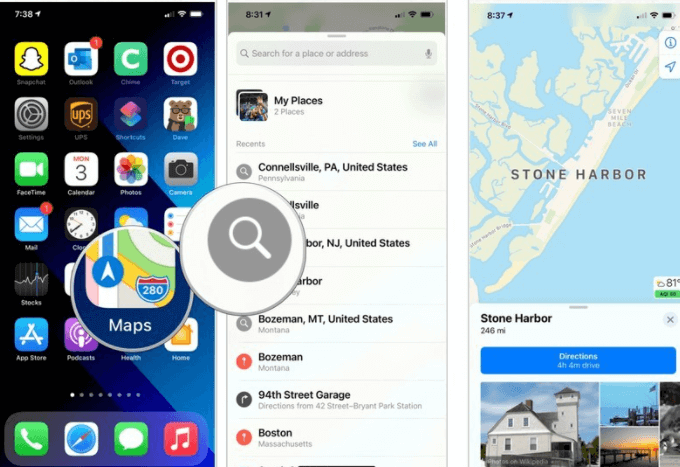 5. How to Delete Recent Photos from iPhone
Do you know that simply deleting photos or videos in Photos app doesn't actually delete them? The deleted photos and videos are still left on your iPhone for 30 days before they are gone. Have you noticed the Recently Deleted folder in Photos app? That's where the deleted photos are stored.
Step 1: Open Photos app on your iPhone.
Step 2: Go to Albums tab from the bottom.
Step 3: Find the album called Recently Deleted and click on it.
Step 4: Tap Select from the upper right corner and tap Delete All from the botton left corner.
Step 5: Confirm by tapping Delete XXX Items.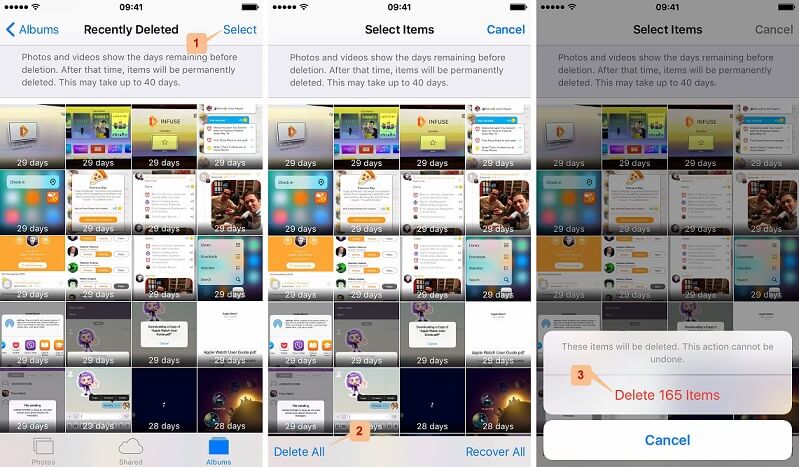 However, even the photos or videos are deleted from Recently Deleted folder, you still cannot make sure they are unrecoverable any more.
Cons of Deleting Recents from iPhone
Where there is a will there is a way for technology especially for tech savvy folks. There are a lot of softwares available these days that can locate and retrieve blocked, hidden or even deleted files. So simply deleting recents from your iPhone is not all there is to erase recents on your iPhone, especially for private and personal files.
How to Permanently Delete Recents on iPhone, iOS 15 Included
Since deleted recents can be recovered by some recovery tools, your best option is to look for iPhone data erasing programs like iMyFone Umate Pro to permanently delete recents with no opportunity for recovery.
iMyFone Umate Pro is a unique program designed to help in permanent erasing of data or files and recents are inclusive. It's easy and safe to use. Depending on your needs, there are 4 erase modes and different cleansing levels of high, medium and low to choose from.
Key Features:
Permanently wipe recents from iPhone without recovery, like recent calls, photos, searching history, etc.
Even the files that you previously deleted can be found and completely removed.
Also wipe third-party apps data and fragmenst to secure privacy, like WhatsApp, Line, Kik, Facebook, Snapchat, Chrome, etc.
Secure all your iPhone data and make it away from privacy leak, especially when you want to sell or give away your device.
Give your iPhone a complete cleanup and boost it up by clearing cache, logs, junk, etc. for free.
iMyFone is trusted by thousands of well-known media, like MacWorld, iPhoneinCanada, APPKED.

Steps to Delete Recent Calls/Photos/Searching History on iPhone Permanently
Step 1: Connect your iPhone to your computer and launch iMyFone Umate Pro.
Step 2: Click on "Erase Private Data" tab, hit "Scan" button.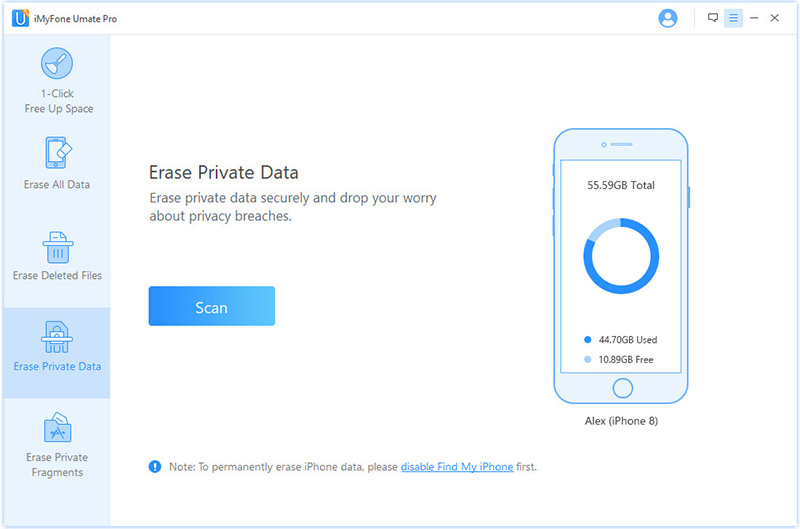 Step 3: You can preview and select Call History, Safari History, Safari Cache, Safari Cookies, etc. Then hit "Erase Now" button.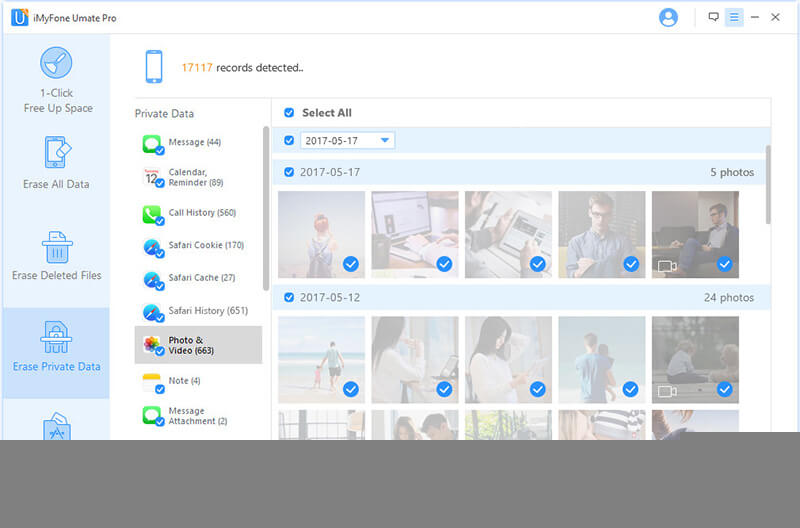 Note: If you want to delete recent photos or videos, you can go to Erase Deleted Files mode.
Conclusion
Deleting recents useless data helps you free your space. If you want to clear the data as simple as one-click, iMyFone Umate Pro is your best choice. Let's a free trial to find out how many useless data you can delete.