iPhone is one of the best smartphone devices but as Apple has launched the new models, especially the newest one, iPhone X, you might be looking forward to buying a new one. You may consider selling the very old iPhone 4/4s. However, the real problem arises when you have to discard for selling but it has your data stored in it at different locations that you might not be aware of.
Thus, to deal with these kinds of situations, the only solution available is to reset the iPhone 4/4s and here is the method of doing it with iTunes.
How to Factory Reset iPhone 4/4s with iTunes
Make sure that you have backed up all your essential data or have stored it in some other device. Now here is how to factory reset iPhone 4/4s with iTunes.
Step 1: Make sure that you have the latest version of iTunes installed on your computer and launch it. Then connect your iPhone 4/4s with it through a USB cable.
Step 2: A notification might appear asking you about the passcode of your iPhone or whether you trust the device, you have to follow the on-screen steps.
Step 3: Click on your device tab.
Step 4: In the summary panel, you will see the option of "Restore iPhone", select it.
Step 5: Click "Restore" again and iTunes will reset your device.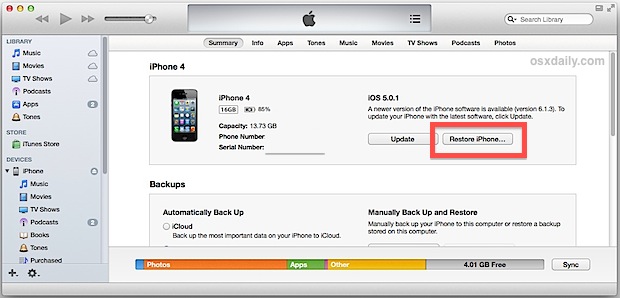 Tips
How to factory reset iPhone 4/4s without iTunes
In case you are not satisfied with the solution for how to factory reset iPhone 4/4s with iTunes, you can also reset it without iTunes.
Go to Settings > General > Reset > Erase All Content and Settings. Hit "Erase iPhone" to confirm. Then just wait iPhone to be reset. This tip may be easier for some users.
How to Permanently Factory Reset iPhone 4/4s
I'm not quite sure that you notice or not, but I think one important thing you should know before you sell your iPhone 4/4s: it's still possible to recover data even if you factory reset your iPhone 4/4s. So if you have much personal data stored in your iPhone, you'd better choose a professional iOS data eraser permanently reset, especially when you want to sell it.
The strongly recommended one is iMyFone Umate Pro or iMyFone Umate Pro for Mac. It's a popular iOS data eraser, which would help you to permanently factory reset your iPhone 4/4s in 0% of recovery.
3 Steps to Permanently Reset iPhone 4/4s
Here is a simple three-step process that will help you to erase all data from your iPhone 4/4s permanently.
1. Download and install iMyFone Umate Pro on your computer and connect your iPhone 4/4s to your computer with its USB cable.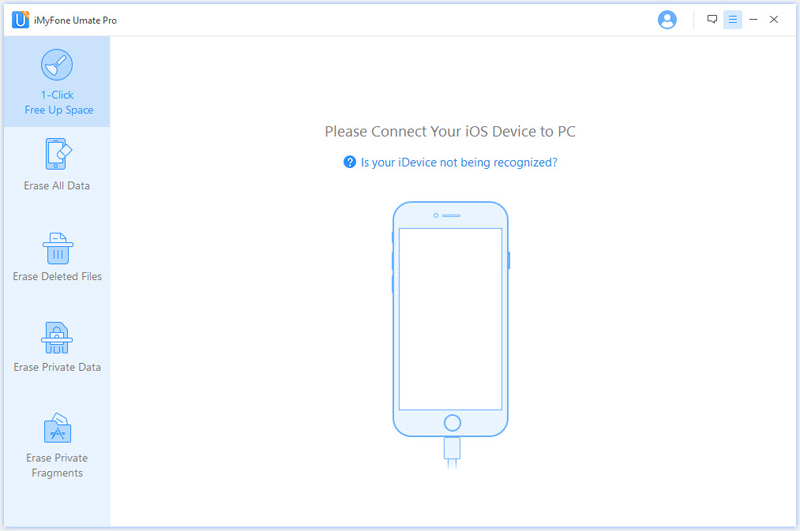 2. Once your device is connected, you have to select the option of "Erase All Data" and click on Erase.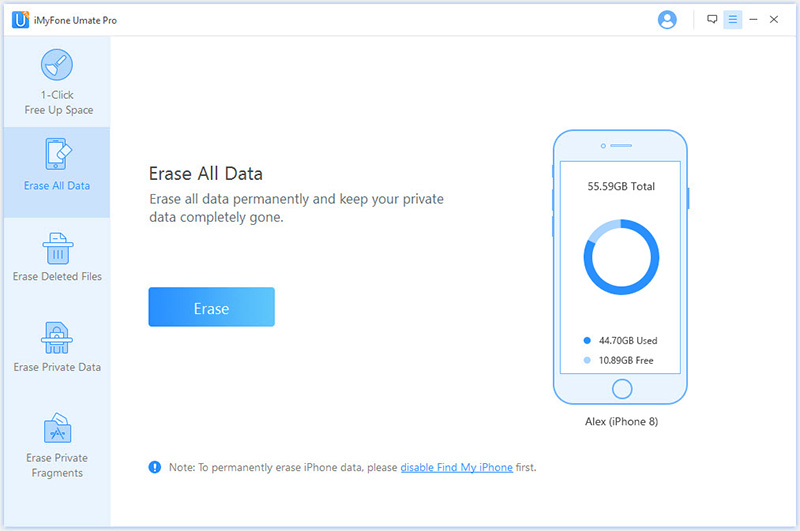 3. Now type "delete" into the box and confirm the procedure by clicking on "Erase Now". All your data will be permanently erased on your iPhone 4/4s.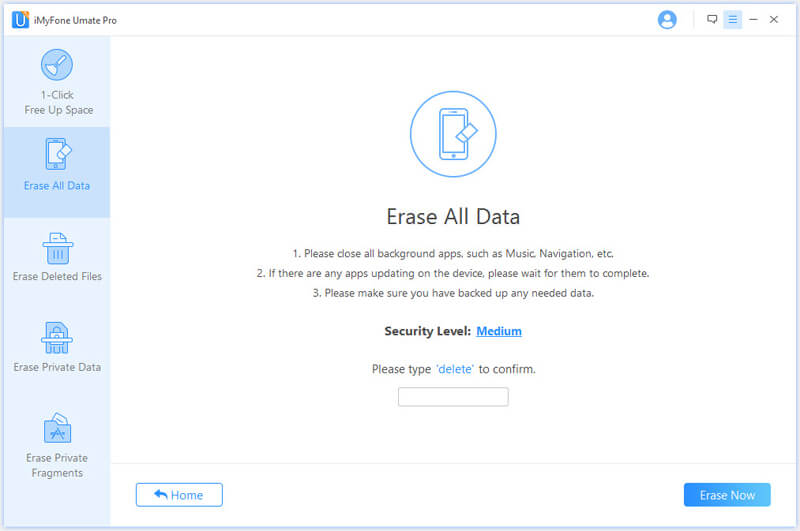 Advanced Features of iMyFone Umate Pro
Erase All Data You can permanently erase all data from your device without any chance of recovery. This function is similar to Reset on iPhone itself. However, Reset cannot promise zero chance of recovery while iMyFone Umate Pro can.
Erase Deleted Files You may simply delete some data or files before with possibility of recovery. iMyFone Umate Pro will help you to find them out and permanently erase them with zero chance of recovery.
Erase Private Data To ensure that not even 1 % recoverable data is left on your iPhone. iMyFone Umate Pro will even completely erase selected private files, such as messages, photos, call history, SMS attachment, Safari history, WhatsApp, Wechat, etc.
Erase Private Fragments Incomplete private traces will be left on your iPhone when you use 3rd-party apps. Umate Pro scan and wipe all of them safely.
1-Click Free Up Space With a single click all, tons of storage space will be cleaned up on your iPhone, iPad or iPod Touch at one click and thus your iPhone will work at a proper speed.
Junk files and temporary files which are hard to delete on the device itself would be easily cleaned up here.
Photos can be compressed with no visible quality lost but will save 75%+ photo space.
Back up first before photos or large files being mass removed. Large files can be managed according to different file sizes.
A bulk of apps would be much easier to remove than that on the device itself.
"Factory Reset" or "Permanently Erase"?
You might be wondering that why you should use software like iMyFone Umate Pro when you have the option of factory reset. Therefore, here are some of the advantages that only iMyFone Umate Pro will provide you.
You can select from 4/4s different modes for completely erasing the data according to your requirement.
Previously deleted files can be detected and completely efface.
You can selectively erase some private file.
You can preview before erasing.
So make the right choice and know how to factory reset iPhone 4/4s with iTunes. Prevent your private data from the hands of the evil by using iMyFone Umate Pro.