Erasing data on iPhone is sometimes a necessity and one every iPhone owner will do at one point or the other.
When you want to sell your iPhone to get the new version
Returning company phone
You want to remove everything and start afresh
You want to delete some things to improve performance
Or you're trying to hide something from your partner
People erase data on their iPhone for a variety of reasons, and it is important that it must be done well to avoid privacy and confidentiality issues.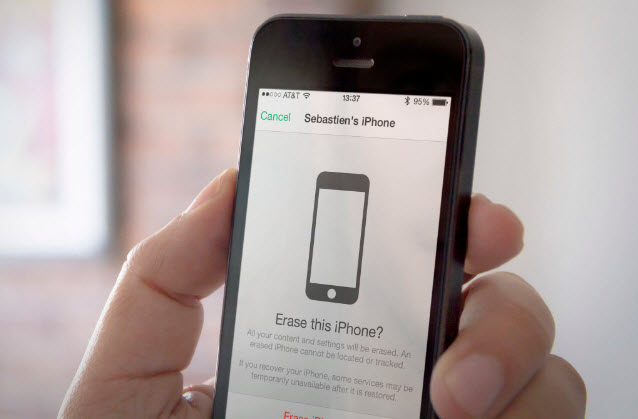 What to Do Before Erasing Your iPhone Data?
Before you go ahead and erase all the data on your iPhone, it is imperative that you do the following:
1

Backup your files
It is important to backup your files to either iTunes or iCloud because:
The need to access important data later on
So you can drool over pictures and videos again
Just in case the sales process fails
2

Disable "Find my iPhone"
It is important to disable this because you remove the link between the phone and your "Find my iPhone" account on your iCloud. Without this, access to your files via your iPhone will still be possible.
---
How to Erase iPhone Data, Recoverable!
Step 1: Locate and launch the "Settings" app, select "General" from the list of options, select "Reset" after scrolling to the bottom of the screen
Step 2: Select the "Erase All Content and Settings" on the popup screen
Step 3: Tap the "Erase iPhone" option to erase iPhone Data
Step 4: Repeat the above step for confirmation
Step 5: Enter your pass code when prompted by the phone
Step 6: Input your Apple Id password and take off your iPhone from the "Find my iPhone" app on iClouds and also turn off "Activate Lock"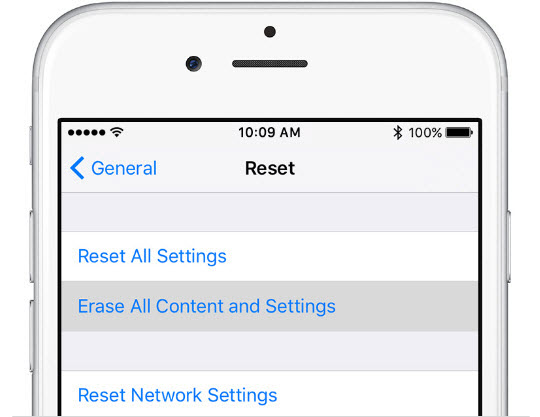 Note
The above option is for erasing all iPhone content and settings. There are other rest options iOS presents to users for deleting iPhone data, and they are:
Reset All Settings
Reset Network Settings
Reset Keyboard Dictionary
Reset Home Screen Layout
Reset Location & Privacy
The names are quite descriptive and should guide you in your choice of reset option. You should only choose the option that serves your needs per time.
How Well Does iOS Reset Work?
While the iPhone reset can be effective, it certainly isn't efficient. Why? Because of the following:
Perhaps the most important reason is the fact that files and data deleted by iOS can be recovered using powerful recovery tools, which defeats the purpose of erasing the data in the first instance.
Manually resetting can also have complications if you choose the wrong option.
To counter all these, you can use iMyFone Umate Pro to effectively and permanently erase the data on your iPhone, with no chance to recovery.
---
Permanently Erase iPhone Both Previously Deleted & Current Data, 100% Unrecoverable!
iMyFone Umate Pro or iMyFone Umate Pro for Mac is a thoughtful and efficient tool created for iOS devices. It is designed for data management of all kinds of data on iPhones and iOS devices. Its power comes from being able to remove and erase files permanently with zero chance of being recoverability by any recovery tool anywhere in the world.
It also removes the stresses of having to delete files with your hands and deleting them one after the other. This makes it efficient and swift and extremely useful if you want to erase your iPhone for any reason. This powerful product also comes with 3 different erase options that put the power with you according to your needs.
Erase all data: Erases all files permanently but with zero chance of being recoverability.
Erase deleted files: Find previously deleted files and delete them permanently.
Erase private data: Will delete all private files from third party apps and iOS system data.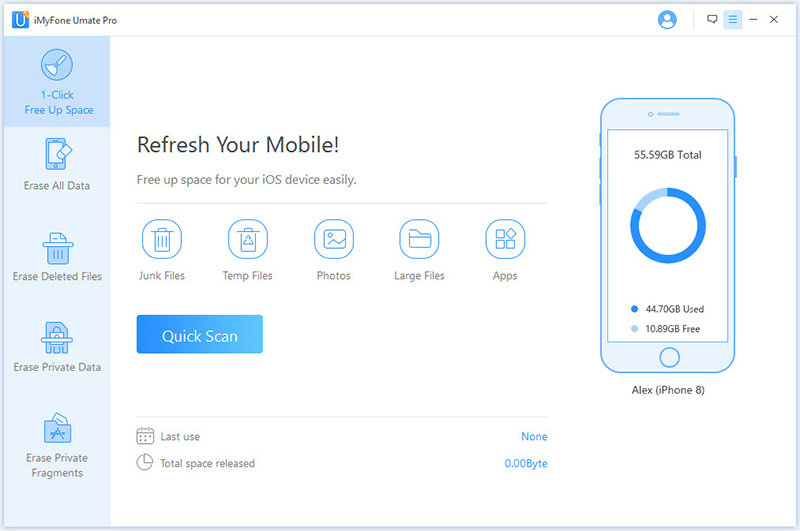 It also have a 1-click cleanup function, to speed up iPhone and free up space by deleting all hidden junk files, temporary files, and bulk delete unwanted photos, videos & apps.
How to Permanently Erase iPhone Data with iMyFone Umate Pro
These are the steps to take to enjoy the power of iMyFone Umate Pro:
Step 1. Download iMyFone Umate Pro to your computer from iMyFone official site. Run the downloaded file and click "Install", then connect your iDevice – iPhone, iPad and iPod touch.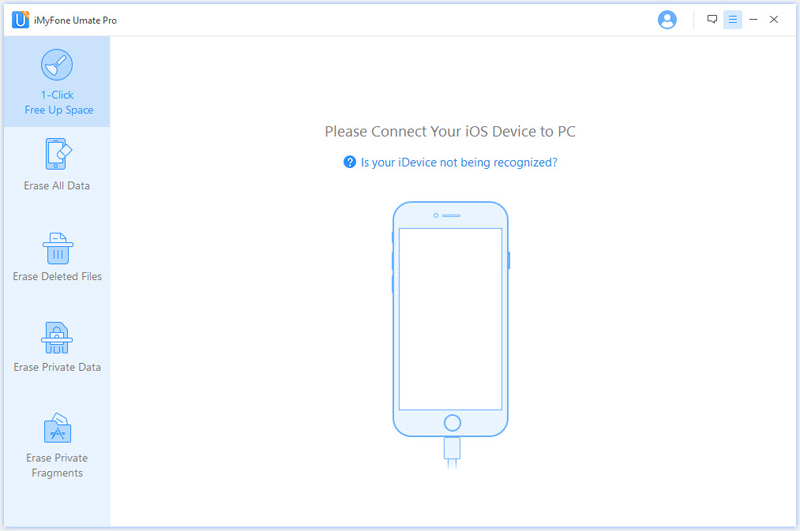 Step 2. Choose the erase mode that fits your need: 1-click space saver, erase all data, erase deleted files, and erase private files.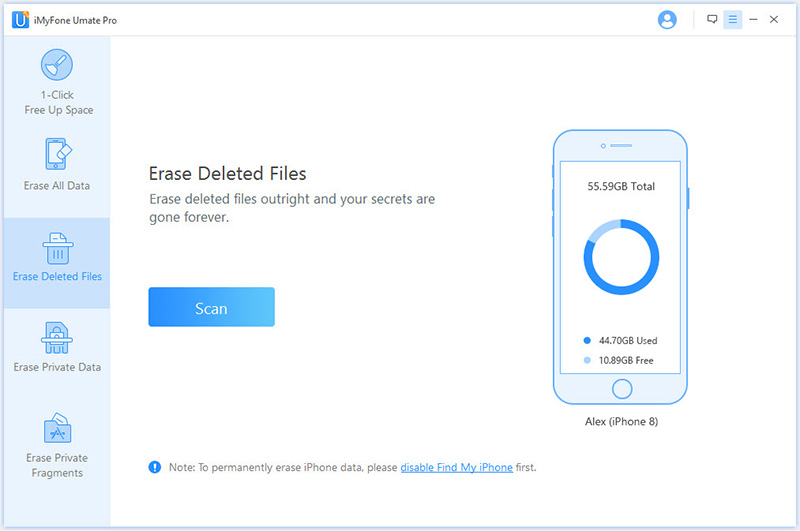 Step 3. Click "Scan" to see what you have to drop or remove.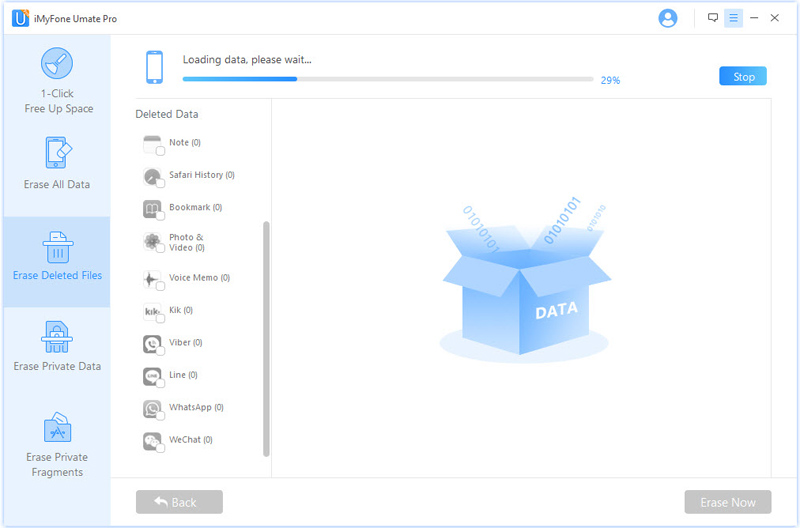 Step 4. Click "Erase Now" to erase data from your device.