Oh no, is that someone snooping through your iPhone? Believe it or not, there could be several people in your life that are interested in violating your privacy the moment your back is turned. It could be your girlfriend, or your boyfriend, or even your parents who are interested in going through your voice messages. If you value your privacy, then you would do well to permanently delete your WhatsApp voice messages from iPhone before someone has access to them.
What does "permanently delete" mean? Well, just because you deleted your messages manually, doesn't mean that your privacy is protected. This is especially true if you have deleted some private messages. Data deleted from iPhone in normal ways can still be recovered by data recovery software, so for security reasons and to maintain privacy, you should know how these WhatsApp voice messages on iPhone can be erased permanently.
Permanently Erase WhatsApp Message on iPhone - 100% Unrecoverable!
WhatsApp voice messages on iPhone deleted through the means above can be recovered easily by some data recovery tools and because of this, it is not a good idea to just simply delete the confidential WhatsApp messages the usual way.
Private files or messages are no longer private if they can be accessed by another party. Of what use is a private message when the same message can be retrieved and viewed by an unauthorized person? When people sell their iPhones, there is a risk of having private messages fall into wrong hands, and it is high.
Having said that, iMyFone iPhone Data Eraser is what you need to permanently erase WhatsApp voice messages from iPhone, ensuring that they cannot be recovered by any tool.
Benefit A Lot from Umate Pro:
Erase Private Data: The private information (including WhatsApp text & voice messages, contacts, call histories, photos, etc) on your iPhone will be completely removed and 100% unrecoverable by anyone or any software.
Erase Deleted Files: Previously deleted WhatsApp files which are still recoverable will be scanned and completely destroyed.
Erase Private Fragments: The incomplete fragments or caches left by WhatsApp, Snapchat, LINE, Viber, etc. will be fully wiped to protect your privacy.
Support private messages, photos, videos, notes, call lohs, contacts, browsing history, etc.
Easy Guide for Erasing iPhone WhatsApp Voice Messages
Step 1: Download and install iMyFone iPhone Data Eraser on your computer and connect your iPhone to it.
Step 2: Choose "Erase Private Data" and let the program scan your iPhone. You can also select other erasing mode, which depends on your need.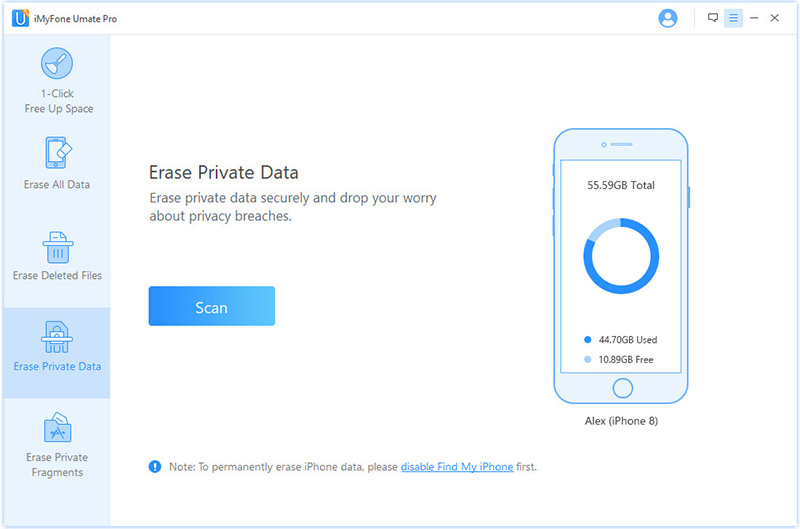 Step 3: Preview and select the WhatsApp voice messages from "WhatsApp Attachments" to erase, then click on the "Erase Now" button to begin the process of erasing iPhone WhatsApp voice messages.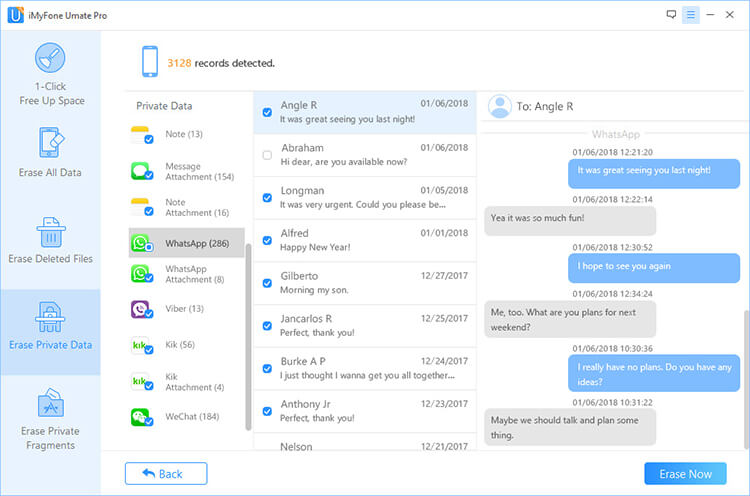 I suggest you can run iMyFone iPhone Data Eraser and free scan to see how many deleted files or private fragments will be found on your iPhone.
Simply Delete WhatsApp Voice Message on iPhone - Recoverable
1. Delete Individual WhatsApp Voice Message on iPhone
WhatsApp voice messages can be deleted for so many reasons either individually or all at once. The following are the steps to take to delete them individually.
Step 1: Open the WhatsApp conversation that contains the voice messages you want to delete.
Step 2: Press and hold a voice message until until some options show up.
Step 3: Tap "Delete".
Step 4: Select other voice messages that you want to delete. Then tap the "Trash icon" at the bottom left corner.
Step 5: Confirm the deletion. If you delete the voice message sent by you, you can have 2 options: Delete XX for Everyone and Delete XX for Me.
Note: "Delete for Everyone" means the voice messages will also delete from the recipient's device.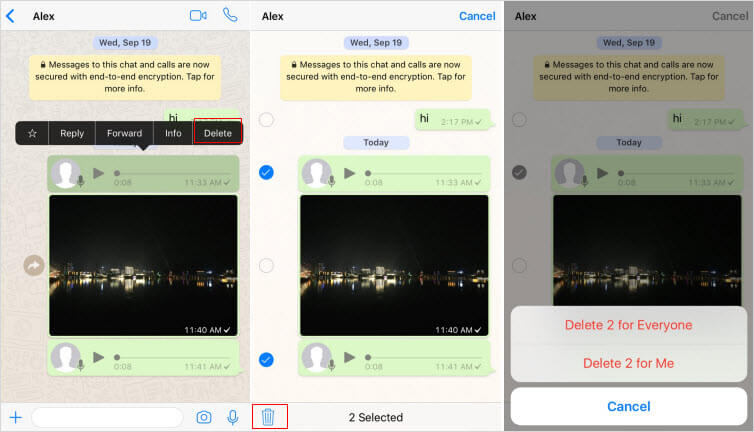 2. Delete All Chat History iPhone in WhatsApp
But if you would like to delete all chat history on your device, the following steps will be helpful.
Step 1: Launch WhatsApp on your iPhone and go to "Settings".
Step 2: Find and click the "Chat" section.
Step 3: Find and click the "Clear All Chats".
Step 4: Enter your phone number there and click "Clear All Chats" to confirm it.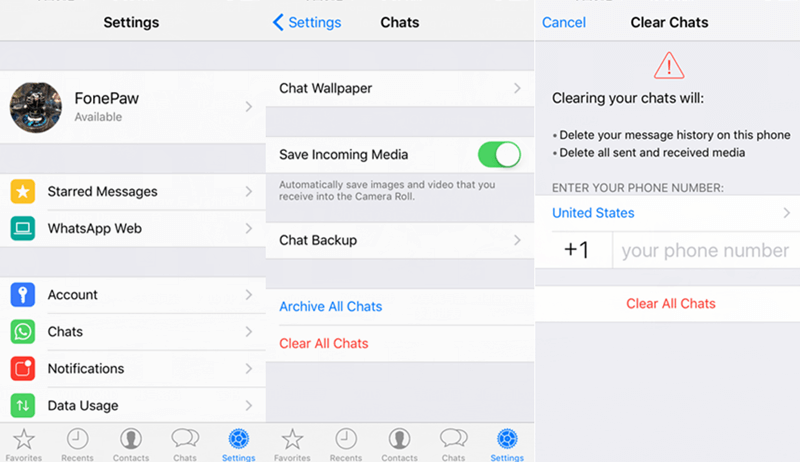 With this the whole chat history will be deleted from your WhatsApp.
Note
As simple as this method may be, though, it simply isn't enough to protect your privacy. As mentioned before, you're going to need to permanently delete your messages for real security. Just deleting them using the method described above have the huge disadvantage that your messages could be recoverable with the right software. To permanently delete WhatsApp files, use iMyFone iPhone Data Eraser instead.