iOS 16 is released and you could be that iOS user who wants to go trendy. As you prepare to upgrade your iDevice specifically iPhone to the latest iOS 16, you need to ensure that you have done a backup of files for your iPhone since you may lose this data files when upgrading your system to iOS 16/15/14/13. In this article we will discuss do i need back up iPhone before updating to iOS 16/15/14.
Method 1. Selectively Backup iPhone Data for Free Before Updating iOS 16
The first method to back up files is using iMyFone iTransor iOS data backup and restore tool. This comprehensive tool is compatible with both Windows and Mac operating system and supports the latest iPhone 14/13/12/11 Pro Max/Xs/Xr/Xs Max. Actually it can do more than back up the data on your device. View its main features:
This software allows you to completely back up files, or back up only what you need on your iPhone for Free.
It can export 18+ types of data from your iPhone/iPad and iTunes/iCloud backups. Before exporting, it offers a free preview feature which allows you to choose just what you need to export.
The feature "Restore Backup to Device" is powerful to fully or selectively transfer data from iPhone backup to your iOS devices.
Once you have downloaded iMyFone iTransor software, you can follow these steps to back up your iPhone without paying any money.
Step 1. Choose "Back Up Device"
Open iMyFone iTransor on your Mac or Windows computer and click on "Acquire Backup from Device & iCloud". Then click "Back Up Device".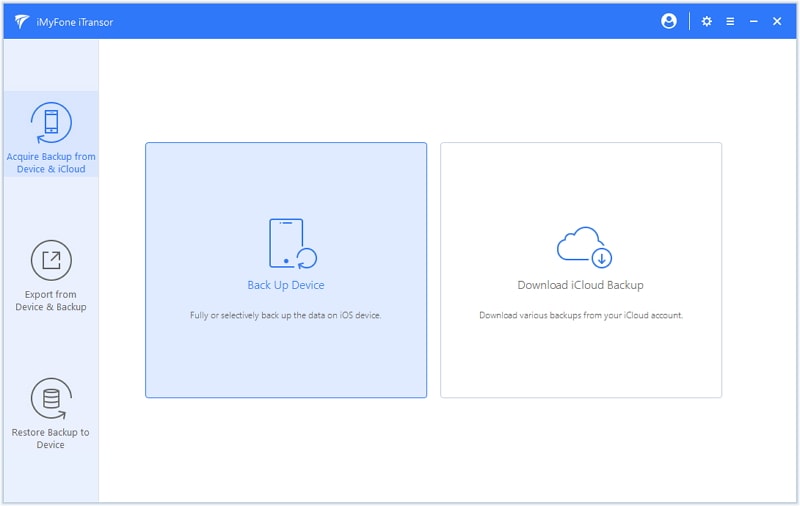 Step 2. Choose What You Need to Back Up
Now you will need to connect your iPhone (the latest iPhone Xs/Xr/Xs Max supported) to the program and then choose the data type(s) you need to back up. You can see that you can choose to back up all data and settings or only certain type of data.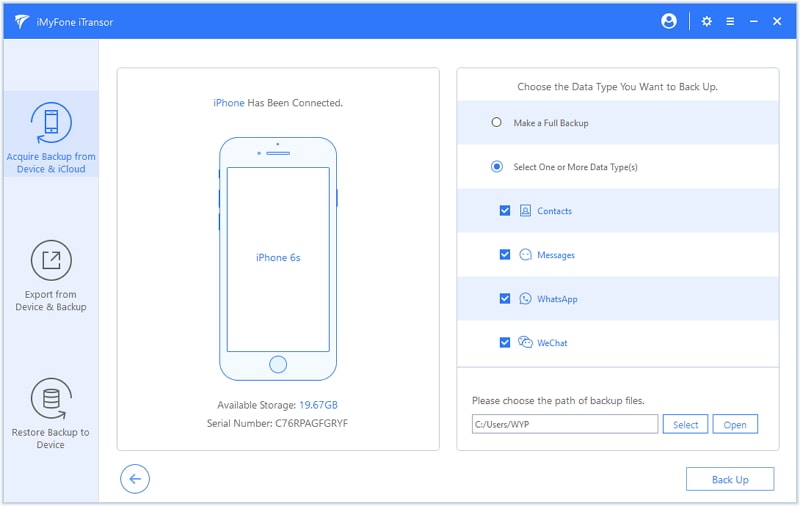 Step 3. Back Up iPhone
Click the Back Up button and the process will start. The time it needs depends on how much data on your device. After the process is complete, you will be notified by the prompt.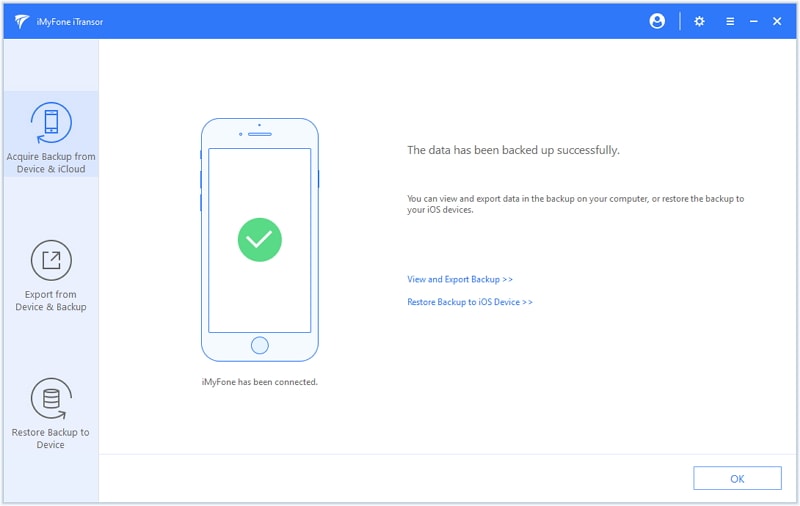 Method 2. Backup iPhone Data Using iTunes Before Upgrading iOS 16
Even without a third party iPhone backup software, you can backup files uing iTunes application on your computer. It is very easy.
Step 1. Launch iTunes program on your computer. If you don't have then you need to download it.
Step 2. Connect your iPhone to the computer using a USB cable that you unboxed with your iPhone. If your iPhone asks you if you trust the computer click on "Trust" or give a passcode when requested.
Step 3. Your iPhone will then be detected, click on Summary Tab and click on your iPhone.
Step 4. Below your iPhone on iTunes is "Backups" option. Choose where to backup your iPhone data and then click on "Backup Now".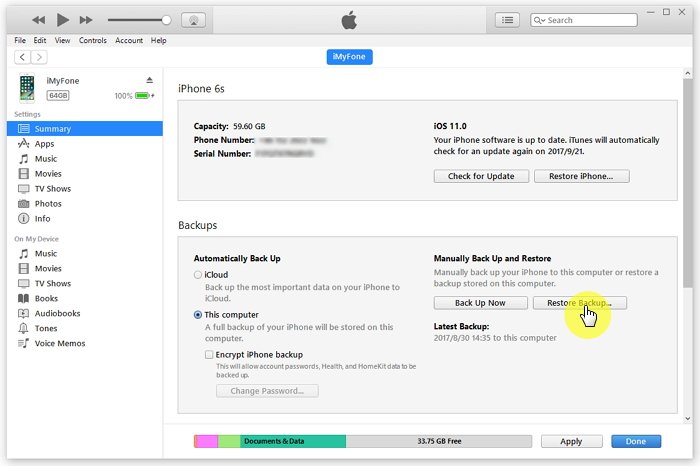 iTunes will immediately backup your iPhone data. Be patient until the process is complete. To check iTunes backup go to "iTunes" on the main menu then click on "Preferences" followed by "Devices". You will be able to see your iPhone backup.
Limitations of Backing up Using iTunes
With this method you will not be able to backup music, apps, movies and podcasts that have been sync to iTunes but not available on your iPhone.
Method 3. Backup Data on iPhone Using iCloud Before Upgrading iOS 16
For this method you can do the backup directly on your iPhone. However you should be connected to a strong Wireless connection.
Step 1. After connecting your iPhone to Wi-Fi, go to Settings and then tap on iCloud.
Step 2. Under iCloud Backup, activate the "iCloud Backup" button.
Step 3. Now tap on back and turn on data types that you want to back up and then click next.
Step 4. Next scroll down the backup screen and tap on "Back Up Now".
The backup will commence immediately, just ensure that you do not disconnect from the Wi-Fi until the process is complete.
To check the backup you have done go to Settings > iCloud > Storage > Manage Storage and you will your backup including the date and time.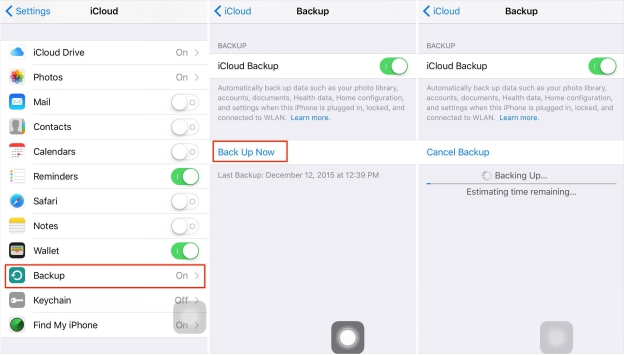 Limitations of Backing up Using iCloud
It can do a backup of files that you purchased and deleted them from App store.
This method requires Wireless connection and it may not be efficient for people who have no wireless connection.