Many individuals wonder how to retrieve deleted Facebook messages upon an accidental deletion of a message they cannot afford to lose. Some of the messages we sent and receive through Facebook are valuable for us in many ways and losing them can make us frustrated. But don't worry. In this article, we will explain how to recover deleted messages on messenger (supports iOS 14/13/12).
In fact, there are several ways to consider for those who wonder how to recover deleted messages on Facebook messenger on iPhone. From this point onwards, we will explain those options.
1: Get Deleted Messages on Facebook Messenger via Search
As the first method for those who wonder how to recover deleted messages on messenger from iPhone, we will be using a built-in option on Messenger app itself. This is a really simple way if you have archived the messages.
Step 1. Launch the Messenger app and go to the recent conversations.
Step 2. Then, go to the search bar located at the top of the screen and look up for the conversation.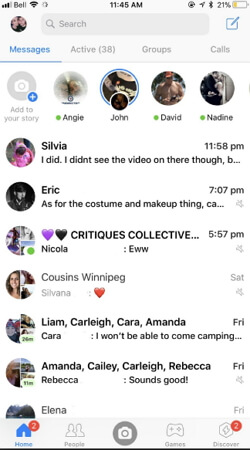 2: Retrieve Deleted iPhone Facebook Messages from Contacts
This is another way  you can try if you have deleted the conversation from your end.
All you have to do is to contact the person who received the respective message and ask him or her to send it back to you. In this case, you should politely ask your friend (either through a text message or a voice call) to send the deleted message/conversation back as you have accidentally deleted it.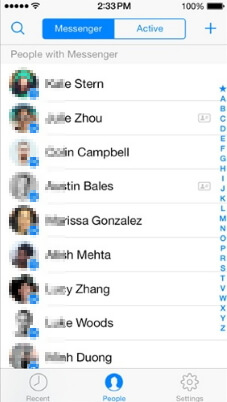 3: Recover Messages on Messenger via Download Settings
You can use the Download Settings option on Facebook profile to recover Facebook messages. However, if you wonder how to recover permanently deleted messages on Facebook, this method doesn't work for you. Instead, it allows you to recover archived messages only.
Step 1. Open a web browser and go to your Facebook profile. Select the option labelled "General Account Settings" and go to "Download Copy of Facebook Data".
Step 2. Click on "Start My Archive" and go to "And More". Then enter the credentials of your Facebook profile. You will now get an email on your inbox.
Step 3. You can go to the link and open the email. Next you will have to click on the "Download Archive" tab so a zip file will be available with the respective Facebook data.
Step 4. The messages will then be available on your computer. You will now see several html files inside this zip folder. Click on the file that comes with the title "Messages" and have your messages back.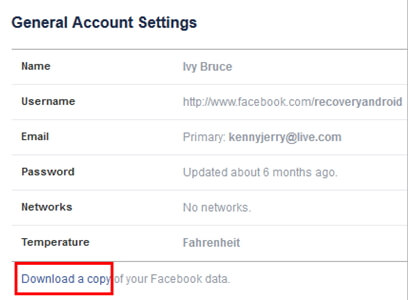 4: View Archived Messages on Facebook Messenger iPhone
This is another option that tells you how to recover deleted messages on Facebook messenger. First, you should know that the hidden messages of your Facebook account sit there in the archives. This method tells you how to recover the archived messages that are actually not erased from your Facebook account.
As the first method, you may try typing your friend's name (to whom the archived message is sent) in the search box. However, if you need to view the entire archive, you can go to the "Messages" tab and then select "More". Go to "Archived" option thereafter.
Step 1. To recover the archived messages, you should tap on the "Messages" (as if you are trying to start the conversation).
Step 2. Then, select the name of the friend you had the conversation.
Step 3. You can then find the archived message and click on "Action". As the final step, you should click on "Unarchive".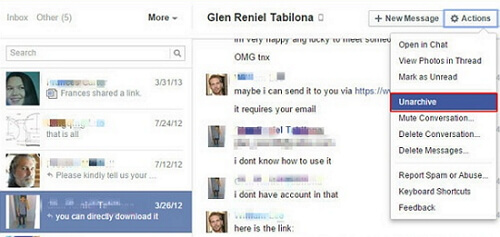 Tip: Recover Other Deleted Data from iPhone (Supports iOS 14/13/12)
Now, you know how to recover archived Facebook messages on iPhone, let's see how to recover other data types that are actually deleted. In this case, however, you will have to use a special tool. This is when software like iMyFone D-Back comes in handy.
iMyFone D-Back is an excellent software that comes in handy when you need to recover deleted data off iPhone. This special tool has variety of features to make your data recovery process a convenient one. Thanks to the smart technology integrated to this tool, it has an very impressive success rate.
It can recover data from iOS devices without backups, as well as from iTunes and iCloud backups.
Impressive success rate with 4 recovery options in iPhone data recovery.
It works perfectly with all iOS devices and all iOS versions including iOS 14/13.
Steps to recover other 18+ data types from iPhone directly
Now, let's see how to recover more than 18 types of data from iOS devices.
Step 1.Open iMyFone D-Back on your computer and click on "Start" under the tab "Recover from iOS Device". Connect the device into the same computer and let the program detects the iOS device. Press "Next".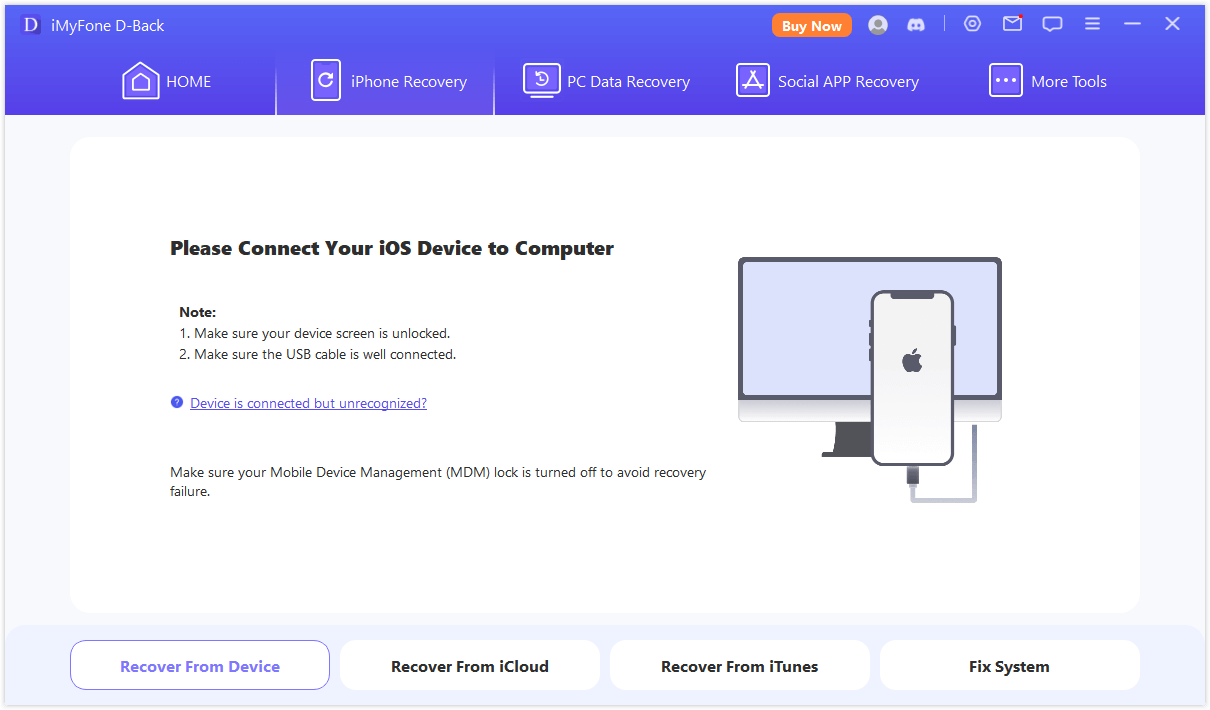 Step 2.You can then select the files you need to recover. Click on the option "Scan".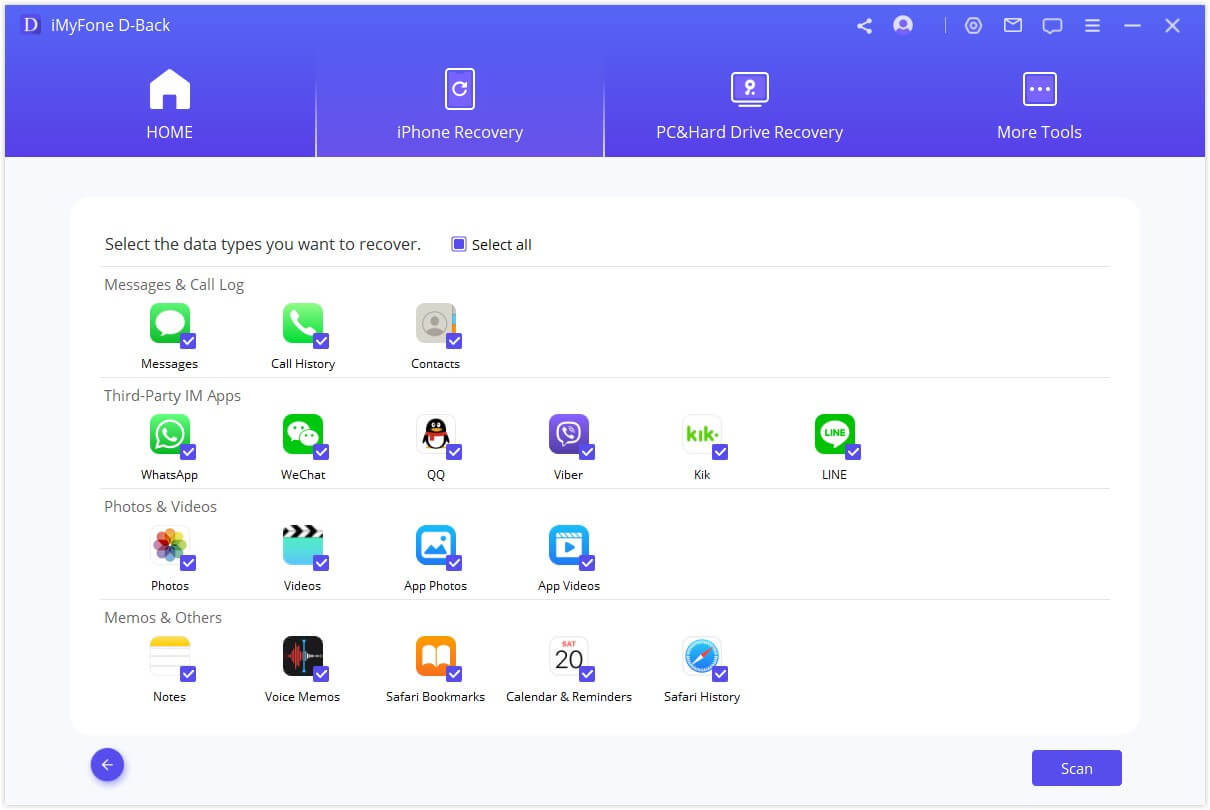 Step 3.Wait for the scan to be completed. Once the scanning is done, you can see the recoverable files as a list. Select the data you intend to recover and hit "Recover". Choose a location to save the files that are recovered.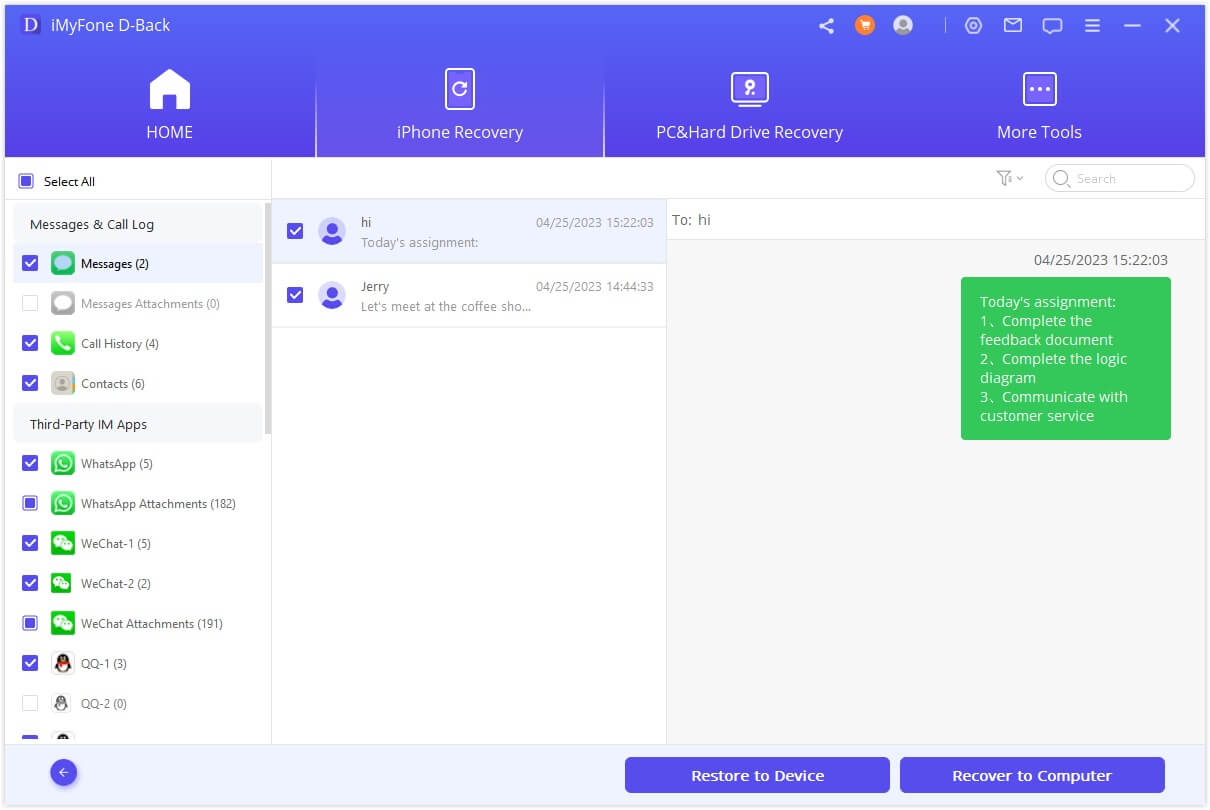 You can use iMyFone D-Back to recover data from iTunes backup and iCloud backup apart from devices. Some users may wonder why choose a third-party software than using official iTunes/iCloud.
With D-Back, you are allowed to view the contents of your iTunes and iCloud backups which official way cannot do.
You can recover more than 18 data types from iPhone backups but without restoring any iTunes and iCloud backups. This will prevent you from losing current data after restoring.
Unlike the fully restore with official ways, D-Back allows you to recover data selectively. That means, it lets you recover just the data you need instead of an entire backup.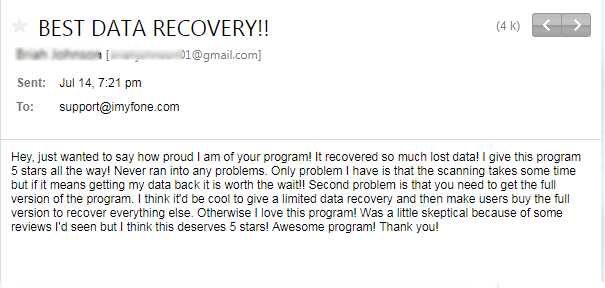 Conclusion
Well, those are the options we have to present for you. You can read the article once again and select the most appropriate method for you. For now, D-Back does not support to recover Facebook messenger data, but iMyFone has already been working on this. To recover other data that are deleted from your iPhone, you can use a software like D-Back. After trying the above-mentioned methods, we appreciate if you can leave us a comment about the experience you had.