Question
" Anyone can tell me how to recover notes from iCloud safely? Some of my important notes got deleted by daughter!"
If you need recover deleted notes from iPhone, you need use the best iPhone data recovery software iMyFone D-Back, preview the deleted notes before final recovery, You need recover it with a computer, Download iMyFone D-Back free now.
Notes is a convenient and powerful app on iPhone. You can use it to record thoughts, import photos, create a checklist, and other random operations. It also doesn't a detriment that the Notes you create can easily be shared with other iOS devices.
However,some notes will automatically be stored in iCloud but not iCloud backups, you may curious about is there a certain possibility that your important notes are accidentally lost or deleted can be recovered from iCloud. Read on this article to find out the solutions.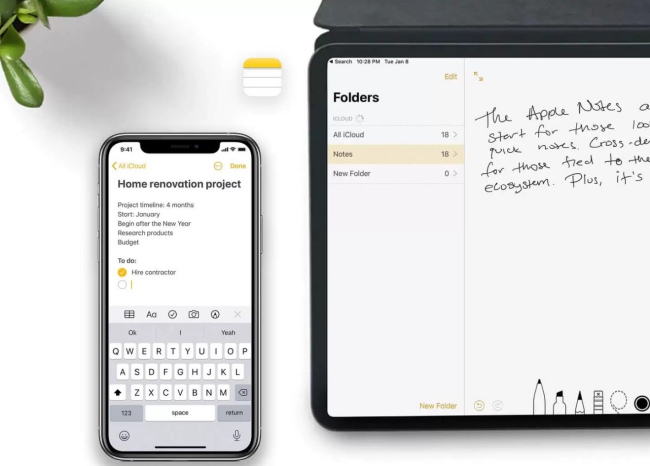 Way #1: Visit iCloud.com to Restore the Notes
The first way to find and save your deleted notes is via visiting iCloud.com. You can view your deleted notes in Recently Deleted Folder, or share the backup file that contains your notes via email. This method is fast and it only helps you if you are sure that you have backed up the deleted the notes to your iPhone before the deletion.
Steps to recover notes from iCloud.com:
Step 1:Sign in to iCloud.com with your Apple ID and tap on Notes.
Step 2:Choose the "Recently Deleted Folder" folder and search the notes you want. Notes in this folder are permanently deleted after 30 days.
Step 3:Click "Recover" to recover the deleted note. You can find the recovered notes in the "Notes" folder.

Such a easy way, right? However, you can only recover notes that are deleted in the last 30 days by using this method.
Way #2: Restore iCloud Backup to Get Notes Back
If you want to restore notes from iCloud, the first thing you need do is to check whether you have a recent backup. The Notes on your iPhone like Mail, Contacts, and Calendars are often stored "in the cloud" (a sever linked to your email address).
To check if you have a recent iCloud backup, go to Settings > iCloud > Backup and check if "iCloud Backup" is turned on but don't tap "Backup Now". Now that you're sure you have a recent backup, restore it in the following steps:
Step 1:First go to Settings > General > Reset > Erase All Content and Settings. This should take you to the setup screen.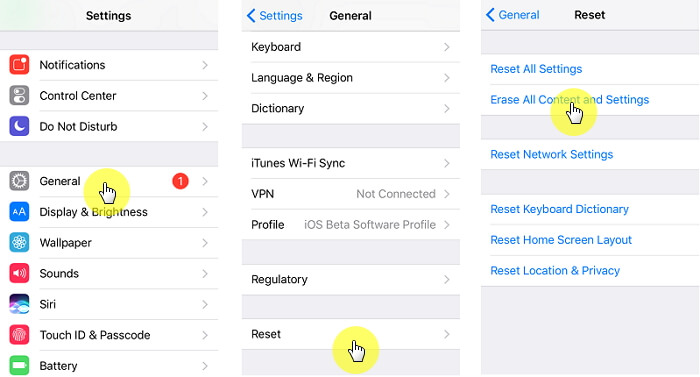 Step 2:Follow the setup assistant prompts until you get to the Apps & Data screen. Here, select "Restore from iCloud Backup".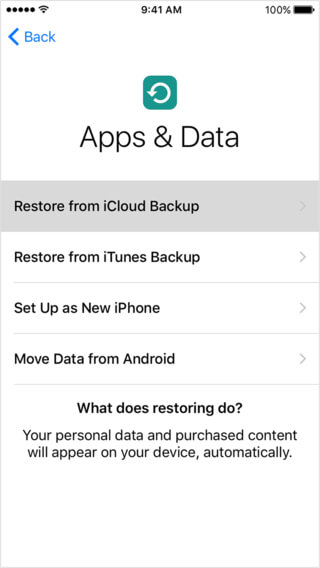 Step 3:Sign in to iCloud and select the most relevant backup. Then stay connected to the Wi-Fi network until the process is complete.
Take Note:
It's important to note that doing this requires you to erase all content and settings of your iOS device.Therefore, the backup you are about to restore must be up to date so that you will not lose the most recent data and files.
Way #3: Best Way to Recover Deleted Notes from iCloud on Windows/Mac
Although Apple's cloud service iCloud can back up notes on your device, there is no way to preview or access them when you restore the backup. Restoring from iCloud will replace all the existing data on your device. We, therefore, recommend that you don't restore the full back up to your iPhone since you risk losing all current data on your device. If you don't have a backup or you have confirmed the data you need is not in the backup, you need a data recovery tool to recover directly from the iPhone or to view your iCloud backup.
iMyFone D-Back is one of those professional data recovery apps. The preview option of D-Back enables you to view important notes that you wish to recover to a computer. iMyFone D-Back functions efficiently in the recovery of data from iCloud backup in simple steps.
Key Features:
It allows you to view your notes within iCloud backups before the recovery.
It can prevent further data loss while using it to recover notes from iCloud.
There is no storage limitation, only need an iCloud account access to get everything back within minutes safely.
You can selectively choose the notes you need to recover. Photos, Contacts, Whatsapp Messages can be recovered as well.
Steps on how to recover notes from iCloud:
1 Download and Install The Program
Visit the iMyFone D-Back site to download the trial version of Windows PC or Mac. After installation, launch the program. From the primary interface, choose "Recover from iCloud" feature from the left pane and select the "iCloud - Recover data from iCloud account".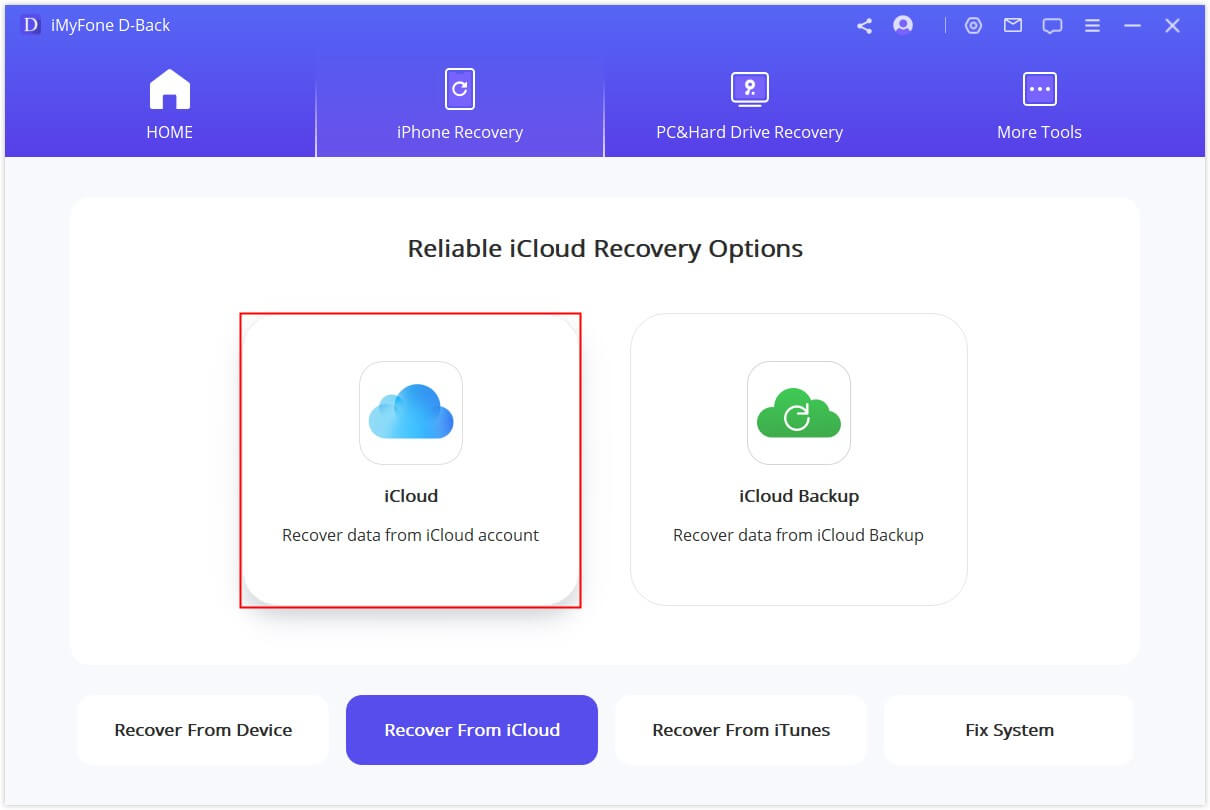 2 Sign in to Your iCloud Account
Sign in to your iCloud account.Don't worry, your log in information is kept secret in safe and will never be shared.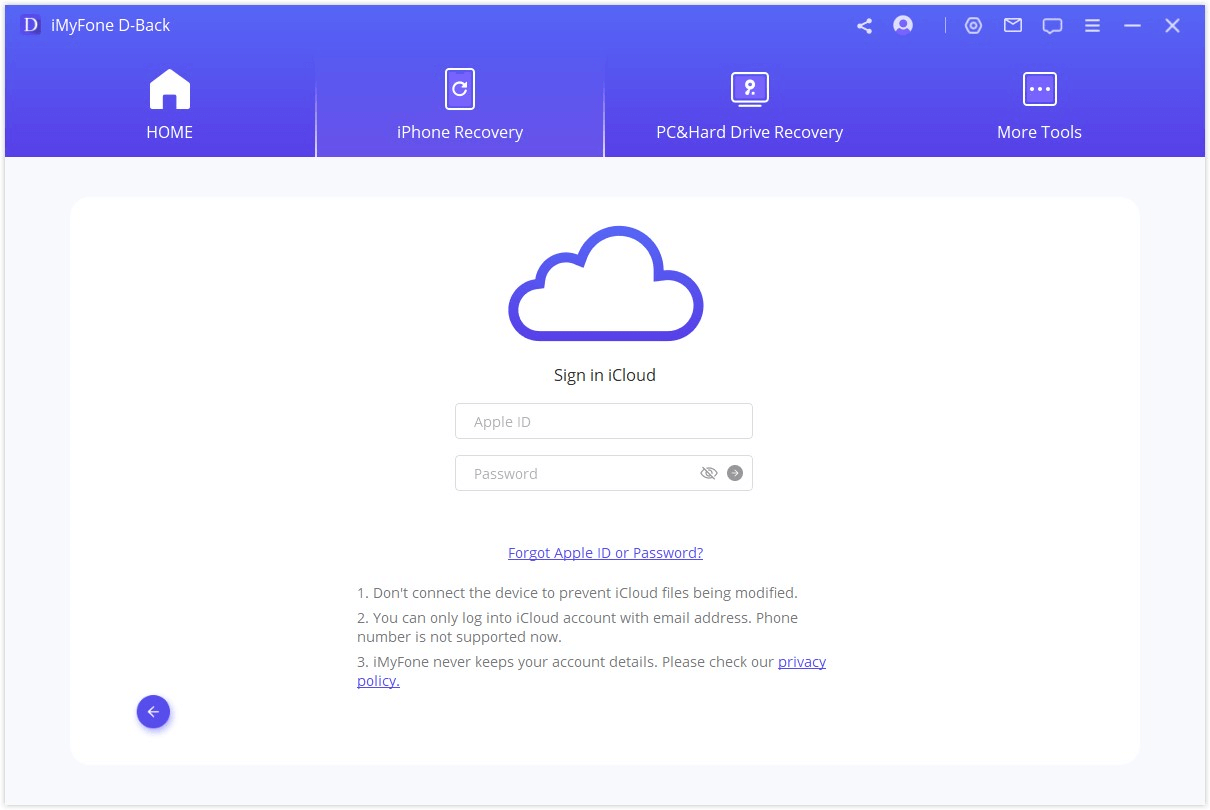 3 Select 'Notes' option and click on 'Scan' for analyzing the notes file you've selected for all.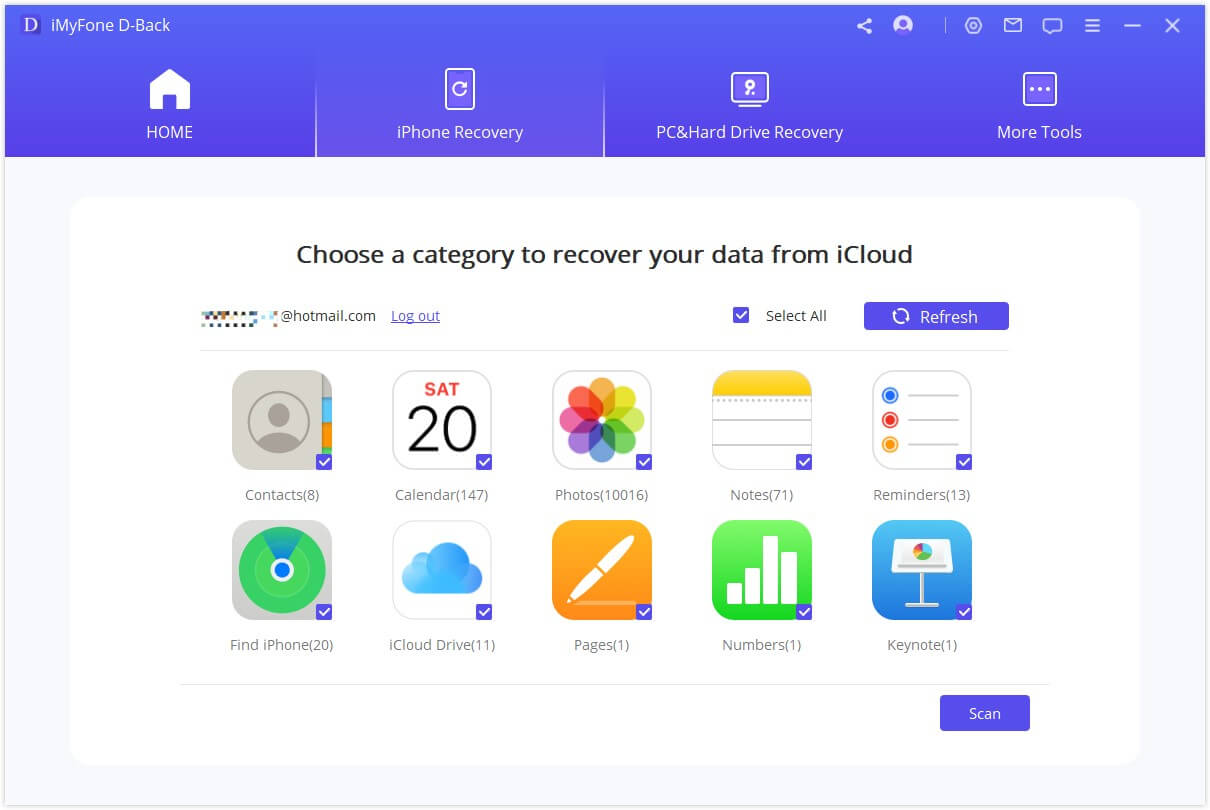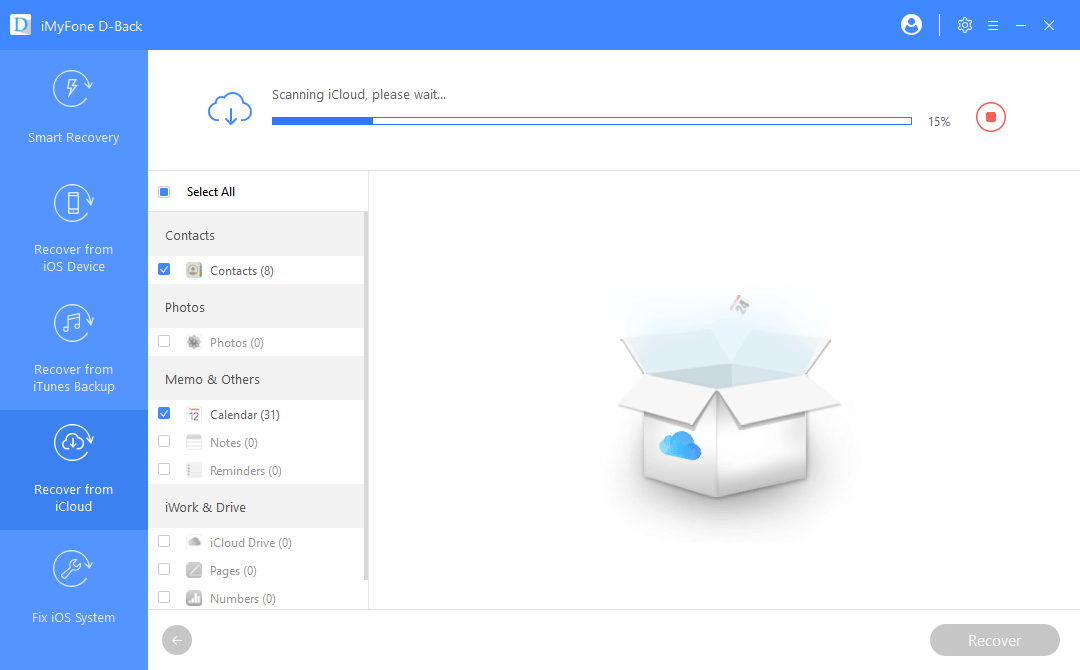 4 Choose and Recover Notes from iCloud
iMyFone D-Back will begin scanning for the deleted notes from iCloud. Upon completing the scan, it will display all the recoverable notes from the iCloud backup in its preview window. From the list, choose the files that you wish to retrieve and save to your computer. Click on "Recover" after selecting the Notes you need.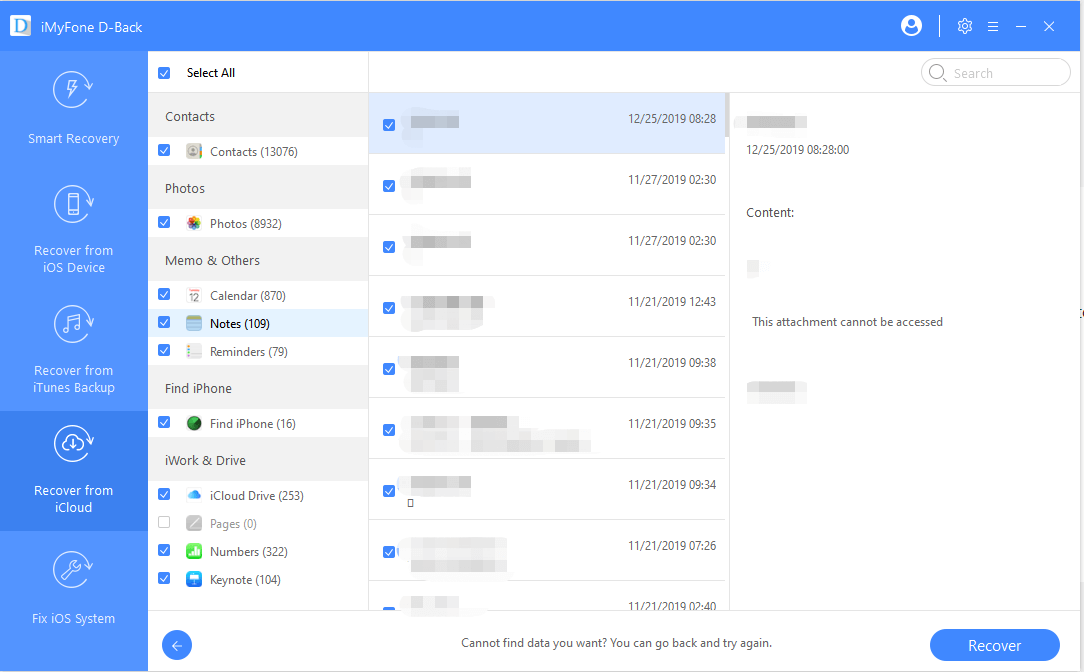 iMyFone D-Back will begin extracting the selected note files from the backup file. After completion, it will prompt you to choose a location where you would like to save the notes. Select a folder on the hard disk or create one. Wait until the program completes the process of recovery. You can later browse the destination to check for the retrieved notes from the selected iCloud backup file.
iCloud Backup Restore vs. D-Back iCloud Data Recovery Tool
On the above parts, we have known both the ways to recover notes via iCloud or via data recover tool. Though we suppose iMyFone D-Back is a better choice for you, we still be able to show some data by comparing the two to know more clearly that why D-Back is the best choice in restoring notes.
| | iCloud Backup Restore | D-Back iCloud Data Recovery Tool |
| --- | --- | --- |
| Success rate | 85% | 100% |
| Possibility of Deleted Data Recovery | If you don't have a recent data backup, the answer is "No" | Yes |
| Speed | Up to your Wi-Fi speed | Medium |
| Free or Not | Free for 5GB iCloud storage | Free Trial or Full Trial |
Tips
iCloud may fail to back up all the data on your device if you haven't upgraded your iCloud storage plan.
iCloud Backup may erase your data.
iMyFone D-Back will not cause data overwriting.
Bonus Tip: How to Back Up Notes to iCloud
Backuping up your data to iCloud is quite important, it greatly increase the chances of recovering your notes. So always keep in mind to turn on the iCloud sync function on your device.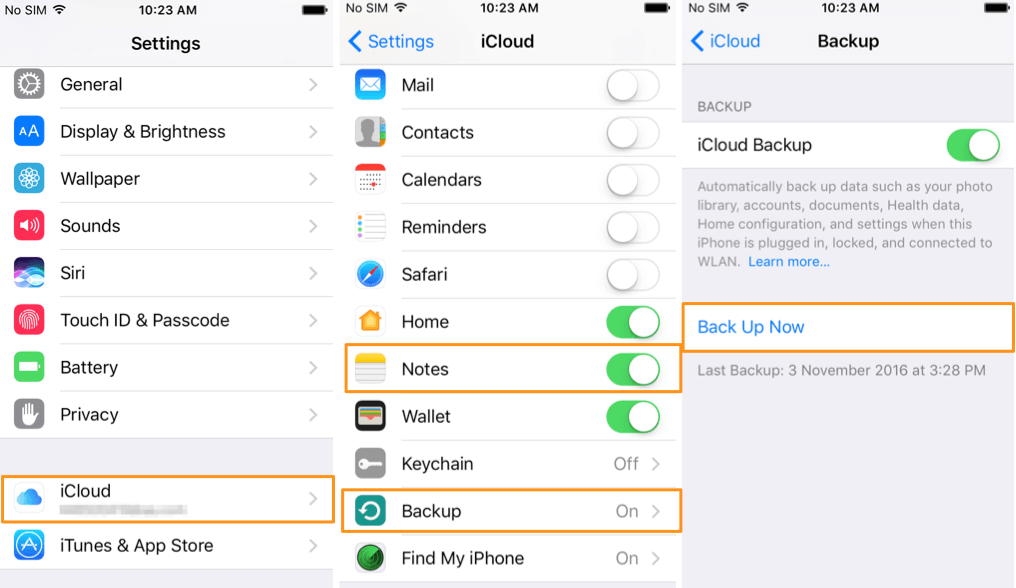 Here's how to backup notes to iCloud:
Step 1: Connect your iPhone to a WiFi network.
Step 2: Navigate to the Settings app on your device.
Step 3: Tap on your name, it will enable you to access to the iCloud and Apple ID setting.
Step 4: Tap on Notes setting.
Step 5:Scroll down to tap on Backup under iCloud section.
Step 6:Toggle the iCloud Backup to [On] position.
Step 7:Click on Back Up Now.
Step 8:You'll be notified once the backup completes. Then the backup will be done.
Conclusion
Now you've learned different ways to recover deleted notes from iCloud, among these methods, D-Back is recommended for its high success recovery rate. Download iMyFone D-Back World's 1st iCloud Data Recovery Tool to give it a shot.