iCloud is one of the most reliable backup solutions for Apple device users since it offers a way for users to wirelessly backup their devices, as well as your contacts. iCloud can be used to create a backup of most of the data on your device including purchased media such as music, movies, TV shows, apps and books, photos and videos in your camera roll, iOS settings, messages including iMessage, MMS and SMS and other data like ringtones and visual voicemail.
However, some data will automatically be stored in iCloud than iCloud backups such as contacts, notes, reminders, calendar, mail messages, app documents and others. So, you may ask; does this mean you will be unable to restore them from iCloud backups if you lose your contacts?
You are not completely unable to recover accidentally deleted contacts. In fact, we do have some ways to figure it out, as this article will clearly demonstrate, there are 4 ways you can recover the deleted contacts from iCloud. Let's begin with the simplest and the most effective method.
---
1

Restore All Contacts from an iCloud Backup
The normal way to get your contacts back is to restore an iCloud backup. This method is recommended for whom have updated their iPhone to the latest iOS Version. If you have an old iOS version, you can follow the second way to recover contacts from icloud.com. Now, follow these simple steps to download an iCloud backup.
Step 1: On your iPhone, go to 'Settings' > 'iCloud' > 'Storage' > 'Manage Storage' and then tap on the device under Backups to see the date and size of the backup. Make sure you have the backup that want to recover.
Step 2: Now, you will need to erase the device to get to the set-up screen. Go to 'Settings' > 'General' > 'Reset' and then select 'Erase All Contents and Settings'. You can not skip this step or you will not allowed to restore iCloud backups.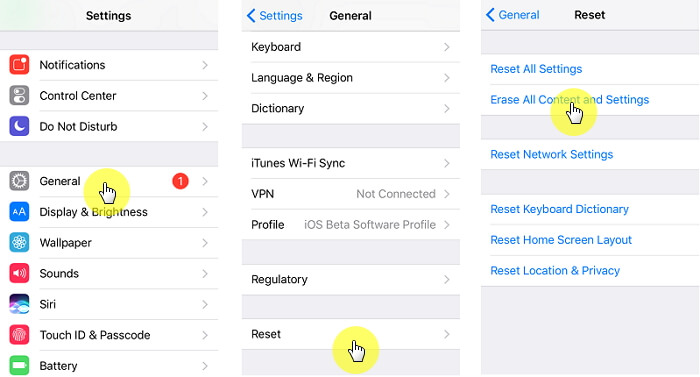 Step 3: Follow the prompts on the set-up screen until you get to the 'Apps & Data Screen'. Here, select 'Restore from iCloud Backup'.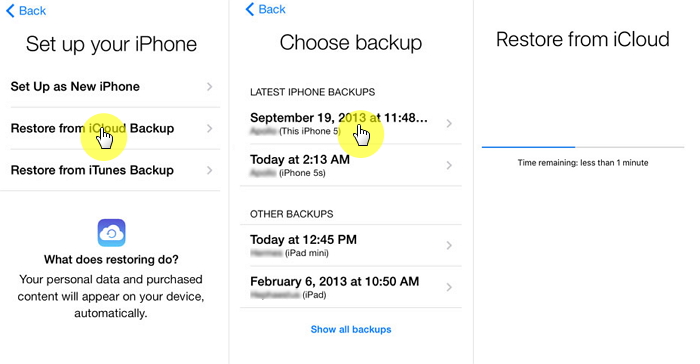 Step 4: Sign in to iCloud and select the latest backup and wait for the restore process to be completed.
Note: Please be cautious of this process since this will erase all your.
---
2

Download or Restore iCloud Contacts from iCloud.com (Earlier Version)
If you don't want to go through the hassle of erasing your entire device just to get your contacts back, you can download them from iCloud.com. The whole process is simple and straightforward and relatively easy to do. Here's how.
#1. Download Contacts from iCloud:
Step 1: On any browser go to www.icloud.com and log in to your account.
Step 2: From the options presented, select 'Contacts'. Click on the setting icon (gear icon) at the bottom left and from the drop-down list select, 'Export vCard…'
This vCard can then be imported to your device and you'll have your contacts back.
The next time you lose your contacts, don't panic! Just use one of the above solutions to get them back.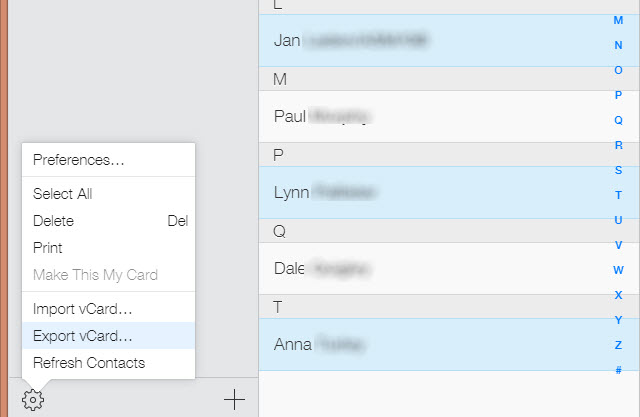 If you want to restore contacts on your iPhone instead of export the contacts files, you can follow the steps below:
#2. Restore Contacts from iCloud:
Step 1: Sign in to iCloud.com.
Step 2: Scroll down and click 'Restore Contacts' in 'Advanced'.
Step 3: Click 'Restore' next to the date before deletion.
Step 4: Click 'Restore' agin to confirm. Once the process done, you will get a notification on iCloud.
---
3

Merge iCloud Contacts to Restore Missing Contacts on iPhone
If you want to find the missing contacts from iCloud, you can try with the merge option on iCloud.
Steps to merge contacts from iCloud:
Step 1:Go to 'Settings' and find 'iCloud', disable the 'Contacts' option.
Step 2:Select 'Keep on My iPhone' in the message box.
Step 3:Enable 'Contacts' again and select 'Merge'.
Merging contacts in iCloud backups often can gets back all the contacts on iPhone.
---
4

Ultimate Way to Recover Contacts by Using Comprehensive iCloud Data Recovery Tool [iOS 15 Supported]
If you don't like to spend too much time trying to figure out how to find your missing contacts and would rather get it done quickly and efficiently, then your ultimate solution lies in iMyFone D-Back. This iCloud data recovery tool makes it easy for you to get your contacts from iCloud in the shortest time possible, a feature that will come in handy when you need to urgently communicate with someone and find out their contact is missing. Apart from speed and agility, iMyFone D-back offers you 2 Ways to selectively restore or sync all contacts from iCloud to your iDevices.
Get Contacts Off iCloud including numbers, emails, names, job titles, etc.
View all contacts information in iCloud account and restore selectively.
Recover up to 22 other different types of data, such as photos, messages, notes, contacts, WhatsApp messages and more.
compatible with all versions of the iOS system and all iOS devices. [iOS 15 Supported]
Only need an iCloud account access to get everything back.
Selectively Retrieve Contacts from iCloud Account
The following step by step guide will demonstrate just how easy it is to get contacts back from iCloud by using iMyFone D-Back. You can view and select the certain contacts to restore. The first thing you need to do before you go to the step one is download the program to your computer and then launch it. Done? Good. Now go on to the first step.
Step 1: On the main window in D-Back, click on 'Recover from iCloud' module and choose the 'iCloud' function.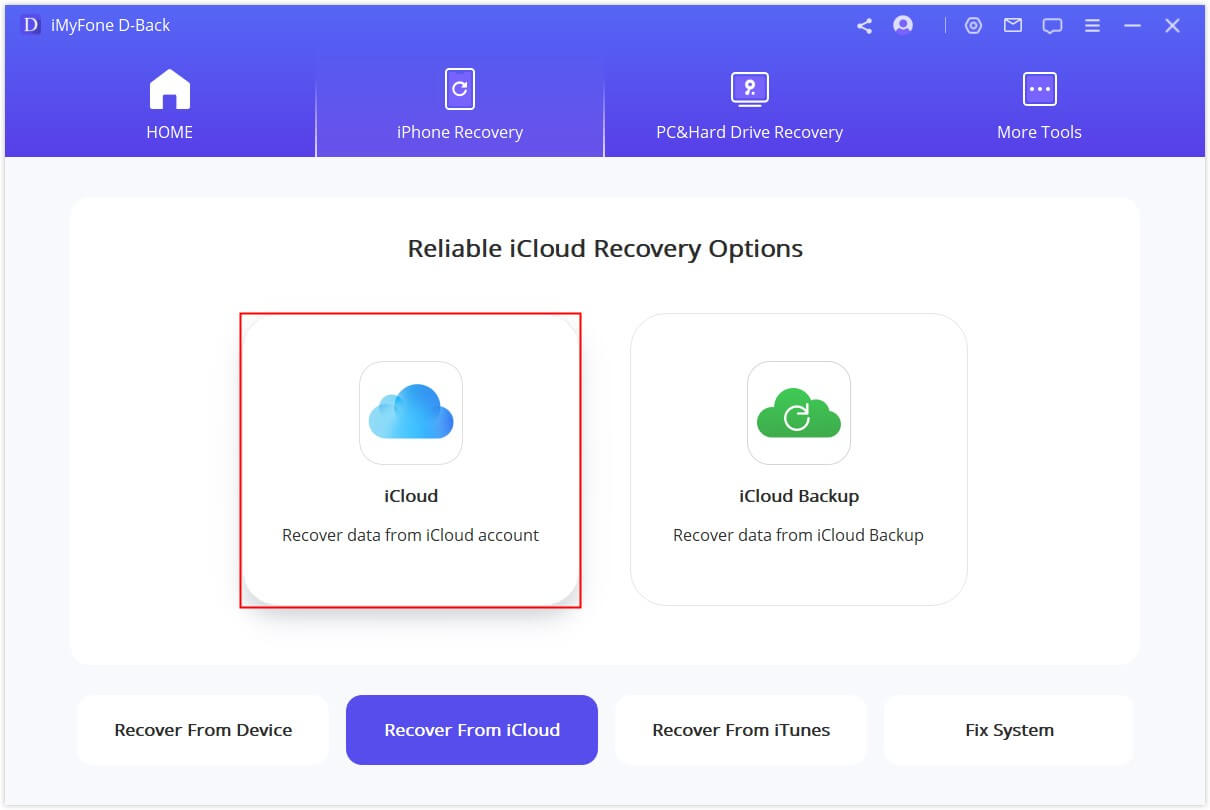 Step 2: To gain access to your iCloud backup files, the program will require you to log in to iCloud. Don't worry, your log in information is kept confidential and will never be shared.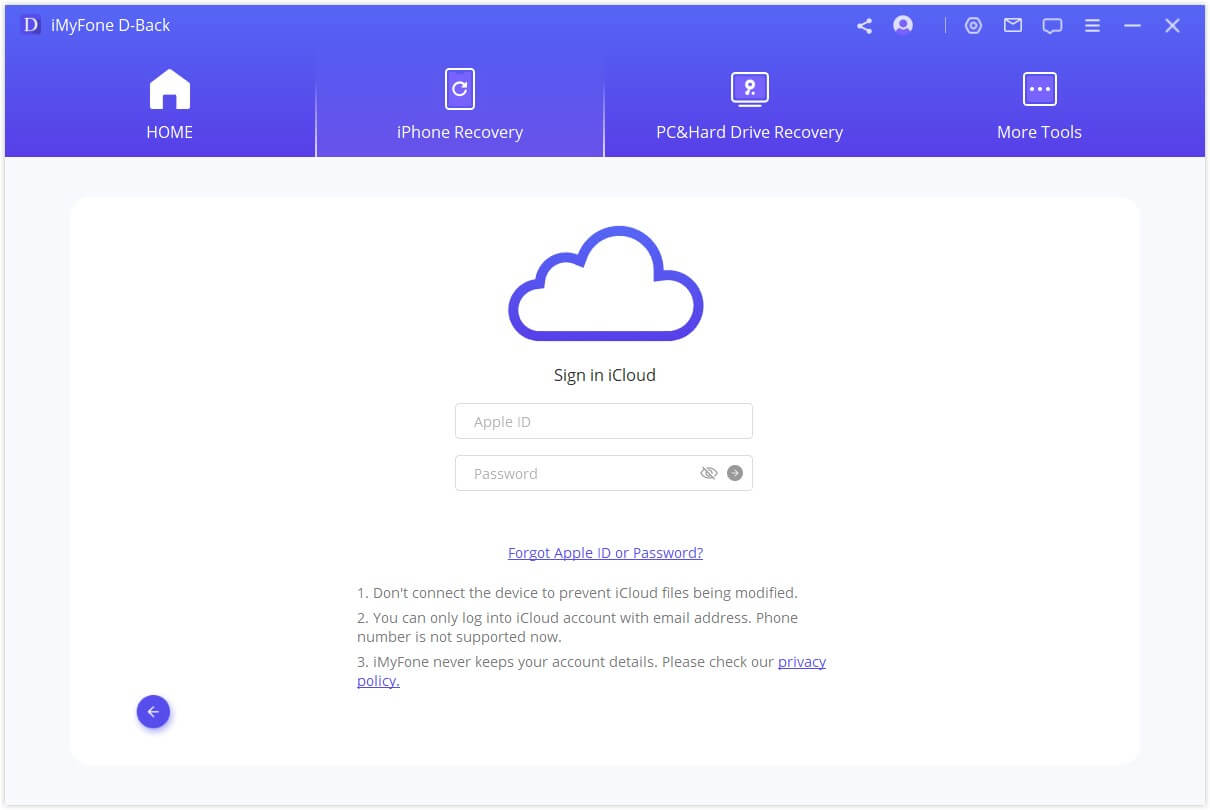 Step 3: Select 'Contacts' and click on 'Scan' to load all your contacts data stored on iCloud. D-Back will access contacts on iCloud and begin to analyze the backup file you've selected for all contacts.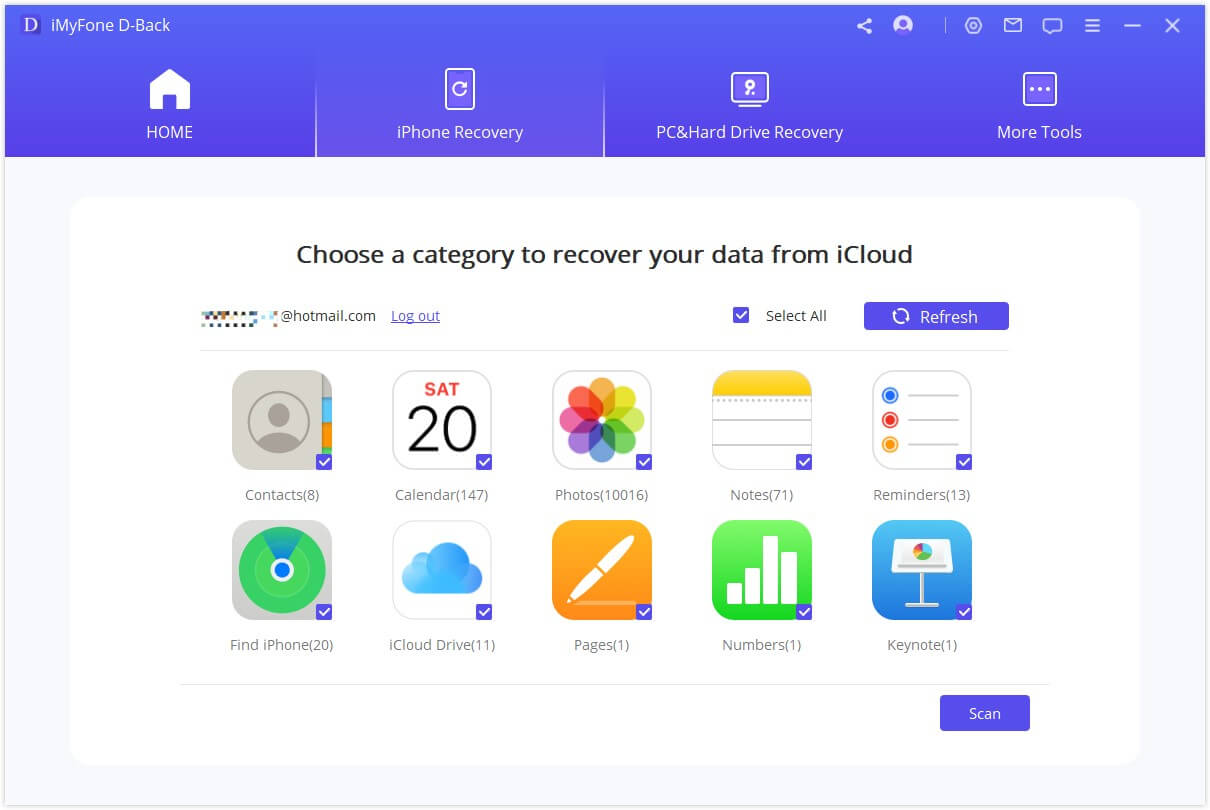 Step 4: You should see a results page once the process is complete listing all contacts. You can then preview and select the ones you want to recover and click 'Recover.' Specify a destination folder in the popup window and you're done. You can see contacts in iCloud and import contacts from iCloud to iPhone.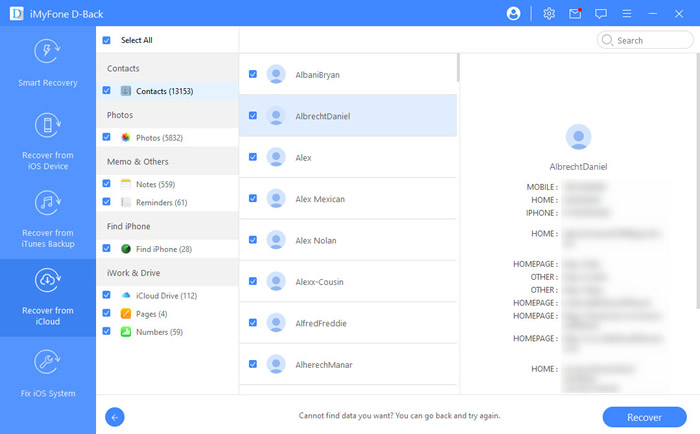 Extract Contacts from iCloud Backups and View on Computer
In this function, you will need an device to store the contacts that restore from iCloud backups, you can then view the details of recovered contacts and transfer to other iDevices if needed.
Step 1: This time, choose 'iCloud Backup' function in 'Recover from iCloud' module.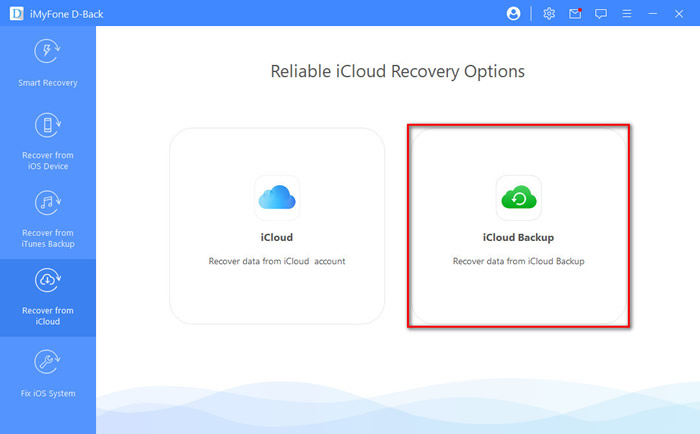 Step 2: There are two option for you to you choose according to your iPhone status.
"An iPhone in initial setup": Refers to an iPhone in setting up pages before entering the system, when you buy a new iPhone or after you reset an iPhone, it is in initial setup.
"A currently using iPhone with data": This could be an idle device, or even the one you are using now, but both can be used normally.
Notes: You should follow the steps to make a full backup of your current iPhone, or restore iCloud backups will overwrite all your current data. Follow the steps to erase and reset your iPhone.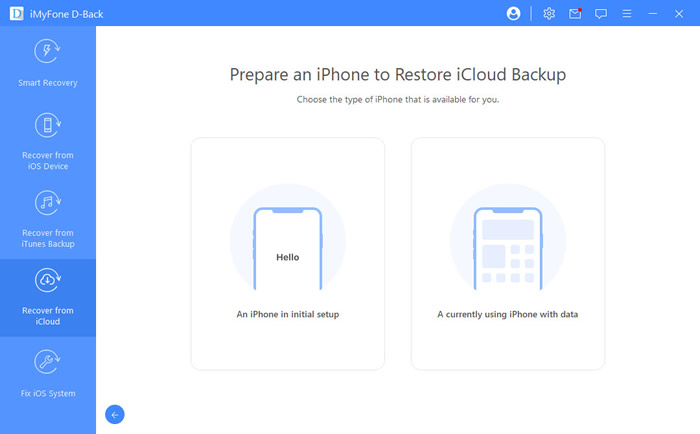 Step 3: Select 'Recover from iCloud Backup' in 'Apps & Data', then enter the Apple ID and password from which you want to restore the backup. You can skip the two-factor authentication if permits.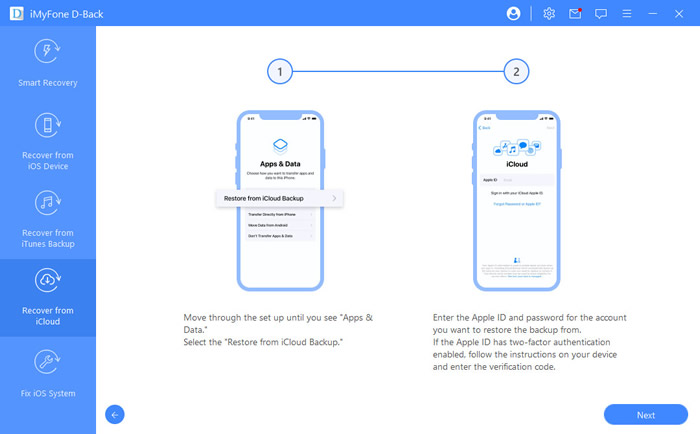 Step 4: Choose the certain iCloud backup that you want to restore and wait for a reboot.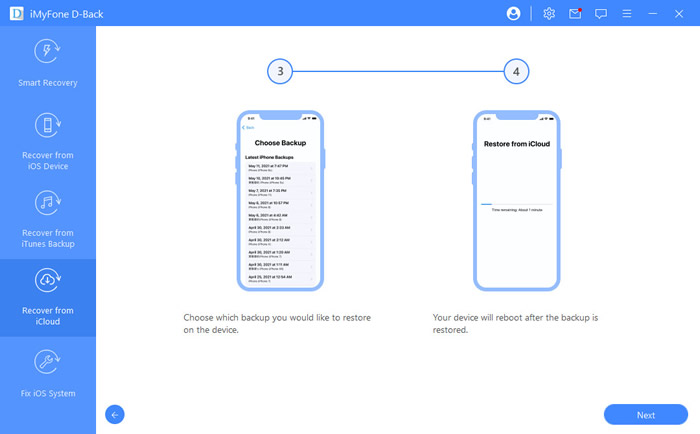 Step 5: Then you can follow the instructions on the screen to set up your iDevice. All data stored on selected iCloud backup, include your contacts will be back on iPhone. Then you can connect your iPhone to D-Back and check restored contacts of your iCloud backup.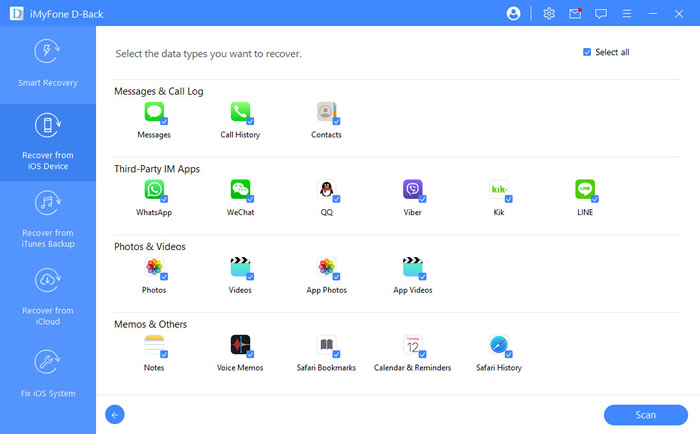 Download the trial version for iMyFone D-Back to give it a try.
---
FAQs: Tips You May Want to Know
1

How to transfer contacts from iPhone to iPhone?
The most common way to achieve this is by using iCloud sync. Simply sign in the same Apple ID on both iPhones. Open 'Settings' > [your name] > iCloud and enable the 'Contacts' option on both iPhones, tap 'Merge' when the prompt comes out.
Or you can use iMyFone iTransor to sync contacts and other types of data from iPhone to iPhone directly.
2

How do I AirDrop contacts from iPhone to iPhone?
Open 'Contacts' on your iPhone, then select the contact that you would like to share through AirDrop. Scroll down until you see the 'Share Contact' option in the share sheet. Choose the AirDrop transfer icon for the device with which you want to share.
Summary
Above are 4 ways to get your contacts back from iCloud. No matter you are updating to the latest iOS 15 version or still using the earlier version, you can all find the way to recover contacts from iCloud. To save your time, we recommend the outstanding iMyFone D-Back tool to retrive your contacts stored on icloud.com or iCloud backups. Give it a shot!