Restoring your iPhone can be a great way to fix the device when for some reason it is not working correctly. You've probably experienced some of these software problems like your iPhone failing to start or a software glitch that can cause your device to fail to work correctly. The best way to eliminate these problems and refresh the device is to restore it. But you may wonder "if i restore my iphone will i lose my photos". The answer is yes, restoring iPhone could cause you to lose the photos you have saved on the device.
What you must understand is that there are different scenarios under which you can restore your iPhone. To distinguish these restore options, we thought it's a good idea to introduce each one separately. This way, you can decide which option best works for you.
Scenario 1: Restore iPhone in Recovery Mode
One of our users wrote to us with a peculiar problem. He said that he had turned off his iPhone and when he turned it back on, the Apple Logo came on the screen like it should, ordinarily, but it did not go away. He tried everything to get rid of the Apple Logo stuck on the screen but nothing worked. Finally, the device told him to connect to iTunes. Once connected, he saw two options in iTunes; restore or update. His question to us, which is probably what you are thinking is; "will I lose all my photos and videos if I restore the iPhone?"
The simple answer is if you choose "update" your pictures and videos will not be deleted. But if you choose "restore" all the data on your iPhone including the pictures and videos will be erased. You can choose to click update instead of restore which might fix the problem.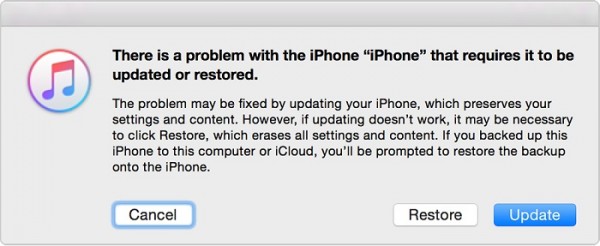 If that doesn't solve the problem and you still don't want to lose the photos on your iPhone, you can use "Fix iOS System" mode to exit recovery mode while avoiding data loss.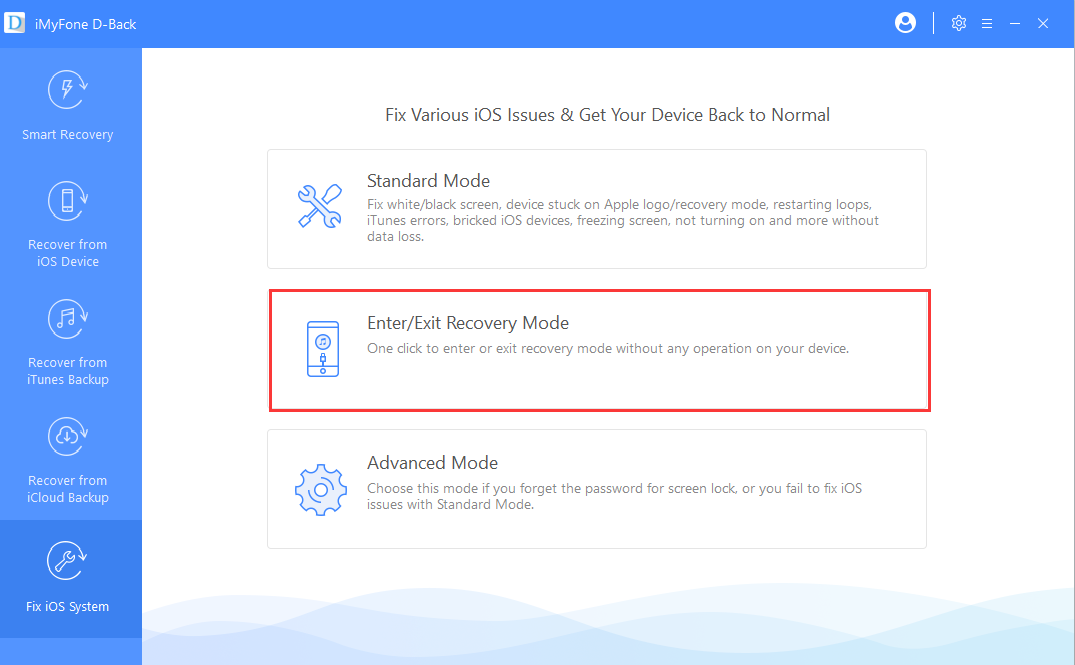 Scenario 2: Reset iPhone to Factory Settings
The other solution you have when trying to fix problems with your iPhone like the one our user describes above is to factory reset the iPhone. A factory restore will erase all the data and settings on your device including your photos. The reason why it is so effective is because some settings you may not be aware of could be interfering with normal function. Erasing all settings will eliminate even these incompatible settings.
At this time, you may wonder "how do I restore my iPhone without losing my pictures". In this case, you need the help of D-Back recovery tool, it can assist to recover losing photos after reset. It can help you selectively recover iPhone photos after reset without backup, or restore from your iCloud/iTunes backup.
Key Features:
Helps to recover photos lost disappeared from damaged/broken/virust-attacked iDevice, helps to retrieve photos after factory resetting.
It also supports to retrieve 22+ different types of data, including photos, messages, videos, call logs, contacts, etc.
It can directly recover photos from devices, or extract from iTunes or iCloud backup without affecting your current data.
Quite simple to use, helps to get your photos back within minutes.
Here's a step by step guide to help you recover lost photos from your iTunes or iCloud backup using D-Back;
Recover Photos from an iTunes Backup
If you have an iTunes backup file containing the missing photos, you can extract just the photos in these simple steps.
Step 1: Install D-back to your computer and launch the program. From the main window, select "Recover from iTunes Backup" and then click "Start."You should see a list of iTunes backup files on that computer listed in the next window. Select the most relevant one and then click "Next".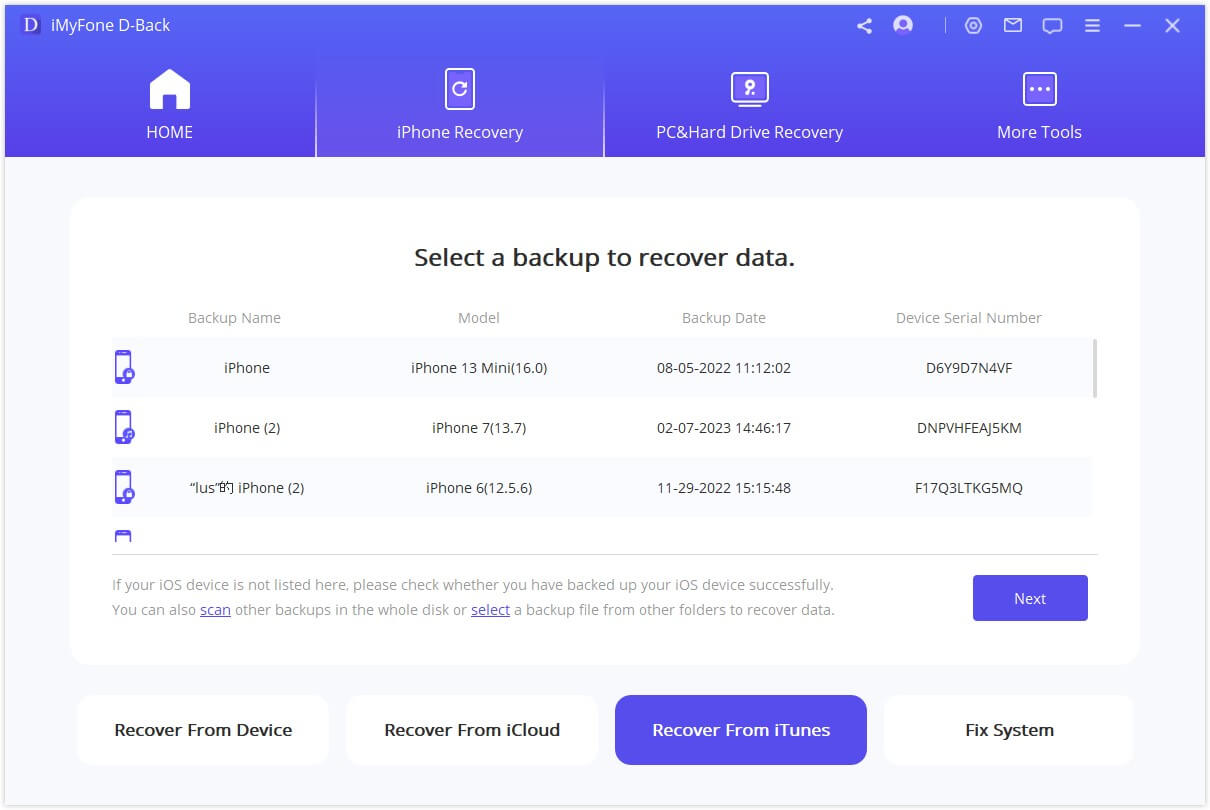 Step 2: Select "Photo" in the next widow and then click "Scan" to continue.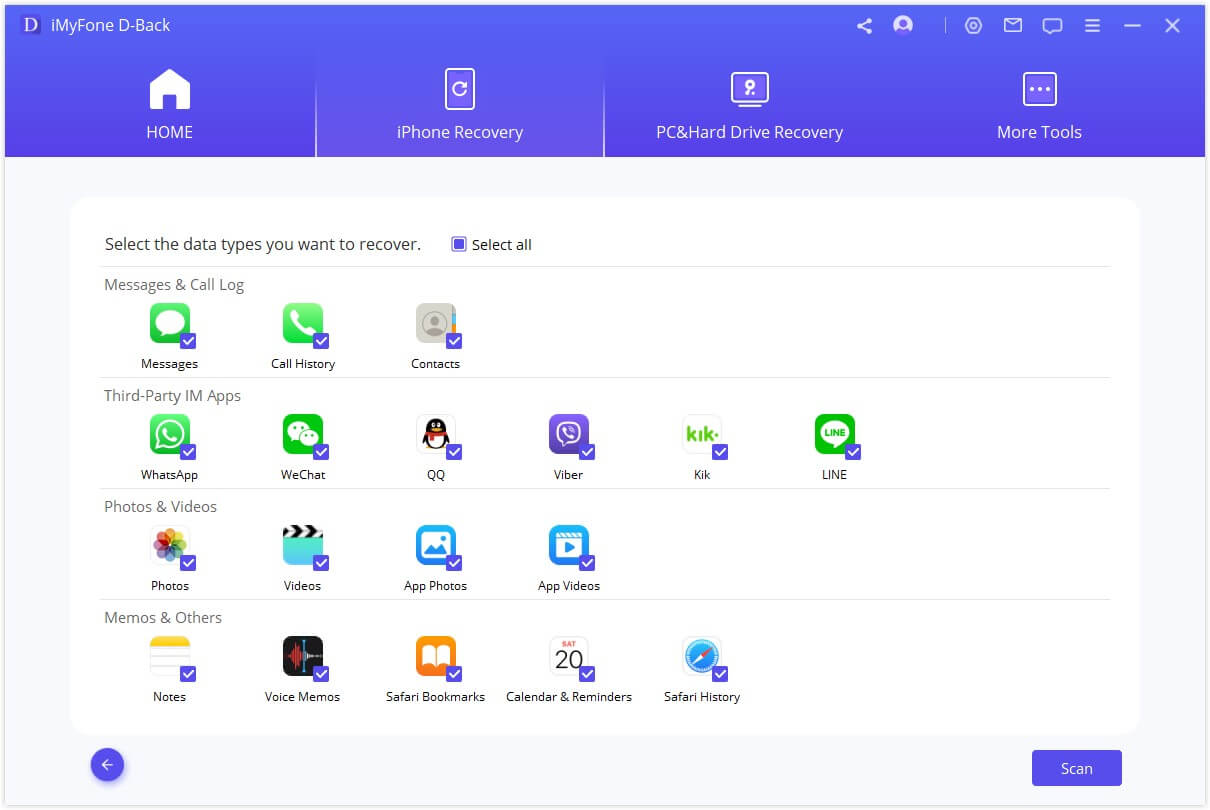 Step 3: From the results page, select the photos you would like to recover and then click "Recover" to save them to your computer.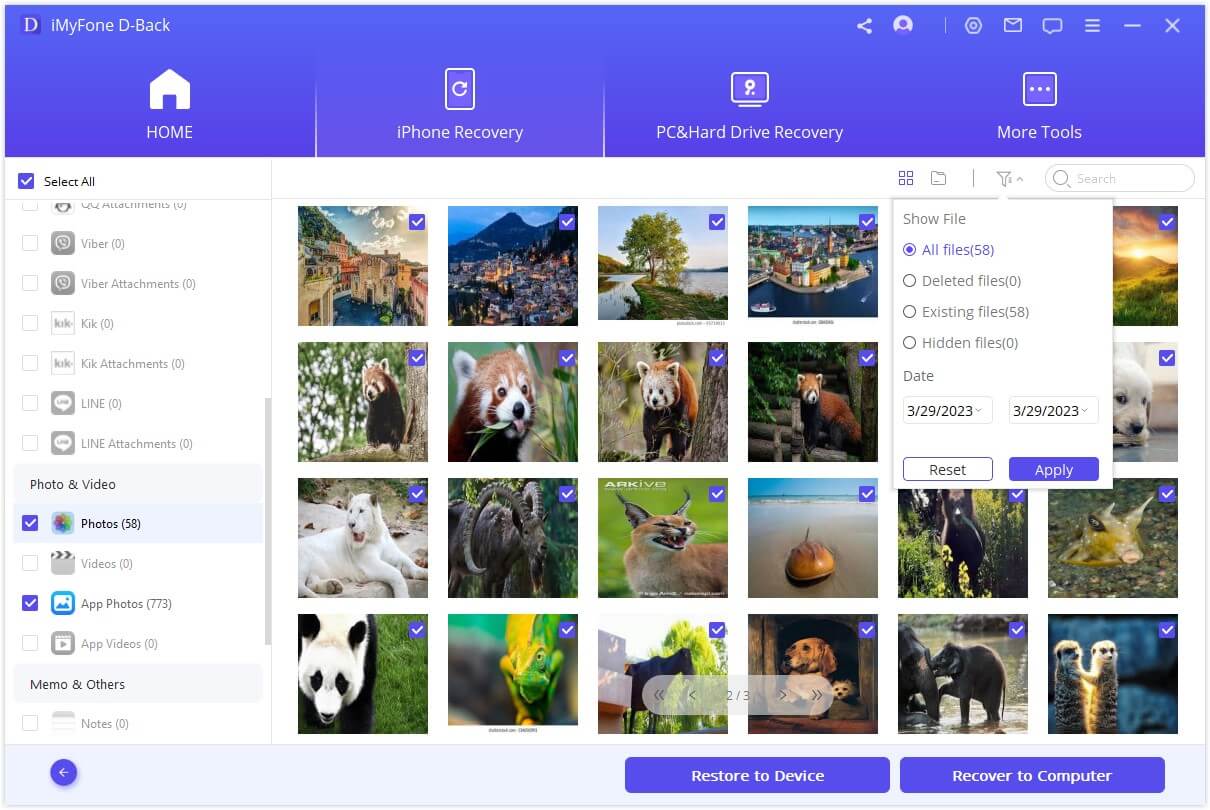 Recover Photos from an iCloud Backup
To recover the photos from an iCloud Backup, follow these simple steps.
Step 1: from the main window, select "Recover from iCloud Backup" and click "Start." To gain access to your iCloud backup files, you will need to sign in to iCloud. Sign in and then select the iCloud backup file you need. Click 'Next".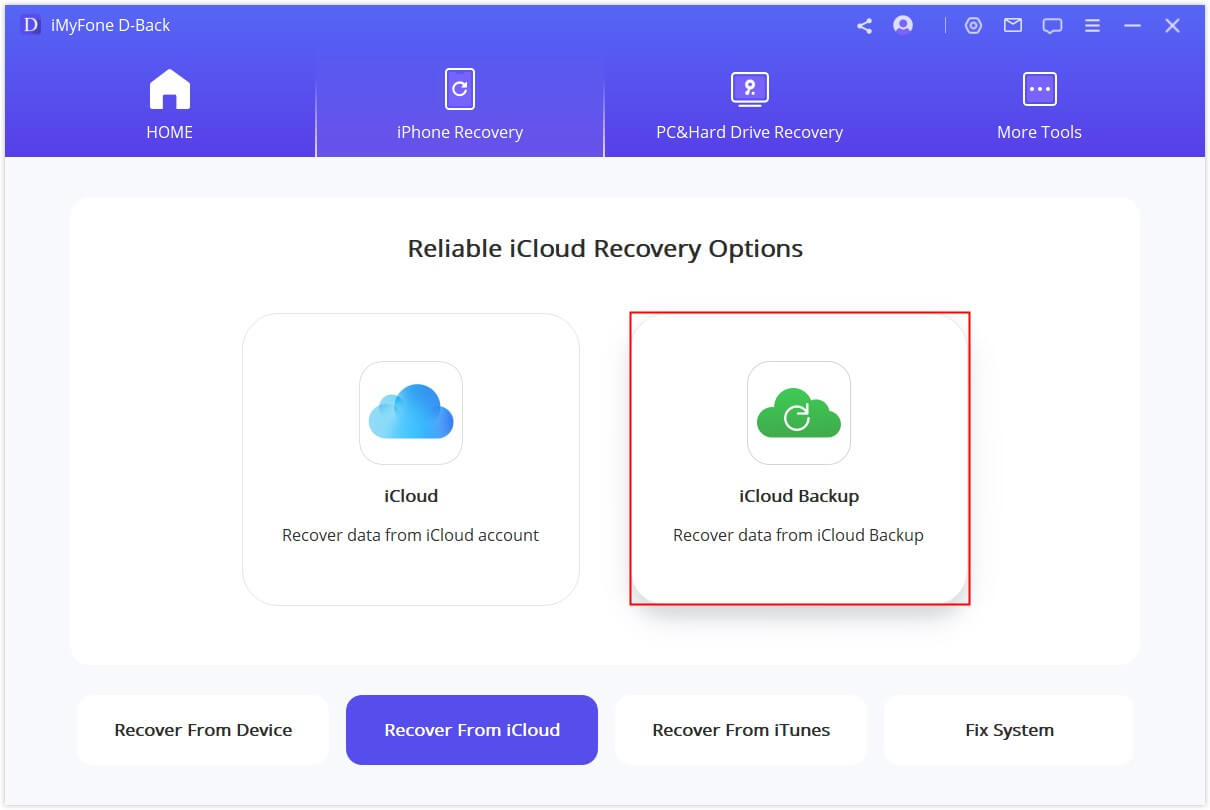 Step 2: In the next window, select the type of file you want to recover as "Photo" and then click "Next."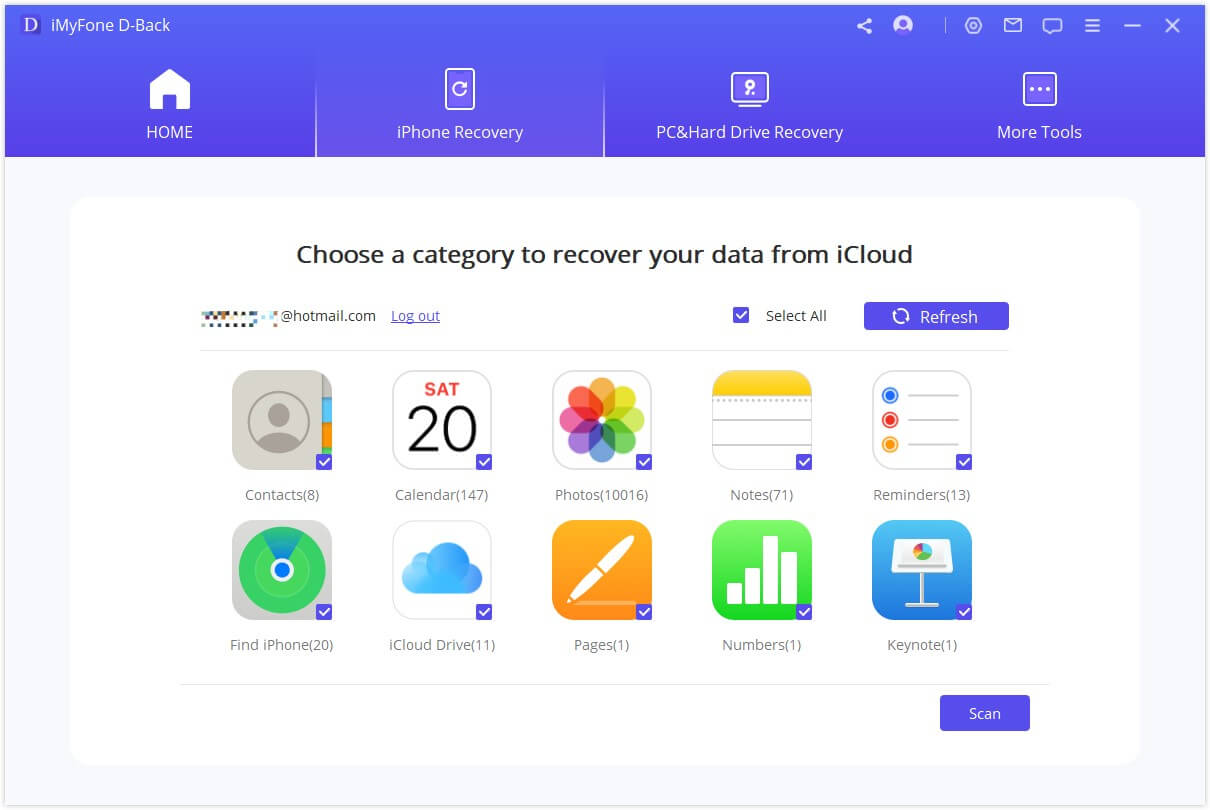 Step 3: The program will scan and analyze the backup file and display its contents on the next page. Select the missing photos from the displayed results and then click "Recover" to save them to your computer.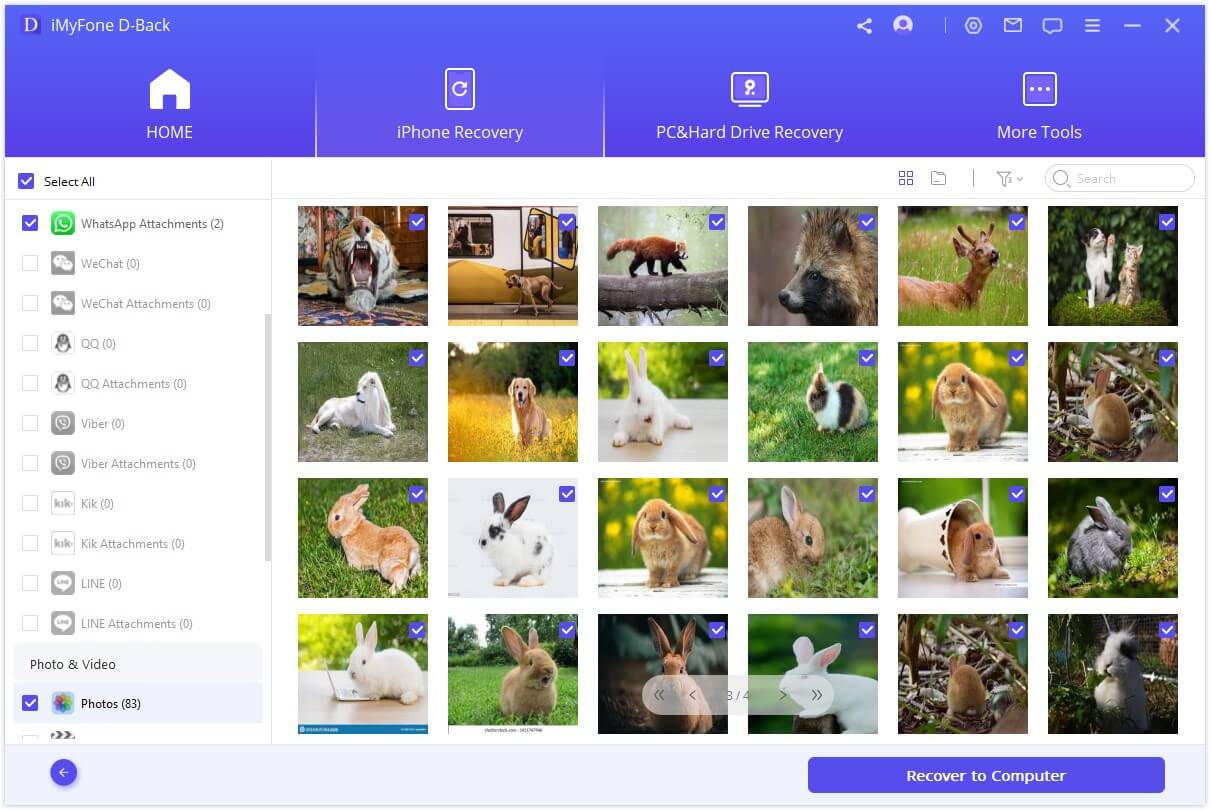 Scenario 3: Restore iPhone from iTunes Backup
The other option you have when experiencing problems with your device is to restore the iPhone from an iTunes backup. The simple act of restoring the device will fix the problem with one other advantage. Just keep in mind that only the photos that were included in the backup will be restored back on to the device. The photos and any other data you had yet to backup to iTunes will be lost.
Note
Because it is a restore of the data in the iTunes backup, your current data including photos on your iPhone will be erased and replaced by the photos in your backup.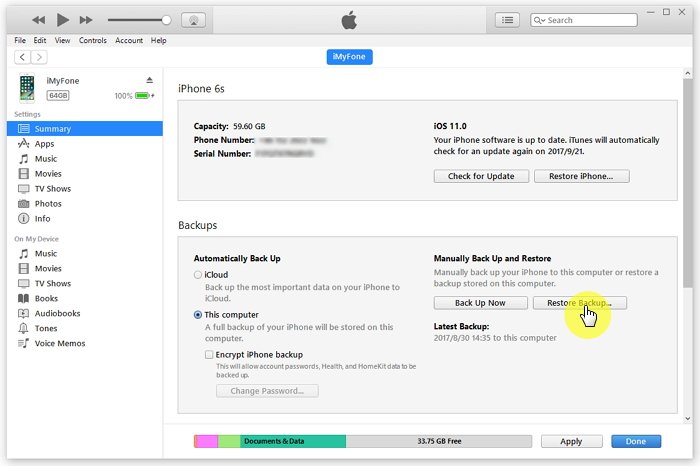 Scenario 4: Restore iPhone from iCloud Backup
In much the same way as restoring the iPhone from an iTunes backup, restoring the device from an iCloud backup can be a great way to fix any problems with the device. But there are some things to keep in mind in regards to photos and iCloud backups. These include the following;
4.1. In case you use iCloud photos
If you use iCloud Photos, all the videos and photos on your device will automatically be uploaded to iCloud. They are however, not included in your nightly backup. When you decide to restore the backup, these photos and videos will automatically be downloaded on to the device with Wi-Fi network, after you restore your device from iCloud Backup.
Note
In this case, it looks like all your photos are lost after you restore your device, but the truth is that the photos stored in iCloud will be synced after the restore process is finished. Know more by reading this Apple's tutorial.
4.2. In case you don't use iCloud photos
If on the other hand, you don't use iCloud Photos, Apple says the iCloud backup "May" include photos and videos if you have turned on the option in iCloud.
If the photos and videos are included in the backup, they will be downloaded in the background when you choose to restore the device in iCloud. Just ensure that you stay connected to Wi-Fi until the restore process is complete.
Note
In this case, photos on your iPhone will be erased first and then replaced by the photos in iCloud backup.
Conclusion
It's better to perform the recovery as soon as the photos lost after restoring your iPhone, in this way, the possibility of further data loss can be prevented. It's always risky to try the free methods, the safest and the most reliable way to get photos back is using D-Back.