If we talk about the essential content on our iPhone, messages would take place in the top list. You can lose the messages on your iPhone for a variety of reasons. The most common one could be accidental deletion, and other reasons might be out of your control such as software bug or iOS 15/14/13/12/11 upgrade that didn't go quite smoothly. Because data loss can happen so easily, iTunes and iCloud backups are essential to the safety of your data.
A lot of people know about making a backup using iTunes but get stuck when it comes to restoring the backup. If you have an iTunes backup of the missing messages, you can just restore it and you'll get your messages back on your device.
There is just one problem with restoring an iTunes backup, which is that you have to erase all the contents and settings on the device while restoring the backup. Since the biggest drawback of iTunes is that it doesn't allow selective restoring function so people find it annoying when they wish to restore merely their messages. This can be a real problem especially if you have data on your device that you were yet to include in an iTunes backup.
This article will introduce 2 methods to help you out from the dilemma without hassle. Through the methods, you will become capable of restoring only messages from iTunes backup or just extract messages from iTunes backup.
1. Restore Only Messages from iTunes Backup to iPhone
In order to accomplish this purpose, you need a better, trustworthy and professional tool and iMyFone iTransor backup and restore tool (which is renamed from D-Port Pro) is the perfect solution for this purpose. It is a backup and restore tool that aims to help you making a backup and restoring the backup to your iPhone fully as well as partially. Compatible with both Windows and Mac, this tool has many other features that make it the best iTunes alternative.
Key Features:
Makes a full backup, or separately backs up WeChat, WhatsApp, Contacts or Messages and more will be supported in the next version.
View and extract 18+ types data from the iTunes or iCloud backup without restoring iPhone. Check details here.
Selectively restore WeChat, WhatsApp, Contacts or Messages (next version will support more data types) from your iTunes/iCloud backup without affecting the other data on your device.
How to Restore Only Messages from iTunes Backup via iTransor
To restore only messages from iTunes backup, you need to go along with the step-by-step guide given below. Let's get started.
Step 1– First of all, go to the official website of iMyFone iTransor and download it from there. Install and launch it afterward. On launching, click on 'Restore Backup to Device' option from the left panel.
Step 2 – When you click on the option, a list of all the backup files will appear in front of you. Choose one desired iTunes backup file from the list and proceed to click on 'Next'.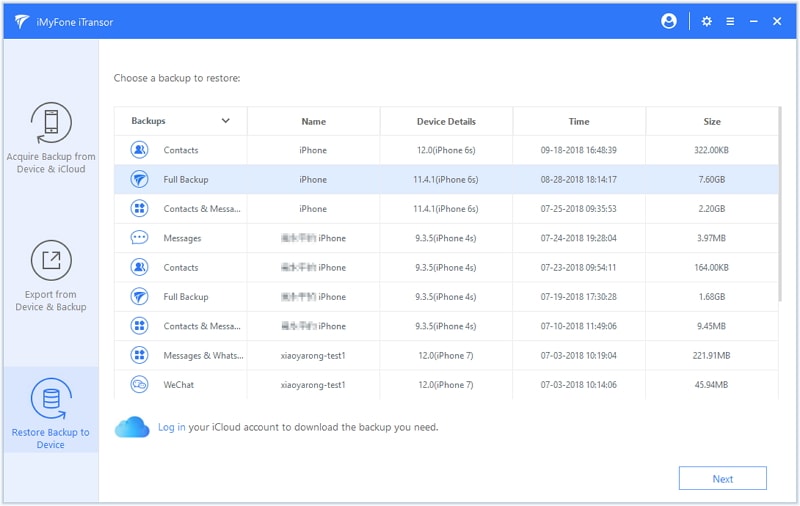 Step 3 – You will now get two options i.e. 'Restore Full backup' and 'Restore Partial Backup'. it is understood that the latter option will help you restoring only messages from iTunes backup. So click on it'.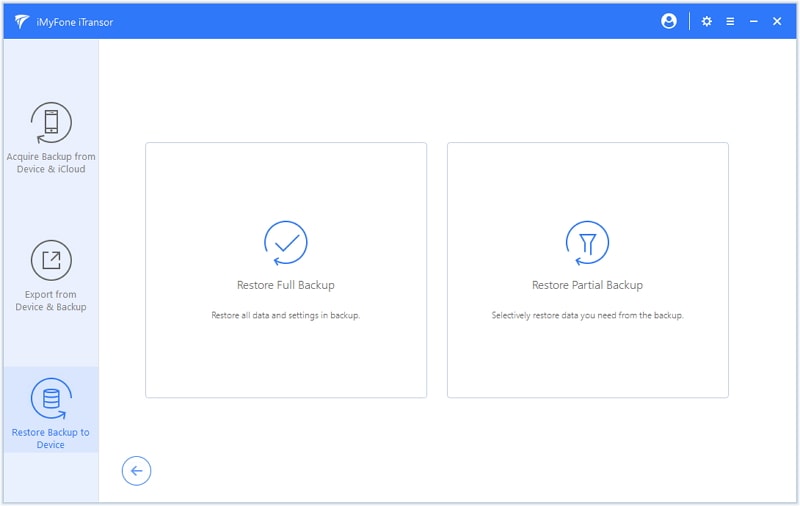 Step 4 – Now you will get the file types on the next screen. The software currently supports only 4 file types for partial restoring. In the near future, it will be able to support more files with its new version. Click on 'Messages' from the list and connect your device to the computer. Then choose Preview & Restore or Directly Restore to proceed.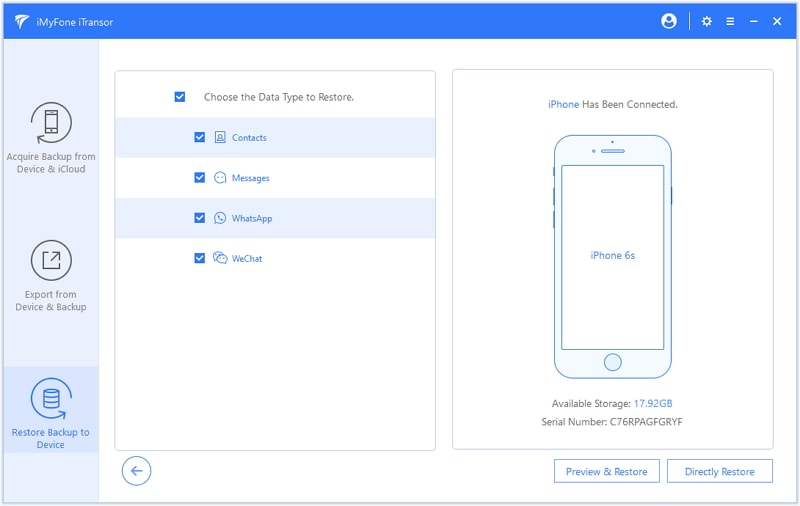 Step 5 – If you do not need to preview, you can choose to restore directly to save time and you will see the following picture. Select one option according to your needs to start restoring. Wait for a moment, your iPhone will restart and you will be able to view the messages restored from iTunes backup on it.
Don't Miss: How to Restore Only Photos from iTunes >>
2. Extract Only Messages from an iTunes Backup
If you don't want to restore the messages to your device, you can also use iMyFone iTransor to extract the messages from your iTunes backup to your computer. The program also supports the other 18 types of data, such as contacts, photos, WhatsApp, WeChat, Viber, Line, notes, Safari history and so on. Now we will tell you how to export only messages from an iTunes backup using iMyFone iTransor.
How to Extract Only Messages from iTunes Backup
Step 1 – Begin by downloading and installing the program to your computer. Run iMyFone iTransor on your computer and click on Export from Device & Backup from the left panel and click Export from Backup.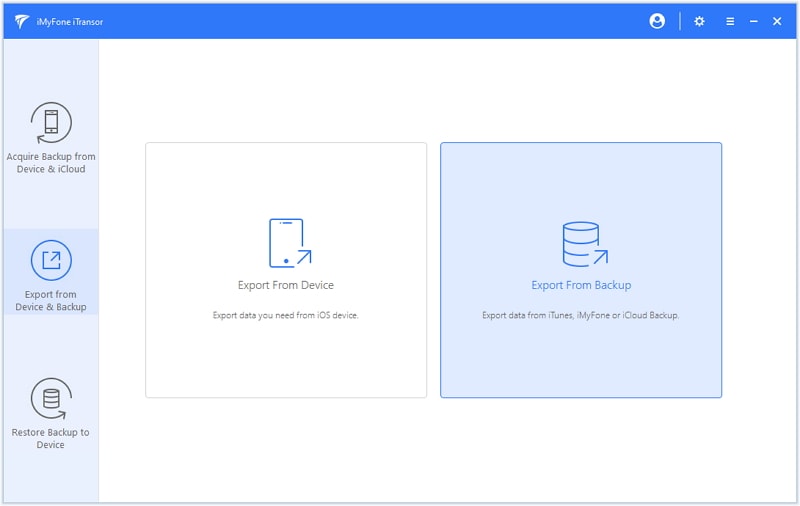 Then all of your backups will be listed and you can choose one to continue.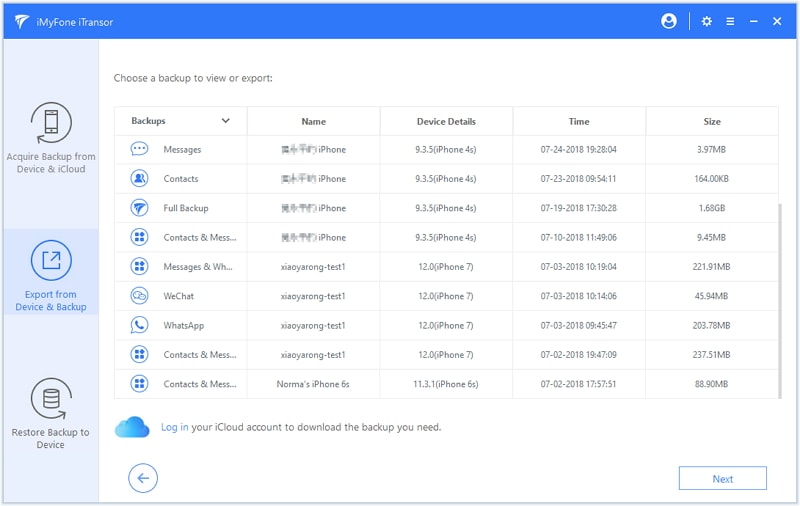 Step 2 – You can now see the file types on your screen. Select 'Message' from the list and click on 'Scan' to begin scanning.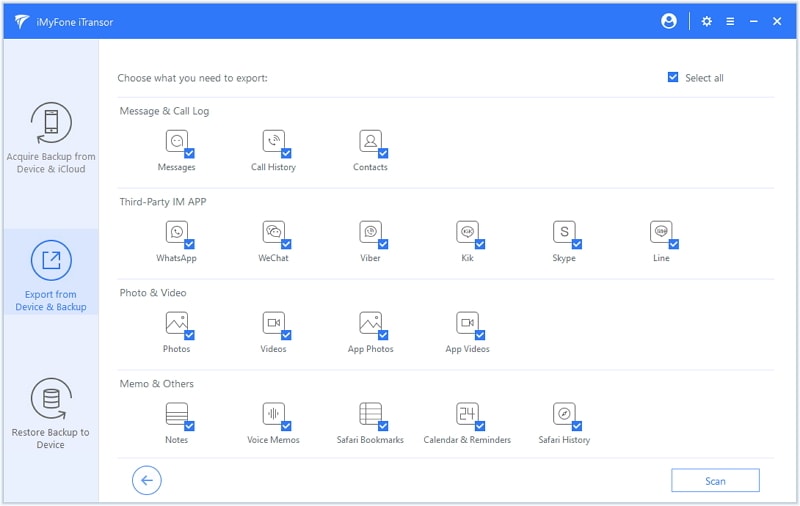 Step 3 – When the scanning process is complete, select the messages from the results displayed and click "Export". Then you will be asked to choose a location on your computer to store the messages. After you do that, it will just take a few seconds to export the messages.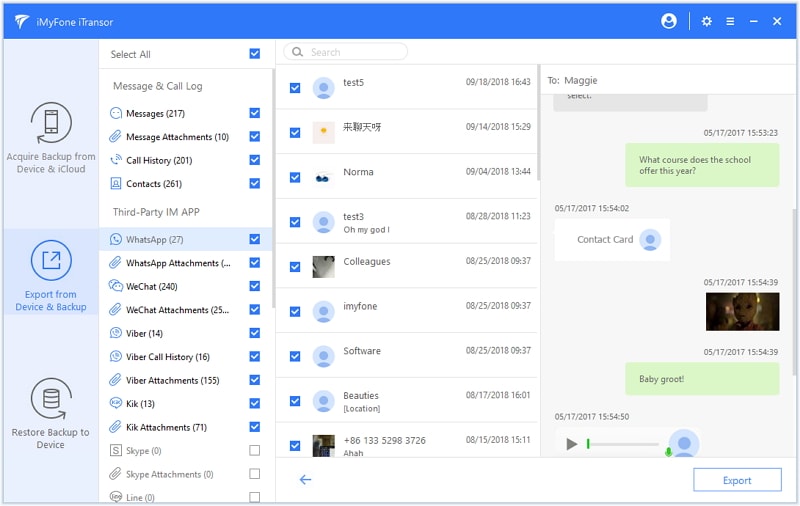 As you can see the process is simple enough and more importantly, there will be no data loss. You simply scan for the messages you need and click "Export" to get them back using iMyFone iTransor (compatible with iOS 15/14/13/12/11).