Question
My contacts disappeared from my iPhone somehow. Those contacts are important to me. Does anyone know how to get them back? Any help will be appreciated! Thanks in advance!
All my iPhone Contacts Disappeared? Don't worry, iMyFone D-Back can fix this problem, it support recover deleted iPhone contacts, you need use a computer to recover suddenly disappeared contacts, Download iMyFone D-Back free to recover it now.
Some iPhone users have reported that their contacts have mysteriously disappeared. One moment you can see your contact's names and numbers and then suddenly, they are all gone and can't be found in the Contacts app. This is a particularly inconvenient situation especially when you have to store the missing contacts once again but can't remember the relative numbers.
If your contacts have mysteriously vanished and you can't find the reason, read this post for useful solutions. Then you can try to bring normalcy to your contacts app and get back your missing contacts.
Part 1. 5 Quick Solutions to Bring Back Suddenly Disappeared iPhone Contacts
We start our search by looking at the Apple discussions board to see if anyone else had this problem and have found there are different solutions for "iPhone contacts disappeared". Try any of the following methods to see if it works for you.
1

Toggle Contacts in iCloud Off and Then On Again to Get Disappeared Contacts from iCloud
Maybe the Contacts app stops syncing with iCloud for some reason. Therefore, you can try the following steps to get back your missing contacts from iCloud.
Step 1: Launch the Settings app on your iPhone and then tap on iCloud. For users who use iOS 11 and later versions (including iOS 15/16), they can find iCloud by going to Settings > Your User Name > iCloud.
Step 2: Find "Contacts" and turn it "ON" if it is "OFF." When asked, tell iCloud to "Replace your Contacts." If it is "On", toggle it "Off" and then "On" again.
Step 3: If asked, select "Delete from My iPhone". Don't worry, your contacts are still in iCloud and they will come right back to your iPhone.
Note
You can only retrieve the contacts that have been synced to iCloud successfully.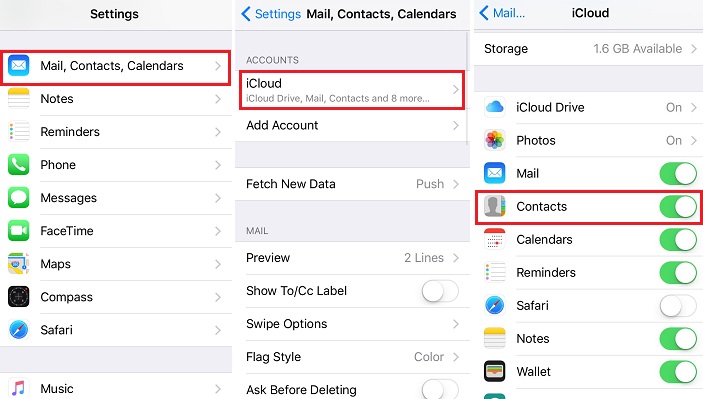 ---
2

Go to Contacts Groups Settings
Sometimes, your contacts may disappear for the contacts groups settings - selected to be hidden or be shown on iCloud. If that is the case, you can get back them with the steps below:
Step 1: Go to the Contacts app. Click groups at the top of your contacts page. Choose "All on My iPhone" instead of "All iCloud".
Step 2: Check to see if the missing contacts have come back. If not, try our 3rd option.
Note
This won't work if your contacts were deleted from iPhone.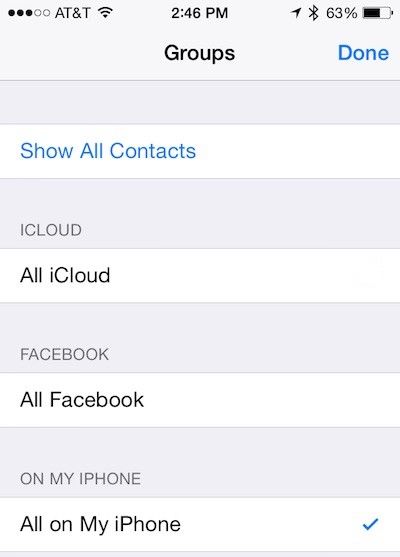 ---
3

Reset the Network Connections
Since your contacts might be affected by an unstable network, you can utilize this solution for getting back the missing contacts. Note that this won't remove any personal data from your iPhone (photos, videos, apps, etc.). You can also try this method when you can't make or receive calls.
Step 1: Go to Settings > General > Reset > Reset Network Settings.
Step 2: Enter your passcode when requested.
Step 3: You should see a warning message that this action will delete all your network settings. Choose "Reset Network Settings" to continue.
Step 4: Check to see if your contacts disappeared from iPhone are back.
Note
Since this will delete all your network settings, you have to reset the network settings after then.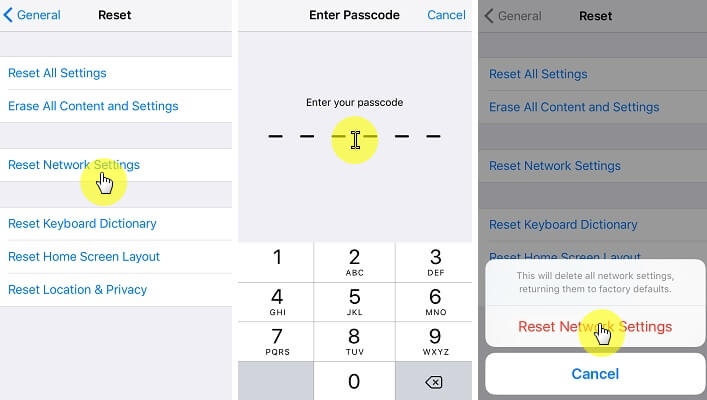 ---
4

Change Default Account in Settings Back to iCloud
In case that you have set the default account as Gmail before, then you can change it back to iCloud to get back your missing contacts.
Step 1: Go to the Settings app on your iPhone.
Step 2: Tap on Mail, Contacts, Calendars. Click on Default Account under contacts.
Step 3: Select iCloud instead of On my iPhone as the default account.
Note
This method doesn't work for iOS 11 – Apple canceled the function of default account in contacts' settings.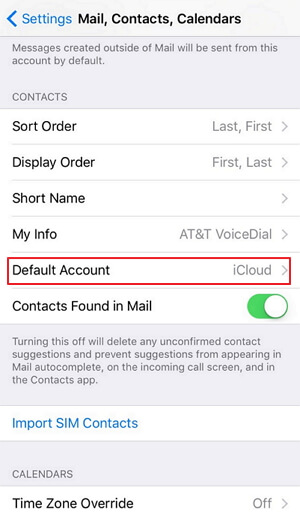 ---
5

Restore iPhone Missing Contacts from iTunes Backup
You can restore the missing contacts from iTunes backup if none of the above methods work for you. This is the most time-consuming solution.
Step 1: Open iTunes after connecting your iPhone to the computer.
Step 2: Double-click on the device icon to unfold the Summary page.
Step 3: Tap on Restore Backup, select the latest backup, and then click on "Restore" to get your missing iPhone contacts back.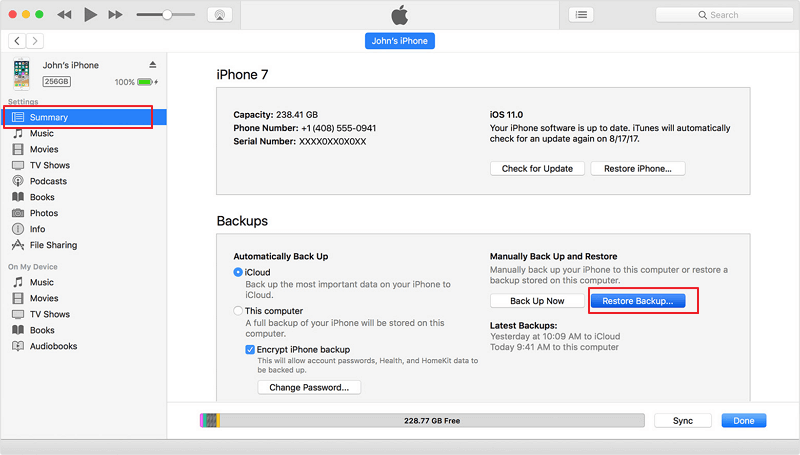 Note
Only if you have iTunes Backup for your iPhone, you can use the 5th method to get missing contacts back. If you are to restore all data instead of contacts only, the data on your iPhone will be overwritten.
Part 2. Get Back Suddenly Disappeared Contacts After Update iOS 16 via iMyFone D-Back
The above 5 are the commonly-used methods for iPhone contacts disappeared. If your contacts are still invisible, you'll have to consider using a 3rd-party tool to get them back. iPhone contacts can be missing due to diverse reasons. So it's better to try a tool that can easily recover your lost contacts regardless of the circumstances that lead to the loss. iMyFone D-Back comes for that. It is efficient and easy to use, even if you have never used a data recovery tool. The following are some of the main reasons why you should choose iMyFone D-Back for getting backup your contacts. iMyFone D-Back is fully compatible with the latest iPhone models (iPhone 14) and iOS version (iOS 16).
Key Features:
High Success Rate of Recovery: Deeply scans your iOS device to get back suddenly disappeared contacts, or extract the contacts from iCloud/iTunes.
Restore Disappeared Contacts to PC: Avoid overwriting the current data on your iPhone.
Secure to Use: D-Back won't keep any of your personal information.
Supports Selective Recovery: Allows you to selectively recover a specific data type or the specific contact you wanna get back.
Free to Scan & Preview: Enables you to view the contacts before the recovery.
Steps to Recover Disappeared iPhone Contacts without Backup via D-Back
Step 1: Download the program to your computer and once installed, choose the recovery mode that best suits your situation. In this tutorial, we choose "Recover from iOS Device" since it is the easiest for beginner users. Click "Start".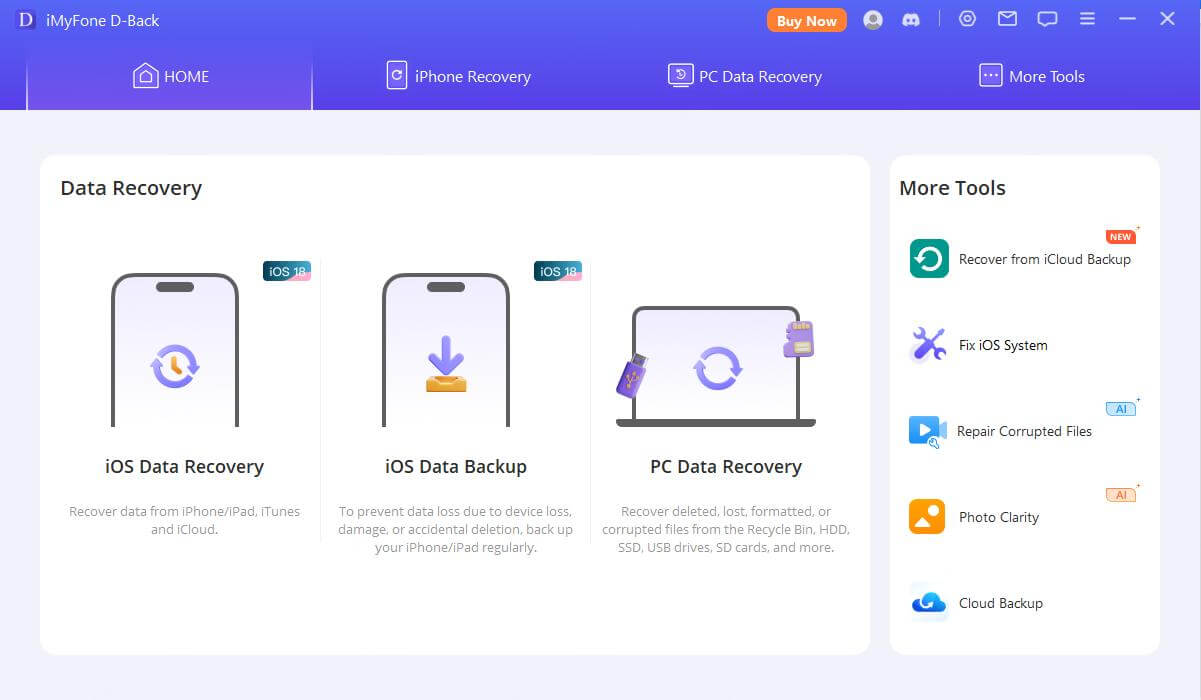 Step 2: In the next window, connect your iPhone to the PC and click on "Next".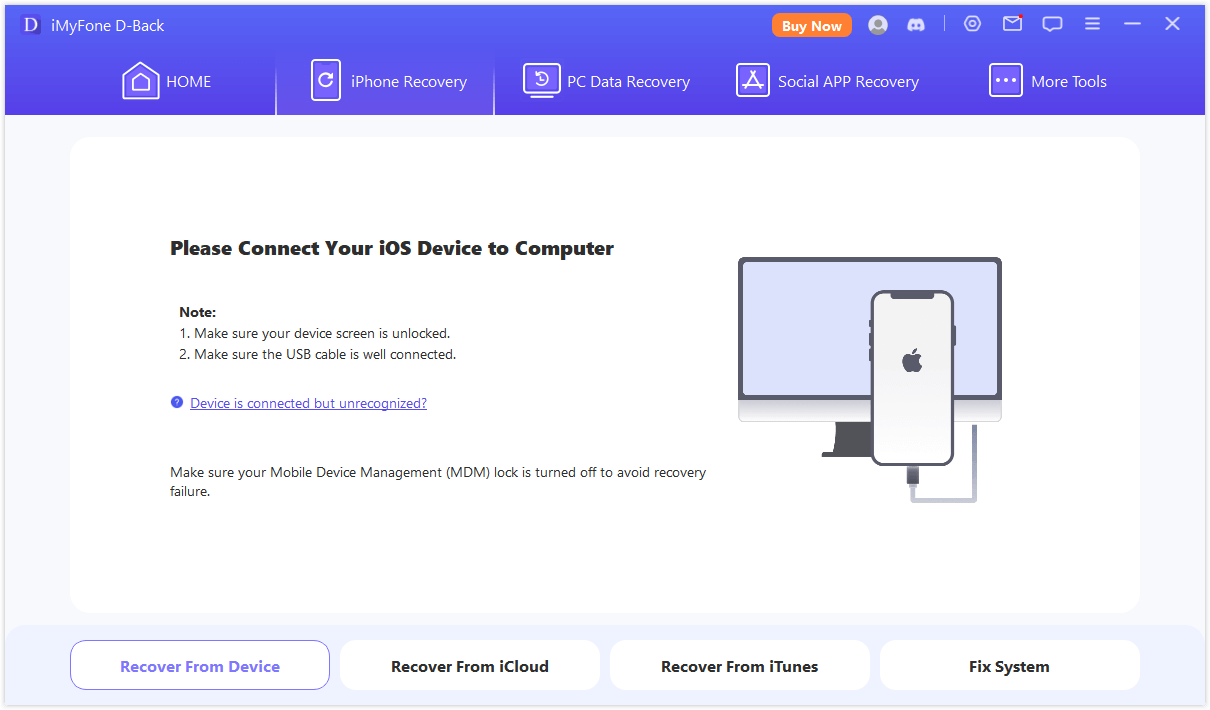 Step 3: Select the files you want to recover. This covers a wide range of files including text messages, photos, most important contacts, and so on. After that, click "Scan" and the program will start to scan your contacts disappeared after iOS 12/13/14/15 update or for other reasons.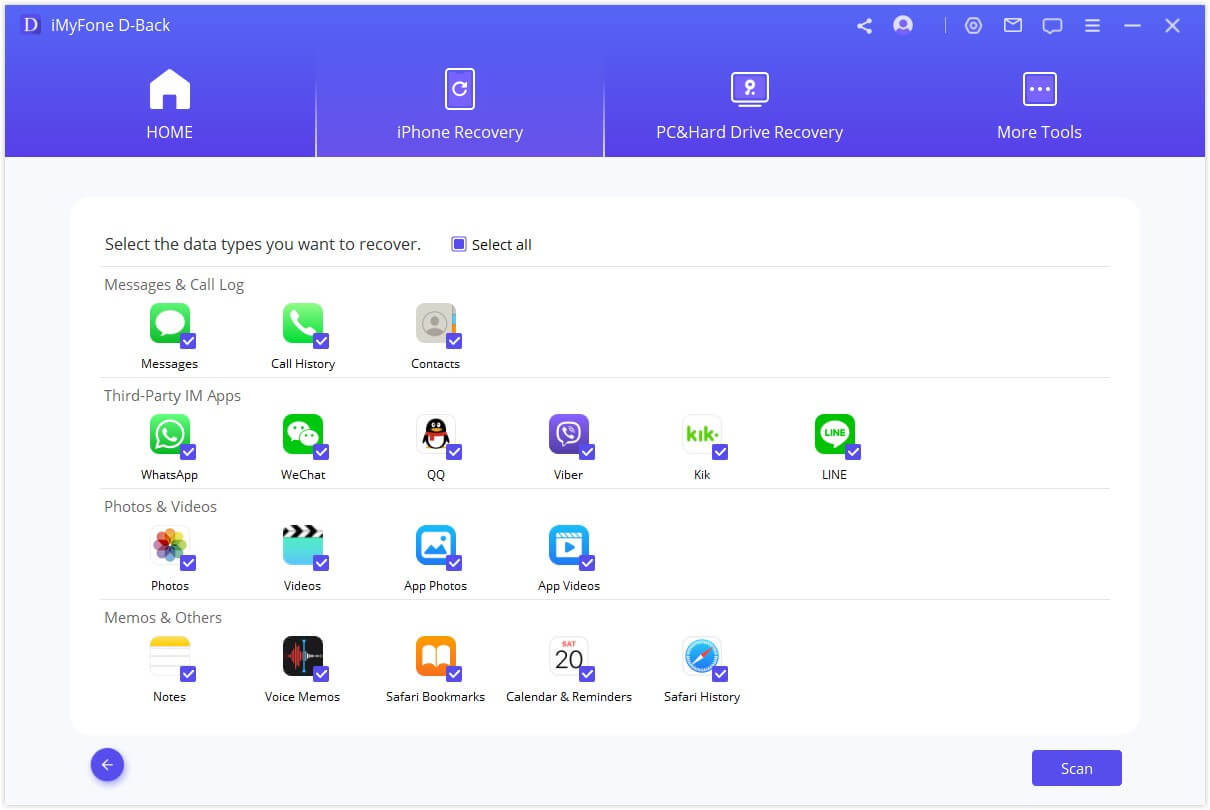 Step 4: Once this scanning has been completed, you can preview and choose the contacts you want to recover and then click "Recover" to restore contacts.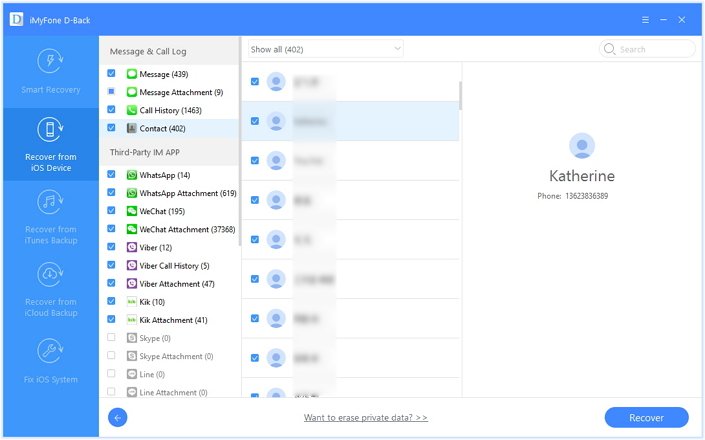 Part 3. Video Guide - How to Recover the Disappeared iPhone Contacts
Sometimes it's a big hassle to get back the missing data without knowing the reason of loss. Luckily that iMyFone D-Back iPhone Data Recovery is a worthy investment since it can get back the missing iPhone contacts regardless of the causes. "My contacts disappeared from my iPhone and how to find them back?" Well, you can rely on the data recovery program to find your disappeared contacts, no matter the device running on iOS 14/15 or any other older versions. Try it today!
Frequently Asked Questions
1. Why did all my iPhone contacts disappear suddenly?
Your contacts may also suddenly disappear due to these reasons:
Software Glitches: It's the most common cause of this issue.
Force Restart: Sometimes we force restart an unresponsive iPhone to revive it. That may lead to the loss of data, including your contacts.
System Upgrade: Upgrading your iOS system to a newer version (iOS 14/15, etc.) can also be the cause. It's possible that your contacts are not synced backed with iCloud during the process. Or your contacts are gone for the problem that occurs while upgrading.
Jailbreak: Jailbreak your iPhone can help you expand more features set limited by Apple and its App Store. But it's risky and will whip off all of the contents on your iPhone, including contacts.
2. How can I find my missing contacts from iCloud?
Follow the steps below to find the missing contacts:
Step 1. Go to iCloud.com, log in to the same iCloud account.
Step 2. Click on Account Settings. Then scroll down to the Advanced section, click Restore Contacts.
Step 3. Click Restore next to the date before you lost your contacts.
Step 4. Click Restore again in the pop-up window. Then you'll receive a notification from iCloud.com and an email to the address on file with your Apple ID.
3. What can I do to prevent the loss of contacts?
It's unpredictable whether you'll lose your contacts. But always remember to turn on the iCloud backup option in Settings and regularly back up your data to iCloud and iTunes. That would be helpful for increasing the successful recovery rate. In addition, you have to be very cautious about a jailbreak for your iPhone.