For Apple users, Apple Pay might be the most convenient way while pay. It is safe and easy to proceed with the purchase with your fingerprint permits, passcode enter or face ID pass.
Most of the users must have encountered their Apple Pay not working when they are trying to pay, and this could be really frustrated. However, we are here to show you 10 ways to fix the problem, keep reading!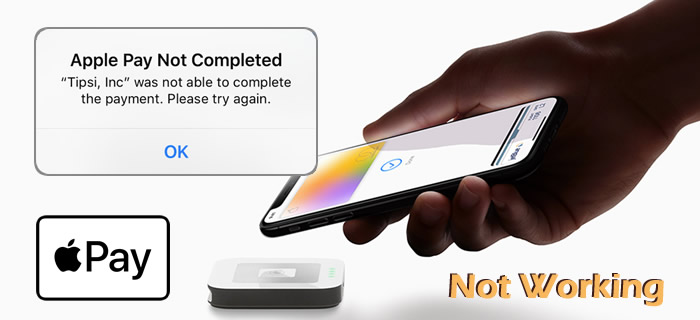 Quick View
How to Set Up Apple Pay on iPhone
If you haven't activated Apple Pay on iPhone, you can follow our steps below to set up Apple Pay first, or you can go to Apple's official guide to make settings.
[1] Make sure you have an Apple ID that have signed in to iCloud.
[2] Add A Card on Your iPhone (new card or previous card).
Step 1: Tap the 'Add' button in the 'Wallet' app.
Step 2: Tap on 'Debit'/'Credit Card' and tap on 'Continue'.
Step 3: Follow the steps to add card and make a confirmation.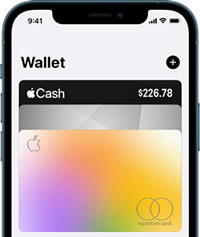 10 Solutions to Fix Apple Pay Not Working
Here are 10 ways we can find to help you solve the Apple Pay working down problem.
Method 1

Check Your Region
Apple announced that some regions are not allowed to use Apple Pay due to policy. You can check out the official list here that Apple offers.
Method 2

Restart the Apple Wallet
The app might get stuck or frozen, the most efficient way is to relaunch the app. Find Apple Wallet in the background, swipe up the app to close, them reopen the Apple Wallet to see if your Apple Pay has back to normal.
Method 3

Ensure You Are Still Signed In to iCloud
Apple Pay need you to signed in to iCloud for proper work, it is crucial for you to check your Apple ID on iCloud. Or you can try to log out and re-login your Apple ID for a try.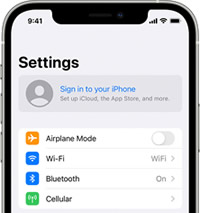 Method 4

Allow Passcode Access When iPhone Locked
Make sure you allow the Apple Wallet app access your iPhone when it is locked. Or you can go to 'Settings' > 'Face ID & Passcode', scroll down to find 'allow access when locked' option after entering your passcode, then enable the 'Wallet' app.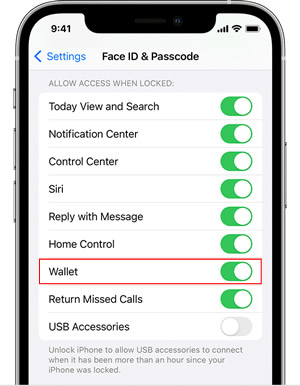 Method 5

Change/Re-Adding a Card for Paying
If you are using a debit card, please make sure you have enough balance to pay. Otherwise, you need to change another debit card or add other credit cards for paying.
If you found getting trouble in adding card, ask for the card industry for further help.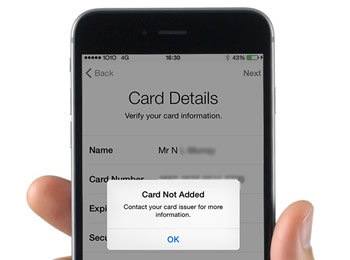 Method 6

Make Sure You Have Used the Up-to-date iOS Version
Timely to update your iOS version to avoid facing Apple Pay problem. If you are not sure about your iOS version, go to 'Settings' > 'General' > 'Software Update' to check and make an update.
Method 7

Update Carrier Settings and Your iOS System
As it is known to all, the low battery mode may not able to launch and run your App. Thus, if your iPhone's batter is lower than 20%, Apple Pay will not work properly. Charge your iPhone in time for using.
Method 8

Restart/Reset Your iPhone
As always, restart or reset iPhone is the finally yet efficient ways to solve various problems.
Restart iPhone
If your iPhone has not been restarted for a long time, some apps may get stuck or have tiny bugs due to the long standby process in the background, it's better for you to restart your iPhone to get over it.
Reset iPhone [Not Recommended]
Since resetting the iPhone will erase all the existed data on your iPhone, we suggest you make a full backup of your iPhone before resetting. This method is not recommended cause you need to reset all the apps, use habits, and more on your iPhone. If you still want to factory reset your iPhone, follow the steps below.
Method 9

Check Your NFC Function
Since Apple Pay needs an NFC chip for detecting your card and accomplishing the paying process, if your card is no problem and still faces the paying problem, better to ask Apple for help. Let them check if there is something wrong with the NFC chip.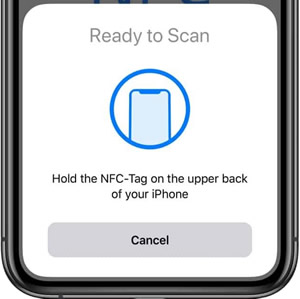 Method 10

Use iOS System Fixer to Repair Apple Pay Problem
If you fail to fix the problem by following all the methods above, here comes the ultimate one! Go for an efficient iOS system repair tool to make it out! iMyFone Fixppo is specially designed for iPhone, iPad, and iPod to solve various bugs and problems while using. You only need a couple of steps to bring your iDevices back to normal.
Main Features About iOS System Fixer
Easy to fix various iOS problem, such as keeps turning on/off, last line no longer available.
Just need a couple of clicks to repair your iPhone, iPad, and iPod.
Compatible with all iOS devices and versions, including the latest iPhone 13 and iOS 15.
No data loss during the fixing process and 100% success rate.
Step 1.Download and install iMyFone Fixppo on your computer first, you can download from the download button above. Launch and click on the'Standard' mode, then connect your iPhone to the computer via a USB cable, click on 'Next'.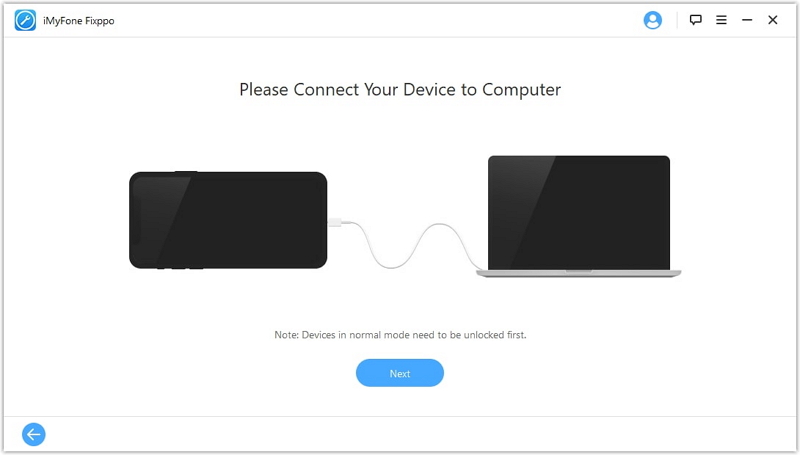 Step 2.According to your device model, follow the steps the screen showed to put your iPhone in DFU or Recovery mode.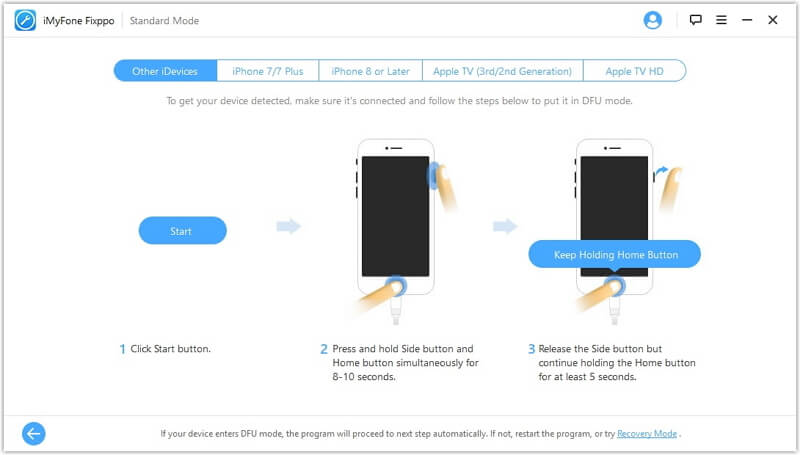 Step 3.Once Fixppo has successfully detect your iPhone, follow the steps to download the firmware on your iPhone.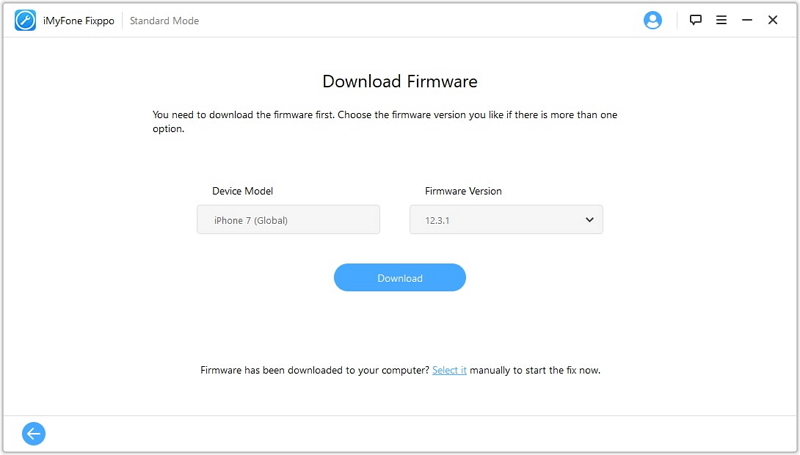 Step 4.Make a confirmation of the information and click on 'Start'. The fixing process will keep go on and the problem will be solved.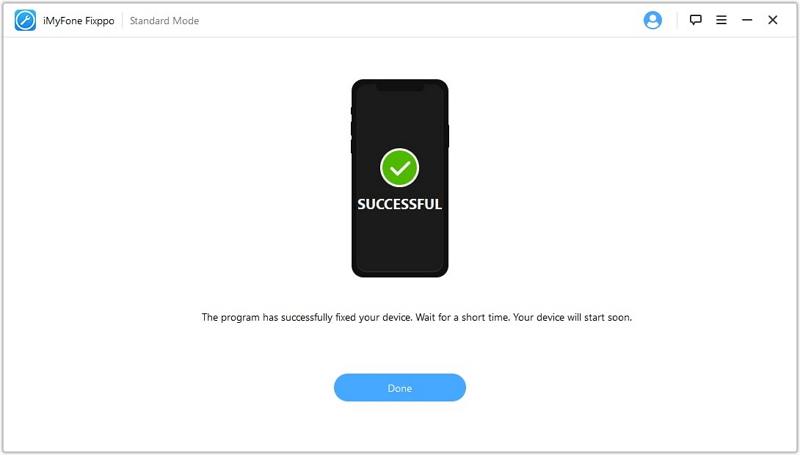 FAQs: More Tips About Apple Pay Not Working on Device
1

Why's my Apple Pay showed 'Your Payment Method Was Declined'?
Your transaction account (including debit card/credit card) doesn't have enough money or is out of the limitations to pay. Or there is an incorrect PIN entered at the terminal.
2

How to fix Apple Pay not working on Apple Watch?
Still, the easiest way to fix it ASAP is restarting your Apple Watch. Check the updates as well to make sure it can run properly, or you can try with the method as those you did on iPhone, they are quite the same.
Conclusion
Well, these are what we have. Eventually, you will find a way above to fix the problem when your iPhone is unable to pay while using Apple Pay. Try the common ways we mentioned above, or use the ultimate iOS system repair tool to get through it. Good luck!