Part 1. Why Do You Need iMyFone Fixppo?
iMyFone Fixppo is a tool that can be used to fix all iOS problems on any iOS devices without visiting authorized centers or technical specialist. iMyFone Fixppo can be used to fix a variety of problems which include;
iPhone Stuck in Recovery Mode.
iPhone Stuck in Spinning Circle.
iPhone Stuck on Apple Logo.
White and Black Screen of Death.
Frozen iPhone.
iPhone Boot Loop.
iPhone Restore Failure.
iPhone is refusing to turn on.
Forgot lock screen password.
iPhone Update failure and lots more.
And other iOS issues.
iMyFone Fixxpo allows you to fix iOS problems in different modes depending on which one you are comfortable with and which one works for you. You have the standard mode which can fix most iOS problems without data loss and the Advanced Mode which is used to fix more severe iOS problems that the Standard Mode cannot fix but leads to data loss.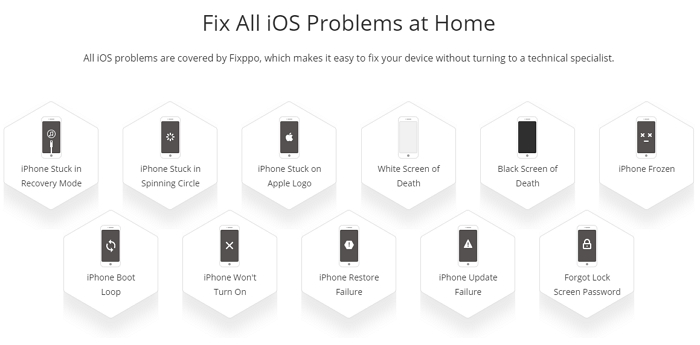 iMyFone Fixppo is easy to use, secure and has a professional support team to assist you further. The tool does not intrude into your privacy, and you do not have to undergo any technical training to use it. With only some clicks, you will be able to fix any issues with your iOS device and get it working the way it should.
Part 2. Why You Need a Free Serial Key to Use Fixppo
Besides fixing iPhone issues, Fixppo can also be used to remove the lock. Many iPhone users have experienced getting locked out of their devices because they attempted to unlock their phone with multiple incorrect entries of their passcodes. This is caused by a number of reasons like;
The device was locked on the purchase because it is probably pre-owned or second-hand.
The device's screen is broken and thereby makes it impossible to perform operations on it.
Kids tampered with the passcode and entered the wrong code multiple times; thereby locking you out of your iPhone.
Friends and family, trying to guess your passcode without knowing how many wrong passcodes they need to enter before the phone gets permanently disabled.
You changed your passcode and forgot it.
If your iPhone gets locked through any of the above-listed ways, you cannot gain access into your phone without getting help. This is where you may need to get the iMyFone Fixppo. This is an advanced tool that is used to unlock iPhones, iPads or iPods that have been permanently locked so you can get back into your device without a passcode.
Fixppo is capable of handling any issues you may have with your iPhone lock screen and below are some of its functions;
It gives you access into your iOS device in cases of broken screen, black and white screen, disabled or locked device and if the device is in recovery mode.
If can help you bypass any lock type on your iOS device whether it contains four digits or six digits. It can also help you unlock Touch ID or Face ID.
It is useful for restoring iPhone update failures and device failures.
The impressive about this tool is that you can use it by yourself without any technical knowledge. It is safe to use and also has a 100% success rate.
Part 3. Is There a Free Serial Key for iMyFone Fixppo?
Many websites claim to have the cracked version of iMyFone Fixppo Serial Key that iOS users can use instead of the paid full version, but often, these claims are not true. The reality about this is highlighted below;
There is no free iMyFone Fixpoo Serial Key. iMyFone monitors the status of the key that its customers use on their devices and updates and deactivates them as they are used up. If you lay your hands on a cracked iMyFone Fixppo Serial Key on the internet for free, it is illegal, and if you get tracked, it could result in legal problems for you. Without the appropriate license for software which you get when you purchase the software, using the software without buying or making copies without permission is punishable under the law as it is a copyright infringement.
Part 4. The Types of Fixppo Serial Key
We have four types of iMyFone Fixppo Serial Key that you can purchase to use across your iOS devices. For anyone you are buying, you will be given the licenses that give you access to all updates throughout the valid period of the license.
Basic Plan: This Fixppo Serial Key license gives you access to use the Fixppo for a year and to fix any iPhone issues. You can use it on different MacBooks or Window PCs.
Family Plan: This iMyFone Fixppo Serial Key gives you lifetime access, and you can. It also allows an unlimited number of MacBooks and PCs.
Multi-User Plan: This plan is valid for a lifetime, and it comes in three options. You can choose the option that allows between 6 and 10 iOS devices or the one that supports between 11 and 15 devices or 16 to 20 devices.
Business Plan: This plan is the most suitable for businesses, and it gives you lifetime access to the serial key. It supports an unlimited number of devices. That is, you can use it to access an unlimited number of iOS devices.

Part 5. A Bonus for iMyFone Fixppo
At iMyFone, we appreciate our existing clients and prospective clients, and this is why we are offering a discount when purchasing iMyFone Fixppo Key. You can get a much lower price for iMyFone Fixppo at the Best Deals from iMyFone.
50% off: $29.95
Save yourself the stress of visiting a technician or authorized center, and the frustration that comes with being unable to use your iPhone. Welcomt to participate in the event to get yourself the iMyFone Fixppo  Serial Key today!