Question
"My iPhone's battery draining fast these days, I've tried several methods online but none of them working. What can I do?"
Hey, did you meet the iPhone battery draining fast problem also? There you are! In this post, I will show you why the iPhone battery draining quickly and the practical methods to fix it! Move on right now!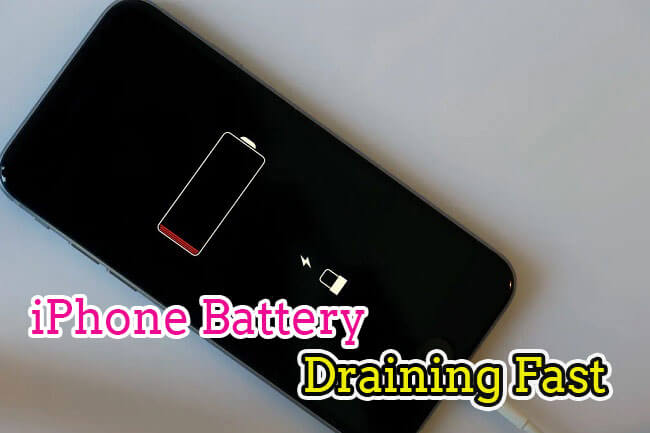 Part 1. Why is My iPhone Battery Draining So Fast?
You must be wondering what the reasons that your iPhone battery is draining so fast are. Here we mention the most common ones.
Battery Health: Battery health is an important aspect of maintaining a healthy device. If you're noticing slower performance, unusual battery drain, or battery life is shorter, it may be because of the low battery health of your iPhone.
Charging method Inappropriate: iPhone battery drainage problem occurs may be because you are using the wrong charger or the wrong charging method. Using a lightning cable and charger with your iPhone is the right way to charge your phone.
Some App Battery Consumption Fast: Some apps use more power than others, so get to know which ones are using up all the juice.
A new iOS system update: The last reason we are telling about iPhone battery drains fast after a new iOS system update.
Part 2. Solutions to Fix iPhone Battery Dying Fast Issues
Here we will tell you 9 different ways to make things right.
1

Check Battery's Health
It's conceivable that the battery on your iPhone has worn out to the point that you purchased it a long time ago. To examine the state of your iPhone's battery, follow the given steps:
Open the Settings and scroll down, click the Battery option.
Find the Battery Health option and check the health of the battery. If below 80 percent, you need a new battery.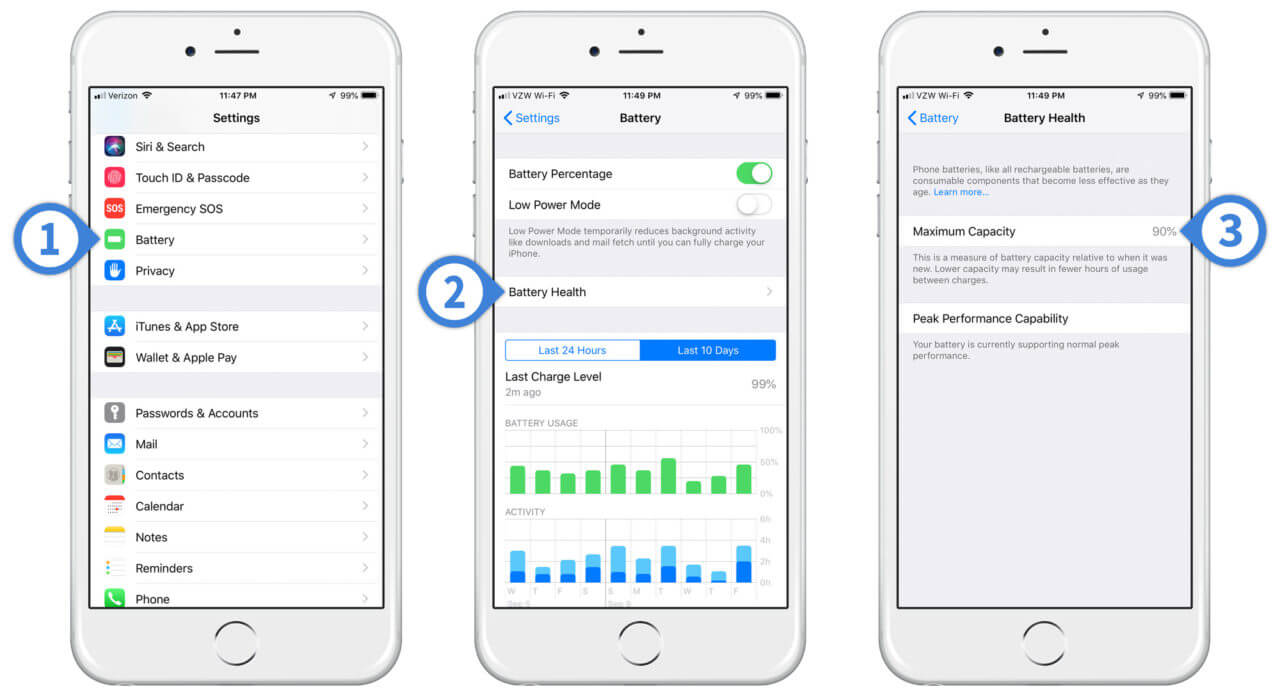 2

Stop Using Power-intensive Apps
If you're using an app that uses a lot of energy, the phone will drain its battery faster. So close them completely—especially if they're constantly checking for updates or sending notifications.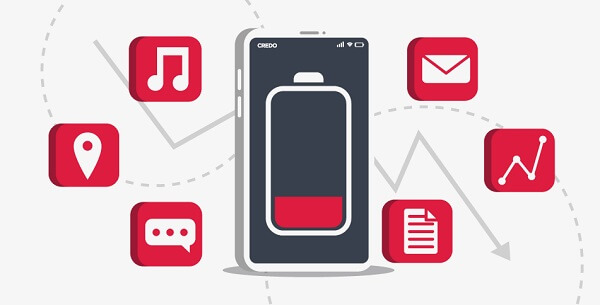 3

Control Brightness on the Screen
The brightness setting on your iPhone will quickly uses up the battery. You may thus use Apple's Auto-Brightness function to adjust your display's brightness automatically based on the lighting. The battery life of the iPhone will increase. To decrease your brightness, follow the steps mentioned below.
Swipe down from the top-right corner of the screen to access the Control Center.
As close to the bottom as you can get the Brightness slider while still being able to see your display is where you should set it.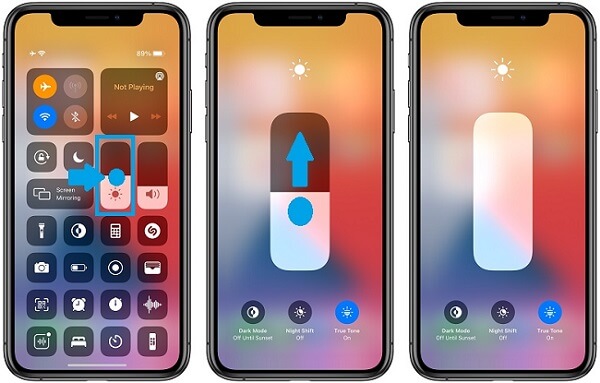 4

Disable iPhone's Location Services
Disabling location permissions for applications can also reduce battery consumption because they will receive location data less frequently on iPhone. Rather than deactivating location services entirely, you may prevent undesirable applications from tracking your whereabouts at all times. Follow the steps given below:
Open the Settings app, and navigate to Privacy and Location Services.
Change the location service permissions in all your applications to 'Never' or 'When Using the App.'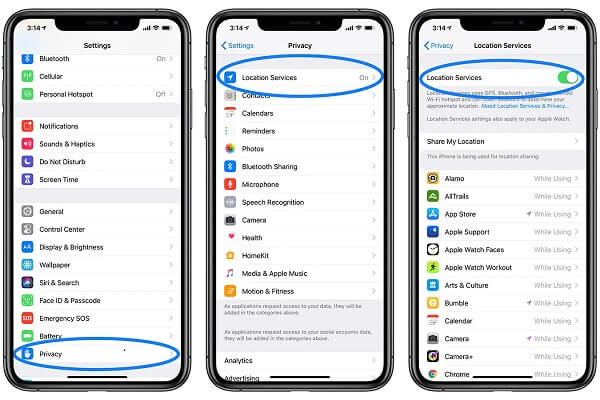 5

Keep iPhone Face Down (or Use Do Not Disturb)
Placing your phone on the desk serves two purposes. It'll prevent you from seeing your alerts and continually lifting the phone to engage with it, and when the phone turn upside down, it also does not light up, preventing your iPhone battery from draining more.
The display will not be activated when you get alerts on your iPhone. You may also set your phone in Do Not Disturb status, which disables most alerts. You may accomplish this by following the instructions.
To access the Control Panel, swipe down from the top of the screen.
Then press Focus and select Do Not Disturb.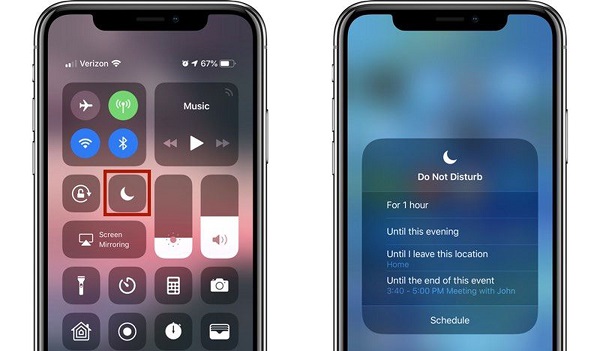 6

Turn Off the Widgets You Don't Use
Widgets are useful since they provide easy access to data without launching the application itself. However, they always operate in the background, which means they consume battery power constantly. Follow the steps below to turn off the widgets you don't use:
iOS 14 or later
Tap and hold the no longer used widget. Then select the option to Remove Widget.
To complete the process, press Remove once more.
iOS 13 or earlier
Swipe right on the Home Screen. At the bottom, tap the circular Edit button.
When you tap, a list of widgets will show. Click the red button next to the widget you no longer wish to see.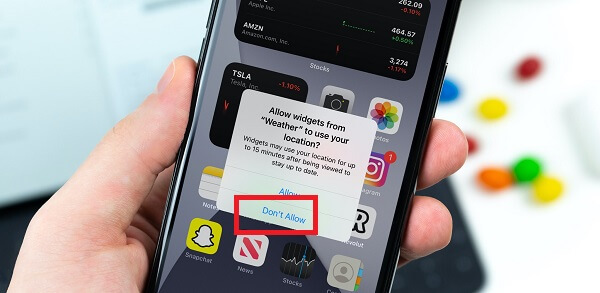 7

Restart the iPhone
If your iPhone's battery suddenly begins to drain quickly and you find that your device is warm to the touch, consider restarting it first. It resolves any small software glitches that may have been causing the issue. This procedure is also useful if you first notice power depletion difficulties after having your iPhone battery changed. To restart an iPhone, perform the following steps:
Hold any of the volume buttons, and hold down the power button. When you see an onscreen Power Off slider, remove your fingertips from them.
To turn off your device, slide the slider. Then wait around 30 seconds for your iPhone to completely shut down.
Hold down the power button until the device restarts.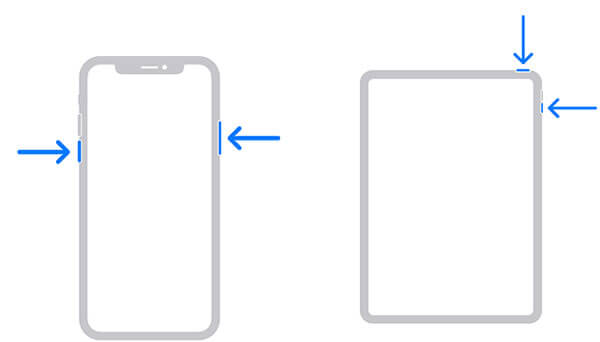 8

Use Low Power Mode
Using Low Power Mode is another way to keep your iPhone battery from draining quickly. When your device's battery falls below 20%, it enters Low Power Mode automatically. However, you may enable this option manually at any moment to conserve battery life.
Navigate to Settings and click on battery. Then turn on low power mode to prevent your iPhone's battery from rapidly depleting.
Switch to Low Power Mode. And slide up the Control Center to effortlessly toggle on and off.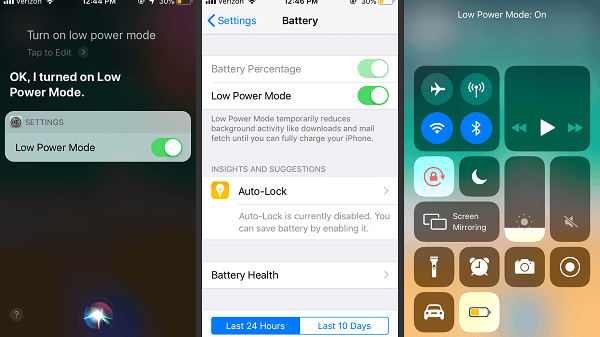 9

Repair iOS System
If none of the above methods work, and your iPhone keeps draining the battery, it means there is a problem in your iOS system. In this case, you should use a third-party tool to fix it. Here, we recommend iMyFone Fixppo, a professional app that solves any iOS system problems. Here are some key features of this tool:
Fix iOS System Problem without Data Loss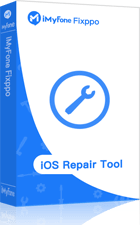 iMyFone Fixppo
Step 1.Start iMyFone Fixppo on your Desktop and connect your iPhone to it via a lightning cord. Click 'Standard Mode' from the menu.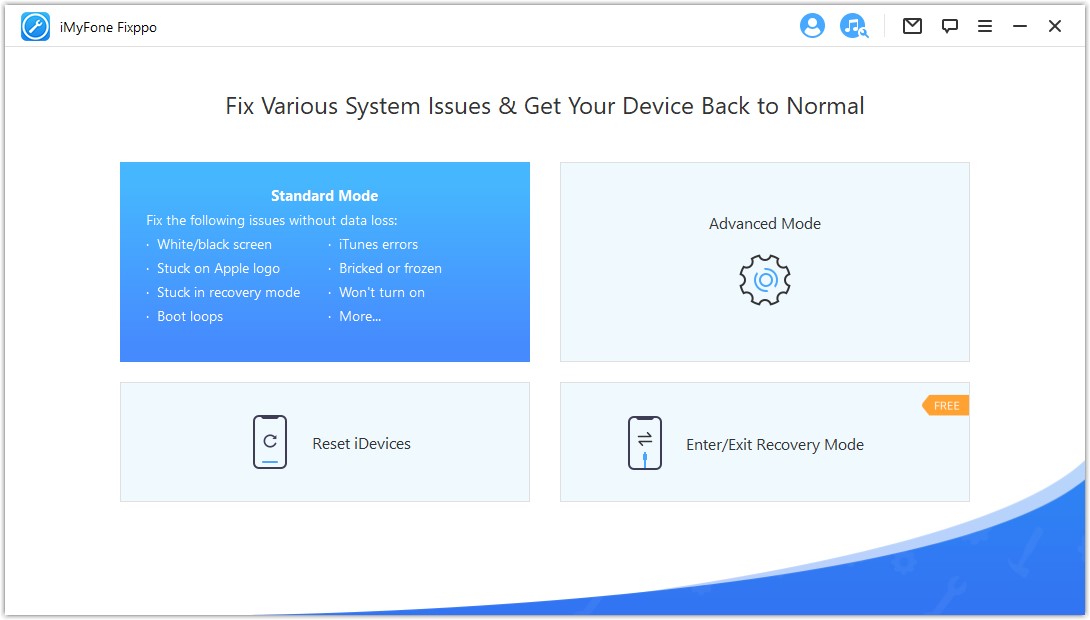 Step 2.After that, select the 'Start' button and complete the instructions onscreen to put your iPhone in DFU mode.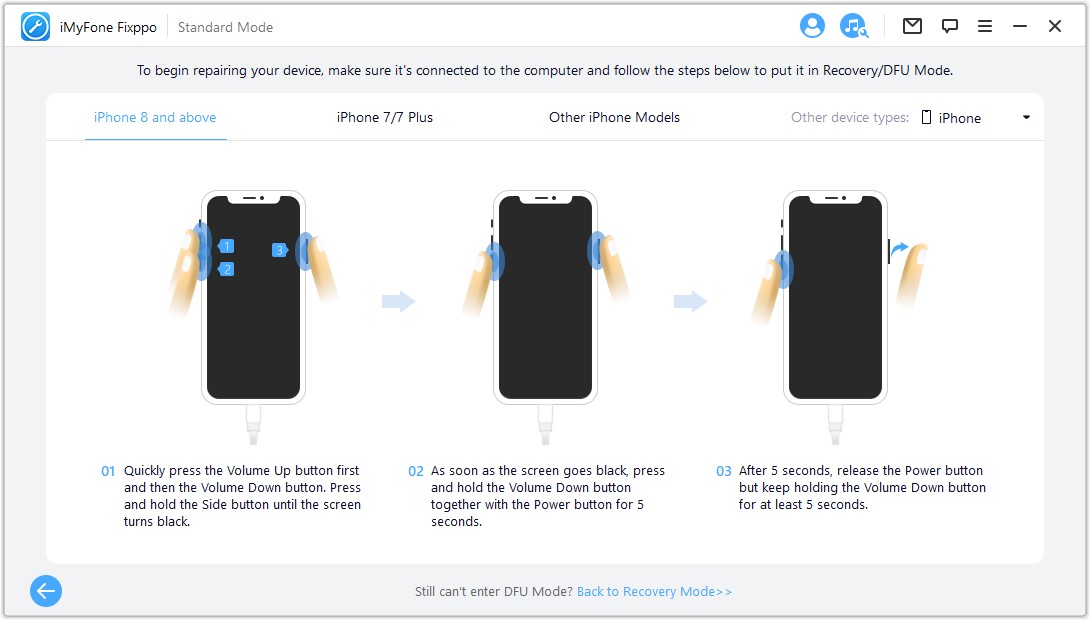 Step 3.After that, click the 'Download' button, and the application will automatically identify your device and provide you with the appropriate firmware.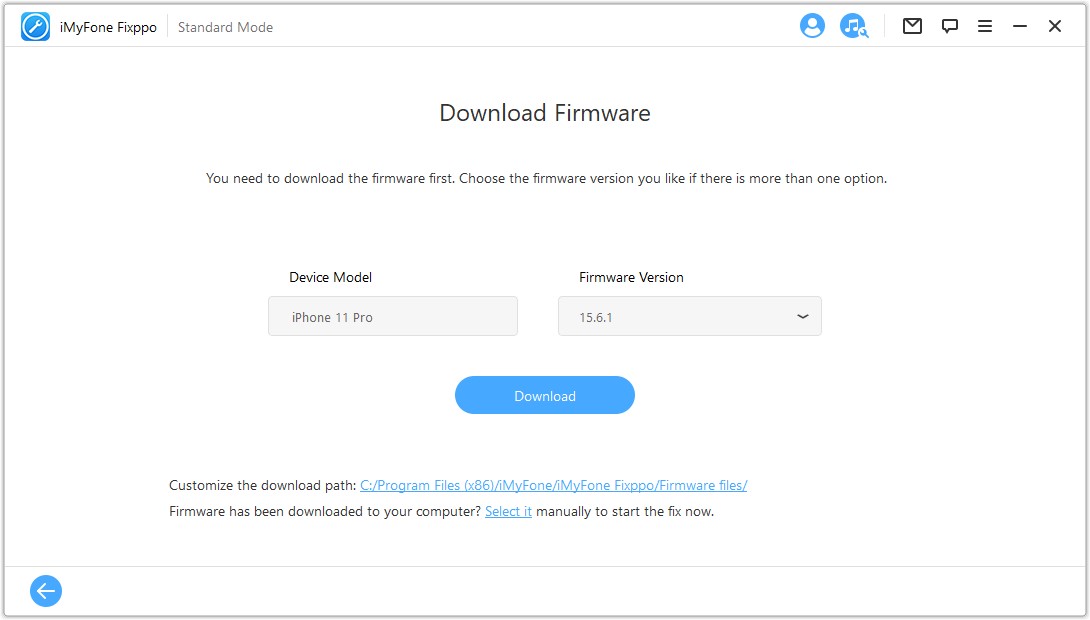 Step 4.After that, click 'Start to Fix,' and your iPhone battery draining fast problem will be resolved in a matter of minute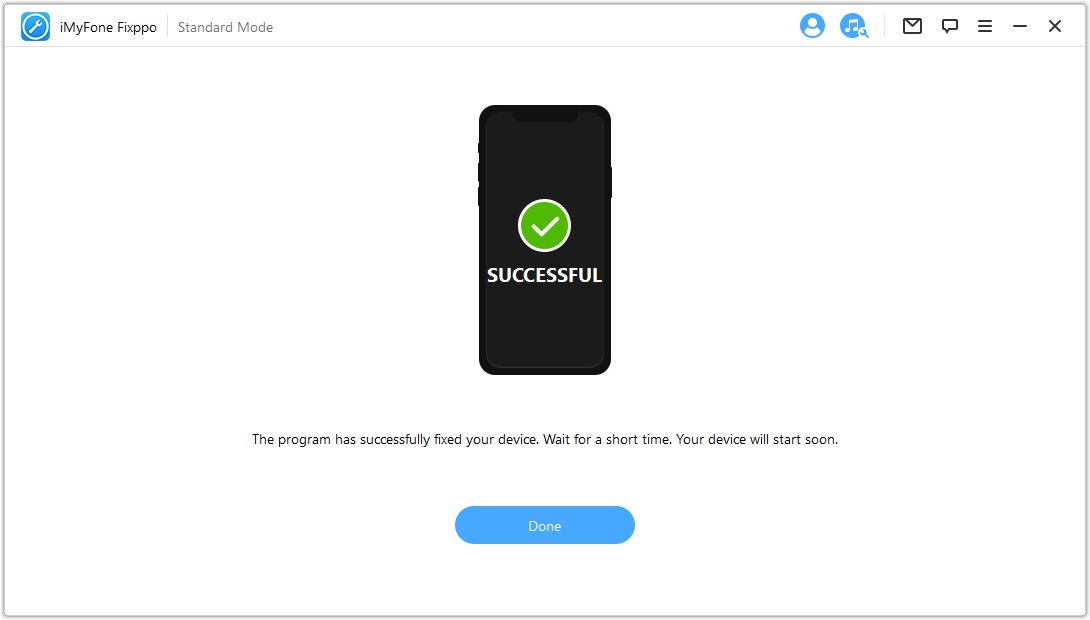 And it's done.
To Conclude
Many people have been searching on the Internet about fixing the iPhone's fast battery-draining problem. That's why we decided to share our experience with you because we have done a lot of research and found the best ways to get rid of this issue. We hope now you have found the solution. You can use iMyFone Fixppo to get away from this issue in just a few minutes.
If you have any questions regarding iPhone's fast battery draining, feel free to ask in the comment section. We will get back to you as soon as possible.