Question
"This is the second device from the service provider, Verizon, since May 2021. The phone refuses to charge consistently on aftermarket or factory cable. The issue began with iOS 14.8, with the device dying while charging and not in use. Occasionally it will charge without issue (1 I 10 attempts).
Upon plugging into the USB port in-vehicle using 3 different cables, the phone will register as plugged in and immediately stop charging. Not consistently the same cable causing the failure. Device dies while charging and left alone. How to fix it?
Every electronic device needs to be powered one way or the other. That is why rechargeable lithium-ion batteries power the iPhone. They are built to charge faster, last longer, and have an extended battery life compared to other batteries.
If an iPhone is not charging with all these top-notch features, it becomes a big issue for its user. Without power on the gadget, it is as good as not having it.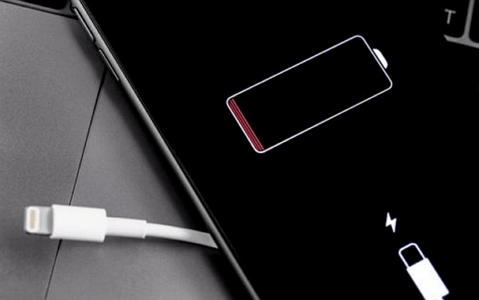 Now, you do not have to jump to conclusions about what may have caused an iPhone not to charge. This post explores some of the essential iPhone issues that may be preventing the iPhone from charging properly. Even more, it also discusses the solutions to common iPhone not charging issues.
Part 1. 5 Common iPhone Not Charging Issues
There are more than a handful of reasons why the iPhone is not charging. To know which category your iPhone falls under, below are listed five common iPhone not charging issues.
1. iPhone Charging Port Not Working
One of the primary issues with the iPhone is that iPhone charging port may not be working. One of the causes is that there might be debris on the charging port. And the case might be that a pin in the port is broken by you or someone else jamming a lightning connector cable into your iPhone wrongly.
To check for damages, you can try href="https://www.imyfone.com/iphone-tips/how-to-clean-iphone-charging-port/" target="_blank">cleaning up the opening and see if your device will charge. If the iPhone does not charge, you can check for damages by using your cable and adapter to charge another iPhone. If they work, then you need to replace your iPhone charging port.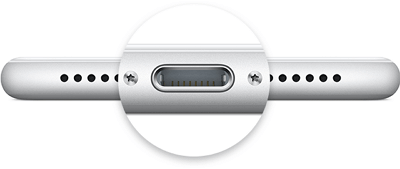 2. iPhone Charger Not Working
If the iPhone charger is not working, you need to check if the cable or adapter may be broken. In such cases, you have to change either or both once you identify the defective one. To check for the defective one, you can try each accessory with another pair. You will either detect that both are not working or just one is broken.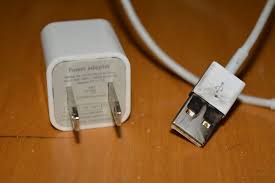 3. iPhone Not Charging When Plugged in
Apart from a broken charging port and charger, there is another reason iPhone is not charging when plugged into the socket. In some cases, the iOS device is defective. The advanced solutions discussed below will help you rectify the iOS issue, or you can restart your device.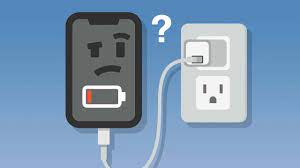 4. iPhone 13/12/11/X/8 Wireless Charging Not Working
If the wireless charger is not working, you have to ensure that the charger is a quality one. If it is, you need to properly plug it into the socket and probably reposition your iPhone close to it. It is also important not to connect your device to a USB cable. If all these steps keep proving abortive, you can try a new charger.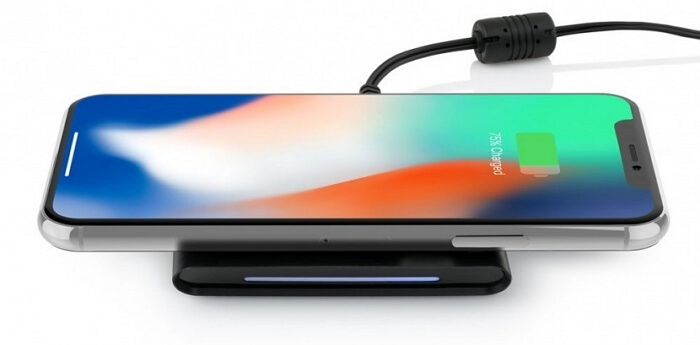 5. iPhone Stop Charging at 80 Percent
Apple programmed all iOS devices to stop working or slow down whenever they were too hot. Hence, if your device is too hot at 80%, then charging will stop. Your Optimized Battery Charging option is another reason for charging at 80%. This feature is on by default when you set up your iPhone. Navigate to Settings > Battery > Battery Health > Optimized Battery Charging if you want it turned off.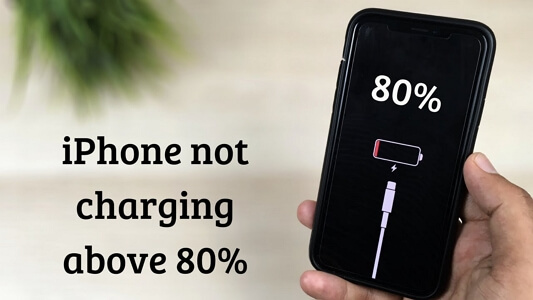 Part 2. Try These 4 Simple Ways If Your iPhone Won't Charge
This section identifies the four simple solutions to fix iPhone not charging.
1. Check the Firm Connections
There are three firm connections you need to confirm.
Check if the adapter is firmly connected to the wall.
Check if your lightning connector cable is firmly connected to the adapter.
Check if your lightning connector cable is firmly connected to your iPhone device.
2. Try Another Way to Charge Your iPhone
You can either charge your iPhone with your cable and adapter or the wireless charger. But an adapter is not compulsory when charging. You can charge your iPhone with your computer, automobile charging port, speaker dock, and other available ways.
3. Clean iPhone Charging Port
Cleaning your iPhone charging port is a simple process. First, ensure that you turn off your iPhone. Then get a soft brush or the small dental brush. Gently clean the opening with the part you are cleaning facing down.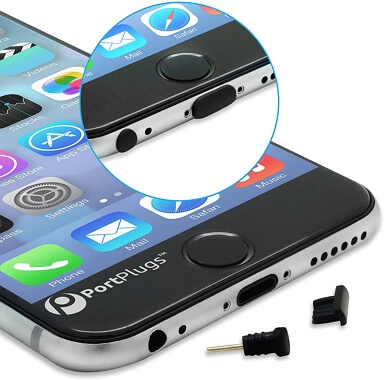 4. Force Restart Your iPhone
By simply forcing a restart of your iPhone, you can repair the iOS of an iPhone not charging.
For iPhone 13/12/11/X/8 and iPhone SE 2nd, please follow the below steps:
Press the volume up button quickly and release your finger from it.
Then, press the volume down button and release your finger from it quickly.
Hold down the side button till the Apple logo shows, then remove your finger.
Again, press the side button and keep holding it down until the Apple logo shows. Your iPhone will turn on that way.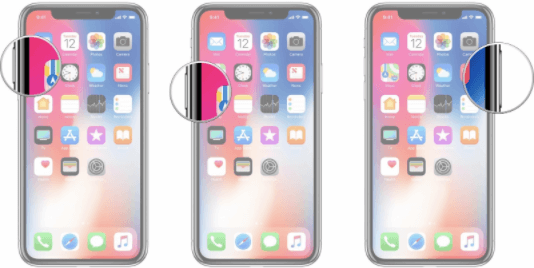 If you are using other iPhone Models, please follow the guide to force restart your iPhone.
Part 3. Use These 3 Advanced Ways If Your iPhone Is Still Not Charging
The solutions discussed in this section are the ultimate methods to fix an iPhone not charging. The first two solutions are deep repairs for software or iOS glitches. And the third solution gives you direction o how to handle hardware issues.
1. Fix System Glitches If Your iPhone Is Dead and Not Charging
If your iPhone or iPad is dead and not charging, no hardware manipulation can resolve its issue. You need third-party software that will help you check for any anomaly in your device. The recommended software tool is iMyFone Fixppo.
You can use it to repair any bug on your iOS and fix any other related issue like iPhone charging but not turning on, iPhone not charging after update, and iPhone only charges when off . It is an easy-to-use tool that you can use without the help of an expert.
Step 1: Launch the application on your PC, then pick the Standard Mode to repair your device without data loss.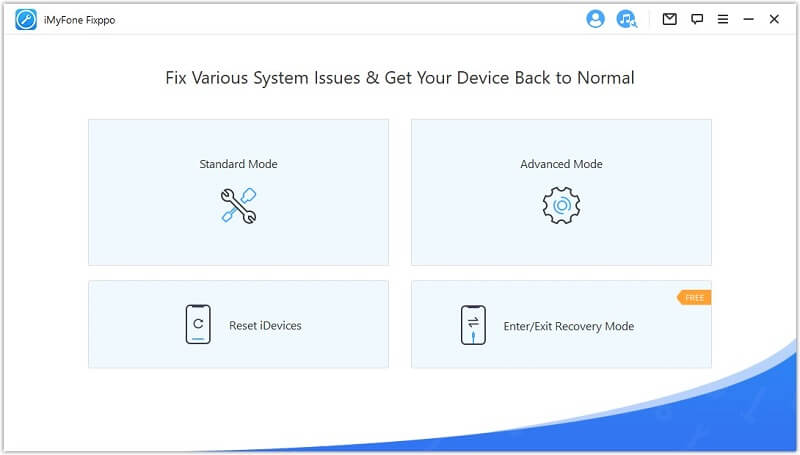 Step 2: Connect your device to the PC with a cable and click the Next button that appears at the bottom of the screen. The application will prompt you to download the firmware that is needed to fix your device. Select the Download button on your screen.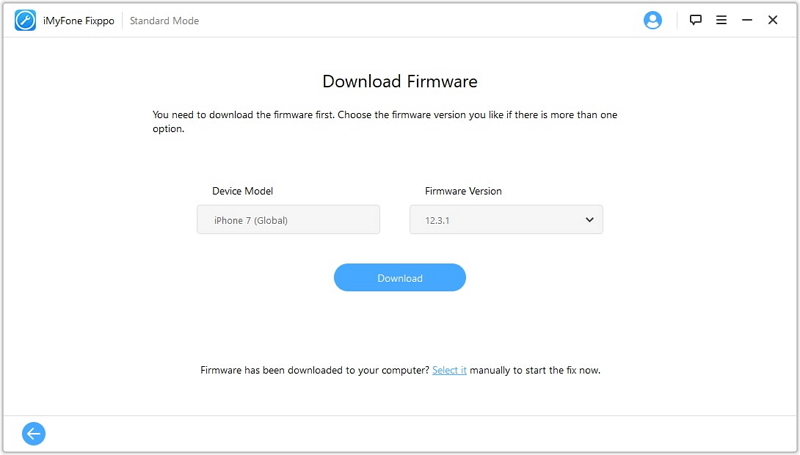 Step 3: Once the download is complete, tap on the Start button on your screen. The application would have automatically fixed your iPhone.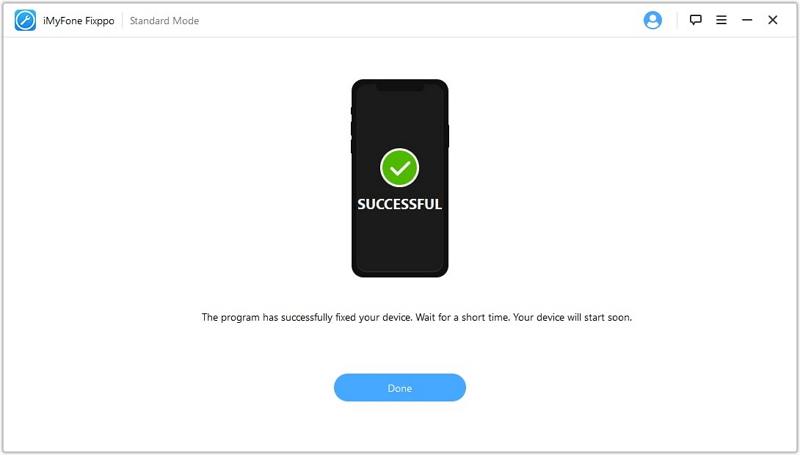 2. Restore the iPhone via iTunes or Finder
When you restore your iPhone to factory settings, you will have fixed most bugs on your OS. This method has the downside of deleting everything on your iPhone, such as messages, photos, apps, contacts, etc. However, you can back up your iPhone on iCloud or your computer before using this step.
Step 1: Launch iTunes on your computer and connect your iPhone device.
Step 2: Tap the Restore iPhone button and then click Restore. After this process, your device's software will be as good as new.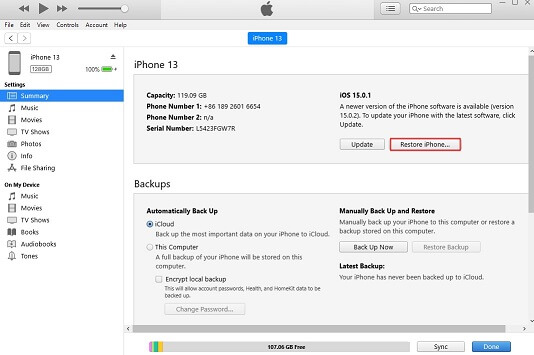 3. Repair Hardware Issues of Your iPhone
Some of the hardware issues that may need repairing are changing your charging port and, in rear cases changing your battery. If your iPhone won't charge after getting wet, it would be best to let an expert handle it. Many people prefer a repair shop while others meet up with Apple experts. But if your iPhone's warranty has not expired, you should consult with an Apple professional. There is the AppleCare+ where you can fix your iPhone twice every 12 months if it is damaged.
Part 4. Hottest Questions Related to Charge iPhone
There are some questions related to charge iPhone and we list three ones. If you also have the same query, read on to find the answers.
Q1. What Is the Proper Way to Charge My iPhone?
A proper way to charge an iPhone is to recharge it before it gets to 0%. You should top it up once it drops below 50%. What some users often do is charge their devices overnight. This act is not bad in itself. iPhone batteries do not overcharge. Once they get to 100%, they stop charging. But charging overnight is not advised because the lithium-ion battery in your iPhone can get hot. Your iPhone is best kept less than 90° F (32° C).
Q2. How Do I Know If My iPhone Battery Needs Replacing?
Your iPhone is designed to let you know when its battery needs replacing. By checking the battery's health and maximum capacity, you can judge if it needs replacement. To check for these ratings, navigate through Settings > Battery > Battery Health.
Conclusion
This post has dealt diligently with the seven ways to fix iPhone not charging. Firstly, it identified the five common issues that users face when iPhone is not charging. Some other talking points from the post include the proper way to charge one's iPhone, identifying a damaged charging port, and when you should replace an iPhone battery.
If you met any iOS system issues like iPhone is Dead and not charging, don't forget to try iMyFone Fixppo.