7 Quick Tips: iPhone Died and Won't Turn on While Charging
Category: iPhone Issues
4 mins read
"I always experience battery issues on my iPhone 12. Yesterday I updated it to iOS 16, and it just won't charge after the update. My iPhone 12 died and won't turn on after that, although I kept in on charge. Now it has been charging for hours but still won't turned on. Actually I have just updated it to iOS 16, it is because of that? Can anyone help me fix it?"
We have seen similar complaints on various online forums, either iPhone died and won't turn on while charging or iPhone won't even charge. This kind of problem becomes more severe when Apple released the new iOS updates. Following might be the reasons why your iPhone won't turn on after updates.
You're not using the original cable and adaptor and there are dirt with your charging port.
Unknown iOS glitches are disturbing your iPhone, thus stopping it from turning on while charging.
Your iPhone is dropped, causing certain hardware problem to your iPhone and it won't turn on.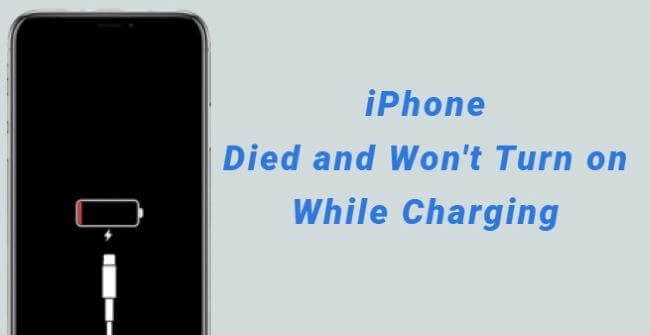 After getting to know what cause you to be confused about 'Why my iPhone won't turn on', you now can check these solutions to fix your iPhone wont turn on problem.
Part 1. 4 Simple Checks before Looking for Advanced Methods
Before we get to some more advanced solutions to fix this problem, it is worth noting that the iPhone dead and not charing problem can due to minor hardware-related issues. But before you send it to repair, there are still more you can check to get your iPhone charge again:
1

Charge Your iPhone Longer

The first thing you should know is that if the iPhone battery is completely drained for long, then your iPhone won't turn on immediately the time you charge it. It needs time to resume power and it should take longer than the normal time. So just wait at least half an hour before checking its condition.

The second thing here is that if the device is in daily use but your iPhone just wont turn on, then there are chances that the problem is caused by the charging accessories.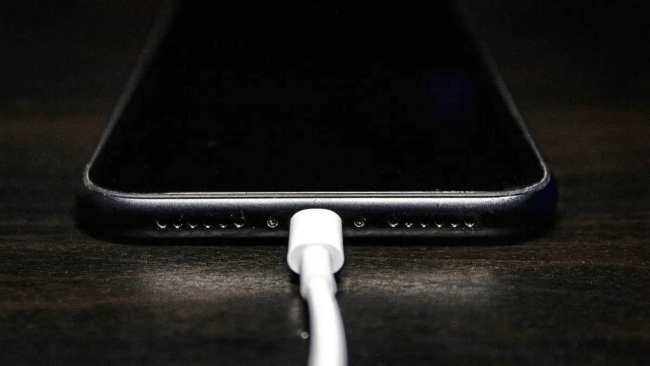 2

Check Your Lightning Cable & Your Charger

If it's truly the second situation that mentioned in the last solution, you can check the charging things now. Since it's always recommended to use the original charging cable and charger, if you're using the one without assurance, change them would be better.

And for most of the cases, it's always the lightning cable for charging has poor connection inside that gets easily neglected and brings you the trouble. In this case, you can use it to charge another iPhone. If the device is charged normally then the issue is with your iPhone. If not, change it can solve your iPhone died and won't charge issue.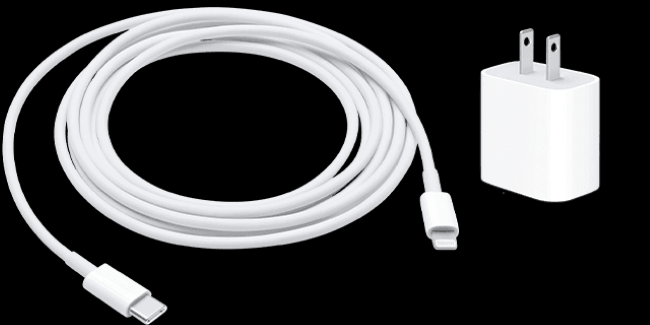 3

Clean the Charging Port on Your iPhone

If changing the charging cable and USB adapter doesn't work, it is very possible that the charging port of your iPhone may be dirty or damaged. Check the port and gently clear out any dust and debris you may see on it and then firmly plug in your charging cable into the device. If nothing happens, you may move on to check other solutions.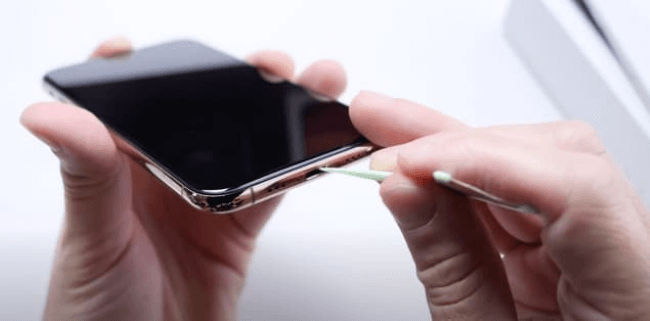 4

Force Restart Your iPhone

Though you may know this fix for long, you can still try a force restart to fix this iPhone won't turn on headache.

Force Restart iPhone 6(s) or older models:

Hold the Sleep button on the right side and the Home button at the same time.
Keep holding the buttons firmly till you see the Apple logo.

Force Restart iPhone 7/7 Plus:

Find the Power button on the right side of your iPhone, press and hold it.
At the same time, press and keep holding the Volume Down switch until the Apple logo appears on the screen.

Force Restart iPhone 8 and Later Models (iPhone 14 included):

Press and release the Volume Up button and then press and release the Volume Down button.
Now long-press the Side button. Release the button when you see the Apple logo.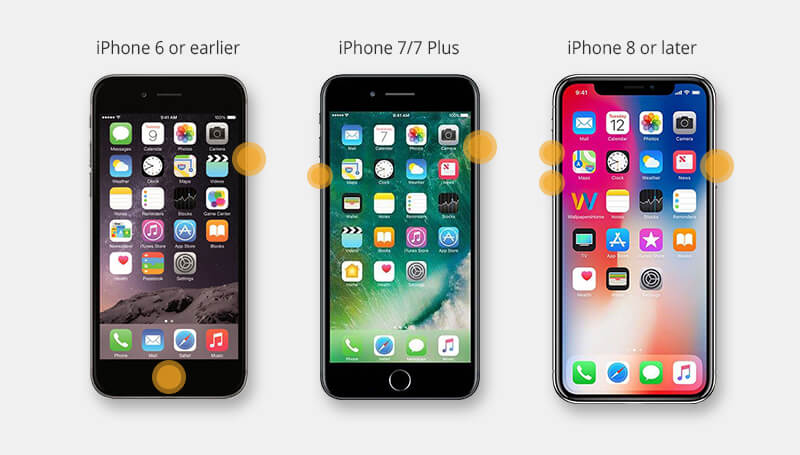 Part 2. Fix iPhone Died and Won't Turn on Due to Software Problems
We have mentioned that this issue might be caused by some iOS errors we do not know. So, we must use a professional way to help us if the iPhone died and won't turn on while charging. And iMyFone Fixppo is the one that you must know. It can fix almost all iOS problems and the best part of it is that it promises to solve your problem without losing any of your iPhone data.
What are the features of Fixppo?
Without any data loss, you can easily fix your iPhone dead and not charging problem in 4 steps.
It's not harmful to your battery and cause no damage to your iPhone.
You don't need any technical knowledge to use it for fixing within half an hour.
This tool works on all iPhone and models including iPhone 14 and is compatible with all iOS versions even the iOS 16.
Now please watch how Fixppo solve this iPhone died and won't turn on or charge problem: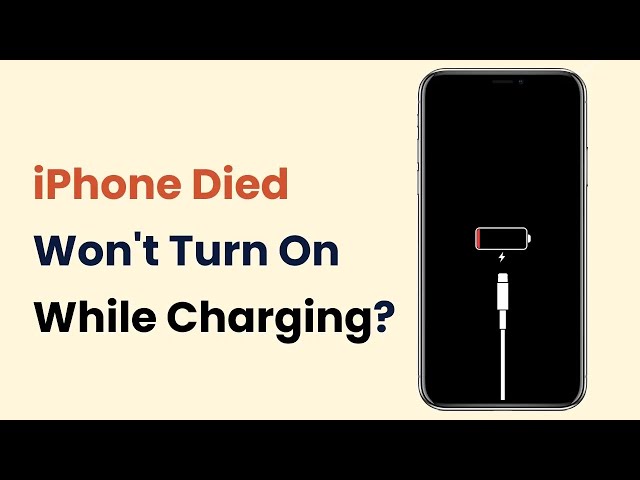 Let's see how to fix this issue using Standard mode of Fixppo with steps.
Step 1: Download and install iMyFone Fixppo onto your computer. Then click on Standard Mode on the main page.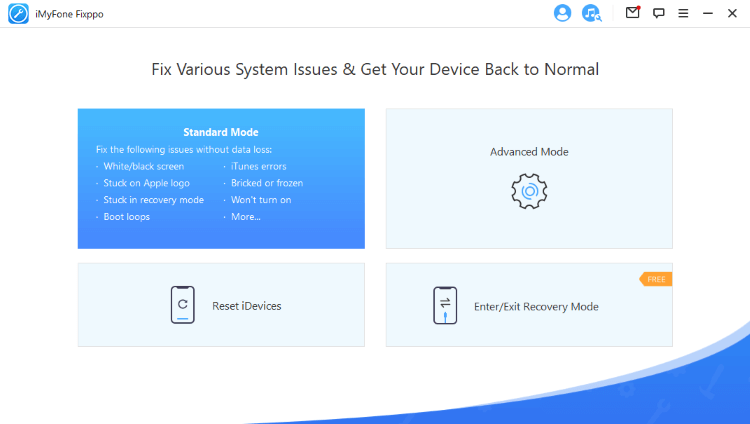 Step 2: Connect your device to computer and click Next. If Fixppo does not detect your device, you need to put your iPhone into DFU or Recovery Mode, which will be stated clearly on the screen.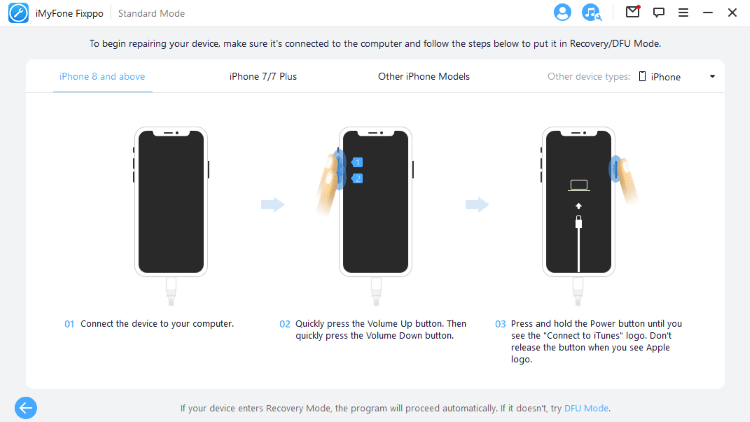 Step 3: After that, the device will automatically get detected by the software. And Fixppo will display all the available firmware versions on the screen. Select one or stick to the first one and click Download.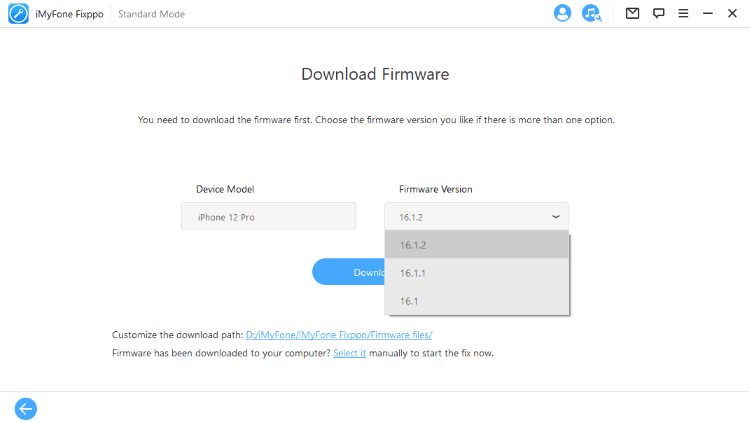 Step 4: Now click on the Start button. After the process is completed, your iPhone will restart normally, which means the Standard Mode fixes your iPhone died and won't turn on while charging problem successfully.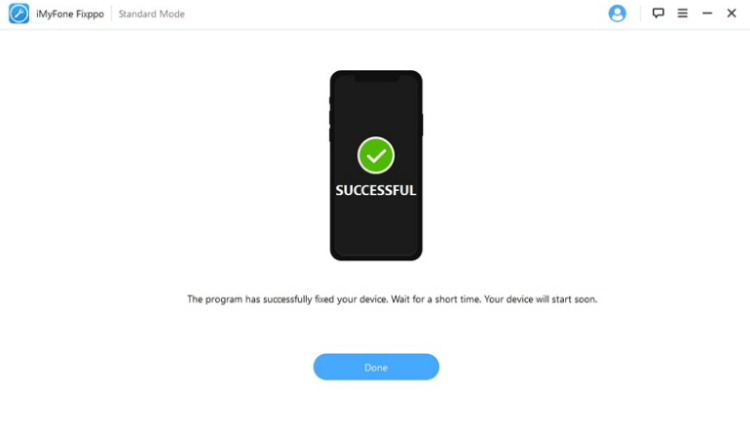 Don't hesitate to use this tool for fixing the issues on your iPhone. All the issues will be fixed safely and quickly. Download its free version now!
Part 3. Fix iPhone Won't Charge or Turn on for Hardware Issues
Normally speaking, the iPhone battery won't cause you such a great trouble but the wrong charging accessories and iOS system will. If you've tried the above methods already but they're not working, it's better to get your iPhone tested and repaired in case the problem is caused by the hardware.
If the iPhone won't charge or turn on, aksing the Apple support for help is better. Or a repair shop nearby can help you out as well. Get your iPhone checked for the battery and the screen as soon as possible.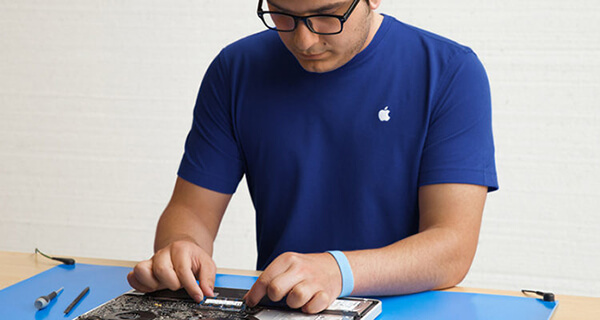 Conclusion
If your iPhone died and won't turn on even while charging, you must try the methods given above. And if it's not because of the hardware problem, all iOS issues can surely be fixed by iMyFone Fixppo, so it is highly recommended as the first choice for you. If you want to know more about the software or want to ask us something else, you can use the comment section below.