Like any other phone, smartphones and iPhone need to be charged from time to time. Depending on how much you use it and what you use it for, your battery should charge every time you plug it in. But there are times when your iPhone won't charge unless turned off and this can be a problem or your iPhone won't charge unless turned on. These are software or hardware problems that need fixing.
1. Clean Charging Port
If you put your iPhone in your pocket or on your desk most likely it will collect a lot of dust and dirt that will affect the contacts at the base of your iPhone. This means that when you go to connect your iPhone to the charger, iPhone won't charge when on. The AC power will not flow properly and will probably cause a short as the dirt and dust in your iPhone contacts will prevent your iPhone from charging.
But if the phone is off or the battery has no power, there will not be any short as there will be no electricity running through it. To prevent your phone from having a short when charging, take a dry clean toothbrush and gently wipe off any dust or dirt that is on the inside of your iPhone's charging port at the base of your phone then connect to the charger when the phone is on.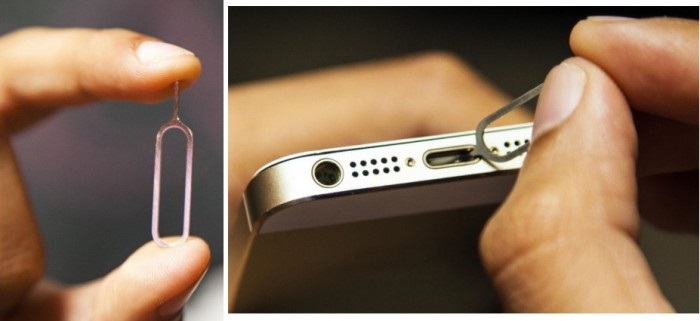 2. Check the Lightning Cable
Always check both ends of the USB cable that you are using to charge your iPhone. The Apple lightning cables may at times fray at the end that connects to your phone so if you notice any signs of fraying it is time to get a new cable. There is a way you can be sure if your lightning cable is the reason why your iPhone won't charge when on.
If the cable is not frayed, instead of charging it normally with the iPhone's wall adapter try charging your iPhone using a USB port in your computer. You can interchange if you had charged your iPhone using your computer. If your iPhone charges in one of the ports and not the other then your cable is not the problem. The most helpful thing would be to try using someone else's USB cable to check if your cable is faulty. If it charges then your cable is the problem.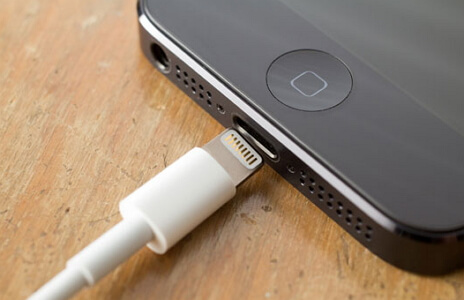 3. Hard Reset iPhone
Another powerful and fundamental step to fix iPhone charge issues is to force reboot the device. To do this, what you need is to press the power button (side button) and the volume button at the same time, then drag the slider on the iPhone screen to turn off the device. To restart iPhone, keep holding the power button until the Apple logo appears on iPhone.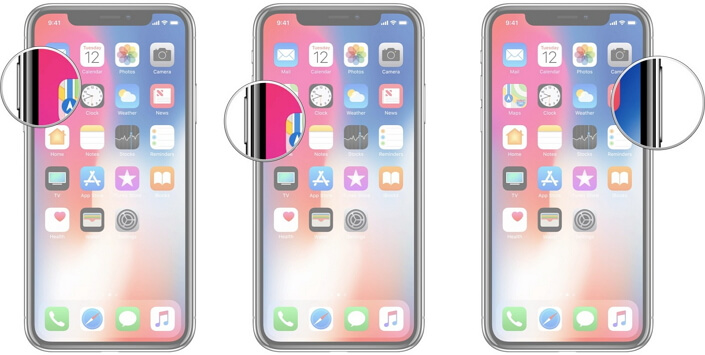 4. Fix iPhone System to Solve the Charging Issue
iMyFone iOS System Recovery is always regarded as a savior when your iPhone or iPad is stuck on black screen, screen ghost touch, etc. It offers 3 fix modes to fix your iPhone with higher success rate. And the data will not be wiped or erased with the Standard mode. If there is something wrong with the iPhone system, try this program!
Steps on How to Fix iPhone won't Charge when on with iOS System Recovery
After connecting your device to your computer, select the Standard mode then enter your device into DFU or Recovery mode to start the process.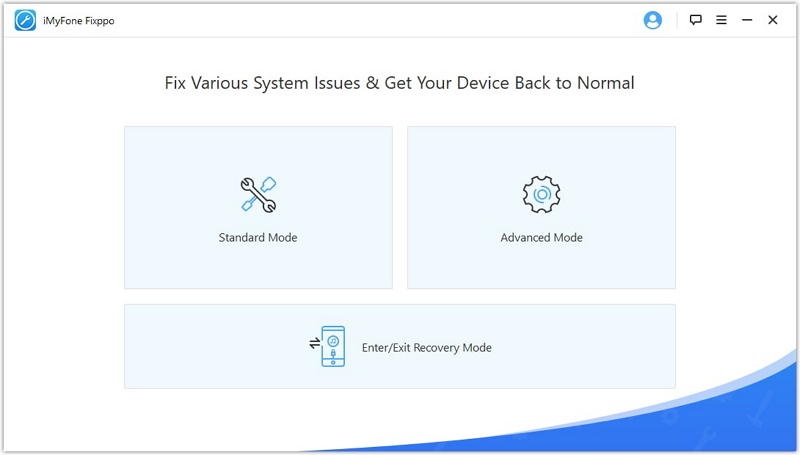 Step 1: Click on Start then put your device on DFU mode by pressing and holding the Sleep/Wake and Home buttons together for 8-10 seconds. Release the Sleep/Wake button and continue to hold the Home button for 5 more seconds.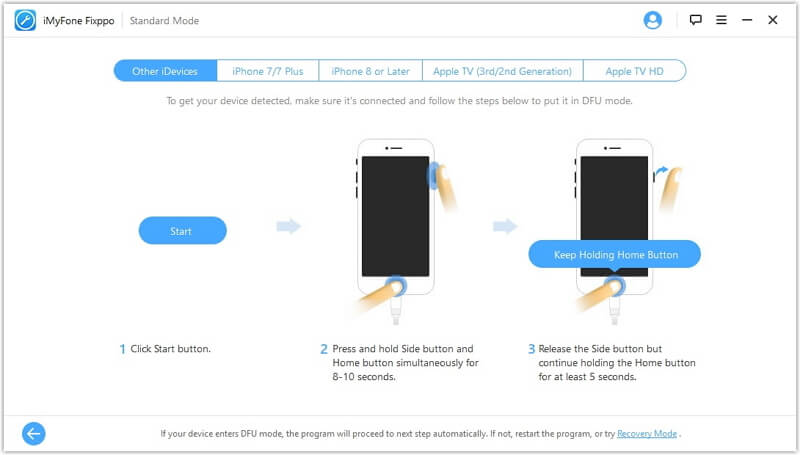 If it is not in DFU mode put it in Recovery mode. Press and hold the Sleep/Wake and Home buttons simultaneously. Keep holding till you see the Connect iTunes icon appear on your phone.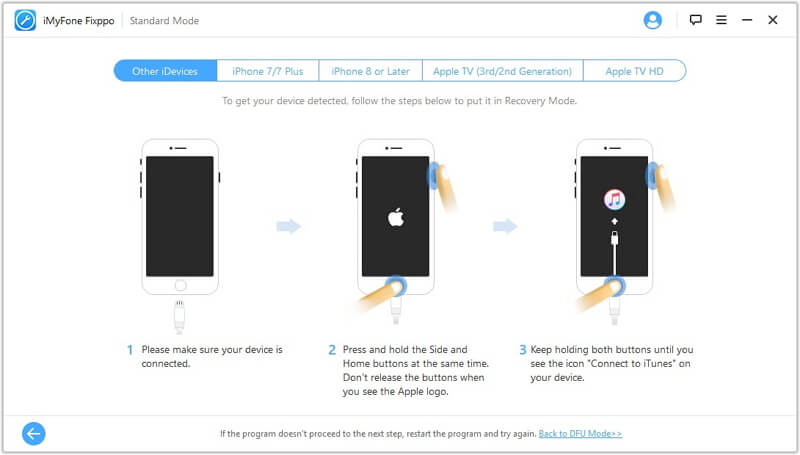 Step 2: In this step you will download the new firmware for your device. Click on Download for the program to automatically detect your device and to start to download the latest version iOS that is suitable for your device. You can also manually download the firmware you want from another source.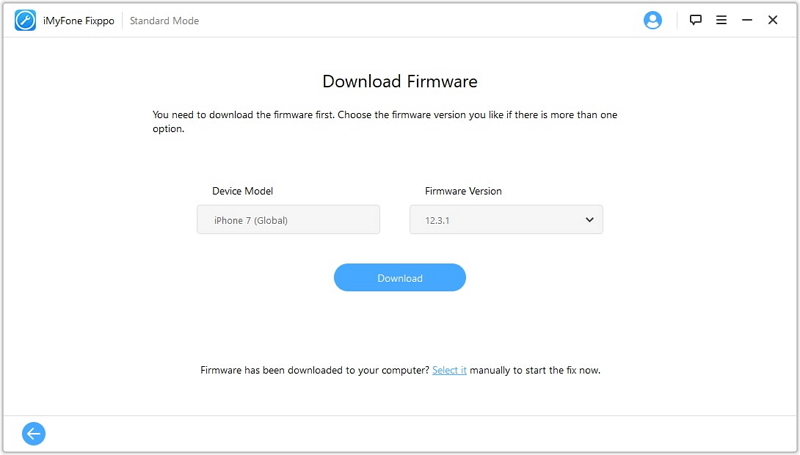 Step 3: Once the download is complete, you can click on Start to fix for the program to automatically start fixing you device. Once complete check to see if your device will start, if not retry again.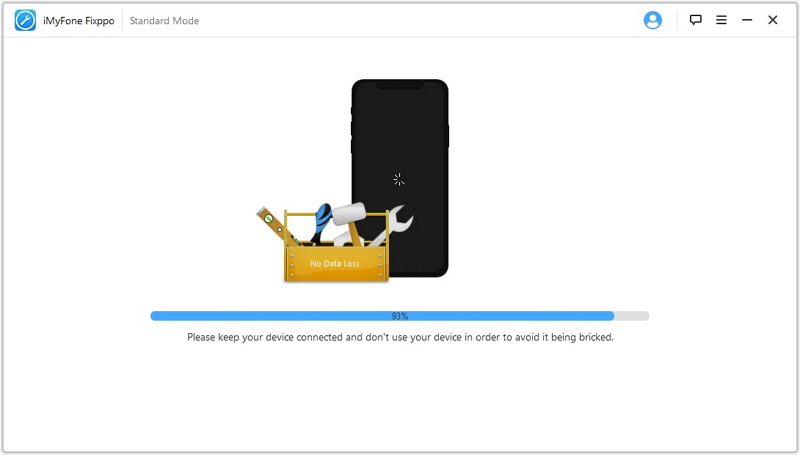 5. Check the Battery Issue
While you can remove a smartphone battery to clean you cannot remove an iPhone battery. An Apple iPhone should charge without any problem when it is connected using its USB cord. Sometimes it can be a good idea to let your iPhone battery drain completely then charge it again. This helps to extend the life of your battery in a process called calibrating. It is normal for your iPhone won't charge unless turned off but charges fine when the battery gets drained. When you turn off your phone you reset the battery helping it to recharge but if the problem continues it means your iPhone battery has issues.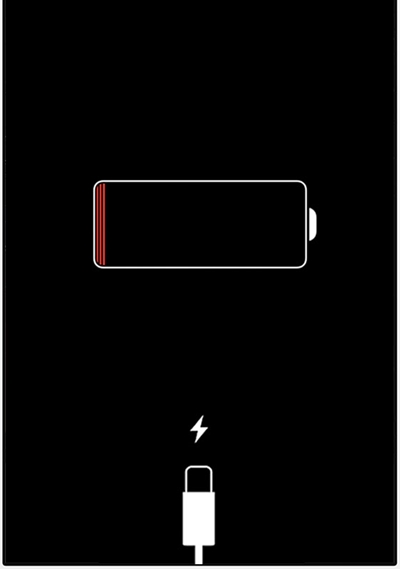 6. Hardware Issues
There are times when cleaning the USB port and resetting your phone has not worked in fixing the iPhone won't charge unless turned off. You can try restoring your phone to its factory settings but you have to first back up your phone's content in iTunes.
Using a USB cable connect your iPhone to your PC then open iTunes. Right click on your iPhone then tap on Create backup. Scroll down to the summary page and click on Restore. You will know it is a hardware problem if after resetting your iPhone the problem still persists.
If your iPhone won't charge unless turned off, it can mean that you have a faulty battery or your iPhone has software or hardware issues. Either way you will need to fix your iPhone won't charge unless turned on so that your phone can charge properly.