Do you know that it is very easy to check your iPhone storage space using iTunes? This takes only one-step. Connect your iPhone to your Mac and iTunes will pop-up displaying a storage bar, which shows the number of spaces taken up by different data types.
Nonetheless, iTunes can be effective in letting you know how much space is occupied by large files on your iPhone, but may not be efficient enough in creating your needed storage space when you run out of storage space. Yes! iTunes is effective in checking storage space and backing up files on your PC to create room for more files, but it is not an efficient iPhone storage cleanup.

How Can iTunes Release Storage Space on iPhone?
iTunes was introduced by Apple as a digital media player, which was solely made to help iOS users play, organize or manage digital music and video files.
Besides, iTunes can also help you to restore much free space on iPhone without deleting most of the important things.
These few simple steps will guide you on how to use iTunes to save storage space for iPhones.
Step 1: Install the latest version of iTunes on your computer.
Step 2: Connect your iPhone to your PC using your USB cable.
Step 3: When iTunes detects your iPhone, click on the device tab on iTunes.
Step 4: You will be in the Summary window. Click on Back Up Now and wait for iTunes to backup your iPhone data.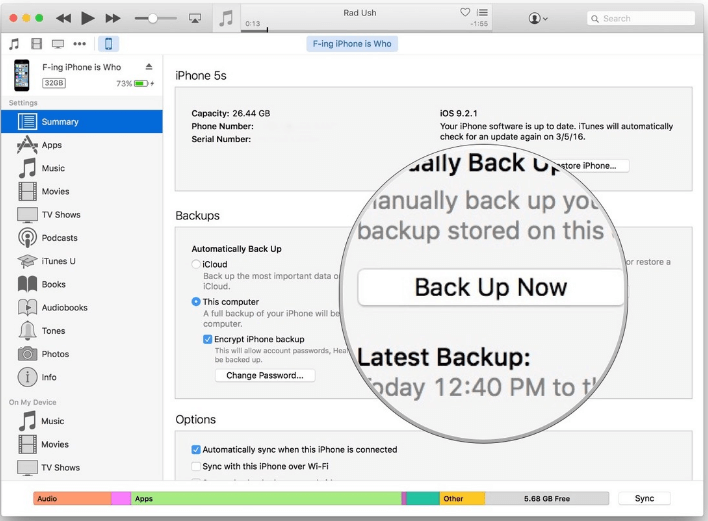 Step 5: When it finished, go to "Restore" on iTunes to reset your iPhone to factory settings.
Step 6: Then, go to "Restore Backup" on iTunes and restore the backup to your iPhone.
By these steps, it will save you much space.
Why iTunes Is Not a Good Way to Clear iPhone Space?
We said that iTunes is an inefficient tool for iPhone storage-space cleanup due to several limitations and disadvantages associated with using iTunes as an iPhone storage space-cleaning tool. Some of these limitations include:
iTunes does not run fast on most operating systems apart from macOS, because it usually require high percentage of system's RAM.
Not all important data is backed up to iTunes. Files like media files that synced from iTunes, downloaded files in 3rd-party apps, Apple Pay settings and more are not inclusive.
There are situations when automatic triggering of iTunes leads to iPhone data lose.
If you backup or restore files using iTunes, it may overwrite the data in your iPhone.
iTunes is not user-friendly; does not offer iDevice users options from where to preview which files they want to backup.
Since iTunes is not efficient enough to cleanup iPhone space, we need an alternative to iTunes that can be much better especially with respect to efficiency and user friendliness.
iMyFone iOS 12 Cleaner: The Efficient Tool for iPhone Storage Cleanup
Currently, there seem to be no recorded progress over upgrading iTunes usability. However, it is a privilege that Apple does not marginalize anyone from acquiring good tools, which are great alternatives to iTunes. iMyFone Umate iPhone Cleaner is a good tool that can be used to efficiently backup iPhone photos and videos, and at the same time used to cleanup iPhone storage memory.
As the best iTunes alternative for iPhone storage cleaning, iMyFone Umate is a wonderful tool for removing useless files, such as junk files, browser caches, temp files, app logs, etc. not just on iPhone but on all iDevices. There are so many advantages to using iMyFone Umate Pro or iMyFone Umate Pro for Mac as an alternative to iTunes.
One Click to Clean all the Junk Files on iPhone for free
Clear Temporary Files to Release Huge iPhone Space
Compress losslessly and Backup Photos to Free up Space
Selectively Delete Large Files to Save More iPhone Storage
Remove Unused Apps to get iPhone Space Back
Fully compatible with iOS 13 and the new iPhone Xs.

User friendliness: As an iTunes alternative, iMyFone Umate is offers you the option of either scanning and cleaning up your iPhone storage memory in one click or selecting files that you would like to backup and delete. Either ways, it serves better than iTunes in helping users free up iPhone storage space without much rigor.
It lets you retain your important photos: By compressing your photos losslessly, iMyFone Umate can free up over 75% iPhone storage memory occupied by photos. The benefit of this is that you will get your storage space back without being able to distinguish between an iMyFone Umate compressed photo and the original.
It helps analyze your iPhone to cleanup 30+ junk files: By scanning your iDevice with our best alternative to iTunes, you will be shown the percentage of your memory space that is occupied by useless files such as temp files, app logs, caches, cookies, crash logs and other junk files. This application can then move forward in eliminating these junk files to free up storage space for you and optimize your iPhone performance.
Backup and delete large files and unused apps: The beauty in using iMyFone Umate is that it does not only backup files like iTunes, it gives you a comprehensive analysis of large files that are occupying your iPhone storage space and options on how to free up your phone space. It can also present unused apps and other redundant files for you to decide whether you want to remove them or retain them on your iPhone.
iMyFone Umate Boosts iOS performance: iMyFone Umate can restore high performance on your slow iPhone by cleaning up junk files, caches, cookies and other temporal files that occupy your iPhone storage space.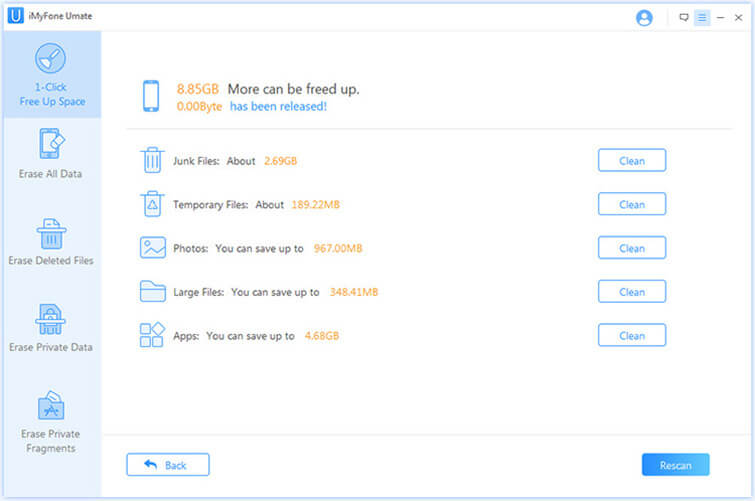 In all, we have seen the clear distinctions between the performances of iTunes and a good iTunes alternative. Therefore, to enjoy good storage space on your iPhone without losing your files or overwriting them, I urge you to always use iMyFone Umate in reclaiming your iPhone memory space back.