Below the level of your awareness, your iPhone is storing bits and bytes of data, especially from apps like WeChat. Where does this information come from? Well, it could be messages, photos, videos, documents, attachments,moments, and so on.
Many of these are in the form of temp files that are not easy to find and delete. Even after you delete them manually, they're often still present on your phone and recoverable with special software. Not only does this bog down your iPhone, but it could be a privacy problem.
Why Do You Need to Delete WeChat Documents and Data on iPhone?
There are many reasons that you should delete your data if it's not important to keep it on your iPhone:
It will clean your cache and boost up your iPhone. It's possible that your iPhone could run faster without being bogged down by data that you don't need.
You'll have more space for the stuff you actually want, such as music, videos, photos, and so on. If you delete the junk files, then you'll have a lot more room.
You can protect your privacy better by permanently deleting data. Many times, manually deleted WeChat date can be recovered by recovery tool, like iMyFone D-Back.
Clear WeChat Documents and Data from iPhone in 1-Click
The best way to clear your WeChat documents and data from iPhone is to use a WeChat cleaner that can help you erase the data permanently so that it's not recoverable. Among the best of these applications available on the market is iMyFone Umate Pro or iMyFone Umate Pro for Mac.
It can clear WeChat documents and data from iPhone, 100% unrecoverable. In other words, even with special hacking tools, a person who wants to violate your privacy can't see what you left behind. This is not possible with simply manual deletion. With Umate, you are safe from snoops, hackers, scammers, and people who are trying to steal your identity.
"iMyFone Umate Pro not only recovers a great deal of space on your iPhone, but also removes private data from your iPad and iPod touch with no possibility of its recovery." -- APPKED media
Key Features:
Free to Clear WeChat Cache - Accumulated cache not only occupies huge space but also slows down iPhone. All WeChat cache can be easily cleared.
Erase WeChat Documents & Data - It can erase any of your WeChat chat messages, photos, videos, or other attachments permanently without chance of recovery.
Erase Previously Deleted WeChat Data - Recoverable delete WeChat data can be found out, viewed, and selected to be permanently deleted.
Clear WeChat Fragments - WeChat fragments that are left behide can be totally cleared, for more free space & secure privacy.
How to Erase WeChat Documents & Data?
Step 1: Download and install iMyFone Umate Pro to your computer. Connect your iPhone to computer with a USB cable.
Step 2: Choose "Erase Private Data" tab from the left sidebar and click on "Scan".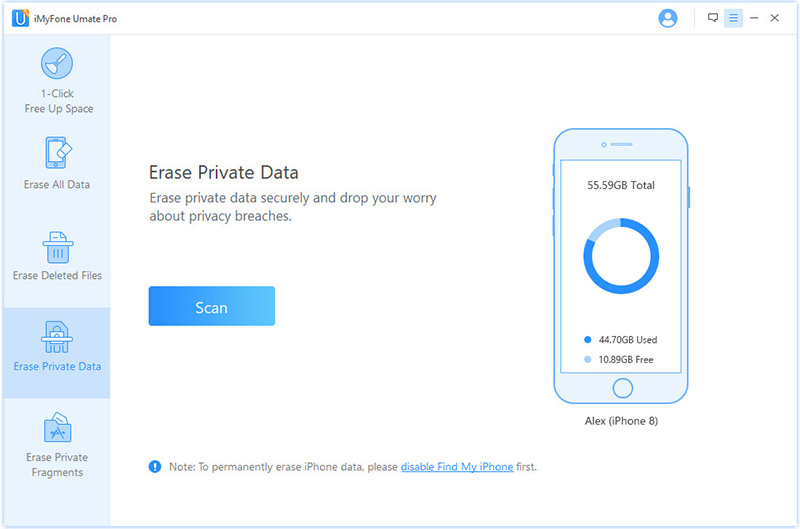 Step 3: When scanning done, it will show you all the private data on your iPhone. You can go to "WeChat" category to preview and select WeChat documents and data.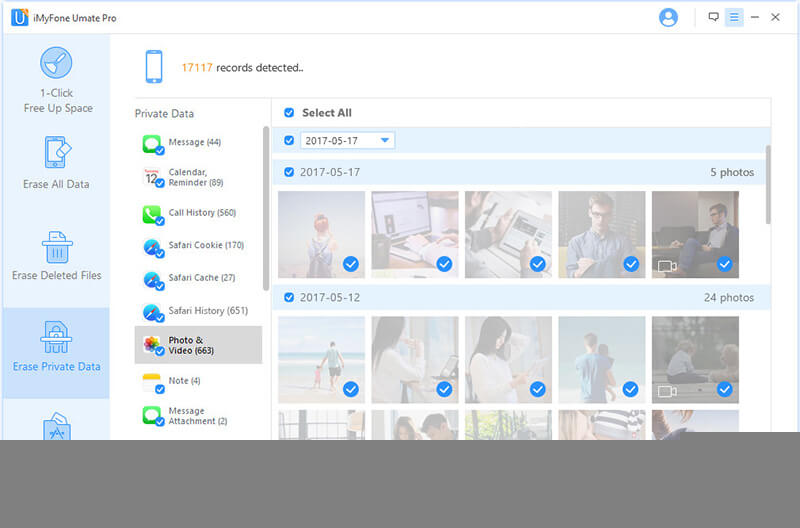 Step 4: Then click on "Erase Now" button and confirm the erasure.
Note
If you have signed in different WeChat accounts before, they all can be scanned out to be erased.
It is also suggested to run "Erase Deleted Files" for free to see how many deleted files are still left behind your iPhone.
Delete WeChat Documents and Data from iPhone Manually
Here are some tips on how to manually remove some of this data from WeChat:
To Clear WeChat Cache
Open WeChat on iPhone.
Tap Me > Settings > General > Storage.
WeChat will now automatically delete the cache information.
Open WeChat on iPhone.
Go to Me > Settings > General.
Tap "Clear Chat History."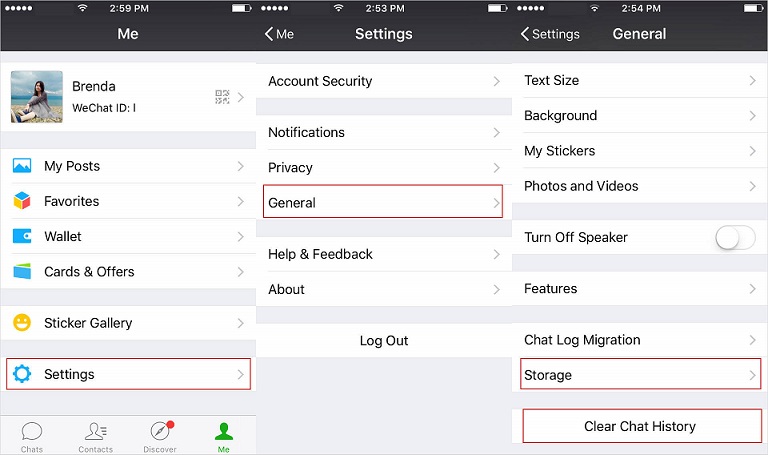 To Delete WeChat Chats (Just a Single Conversation)
Open WeChat on iPhone.
Go to "Chats" at the bottom.
Find the chat that you want to delete and swipe it to the left.
Tap "Delete."
Please note: Deleting WeChat chats using the above methods is still recoverable by special tools. The data is still on your iPhone if you manually delete it like this. If you want your WeChat data to be unrecoverable, then you will have to use a WeChat eraser like iMyFone Umate Pro.
---
Verdict
Do you value your privacy? Do you want more space on your phone? Probably most of us do, which is why it's so important to delete private and junk data from the WeChat application. The only problem is that deleting this data manually just isn't enough. Be sure to use a tool that can permanently delete your cache, chats, and chat history, like iMyFone Umate Pro.