Have a slow iPhone 4/4s? Tired of upgrading and yet experiencing no improvements in performance? Well, you are not alone. Many people face such challenges. Whereas we can still do something to speed up iPhone 4/4s.
Part 1. Clear up Junk & Temporary Files to Speed up iPhone 4/4s
In fact, iPhone 4/4s is yet very old and run slower and slower, as it have accumulated a lot of hidden junk files and temporary files. To speed up iPhone 4/4s, firstly, we should clear up all these invisible files. These useless files not only eat up your limited iPhone 4/4s storage, but also effect iOS performance.
Yet here is a free but effective way to do it, that is iMyFone Umate Pro, the program provides the function of clearing up iPhone junk files and temp files as free trial. You just need to download the program and follow the below steps:
Step 1: Run iMyFone Umate Pro and connect your iPhone to it.
Step 2: Simply click the '1-Click Free Up Space' tab on the software's home screen. Then you'll see the big button "Quick Scan", just click it.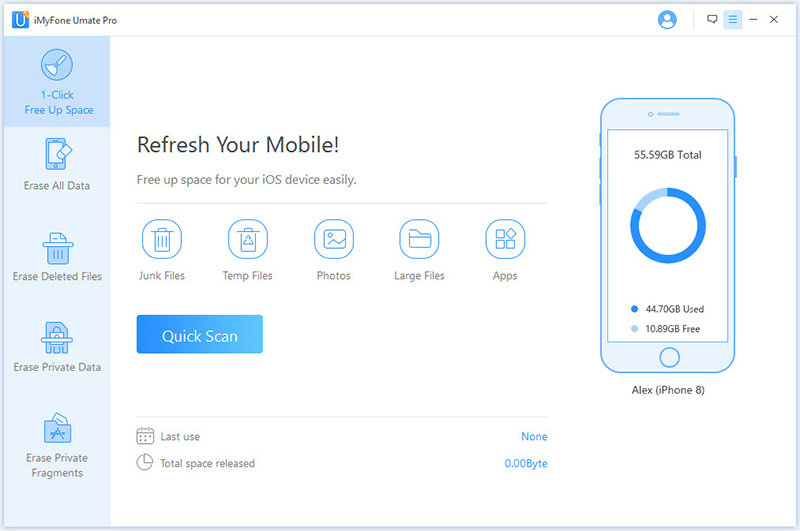 Step 3: After the scan finished, click the "Clean" button beside the "Junk Files" or "Temporary Files".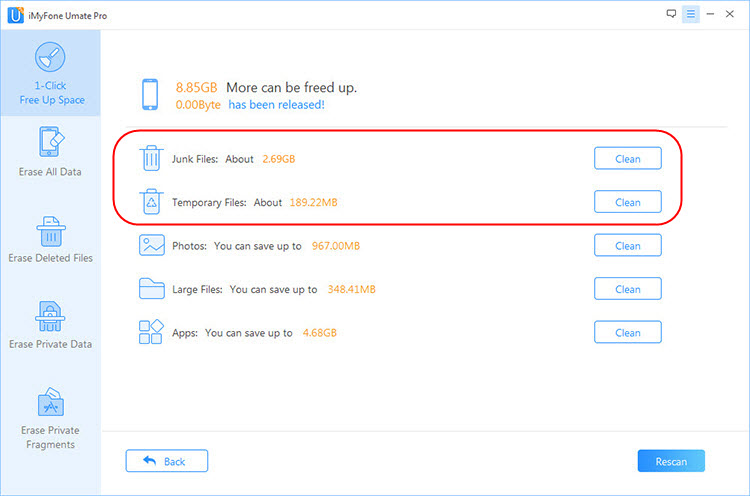 With over 25 analysis technologies, just one click, you can clear up all hidden junk files, including app caches, cookies, crash logs, etc. And for old iPhones like iPhone 4/4s, remove temp files will get back huge space. You are surely to speed up your slow iPhone 4/4s.
---
Part 2. Deal with Large Files to Make iPhone 4/4s Run Faster
iOS 7 or later versions iOS on iPhone 4/4s takes up a lot space and drag the iPhone to be sluggish. Releasing space on to speed up iPhone 4/4s is always a good solution. iMyFone Umate Pro is an efficient space cleaner for iOS device, providing multiple cleaning work to manage or bulk delete large media files and release plenty of space for your iPhone 4/4s.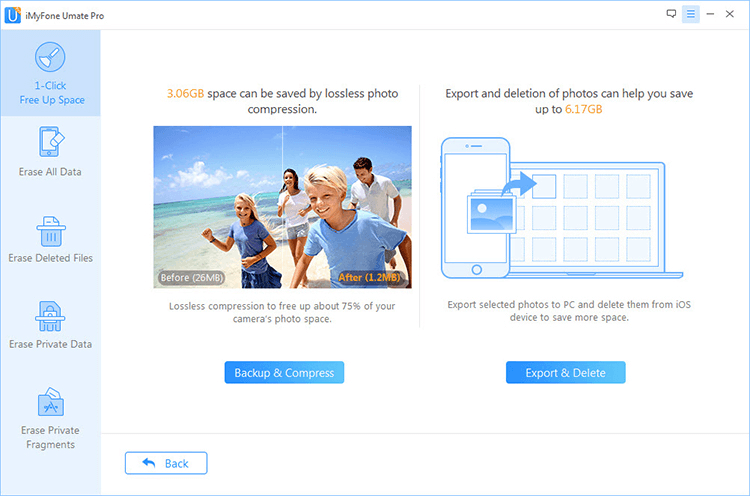 Lossless Photo Compression - Compression of photos can reclaim 75%+ iPhone photo space, and all original photos will be automatically backed up on your PC first.
Mass Delete Photos - Scan and show all your photos on your iOS device, you can select multiple photos according to your need, and mass delete them.
Perfect Management for Videos - Detect and list all the videos over 5MB, and automaticly back up all the original videos to computer. Then, delete them from iPhone 4 to reclaim massive space.
Flexible App Manager - List all your apps according to the space they take up. Scroll down the list to figure out which apps you don't use and select them, click "Clean" button to delete all useless apps.
Privacy Protection - Permanently erase not only current files but also deleted files, all iOS file types supported, and the erased data is 100% unrecoverable.
Trusted by thousands of users (every year) and reported by well-known media around the world
Space reclaimed in total will be reported by iMyFone Umate Pro. And your slow iPhone 4/4s will be definitely improved with the reclaimed space to run iOS system. All you need to do is Connecte your iPhone > Scan your iPhone > Click "Clean".

---
Part 3. 3 Little Tips to Improve Performance of Slow iPhone 4
1. Inactivate Radio Communications
Actually, Bluetooth is less used than before and Wi-Fi is accessible in certain places, so these services should be inactivated when they are not in use. After all, the radio communications not only reduce your battery life, but also make your iPhone 4/4s running slow in constant update and communication search.
Open Control Center by sliding from the bottom and tap the icon of Bluetooth and Wi-Fi services.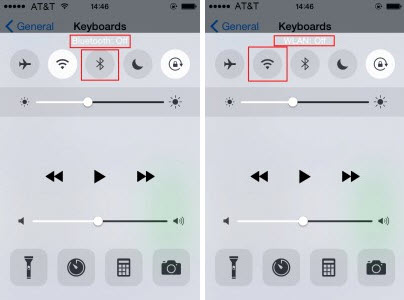 2. Turn off Contrast/ Transparency
Contrast or transparency function is supposed to help user easily read and understand text and underline interface elements without blurred background distractions. In iOS 7.1 or later versions, contrast/ transparency can be turned off to speed up iPhone 4 iOS 7 or abouve.
Please go to Settings, and tap on General>Accessibility>Increase Contrast, and Select Reduce Transparency.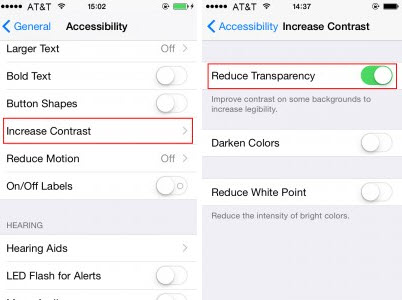 3. Abolish Location Services
Location Services can also take up RAM space in your iPhone and thus slow down the responsive speed of iOS system.
To abolish Location Services, please open the Settings and tap Privacy > Location Services and then turn it off.