It is not uncommon for iOS users to find the Hotmail not working correctly. Maybe you've just completed setting up Hotmail on the Mail app on your iPhone, but you can't see some of your emails or for some reason, you don't receive a notification on incoming messages.
In this article, we will take a look at these causes and then provide you with some of the best solutions for this problem.
Part 1. Situations of The Hotmail for iPhone Not Working Issue
Before we get to the various reasons why you may be facing Hotmail issues on your device, we will take a look at some of the common scenarios our users have described.
You are unable to sync Hotmail on the Mail app and therefore cannot see the latest messages.
You are unable to sync the calendar and contacts after set up.
You can't see your messages.
You can't sign in to your account even though you are certain you're using the right login details.
Part 2. Why is My Hotmail Email Not Working on My iPhone?
Like what we have said earlier in this article, there are some reasons that make you are not able to use Hotmail on your iPhone. Here are some common reasons.
It is possible that you may be using the wrong login information.
It is also possible that you may have set up the Hotmail incorrectly.
The iOS system could also be having issues.
Part 3. 3 Simple Checks to Fix Hotmail Not Working on iPhone Issue
Before we get to the solutions, the following are some of the simple checks we recommend you try.
1. Check Your Email Address and Password
If you are having issues signing in to your Hotmail account, it is possible that you may not be using the correct combination of email address and password.
Before you do anything, take a moment to check the login details you are using.
2. Check Fetch New Data Settings
If you are unable to get notifications of new emails, we recommend that you check Fetch data settings on your iPhone.
Step 1: Open the Settings on your device.
Step 2: Select "Passwords & Accounts".
Step 3: Tap "Fetch New Data" and choose "Automatically", "Manually" or choose a schedule that is suitable for you.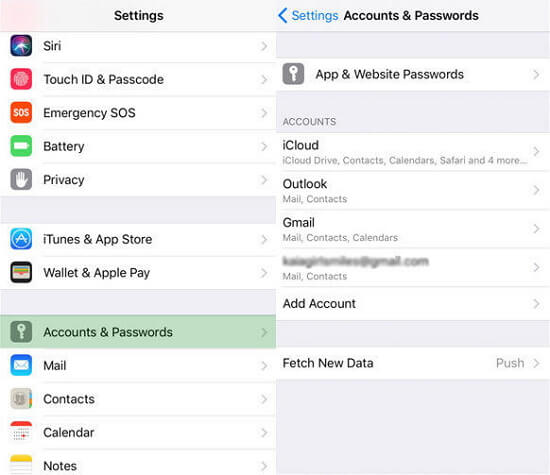 3. Check Mail Days to Sync Settings
You also need to check the mail days to sync settings on your account.
Step 1: Open Settings and then select "Passwords & Accounts".
Step 2: Tap on the Hotmail account and then select "Mail Days to Sync".
Step 3: To receive your emails regularly, select "No Limit" and all your emails should sync.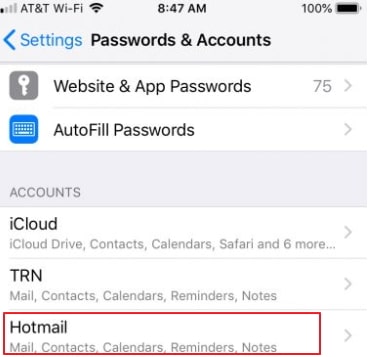 Part 4. 2 Effective Ways to Fix Hotmail Not Working on iPhone
If the checks above don't yield a positive result, you may need to choose the following two of the most effective solutions to help you because there might be something wrong with your device system.
Way 1. Fix Hotmail Not Working on iPhone without Data Loss
If other solutions fail, then it is very likely that the iOS system on your device could be wrong. In this case, the best way to fix the device is to use an iOS system repair tool and the best one is iMyFone Fixppo.
One of the biggest advantages of using this tool is that it is very easy to use and will repair the device without causing data loss.
It supports all iOS devices and all versions of the iOS software.
It uses the most advanced technology to ensure recovery is very fast and safe.
A lot of media sites have highly recommended this tool.

The following step-by-step guide will help you use iMyFone Fixppo to repair the Hotmail not working issue on your device.
Step 1: Download and install the program on to your computer and then open it. Select "Standard Mode" in the main window and then connect the iPhone to the computer using USB cables.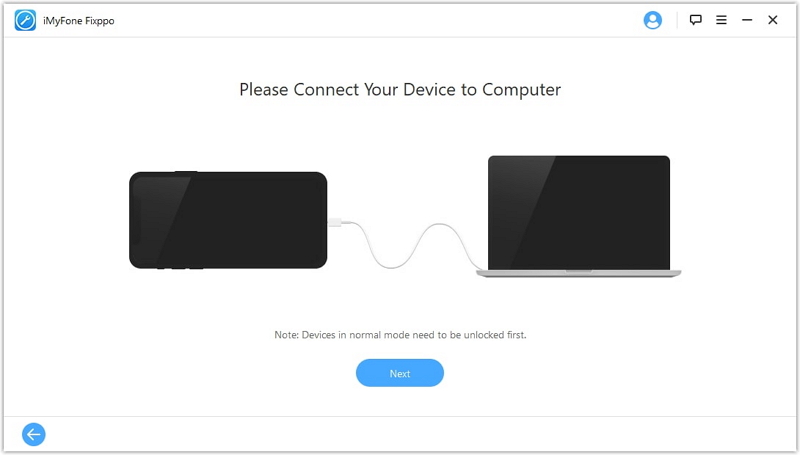 Step 2: If your device is not detected, you need to put in DFU/recovery mode. Fixppo will provide instructions on the screen.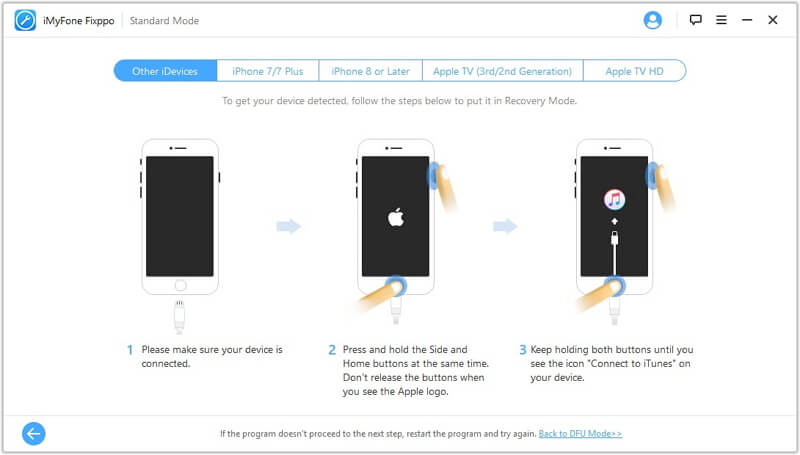 Step 3: Once the program detects the device's model it will present the necessary firmware for the device. Click on "Download" to download the firmware.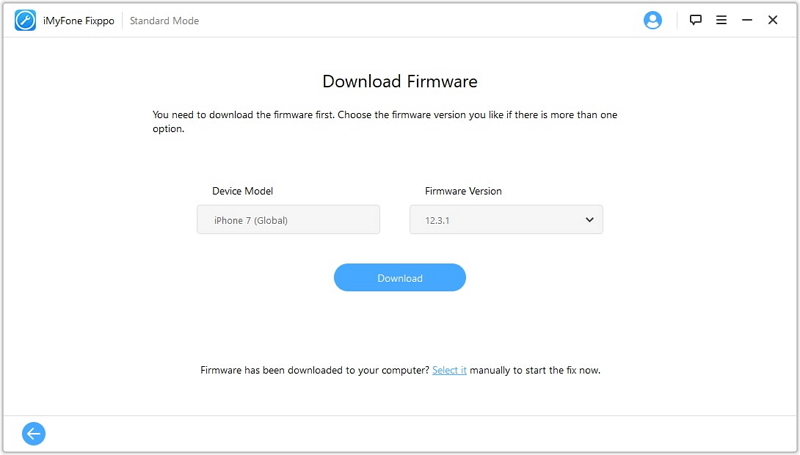 Step 4: Once the firmware is downloaded, click on "Start" to begin the repair process. Keep the device connected to the computer until the process is complete.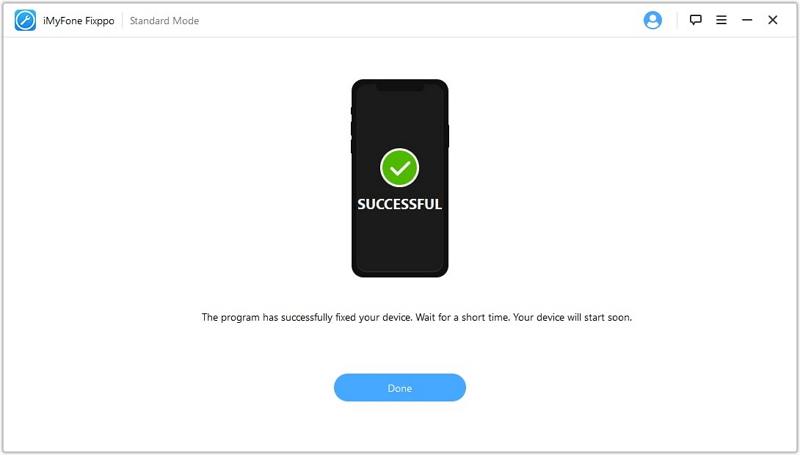 Still have doubts? You can check what other users say about the Fixppo. Then feel free to download the free trial version to test it out for yourself.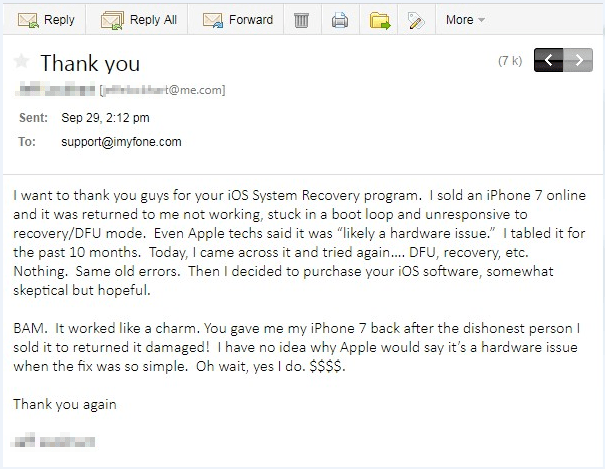 Way 2. Contact Your Email Provider or System Administrator
If everything you try fails and you are certain that you are using the right login details to access the account, you might need to contact your email provider or system administrator for further assistance.
You can also check the status of the email service on their webpage to ensure there isn't a service outage. In most cases, your service provider will be able to determine the cause of the problem and get Hotmail working normally again.
Conclusion
Whenever you are unable to sign in to your Hotmail account on your iPhone or you can't access the messages you are receiving due to system issues, the solutions above should be able to help.
Select the solution according to the particular situation you're in. Any questions or comments regarding this topic or any other iOS-related issues are always welcome and we'll do our best to offer help.