9 Solutions to PDF Not Opening Error on Windows/Mac
Category: Repair Files
4 mins read
Free download iMyFone UltraRepair to repair PDF files while maintaining all the included content.
Portable Document File (PDF) is a very popular file type that most people are very familiar with, especially people that love to read books online, students and many more.
In today's world, PDFs have had their places on the internet and even in offices. It looks as if every hardcopy has its PDF softcopy. Having said all that, issues can arise with opening PDF documents, like Can't open PDF. This post aims to shed more light on why we encounter such issues and what to do when PDF not opening.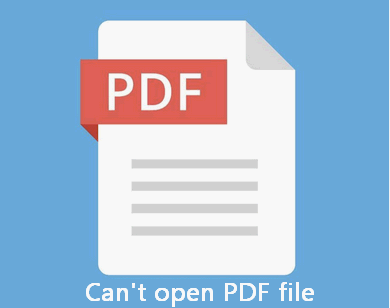 Why Can I Not Open the PDF Files?
Before we proceed to proffer solutions to the issues, let us first consider some of the reasons when encountering the problem of PDF not opening. After all, the best way to solve an issue is to understand what causes or triggers the issue. Below are some of the causes:
If a file is saved as a type unrecognized by Adobe Acrobat, you are bound to have the error message.
If your PDF reader is outdated, it may pop up an error message when you attempt to open a PDF file with it.
If the PDF file itself is corrupted, then you can't open it as usual.
If the PDF file is opened using non-Adobe app, you may not smoothly open the file.
The Can't open PDF file problem occurs when the Adobe Reader is installed inappropriately..
9 Ways to Fix 'Can't Open PDF' Error on Windows/Mac
When there is a PDF error that makes your PDF not opening, don't panic, there is always a way to fix it. Read these 9 ways below to see if they could work for you.
1

Use a Third-Party Tool When PDF is Corrupted

If the issue is coming from the PDF file itself, it is advisable to fix it before opening the file again. In the event that the file is broken, you can simply use iMyFone UltraRepair - PDF repairing tool to fix the can't open PDF issue.

For corrupted PDF file, UltraRepair is able to repair it without making adjustment to the file content while making it to be opened normally again.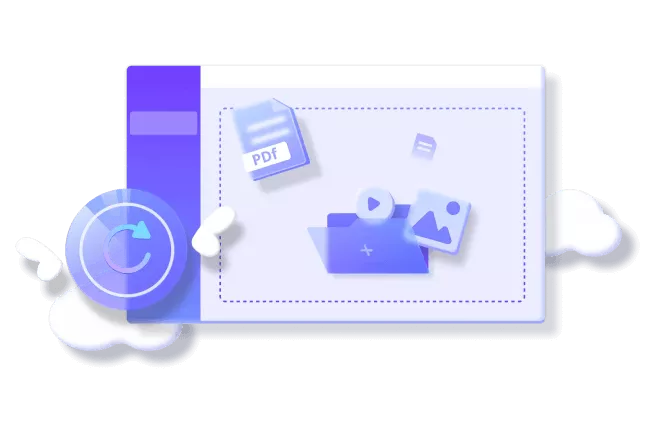 Key Features:
Repair damaged PDF files on occasions like files not opening, files unreadable, etc.
Fix the corrupted PDF file without changing the contnet of the original file.
Support to batch process all damaged PDF files at once to save time.
3 steps to fix different types files without technical skills.
Here is How to Fix 'PDF won't open' with iMyFone UltraRepair
Step 1: Launch iMyFone UltraRepair and choose the Repair tab.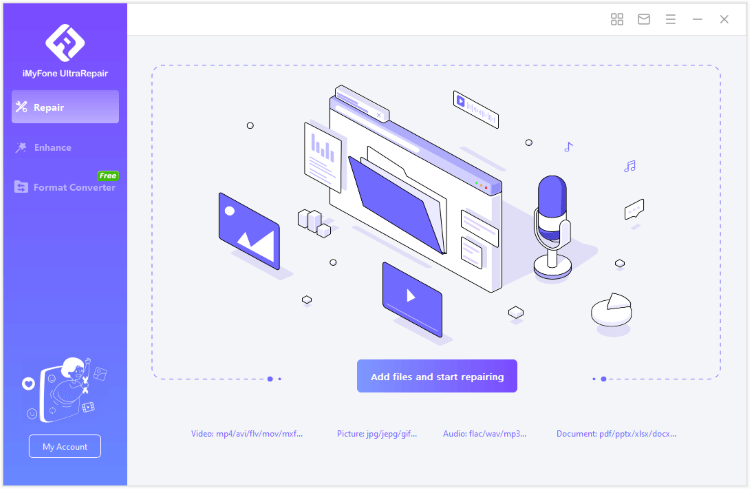 Step 2: Upload your corrupted PDF files, then click Repair.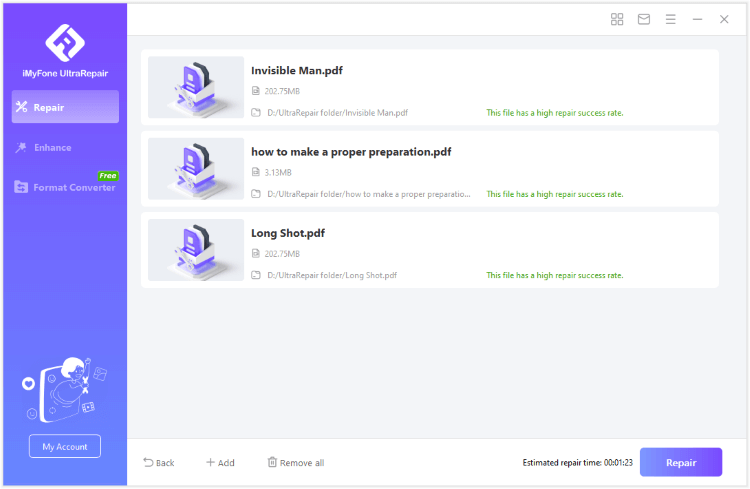 Step 3. When the damaged files are repaired successfully, you can click to preview or save them directly.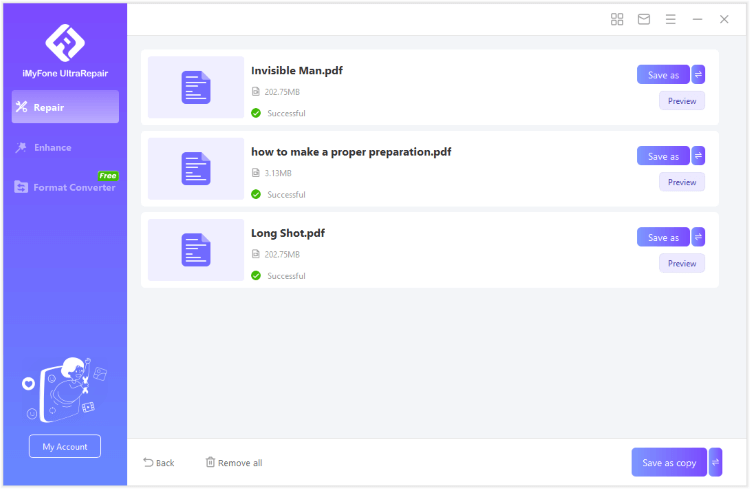 Limited Time 10% off Coupon Code for UltraRepair: YTR5E7
2

Make Adobe Acrobat the Default PDF Reader

If you failed to open PDF, it's possible that you're using another tool to turn it on. And the Adobe Acrobat is deemed as the default app to open the PDF file. Follow steps below to change the settings.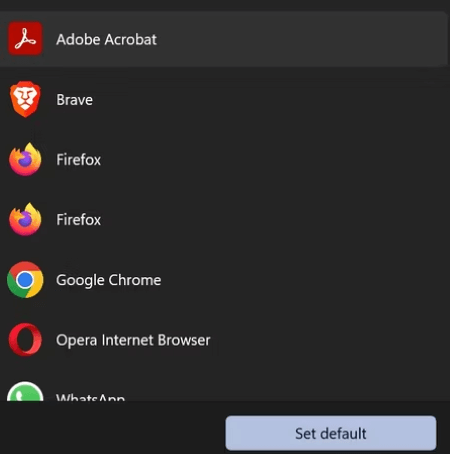 Step 1: Right click any PDF file and hit Properties.
Step 2: Go to General tab, click on Change button.
Step 3: From the listed options, choose Adobe Acrobat and click to Set default.
3

Update the Adobe Acrobat to the Latest Version

One quick fix to the issue of PDF file won't open on your PC is to update the Adobe Acrobat App for it to run more smoothly and efficiently on your system.

Year in year out, Adobe keeps bringing new updates to all their apps, and it would only make sense that you as a user should be up to date. Apart from solving the "can't open PDF" error, you will also solve other unknown issues and enjoy better benefits like newly added features.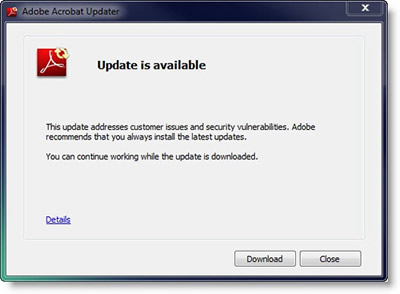 4

Set Adobe Acrobat as the Administrator

Likewise, if you set the Adobe Acrobat as the adimistrator, it means you can have the full access to it, preventing any hidden obstruction, including your PDF won't open issue.

If Windows is not giving Adobe the chanve to open your PDF file, it may lack certain permission, which can be turned on with steps below.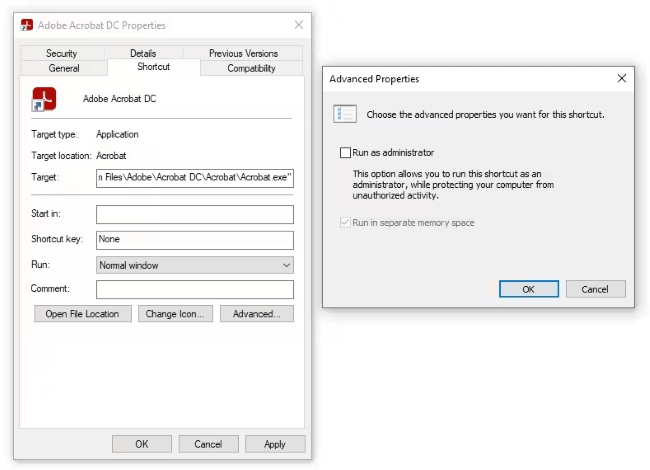 Step 1: Right click the Adobe Acrobat app and hit Properties.
Step 2: From the Shortcut tab, click on Advanced.
Step 3: Check the box as Run as administrator and hit the OK button for it to confirm.
5

Turn On the Compatibility Mode

It's not enough to just make the Adobe Acrobat the administrator, you should also run it in compatibility mode, which allows the older versions of your Windows to be use as the normal operating system.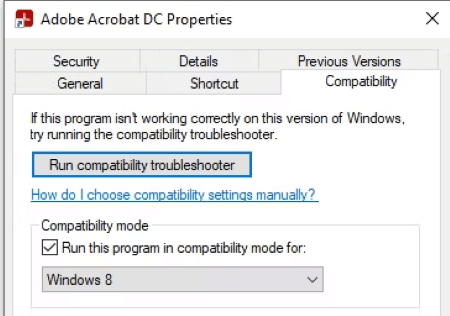 Step 1: Head to the Properties of Adobe Acrobat.
Step 2: In the Compatibility tab, check the box under Compatibility mode.
Step 3: From the dropdown menu, choose the older Windows version.
Step 4: Apply the adjustment and click OK to confirm.
6

Downgrade Your Adobe Acrobat App

This method may not sound too plausible and sensible, but it can help when you are trying to open a PDF file that was created a long time ago, using an older version of Adobe Acrobat or another program entirely. And you can make it by visiting Adobe's official downgrade center.
7

Deactivate the Protected Mode

The recent versions of Adobe Reader (from version XI) have a protected mode as a feature. When in this mode, PDF files with malicious code that can possibly infect the Windows registry and system directories are kept at bay.

This basically means that you can't open PDF when it is suspected to be malicious. If you are sure you really want to disable the protected mode, follow the procedure below: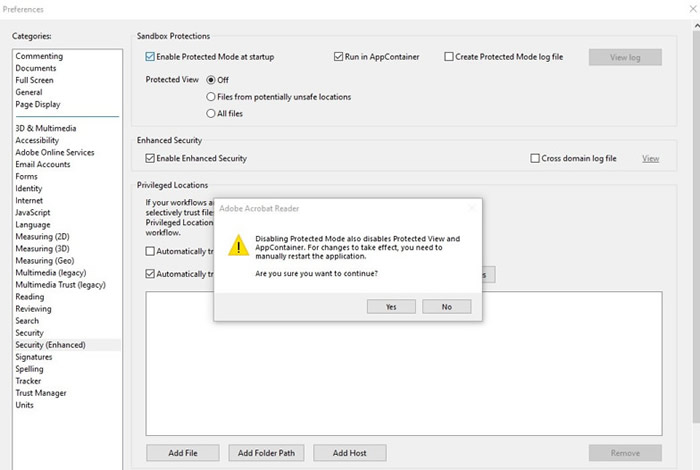 Step 1: Open the Adobe Acrobat app and hit Edit and scroll down to Preferences.
Step 2: Choose Security (Enhanced) in the Categories list to the left.
Step 3: Then uncheck the Enable Protected Mode at startup box in the Sandbox Protections section.
Step 4: A pop-up window will come up; click Yes, then OK.
Step 5: Restart the app for the changes to take effect.
8

Repair Your Adobe Acrobat Reader

If you can't use the above methods to fix the Adobe Acrobat, there is a built-in repair tool that you can apply to fix this app since the corrupted app will cause PDF not opening.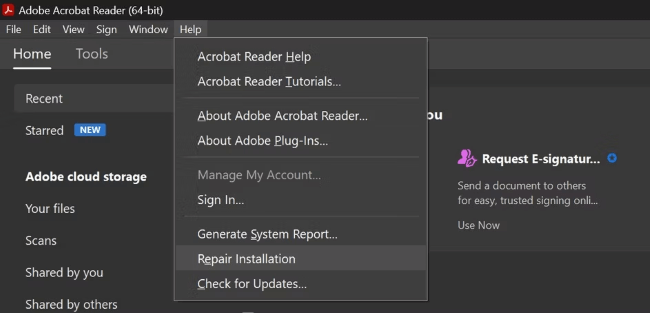 Step 1: Open the app, click the Help tab.
Step 2: Choose the Repair Installation option for it to be repaired.
9

Try the Alternative PDF Opener

Adobe Acrobat may be the default and best PDF reader for many users, but NOT the only one. If you have tried all the methods above and none worked for you, you should try other PDF readers you can lay your hands on, like FileViewer Plus.
Part 3: Hot FAQs about PDF Problems
1

Why can't I open a PDF on my phone?

There are many reasons why you cannot successfully open a PDF file on your phone. It could be that the PDF is corrupted or damaged, or you are running a lower or higher version of the PDF reader relative to the PDF file. It could also be that there's a bug on your phone preventing the file from opening. In any case, it would be helpful to try opening the PDF file with different PDF readers or try your friend's phone.
2

Why can't I access PDF on Pages?

The PDF file may be damaged or corrupted. It could also mean that the PDF file just doesn't support Pages. When faced with this issue, you can try using Acrobat or other PDF editors from the App store.
3

How do I fix PDF not opening in Windows 10?

You can try the above methods to try to fix the corrupted PDF file itself or the Adobe Acrobat.
Conclusion
There are many ways to fix the Can't open PDF issue. You can upgrade or downgrade the version of your Adobe Acrobat, or simply use another PDF reader, or use iMyFone UltraRepair to fix different kinds of PDF problems instantly.