Repair Corrupted or Damaged PDF File in 3 Easy Ways
Category: Repair Files
3 mins read
While using PDF files, readers may receive trouble notifications - your PDF file is corrupted or indecipherable. Then it might ultimately result in a loss of the document. Do you want to know how to repair a corrupted or damaged PDF File? Adobe's PDF file format makes it simple to transmit this exceedingly encrypted document.
The whole blog will show you a guide to go through all the possible reasons for corrupted or damaged PDF files and the methods to repair damaged pdf files. Now, let's move on.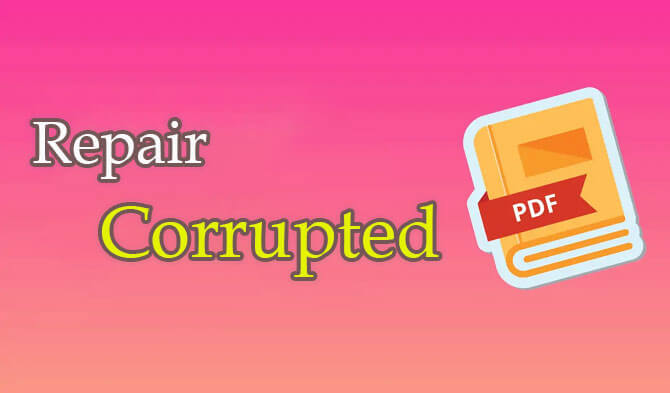 Free download iMyFone UltraRepair to fix corrupted/broken/damaged PDF easily.
Part 1. The Reasons Why PDF Gets Corrupted?
During the uploading and downloading process, the PDF file might be damaged. The following are the most frequent causes of its damage or corruption:
Defective connection: An unstable internet connection while downloading PDF files.
The trouble with storage devices: Store the PDF file on a damaged storage device or USB device.
Incorrect or unexpected shutdown: Your PC or laptop might occasionally shut down unexpectedly when transmitting the PDF file.
Antivirus: PDF files can be corrupted or damaged by any malware or destructive file on your computer.
Part 2. Preliminary Methods of Troubleshooting a PDF File
We have included the most efficient solutions for restoring your essential Pdf file below. Apply the outlined instructions to repair corrupted files easily and rapidly.
Use Different PDF Reader
If the file you can't open on Adobe Acrobat Reader, then you'd try other tools to open it. You can open it through Foxit Reader, Javelin PDF Reader, and PDF-XChange Editor. Try to see if you can open it on these platforms or not. If the file still can't open, move to the next part.
Part 3. 4 Effective Ways to Fix Corrupted PDF
Whenever your PDF file is damaged for any reason mentioned previously, you may typically repair it using the appropriate processes and tools. Move on to get the effective solutions!
01

Use iMyFone UltraRepair

iMyFone UltraRepair is a perfectly repair tool help you repair corrupted PDF, Word, Excel, and PowerPoint files in 3 simple steps of all kinds of circumstances! You can use this tool to restore and repair broken, unreadable, inaccessible, incompatible, unrecognizable, or garbled files. And you can also repair photos or videos as well!

How to Fix Corrupted PDF in 3 Steps with UltraRepair

After downloading the UltraRepair, you can launch the program and choose File Repair.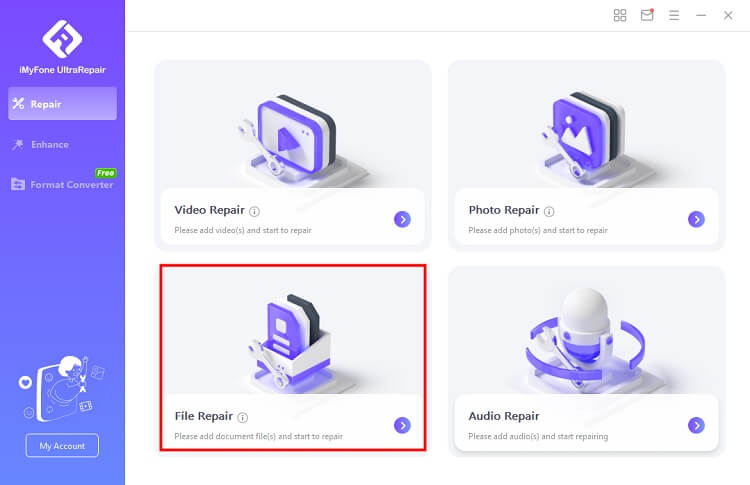 Then upload your corrupted PDF and start to repair the files. Click Repair.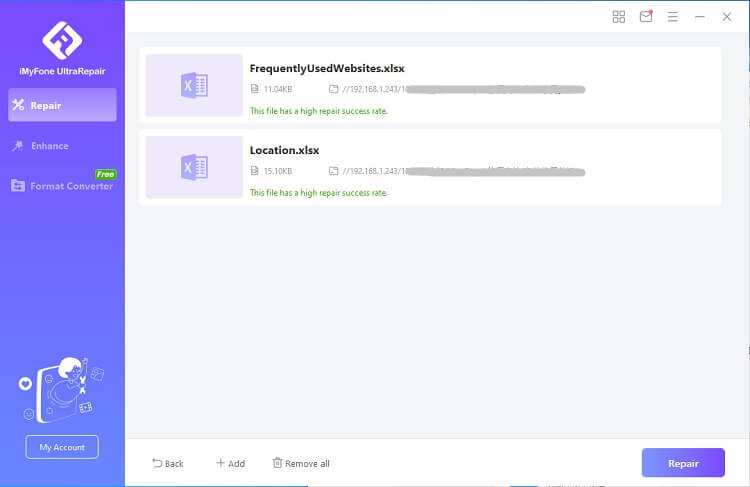 Wait a moment, your damaged PDF will be successfully repaired.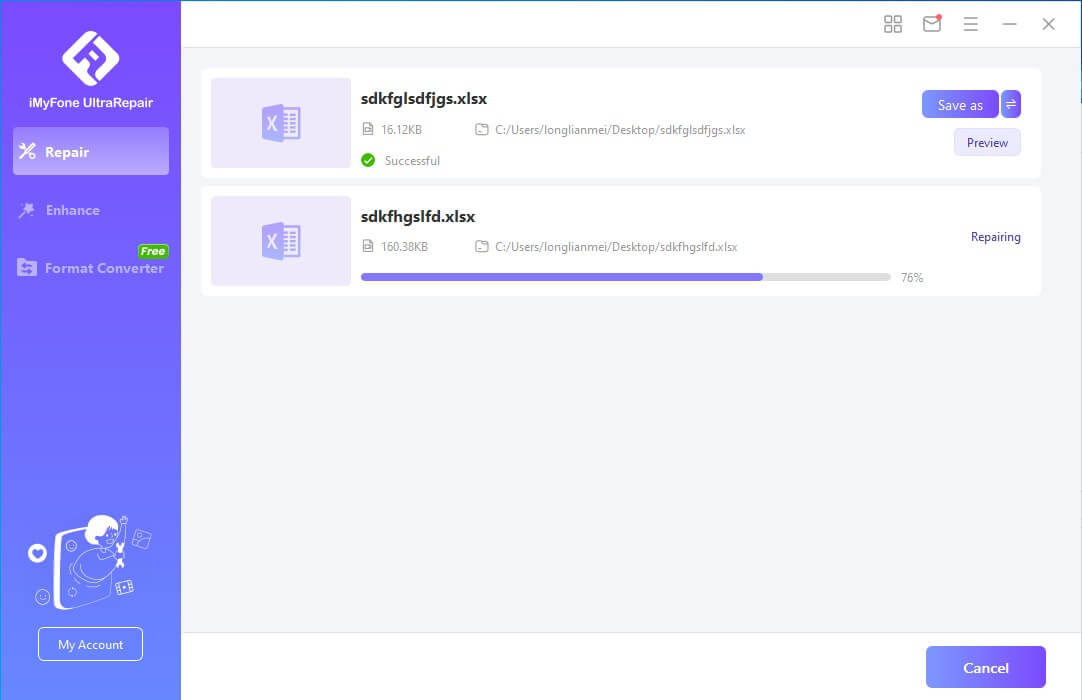 02

Repair PDF with Adobe Acrobat Reader

Adobe Acrobat Reader is the most prominent and well-known program for interacting with Pdf files. But what if the program has a vulnerability that leads the document to get corrupted? You can retrieve the PDF files when you repair Adobe Acrobat Reader.

To begin, downloading or upgrading the most updated incarnation of Adobe Acrobat is the most effective way to repair problems.
Then start the software and navigate to Help > Check latest Updates. Update the latest version of Adobe Acrobat Reader if there available.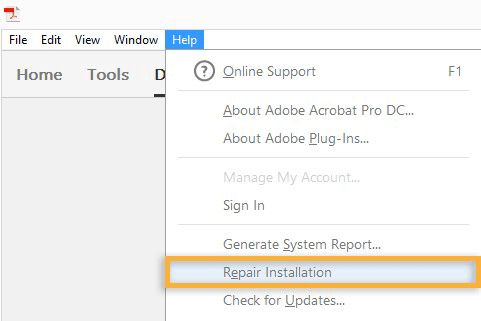 Then, go to Help > Repair Configuration. The program will automatically scan its fundamental documents and fix the corrupt file. While Adobe Reader stops responding, the program's Repair Acrobat utility repairs the problem.
---
03

Restore a Previous File Version

When the PDF file is damaged and reinstalling Adobe Acrobat Reader hasn't worked, there's another way to repair the corrupted PDF file. With this technique, you can repair the PDF file to a previous version.

Windows has a constructed method for saving different versions of files in particular instances they are required subsequently. You can repair a previous version of a file while the most current version gets damaged or destroyed.

Choose Properties from the context menu of your damaged PDF file.
Then go to the Settings and choose Previous Versions to find the edition of the PDF file you need.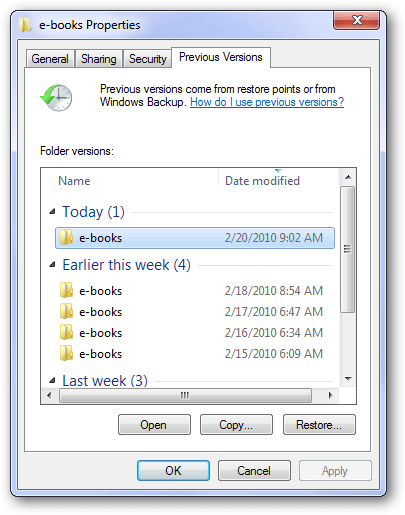 Finally, pick Restore to return the previously installed version of the file.
---
04

Use Free Online PDF Repair Tool

There are many PDF repair online tools available that can repair your damaged PDF file. They can help you restore PDF files effortlessly. See how its going on:

Browse to Online PDF Repairers tool, and select a corrupted PDF file stored locally by using the Select File button.
Enter your email address there and move to the next step.
Inspect a recently restored file.

$10 was paid for each 1GB of a data source.
Upload the corrected Adobe document to your computer.
FAQs Related to Repair Corrupted File
1

How do I save a picture as a PDF on an iPhone?

Follow the steps below to do it:

Select the picture you wish to convert to PDF.
For a few moments, hold your finger on the image. The relevant menu will appear as a thumbnail.
Select the "Create PDF" option from the menu.
Using your iPhone, a PDF file of the same name as the photograph will be stored.
2

Can I save an iPhone screenshot as a PDF?

Click Full Page after tapping the screenshot on the lower-left side. Perform any of the following:

Save the image as Press Done.
Select Save PDF to Files.
Specify a location then tap the Save option.
Conclusion
Follow the methods we talk above, you can fix the corrupted PDF file easily! And you can know that iMyFone UltraRepair is the best easy-to-use tool to repair corrupted PDF. Now, don't hesitate to download the program for a free trial.