5 Easy Ways to Open and Repair Corrupted PDF File
Category: Repair Files
3 mins read
Do you use PDF files for work? It is a widely used file format for presenting and sharing documents. But while using PDF files, users may receive trouble notifications: your PDF file is corrupted or indecipherable. Then it might ultimately result in a loss of the document.
If you come across this problem but have no idea how to repair corrupted PDF files. Don't worry, in this article, your questions will be answered!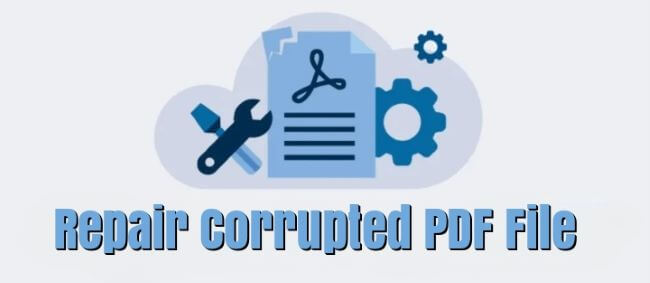 Free download iMyFone UltraRepair to fix broken/damaged/corrupted PDF easily.
Part 1: The Simplest Way to Fix Broken PDF Files
The PDF files means a lot to you with all important infomation, therefore, you should need a safe and simple way to fix your damaged PDF files.
And let me introduce the File Repair Tool - iMyFone UltraRepair, which can restore and repair corrupted PDF files to regain access to the content.
What about the text, headers, footers, graphs, tables, etc included? All of them can be restored without modifying!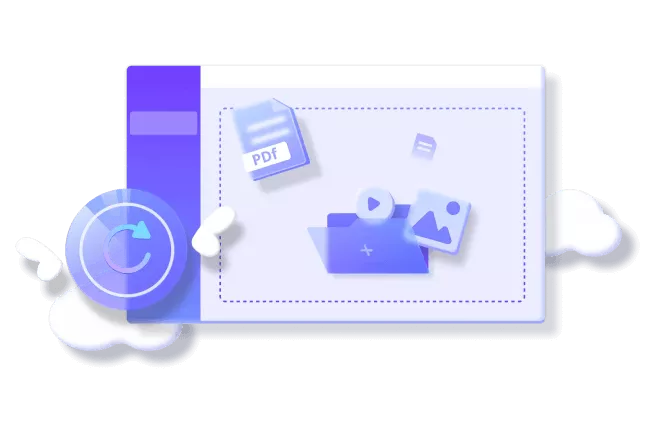 Key Features:
Fix all PDF file issues like PDF not opening, PDF blank, PDF unreadable, PDF not responding, etc.
Files can all be repaired without changing the original content.
There is no file size and number limit on the files to be repaired.
Also support to repair Word, Excel, and PowerPoint in 3 simple steps of all kinds of circumstances!
Support to use on both Windows and Mac systems.
Support Microsoft Excel 2019, 2016, 2013, 2010, 2007 and Office 365.
Here is how to repair damaged PDF files with iMyFone UltraRepair:
Step 1: Launch iMyFone UltraRepair and choose the Repair tab.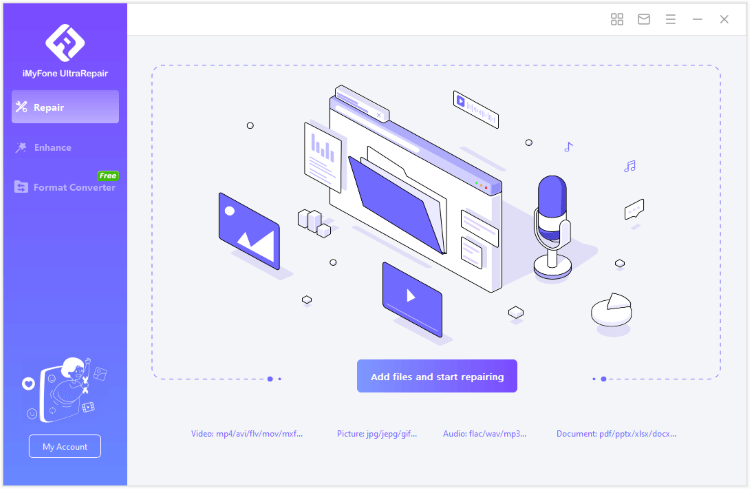 Step 2: Upload your corrupted PDF files, then click Repair.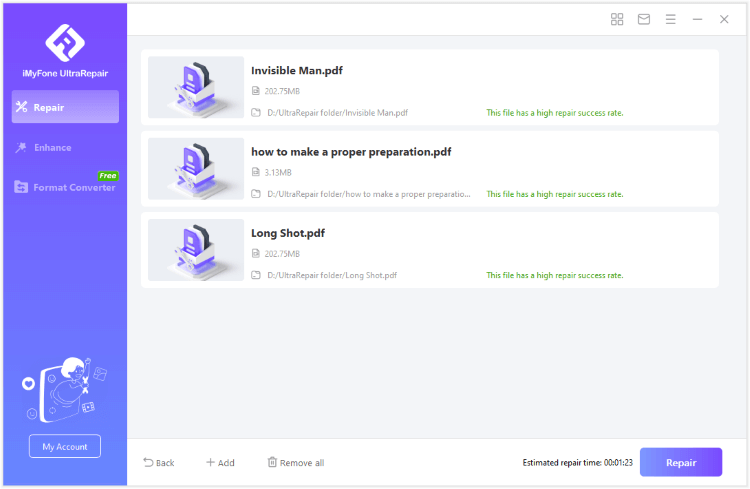 Step 3. When the damaged files are repaired successfully, you can click to preview or save them directly. After that, you can open damaged PDF file on PC successfully.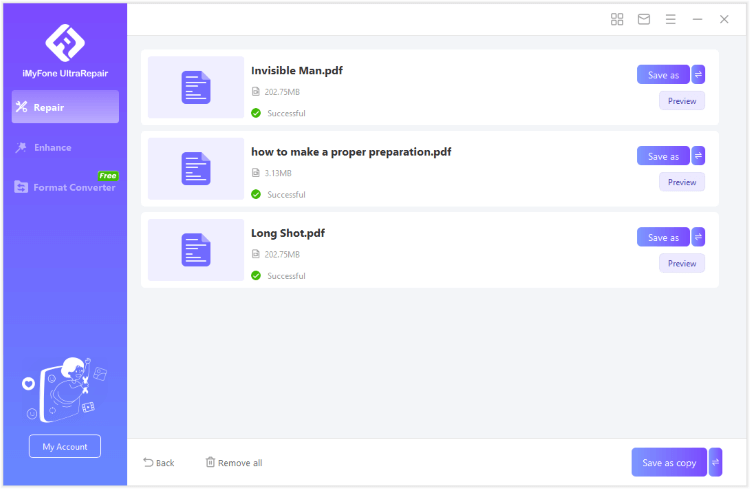 Limited Time 10% off Coupon Code for UltraRepair: YTR5E7
Part 2: 4 Other Ways to Repair Damaged PDF Files
The one-stop solution in the first part should be able to repair your corrupted PDF file. And this part, you will learn 4 other common methods that canbe applied as well.
01

Fix Damaged PDF File with Adobe Acrobat Reader

Adobe Acrobat Reader is the most prominent and well-known program for interacting with PDF files. But what if the program has a vulnerability that leads the document to get corrupted? You can retrieve the PDF files when you repair Adobe Acrobat Reader.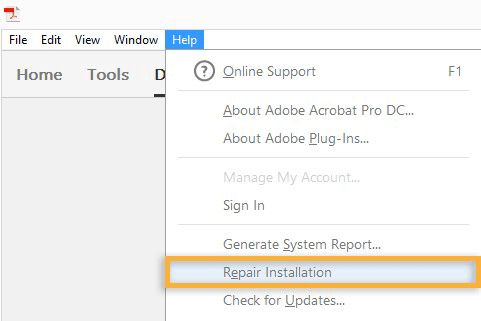 Step 1: Open the software that installed on your PC.
Step 2: Navigate to Help > Check latest Updates. Update the latest version of Adobe Acrobat Reader if there is one available.
Step 3: Go to Help > Repair Configuration. The program will automatically scan its fundamental documents and fix the corrupt PDF file.
02

Use a Different PDF Reader

Another thing you need to confirm is that your PDF file is really damaged, sometimes the situation is that when you replace a reader, your file will be able to open!

If you still can't open the PDF file with the default Adobe Acrobat Reader, you can try another tool to open it. Tools like Foxit Reader, Javelin PDF Reader, and PDF-XChange Editor are all welcomed alternatives that can help to repair broken PDF file that caused by the problematic reader.
03

Restore a Previous File Version

When the PDF file is damaged and reinstalling Adobe Acrobat Reader hasn't worked, there's another way to repair the corrupted PDF file by resoting to a previous version.

Windows has a constructed method for saving different versions of files in particular instances they are required subsequently. You can repair a previous version of a file while the most current version gets damaged or destroyed.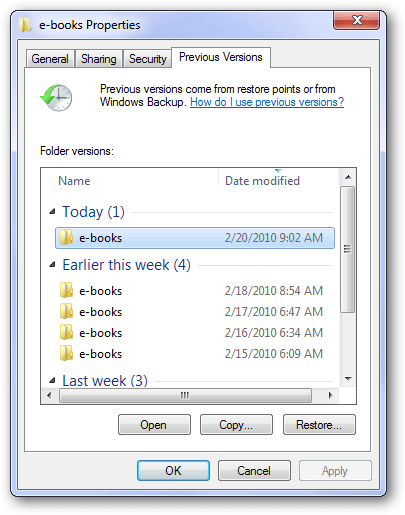 Step 1: Choose Properties from the context menu of your damaged PDF file.
Step 2: Then go to the Settings and choose Previous Versions to find the edition of the PDF file you need.
Step 3: Finally, pick Restore to return the previously installed version of the file.
04

Convert PDF to Another File Format

If you still can't open corrupted PDF file, the last method would be to convert the PDF to another file format such as Word using tool that Adobe Acrobat has.

This may cause certain data loss if not converted weill, but it may retrieve most of the data and thus enabling youto open damage PDF.
Part 3: Causes and Prevention for Corrupted PDF Files
Don't forget to check out this part since it provides the possible reasons and prevention for corrupted PDF files.
What cause the corruption of PDF files?
If a PDF file is not downloaded completely due to an unstable internet connection or a server issue, it can result in a corrupted file.
Storing a PDF file on a faulty or failing storage device (like a hard drive or USB drive) can lead to corruption over time.
Malicious software can infect files on your computer, including PDFs, causing them to become corrupted.
Using outdated or incompatible software to create or open PDF files can lead to corruption.
Problems with the software used to create or view PDF files can lead to corruption. This could be due to bugs in the software, compatibility issues, or improper shutdowns while the PDF is open.
How to prevent the PDF files from damage again?
Use reputable software to create, edit, and view PDF files.
Keep backups of important PDFs on reliable storage devices.
Ensure your system is protected against malware and viruses.
Avoid abrupt shutdowns or system crashes while working with PDF files.
Use a stable and secure internet connection for downloading and uploading PDF files.
Part 4: FAQs Related to Opening Corrupted PDF File
1

Can a corrupted PDF file be fixed?

Yes. To ensure that all content oncluded can be saved and rescued, you can try tools like iMyFone UltraRepair, the professional file repair tool for all kinds of corrupted files including PDF.
2

Can I save an iPhone screenshot as a PDF?

Click Full Page after tapping the screenshot on the lower-left side. Perform any of the following:


Save the image as Press Done.
Select Save PDF to Files.
Specify a location then tap the Save option.
3

How can I tell if a file is corrupted?

There are several signs that may indicate a corrupted file:

You get an error message when trying to open the file. Common error messages include "File is corrupted" or "File cannot be accessed."
The file contents appear garbled or incomplete. You may see strange characters or code, pieces of the content are missing, etc.
The file crashes or freezes the program when you try to open it.
You cannot open the file at all, even though you have the right program installed.
The file's icon may look generic or strange rather than showing the correct icon for that file type.
The file's size is smaller or larger than expected.
4

What to do if PDF is of invalid format?

In this case, you're recommended to convert the PDF file to another file format such as Word. Using the online tool by Adobe Acrobat is supported.
Conclusion
In a nutshell, PDF files can easily get corrupted or damaged due to various reasons. When this happens, specialized tools can be used to help repair corrupted PDF files.
File Repair Tool - iMyFone UltraRepair is a top recommendation for corrupted PDF file repair. Open damaged PDF can be realized by repairing it first!