Have you ever been going through the daunting stress of recording those actions and moments with your video recorder only to find out that, due to one reason or the other, the clips cannot be worked with because they have been corrupted? The worst part of it is that you may not be able to capture those moments in time again, so you are left to search for ways to repair the corrupted video files. In this post, you will understand why MP4 videos get corrupted, how to fix corrupted mp4 file, and how to avoid them.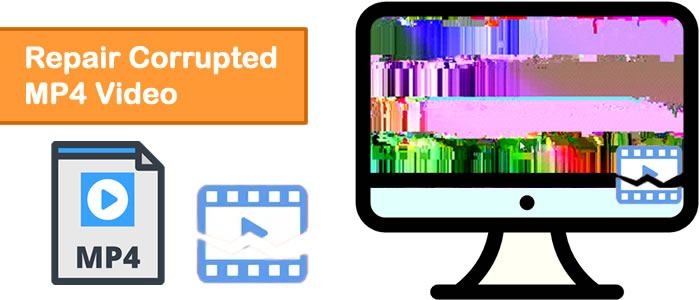 You can watch this video before go ahead to the post
[Quick Know]
Why Do Your MP4 Files Get Damaged?
The first step to solve a problem is to understand why the problem happened in the first place. In fact, there are many potential causes of MP4 files corruption; they include:
Physical damages:

If your MP4 video file is stored on CDs, flash drives, DVDs, or even hard disks, they may become broken if these physical media of storage sustain any physical damage. In this case, you even have a lot more to worry about apart from corrupting your video files. You may have other important files in the storage that you may never recover, let alone repair.

Error writing or reading data:

Every MP4 file, like every other media file, has an internal architecture and a set of written codes. Each time we read or write them, what we are invariably doing is redefining these codes and internal architecture to reflect the changes. During this process of reading or writing, eventualities that can potentially corrupt the files can occur.

Unstable internet connection:

It is a good idea to have copies of our files in the cloud for safekeeping but due to technical errors, we may have to count our losses sometimes. For example, if you have an unstable internet connection while transferring your video file to the cloud, the files may become damaged without your knowing. Now, imagine deleting the original files thinking you already have a backup in the cloud.

Virus attack:

MP4 files can become corrupted if they become infected by a virus on your system.
3 Solutions to Fix MP4 Files that Won't Play
What are mp4 video files that won't play? They are useless and storage eaters. Should you then delete them? No, not so fast. Try these few tricks first before making your final decision.
Method 1

Use Efficient MP4 Video Repair Tool
This video repair tool is a versatile tool that you can use to resolve many issues that can come with MP4 files. With iMyFone UltraRepair MP4 Video Repair Tool, you can resolve basic and simple issues like video not in sync with audio, black screen when audio is playing, flickering display, or skipping. It doesn't end there; you can also use it to recover corrupted MP4 files regardless of the cause of corruption. Currently, this program is available for Windows and the macOS.
iMyFone UltraRepair - Repair Video
UltraRepair gives you the best solution to repair your broken, black screened, corrupted and unopenable video files.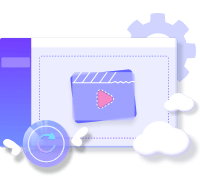 How to use the program to fix your corrupted MP4 video files
Step 1.After downloading and installing the program on your system, launch it and choose "Video Repair" module on the left side. Add your broken MP4 videos by clicking "+ Add video".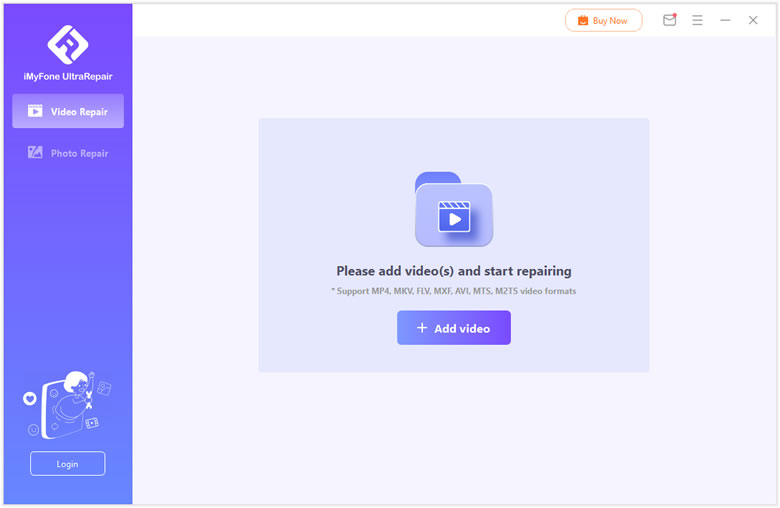 Step 2.Once the uploading process is finished, hit "Repair" to begin the repairing process.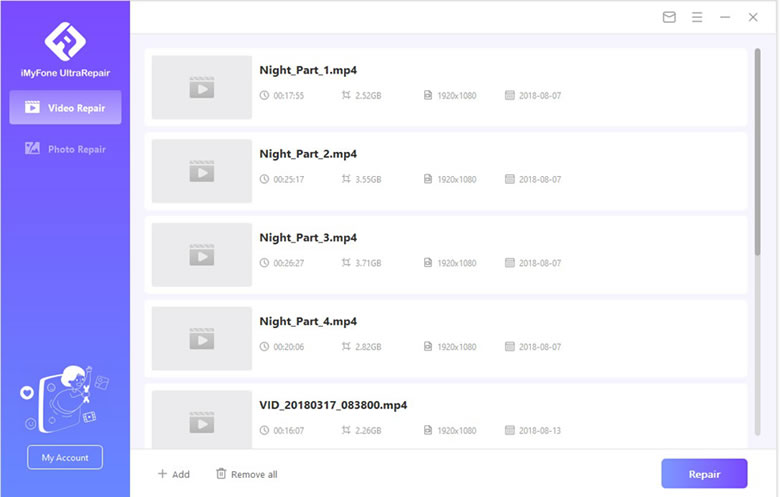 Step 3.Wait for a moment for the program to repair the MP4 file. Then click the "Yes" to save the repaired video.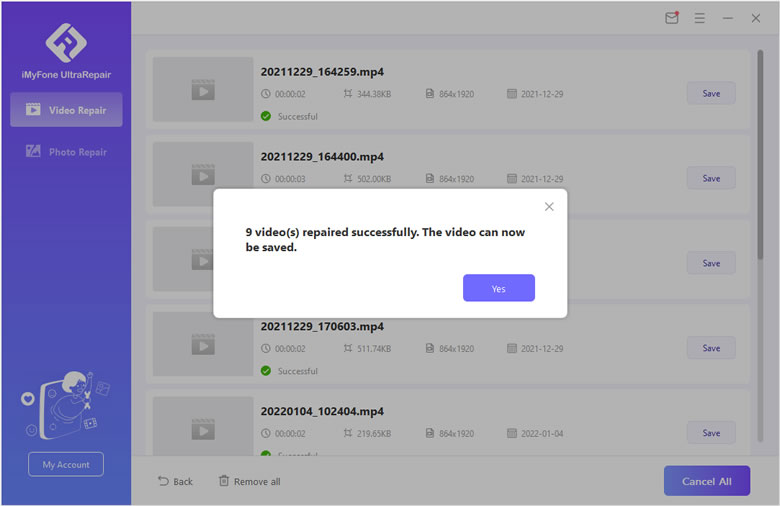 Step 4.For severely damaged videos, use the "Advanced Repair" function, which uses sample video files for more technical repairs. Note that in this mode, sample videos should be from the same device and all in MP4 format.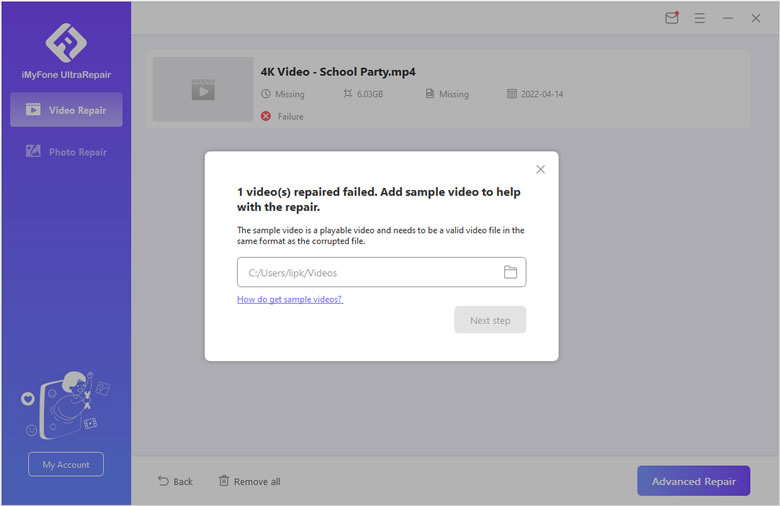 Limited Time 10% off Coupon Code for iMyFone UltraRepair: YTR5E7
Method 2

Use VLC Media Player
While VLC media player is commonly known for playing videos, many people don't know about its video-repairing prowess. It comes loaded with features to fix corrupted video files. There are different ways you can utilize VLC to repair your videos:
Way 1:

Transcoding Using VLC

Sometimes, an MP4 file may appear corrupt just because the video player you are trying to use cannot handle MP4 videos. In this case, all you have to do is to change the codec.

Steps to repair MP4 files with transcoding in VLC

Step 1: Open VLC Player and navigate to "Media", then "Convert/Save".

Step 2: Click on "Add" to insert the MP4 video(s) you wish to transcode.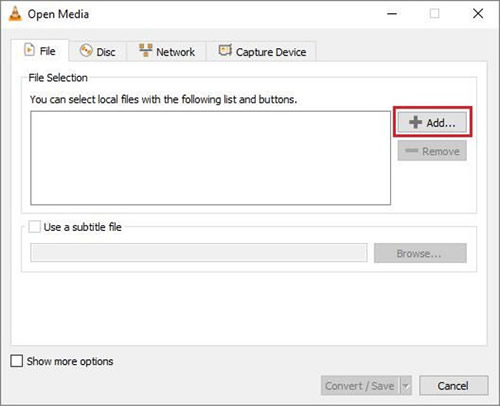 Step 3: Hit "Convert/ Save".
Step 4: You will be required to choose a name and location to save the file in.
Step 5: Choose the input codec you want from the "Profile" list.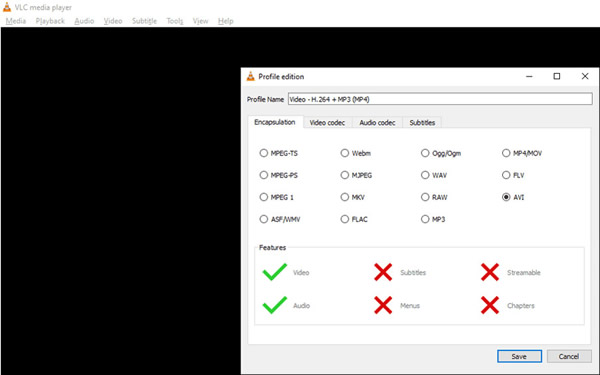 Step 6: Then click "Start" in the "Convert" window.
Way 2:

Repair Corrupt File Index and File Header Using VLC Video Fix Feature

To rename the MP4 file, right-click it, choose "Rename", and then change the file extension to .AVI. and press enter on your keyboard.

Step 1: Open VLC and go to "Tools" > "Preferences" > "Input or Codecs".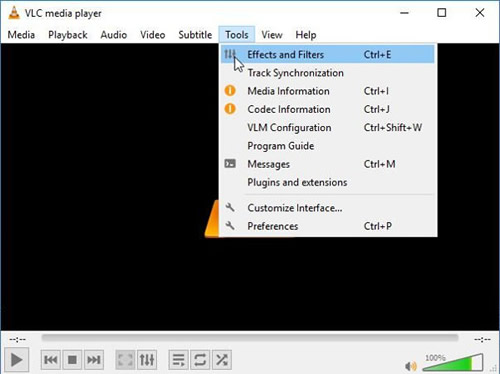 Step 2: Choose "Always Fix" right beside "Repair AVI Files" and Hit "Save".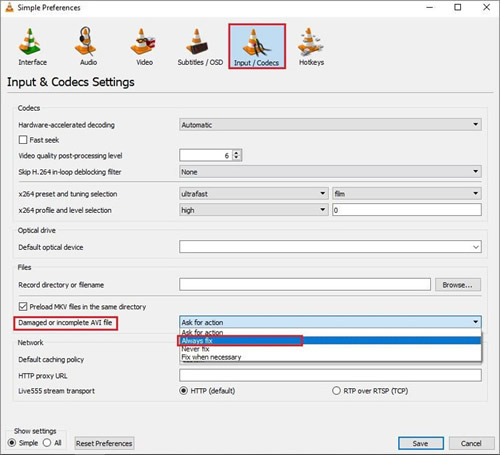 Way 3:

Increase the Cache Value in VLC Player

This method works for MP4 videos that won't play due to stuttering, choppy, out-of-sync, or lagging issues.

How to increase cache value in VLC:

Step 1: Launch VLC Player and go to "Tools" at the top of the screen; then, click "Preferences".

Step 2: Choose "All" from the bottom left in "Show settings".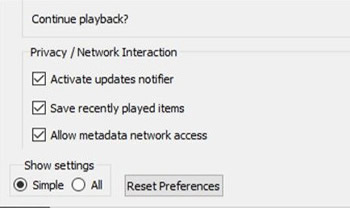 Step 3: Choose "Input/Codecs" from the list and scroll down to "Advanced" on the right panel.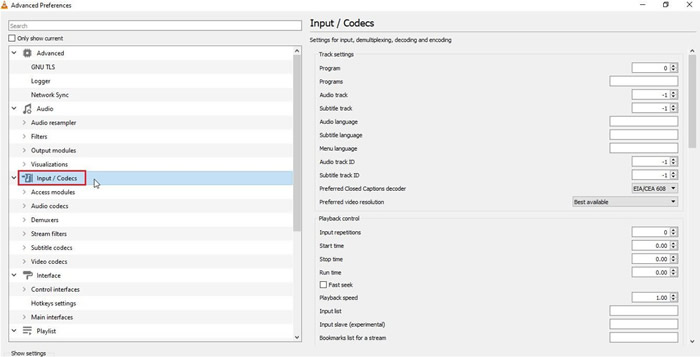 Step 4: Right below "Advanced", change the cache value "File caching (ms)" from 300 to anything above 1000.

Step 5: Now, hit "Save" and then restart the VLC Player app.
Way 4:

Change Video Output Settings in VLC

This is useful when you have MP4 files showing a white or black screen, or other forms of distortion.

How to change video output settings in VLC Player:

Step 1: Launch the VLC Player app, navigate to "Tools," then "Preferences", and hit "Video" at the top of the screen.

Step 2: Now, click on the dropdown menu of "Output" and change from "Automatic" to "DirectX (DirecDraw) video output".
Step 3: Hit "Save" at the bottom of the screen and restart VLC.
Method 3

QuickTime (For Mac Users)
This app can be used to check for corrupted MP4 video files on Mac and can also be used to fix them.
Step 1: Launch the QuickTime app and play the video you want to work on.
Step 2: Go to the "Window" tab and click "Show Movie Inspector" to display a detailed description of the particular MP4 video.
Step 3: If the video shows a black screen, it means it is corrupted. Therefore, click "Edit" under the menu.
Step 4: Select "Preferences" >> "QuickTime Preferences".
Step 5: Click "Update" to update your player; then restart the QuickTime media player.
How to Prevent MP4 Videos from Corruption
The best way to prevent this problem is to have multiple backups of the videos on different media. Doing this means that if one file is corrupted, you can easily fall back to the other ones. But we all agree that this medium may be too expensive to maintain over time; so here are some other ways you can try to prevent the corruption of your MP4 video files:
Save your video files in the cloud. There are many cloud storages you can utilize for this purpose, like Google, iCloud, etc. They are relatively cheap, and the safety of your files is 100% guaranteed.
Make sure you have an antivirus installed on your system to avoid virus.
Always ensure to send or share your video files when you have a stable internet connection.
FAQs: More Tips For Fixing MP4 Files
1

How to fix corrupted MP4 files on Android?
There are a lot of video-fixing apps available on the Play Store for you to choose from, and they are quite good at what they do. However, if none of the apps works for you, simply send the file to your PC and try any of the methods listed above.
2

Is there a way to fix unreadable MP4, MOV files online?
They exist, but you are better off using one of the methods we have compiled for you. While these online methods promise to perform magic, there's not much they can do with basic repairs, let alone major repairs on unreadable MP4 or MOV files.
Conclusion
Having corrupted video files can be nightmares to most of us - imagine you are a professional videographer with corrupt video files of a customer… The good thing is that there are plenty fixes for corrupted video files, as they have already been explained in the post, using an efficient video repair tool can help you much. One or two of the ways should remedy most of the issues that come with MP4 video files.