Have you ever wanted to unblur a video on your iPhone? Or does a video blurred in your iPhone convince you to want to make it unblurry?
Videos are becoming very popular nowadays and are being used in various ways, such as business presentations, social media marketing campaigns, online dating sites, and so on. But whenever you want to share your most precious memories with everyone else, you might encounter blur status on videos on your iPhone. This blog will share with you details on how to unblur video on iPhone in easy ways. Move on to get details!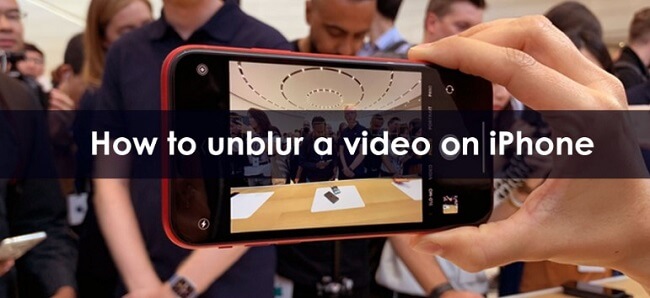 Part 1: The Reasons Cause Blurry Video on iPhone
Blurry video on iPhone is caused by many reasons. Here we are mentioning the most common reasons that cause blurriness.
The camera isn't set to the right resolution: You need to adjust your settings so your iOS device can capture high-quality video.
Using an older version of iOS: If you haven't upgraded your iOS device in a while, there's a chance that the latest version of iOS no longer supports some features.
The video is compressed: Another reason is that the video has been compressed. Compression reduces the size of files and makes them easier to download, but it also harms image quality.
Part 2: Practical Methods to Unblur a Video on iPhone
The best way to unblur a video on iPhone is by using a third-party app to help. We conclude 3 best software on the market to help you. Get the details below!
1

Unblur a Video on iPhone Using the Photos App - Free
You can easily and quickly access your photos and videos with the Photos app on the iPhone and iPad. It also allows you to edit videos. No additional tool, no fee. Easy as pie. Follow some steps below.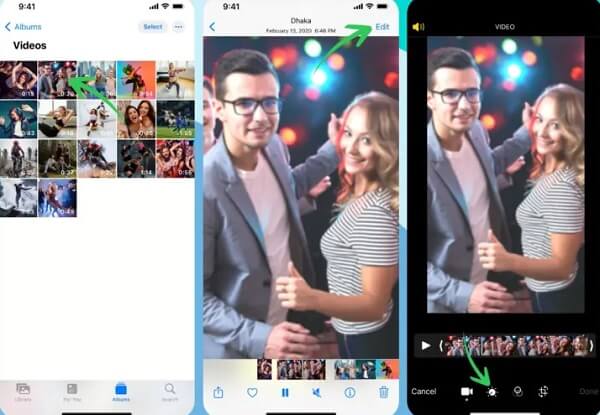 First, open the Photos app on your iPhone and tap on the video you want to unblur. Then tap on the Edit button and navigate to the Adjustment area in the video editing panel that displays.

Choose Noise Reduction by sliding to the right. And according to how blurry your video is, raise the level to 100.
After that, choose the Sharpness option on the left and raise it to 20–30.
Select Done at the end to process the video and store it in your gallery.
2

Unblur a Video on iPhone Using UltraRepair
If none of the above methods work for you, you must use the third-party tool. iMyFone UltraRepair is software that helps you fix the unblur video on your iPhone. It is a professional tool that can help you repair corrupted, low pixilation, grainy videos or have other difficulties. It can fix image files in addition to fixing videos.
Here is the method of using it to unblur the videos on the iPhone. With just three easy actions, iMyFone UltraRepair offers you the best way to fix your blurry videos.
Open the application, then select Video Repair in the left-hand menu. Add the video you wish to fix after that.

Verify the videos you've uploaded and look for any relevant data there. When everything is prepared, click Repair.

The application will let you know how the fix turned out. When it indicates that "videos fixed successfully," click Yes to proceed.

Finally, you can save a selected video to your computer.
3

Unblur a Video on iPhone via the VN app
If you want to use a third app, there is one of the best editing tools in the market that will help you eliminate the blurriness of your video. The top video editing software is known as VN video editor. This application can offer a user-friendly interface. Comparing this app to other software in its category, it performs well in several ways.
Follow the given steps to unblur a video on iPhone using the VN app.
Download and use the VN Video Editor app on your iPhone and click the Plus (+) tab on the first screen.
Next, select your video from the collection by tapping on New Project.
Hit the Filter bar and pick Adjust from the list of choices. The Sharpen menu can be found by scrolling to the right. Up the tempo to 30.

Choose Noise Reduction and raise it to 100 and tap the checkmark and give your confirmation to process. Then save your video.
FAQs Related to Blurry Video on iPhone
Here we will answer some Frequently asked questions asked by people about blurry videos on iPhone.
1

Why are videos blurry when sent from iPhone?
You share videos using iMessage could appear fuzzy for several reasons. The video quality can be too poor to be delivered as an iMessage, for example. Another option is that there isn't sufficient bandwidth to deliver the video without interruption.
2

Can you blur the background of a video on iPhone?
Yes, you can blur the background of a video on an iPhone by using the Photos app easily.
3

How can I sharpen a blurry video?
You can easily sharpen the blurry photos by using Photos app, VN app, or iMyFone UltraRepair.
4

Why Do iPhones Send Blurry Videos?
Wireless carriers might also compress the file before being sent over MMS. The transmitted file may be compressed, blocky, and grainy, depending on the device's capability to receive the iPhone video.
Conclusion
Hopefully, these tips will help you get videos looking as good as they can be. iMyFone UltraRepair always works, so now you dont have to worry about your blurry videos. Just put your videos in this third-party tool, and the work will do itself. If you have any questions or suggestions, please share them with us in the comment.