iMyFone Ultrarepair
Free download iMyFone Ultrarepair to repair videos.
We record videos of everything that happens around us. All of this media is saved on our devices and shared on platforms. But what happens when those videos get corrupted or freeze while playing?
Do you want to know which free download video repair software to rely upon when your video files no longer work? Here are the top 7 pieces of software we have found to perform the best. Let's see what they are!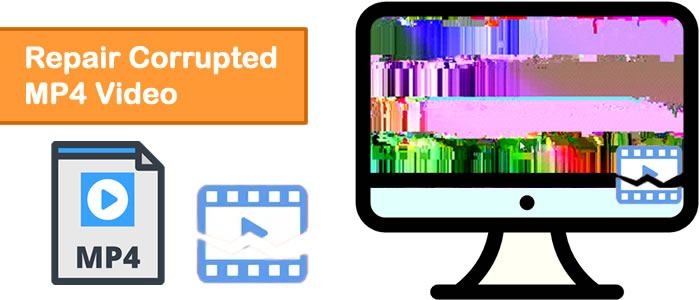 1. iMyFone UltraRepair
The first video repair tool we'll show you is iMyFone UltraRepair. This powerful software can help you repair corrupted, damaged, pixilated, or lost video files.
This is the leading solution to restoring video files that may have been improperly downloaded or start to freeze up when playing back on other platforms. Best of all, you can also use this software for recovering photos and other documents as well.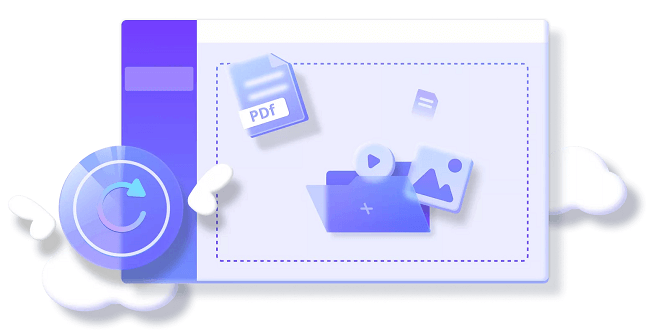 Pros
Batch multiple video files together to save time and efficiency.
Excellent preview panel, so you only work with those files you know you want.
User-friendly interface with only a few short steps to repair a broken video.
Cons
The free version shows you a preview, and the affordable premium version provides you with added features.
See how to use iMyFone UltraRepair fix the corrupted video:
Step 1.After launching UltraRepair, upload your video by clicking on Add Video.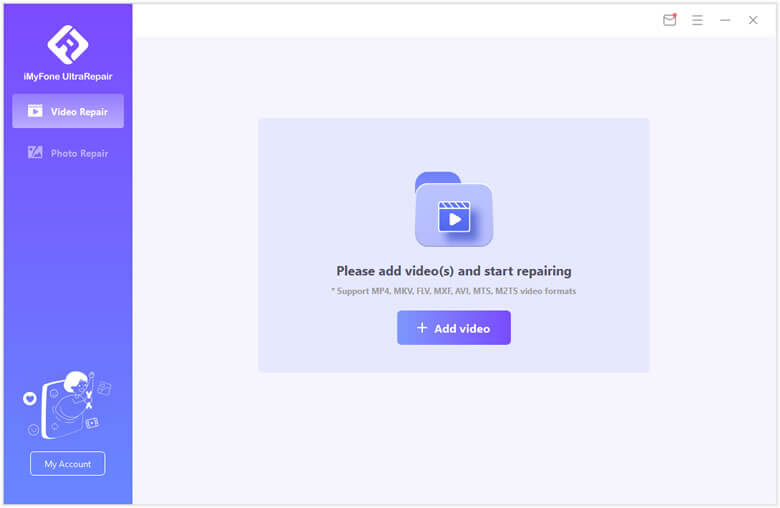 Step 2.Click on Repair to begin the repair process and wait.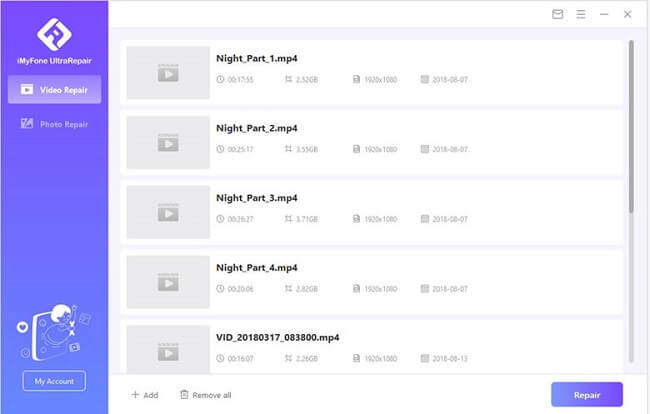 Step 3.Choose the storage space to save the repaired file.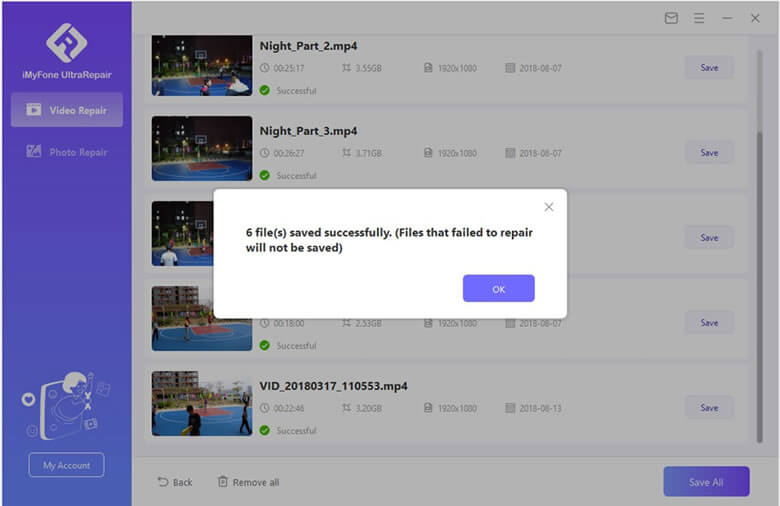 2. VLC Media Player
VLC Media Player is a free download of corrupted video file repair software is based on open-source development and cross-platform multimedia features. You can use it to repair files cracked from DVDs as we as other audio/media sources. It works best to improve corrupted or damaged AVI files and is compatible with Windows, macOS, Linux, and more.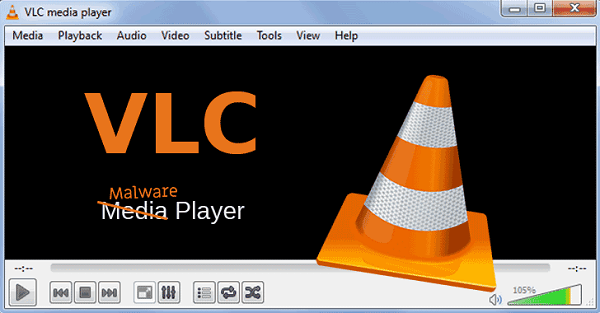 Pros
An entirely free video repair tool that is open-sourced.
There are no ads or hidden spyware to damage your machine.
The open-source developers removed any user tracking for your peace of mind.
Cons
Only works with AVI video repairing.
3. Digital Video Repair
With the free option of Digital Video Repair, you can restore corrupted MPEG 4 and AVI videos using a simplified user interface. That includes finishing out AVI, MOV, and MP4 files that may not complete while downloading on the internet. It will seek out the origin file and try to finalize the rest of the download based on what you already have saved.

Pros
100% free tool that works with most of the popular video formats.
Ability to repair video files up to 2GB in size.
Support like English, Chinese, Italian, Russian, and German.
Cons
There is no way to preview the video file before you begin repairing.
4. Wondershare Repairit
With WonderShare Repairit, you can restore incomplete indexes or missing headers/footers from video files. This fixes the ability of different platforms and software to read the original video information and then playback the file. It works with both Windows and macOS and allows you to fix corrupted, damaged, and minor issues on saved videos.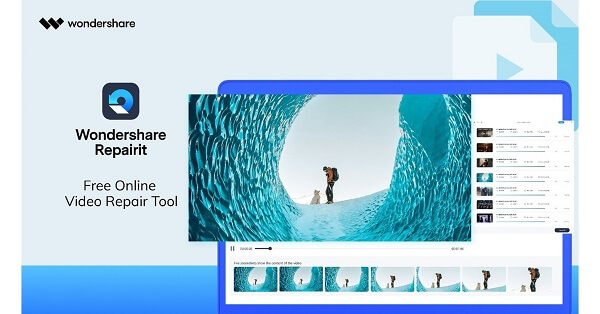 Pros
Works with a wide range of video files, such as mp4, flv, mov, etc.
Restores critical file information that allows video playback.
Straightforward user interface that is easy to understand.
Cons
The free version only allows limited features until you purchase a premium license from the developer at $69.99/month.
5. Repair Video Master
Repair Video Master is a one-click solution for repairing all kinds of separated, damaged, or corrupted video files. It uses an older user interface compared to many others on the list, but that does not take away from the capabilities of the free download video repair software.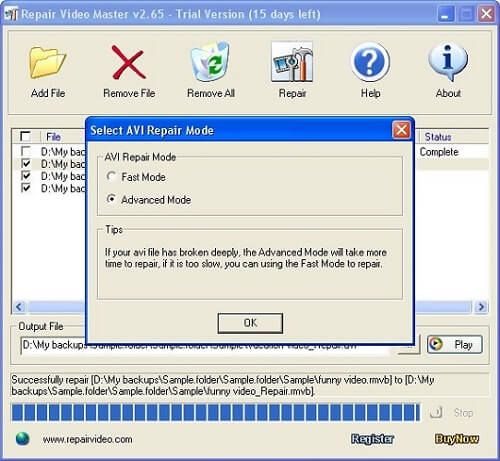 Pros
Excellent repair speed and success rate.
Used best to repair truncated or broken files.
Allows you to batch multiple files at once for a massive repair.
Cons
The free version only lets you repair videos up to 2GB in size.
6. Remo Repair MOV
Remo Repair MOV comes in two different packages for corrupted video file repair software free download. You can choose the MOV or the AVI version. Both allow you to work with the format of choice and repair damaged files, including the audio on Mac or Windows. It has a very simplified user interface that may feel older to some users.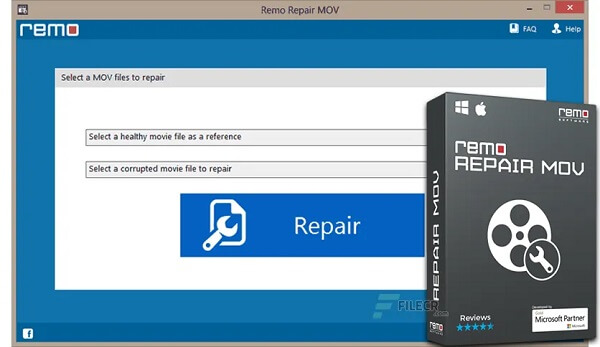 Pros
Fewer steps than most other options on our list to conduct a repair.
Fix MOV files from any source like cameras, drones, mobile devices, and more.
Available in different specialized software formats.
Cons
If you have AVI files to repair and download the MOV version, you will need to purchase the other for a successful repair. The free version only offers a preview.
7. Stellar Phoenix Video Repair Tool
Stellar Phoenix Video Repair is one of the more easy-to-understand video repair software-free options available. It works with QuickTime player videos that are not playing on either Windows or macOS. That includes repairing videos that may have gotten corrupted or damaged during a file transfer or download. Stellar is one of the more recognizable brands out there, and that is why it supports so many file types.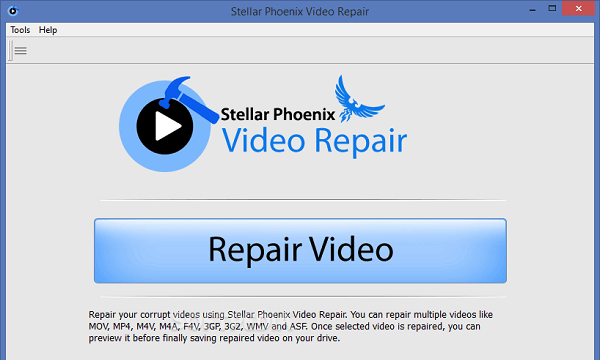 Pros
Allows you to batch multiple videos files for repairing at once.
Fixes header and corrupt movement or sound inside of the file format.
Allows you to preview the selected before saving.
Cons
The free version only works with files up to 10MB in size. You have to purchase a $49.99/year subscription for larger files.
FAQs Related to Video Repair
1

Is it possible to repair damaged video files?
Yes! Even though your video file is frozen or unplayable, using a powerful tool like our top choice iMyFone UltraRepair will allow you to regain your video file.
2

Is Stellar repair free??
You can download a free demo version that works with video files up to 10MB in size. After that, you will need to purchase an annual subscription of $49.99 to work with larger files.
3

How can I repair a damaged MKV file?
You have to use software designed for that file format like our top choice iMyFone UltraRepair. If any other free video repair tools do not list MKV files on their sites, they will not work.
To Conclude
You need a robust solution when a video file is unplayable or damaged. You can try to free download the video repair software we mentioned above to repair broken video. The best all-in-one method is to rely on iMyFone UltraRepair which has all the features for video repair. Click the button below to have a try!