8 Proven Methods to Repair Corrupted JPG/JPEG Files
Category: Repair Files
4 mins read
Photos capture those brief magical moments in our lives. It helps us record many cherished moments. But what to do the next time you try to memorize the past, only to find that the photos can no longer be opened? You may try to fix it.
But if it gets damaged or corrupted, it won't be easy to recover. In this post, I will detail what ause your JPG files to corrupt, and 9 methods on how to fix corrupted JPG files. Now, let's move on!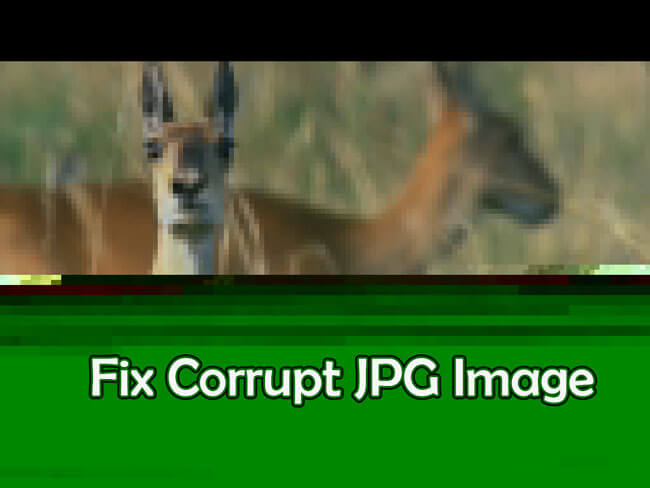 Download UltraRepair to repair corrrupted images including JPG, JPEG, PNG, BMP, GIF, WEBP, etc.
Part 1: Can You Repair Damaged JPG/JPEG Files?
Yes, you can fix corrupted JPG/JPEG files and enjoy them again. Though you may have encountered different levels of image corruption as listed below, you're still able to repair them with different methods to be introduced!
Cases of JPG/JPEG corruption
The picture looks like it's made up of big squares instead of smooth lines and colors.
Some bits of the picture might not show up at all, or only part of it shows.
Instead of clear lines and shapes, things might look fuzzy or smudged.
The tiny details in the picture might disappear, making it look less sharp.
In severe cases, you might not be able to open the picture at all, and you'll get an error message.
Part 2: How to Repair Corrupted JPG Files?
In this part, you'll learn 8 workable solutions to fix corrupted JPG files effectively.
When it comes to using a reliable photo repair software to repair JPG files, iMyFone UltraRepair is no doubt the one you're looking for.
By applying the scanning-and-fixing method, it works to restore your JPG images to their most recent form with little to no complications regardless of the corruption degree.
Whether for color distortion, blurriness, ghoste images, strange artifacts or more, feel free to let this software start repairing your files.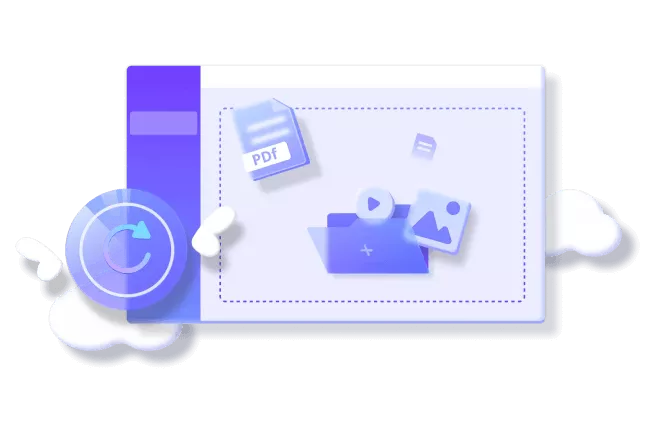 Main Features:
Support to repair damaged JPG images without losing quality.
Support to rpair imag formats including JPG, JPEG, PNG, BMP, GIF, etc.
Works with photos taken from your smartphone and DSLR camera brands like Sony, Go Pro, Canon, etc.
Support to process multiple images at once to save time.
No file size and number limit on the uploaded files.
Limited Time 10% off Coupon Code for UltraRepair: YTR5E7
Follow the steps below to fix corrupt JPG photos:
Step 1: Download and launch the software to choose Repair tab.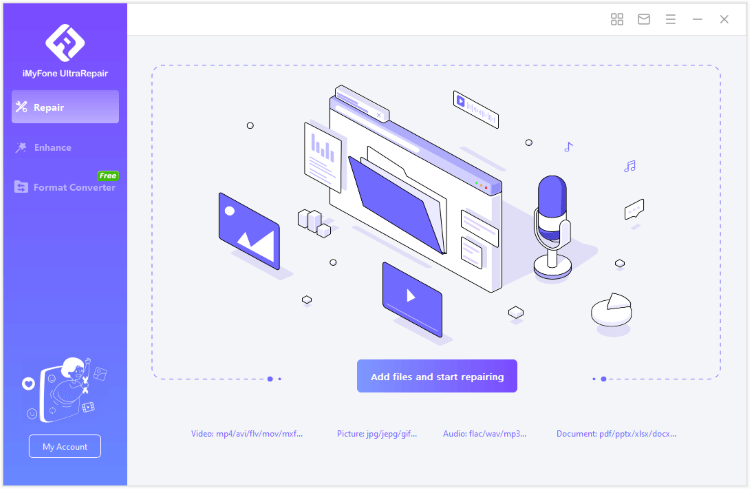 Step 2: Upload all your corrupted JPG files for fixing, then click Repair.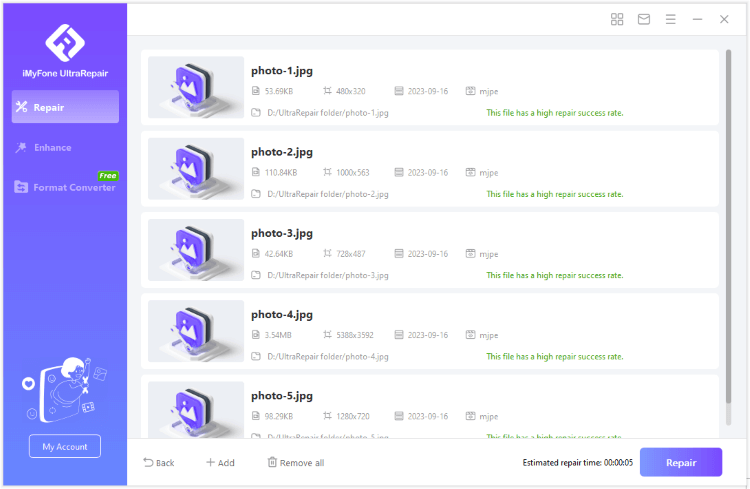 Step 3: Preview or save the repaired JPG/JPEG files.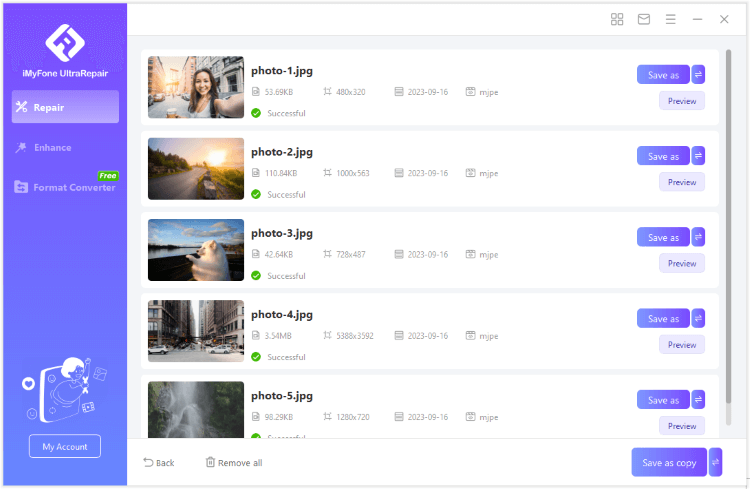 2

Rename the JPG File

Sometimes, renaming the corrupted image while preserving its extension is considered a solution to repair the corrupted JPEG file. Try to rename and then open it using the new name.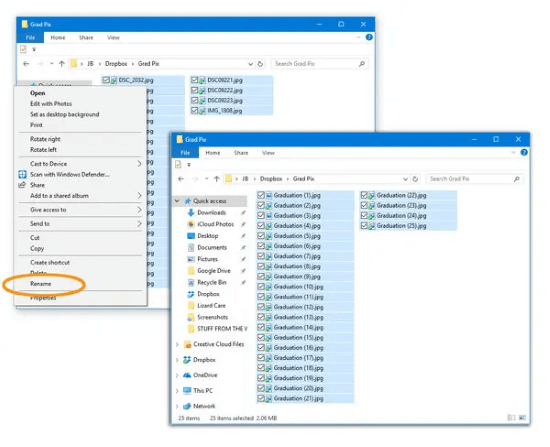 3

Re-download and Save It Again

If the network is stopped or show no stability suddenly, the JPG file you download or save might not be opened in a normal state. In this case, making sure to have a strong network connection then try to re-download and save the JPG file again.
4

Open JPG in Paint Tool

There is a Paint to comes with your PC. When you manage to re-download the JPG again after re-naming it, try to open it using the Paint tool rather than double-clicking on it.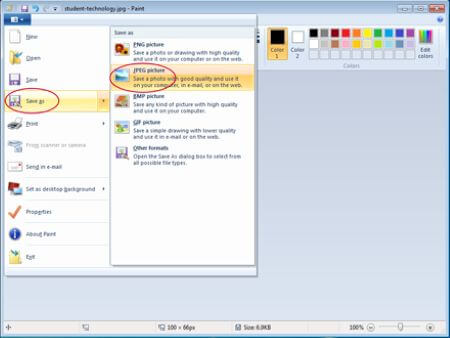 5

Convert JPG into Another Format

To repair JPG files, another simple tip is to convert its file format. You don't have to stick to that format in order to view the content.

And there are many tools that can convert JPG/JPEG format for free, feel free to choose the one you like. Or, you can try UltraRepair as mentioned, which supports to convert image and video formats for free.
6

Restore Image from Backup

Another corrupted JPG file repair method is trying to restore your image from the backup. Through this process, you can get the new JPG file that is not corrupted or damaged, and you don't have to repair it.

Whether the image is saved in Google Drive, Dropbox, or iCloud, it's likely that the files are stored in a specific folder or directory. When you find the previous backup, save them properly to prevent the file corruption.
7

Run CHKDSK to Examine

To repair JPG files, CHKDSK is deemed as another good choice as it conducts a comprehensive system scan to your entire device and correct any potential errors that it finds might be responsible for the corrupted JPG/JPEG files.

But make sure to backup or save the corrupted image files to an external device before running the CHKDSK scanning. After that, follow steps below: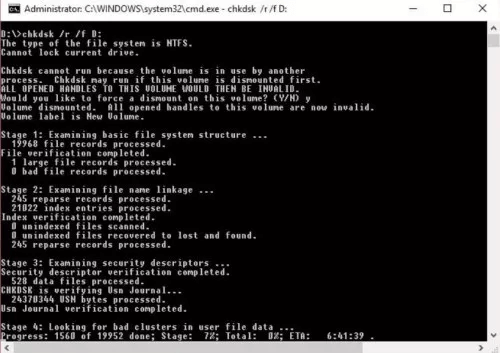 Step 1: Connect the stroage device where keeps the corrupted JPG to your PC.
Step 2: Simultaneously press the Windows + R keys, then input CMD into the window.
Step 3: Right-click on Command Prompt and select Run as Administrator option and hit the Enter button.
Step 4: Navigate to the taskbar, select the Up arrow, and double-click the icon indicating safely remove hardware and eject media in the Windows tray.
Step 5: Disconnect the storage device and then reconnect it again to check out the corrupted JPG images.
8

Try Error Checking on PC

You may not know that there is a built-in tool called error-checking on your PC, whcih can then be used to repair JPG files that are damaged. And you can follow the simple steps hereto run the test: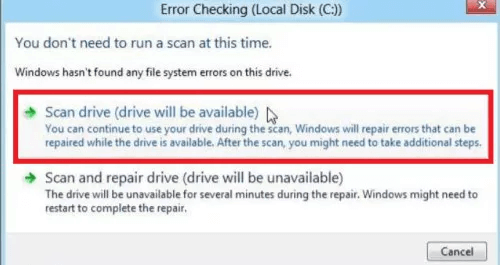 Step 1: Turn to File Explorer, right-click the storage place where the damaged files are stored, then enter the Properties.
Step 2: Click on the Tools tab and choose Check.
Step 3: From the menu, choose Scan Now to let the tool start to examine any potential errors and fix them.
Step 4:When the process is finished, try to restart your PC and see if the image behaves normally.
Part 3: What Cause JPG/JPEG to Corrupt?
After repairing corrupted JPG files, it's time to learn what and why your images are corrupted, so that you can prevent future damage.
Interrupted downloads or transfers can result in incomplete or corrupted JPEG files.
Issues within the file system, like bad sectors on a hard drive, can cause file corruption.
Malicious software can alter or damage files, including JPEG images.
Saving a new file with the same name can overwrite an existing JPEG, potentially causing corruption.
Incorrect compression techniques can lead to corrupted JPEG files.
Damage to the metadata, which contains important image information, can render the file unreadable.
Part 4: FAQs about Corrupted JPG File Repair
1

Can corrupted photos be repaired?

Yes. And it depends. If the photos are slightly damaged, you can try those comoon methods. But if it is severely corrupted, try to use UltraRepair to repair the whole of your images.
2

Can Windows fix corrupted files?

Yes. Windows has its built-in tool that works to repair corrupted images.
3

How to Fix corrupted JPG files with no data loss?

Trying a dedicated photo repair tool can be the best choice in order to recover the whole photo without data loss.
Conclusion
These 8 methods are all worth trying in order to fix corrupted JPG files. Among them, the specific JPG repair tool - iMyFone UltraRepair is more recommended as it is easier to use while ensuring a high success rate to repair your JPG files. To bring back all the cherish photos, download the software to begin the fixing process now!