How to Fix the Archive that is Corrupted in WinRAR?
Category: Repair Files
3 mins read
Archives are files that hold one or more data files. Among others, the most popular archives include Zip, RAR, Unix Tar, and CAB archives. They are useful for copying and transmitting numerous files since they make storage and portability easier.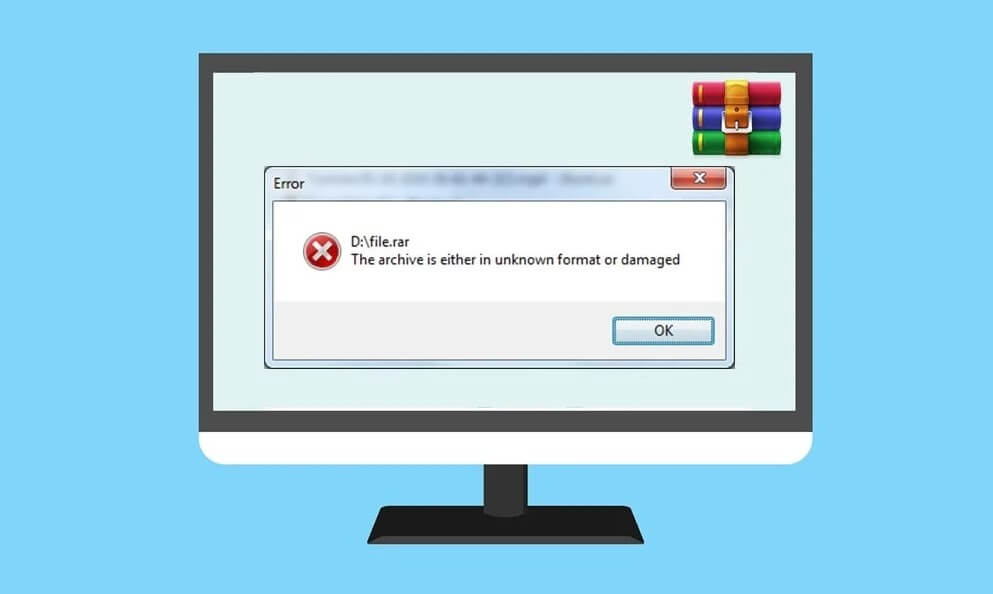 If you're experiencing trouble the archive is corrupted winrar while extracting your files from a RAR file, they might be damaged.Luckily, you've opened the right article, where we'll discuss the situations in which this problem arises and four effective solutions.
To recover corrupted files from computer or other storage devices, Ultrarepair is top recommended. how to do it is provided below.
Free download UltraRepair to repair and enhance broken or blurry videos, photos & files.
Part 1.
Why is My WinRAR Archive Corrupted?
There is a chance that the RAR file will become corrupt while extracting or compressing files using WinRAR owing to a program fault or an abrupt shutdown of WinRAR during the compression and decompression procedures.
Additionally, if WinRAR is not installed correctly and issues occur when switching from one version to another, the entire RAR file may be damaged, leading to file corruption. RAR may become corrupt for the reasons listed below in addition to program conflicts that affect the WinRAR application.
CRC Error: If a RAR file is corrupted because extra bits were added to the original file during transmission, WinRAR will indicate this when extracting the RAR archive.
Viruses: Trojan horses, worms, and other viruses can corrupt RAR archives and render them inaccessible.
Transmission Error: WinRAR files may become corrupted while being transferred from one drive to another on your computer as a result of mistakes such as unexpected system shutdown or connection loss for any cause.
Other Causes: Unknown issues that occur while using an insecure encryption program to compress files, file header corruption, a power surge while building a RAR archive, and improper downloading can all result in RAR file corruption.
All of these factors could lead to RAR file corruption, and whenever you attempt to decode a damaged RAR, WinRAR indicates that the file is corrupt. In these circumstances, a reliable third-party RAR repair tool can be used to fix the corrupt RAR file.
Part 2.
How to Fix a Corrupted Archive in WinRAR?
01

Repair Corrupted/Damaged RAR/ZIP File with WinRAR

WinRAR comes with a repair function by default, which you can use to repair your files. Please follow the steps below:

step 1. Open WinRAR and navigate to the location of the corrupted archive file.
step 2. click Repair button at the toolbar.
step 3.A dialog box will appear. Choose the location where you want to save the repaired file.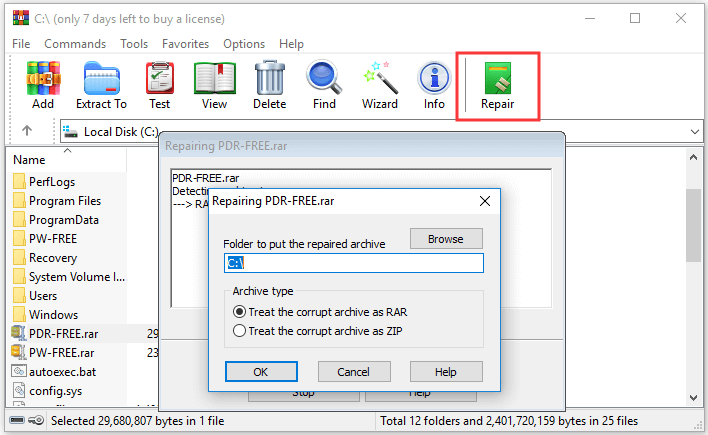 step 4.Once the repair is finished, open the destination folder to check the repaired RAR/ZIP archive file.

Please note that the success of the repair process depends on the extent of the corruption in the file. In some cases, it may not be possible to fully recover the data.
02

Re-download/Transferepair

The likely cause of a corrupted compressed file is network fluctuations or an unstable transmission connection during the transfer process. In such cases, attempting to repair the file may not recover the lost data.

It may be helpful to try retrieving the file again, whether you downloaded it from the internet or transferred it via an external hard drive, make sure to ensure a stable connection before attempting again.
03

Repair Corrupt/Damaged RAR/ZIP Files with File Repair Tools

Undoubtedly, a corrupted or damaged RAR archive can be repaired using specialized compressed file repair software. For instance, iMyFone UltraRepair ought to be more capable than the repair feature offered by WinRAR.

It uses a number of techniques to scan damaged archive files, restore archive data, and verify archive file consistency. These factors collectively enhance archive corrupted data recovery.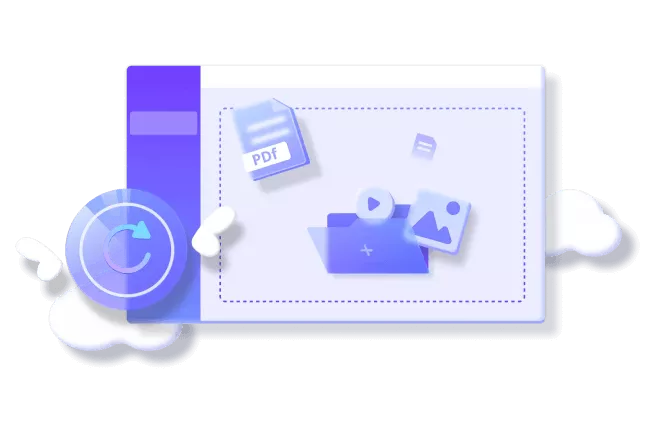 Key Features:
Fix any file errors within seconds: UltraRepair will not take more than a few seconds to repair any issues.
No more than 3 steps are needed: The process will be extremely simple and support file repair in batch.
Use file normally: You can use the Excel normally after high-success rate repairing .
step 1.Download and open iMyFone UltraRepair on your PC. Then navigate to the "File Repair" area on the left side of the software and click the "Add Files" option. It will launch a browser window and show where the corrupted file was stored. You can load numerous word documents into iMyFone Ultra Repair.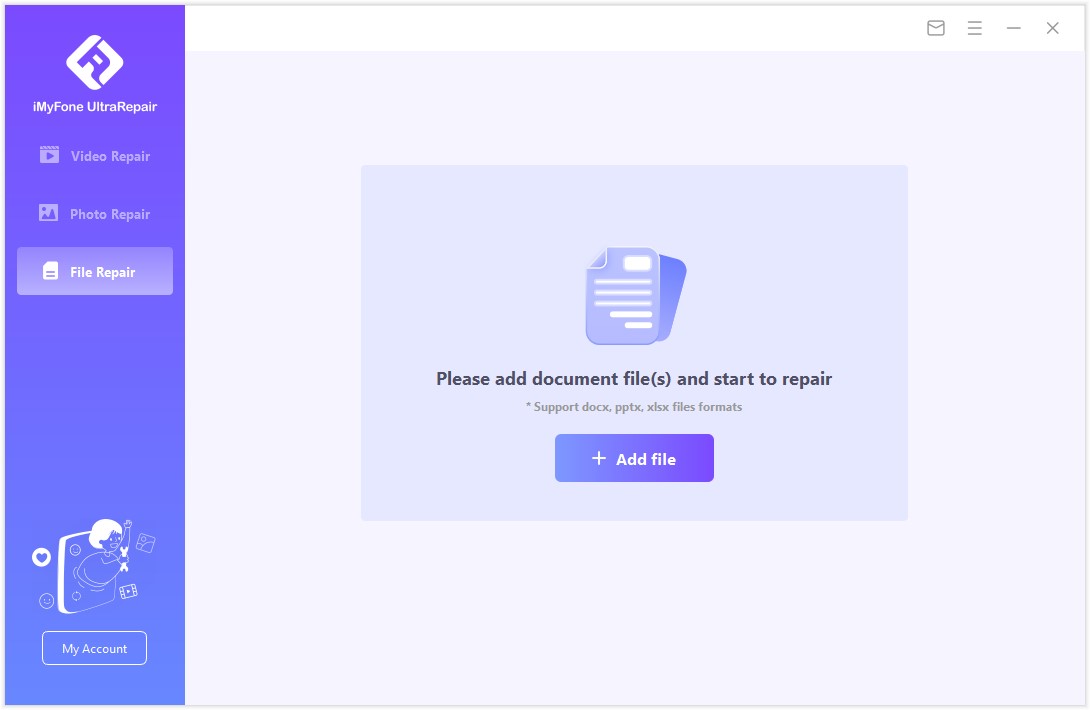 step 2.The software will import Word files from your PC and show the process on the screen. If you accidentally uploaded the incorrect file, you may remove it by hitting the trash can symbol next to its data.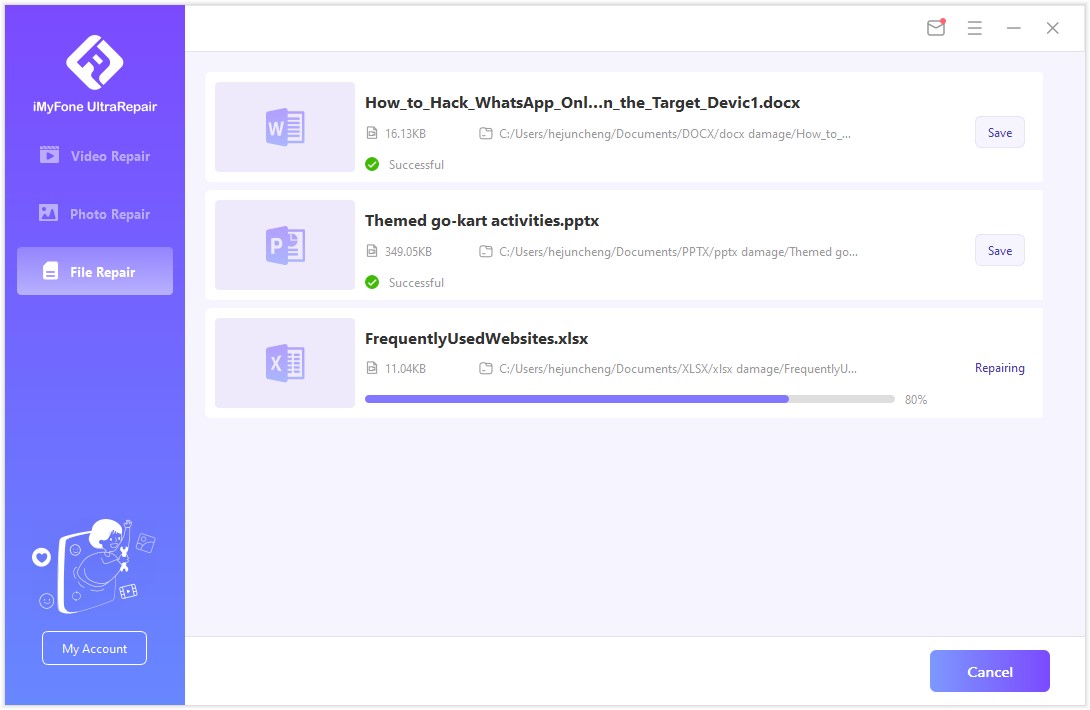 step 3. The software will scan the loaded document and correct any large or small errors. You can also stop the repair at any moment. When the file repair operation is finished, a pop-up notification will display that will alert you of the repair results. A file that has been successfully fixed will have a "Success" indicator beneath it.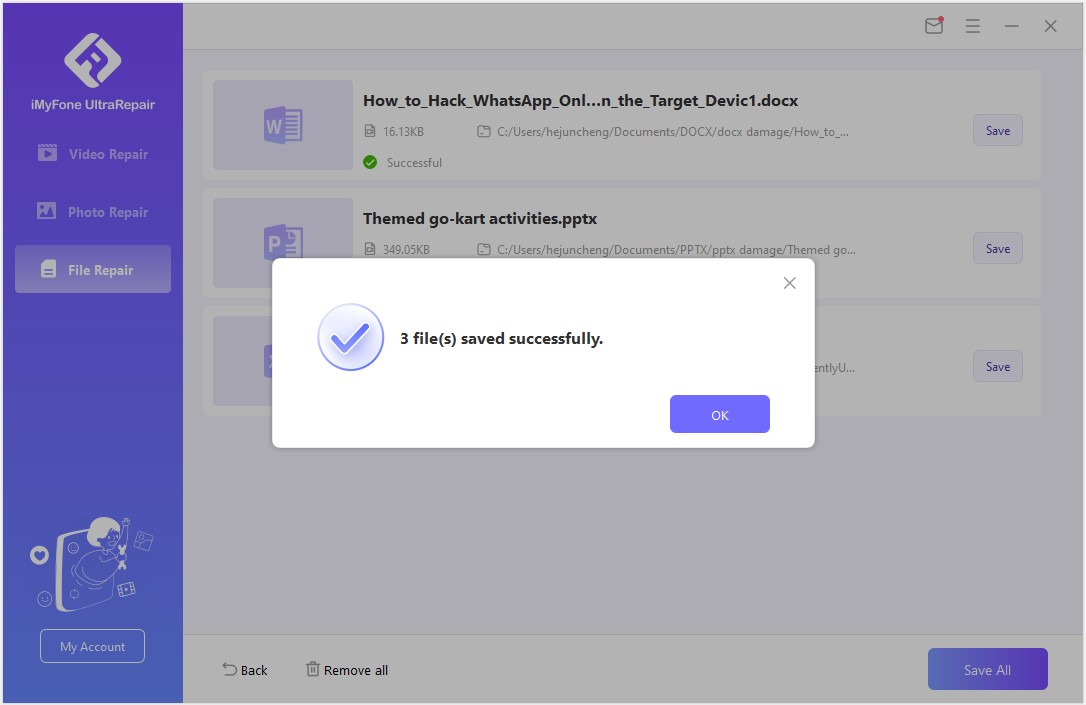 And it's done.
04

Extract Broken RAR/ZIP Archive

If after repairing the file still shows corruption, you can try to extract the remaining contents of the archive.Winrar comes with an option to extract corrupted files, which is a mandatory extraction method regardless of whether your file prompts an error or not.
step 1. Right-click on the archive file and select the "Extract Here" or "Extract files" option from the context menu.
step 2. First check the "Keep broken files" option under the Miscellaneous section,then Choose the destination folder where you want to extract the files.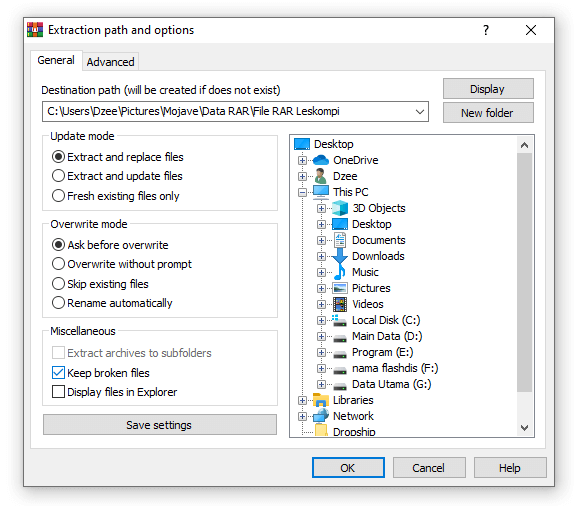 step 3.After click "ok", the extract process will begin.

Don't Miss:
[Bonus Tips]
You Have to Know about the Archive in WinRAR after Corrupted
If you use the suggestions given above, fixing RAR files is simple. You can still use some advice to keep from running into the same problems in the future. Here are a few of them:
1

Close the RAR Files Properly

Always close your RAR files properly to avoid needing to fix them after header corruption. To prevent header corruption, do not turn off the computer before closing the file.
2

Don't Download with Low Internet Connection

Sometimes, we attempt to download a RAR file even though the internet connection is weak. However, header corruption could result from this. Always check the strength of your internet connection before downloading RAR files.
3

Don't Access Files During Power Fluctuation

Wait until the light is stable if a power fluctuation could cause the RAR files to close incorrectly. To prevent damage to the file, avoid opening RAR files when there may be an interruption.
4

Use the tool-iMyFone Ultra Repair Your Archive

Utilizing iMyFone UltraRepair is another suggestion for repairing RAR files after header corruption. This software is great for mending different file kinds and will quickly restore your files to their original state. This software works to correct various problems with your files and is completely safe to use.

RAR files that are corrupt are inevitable. It could happen for a variety of reasons, some of which are largely inescapable. It doesn't necessarily imply that all of your files will be lost, though. We advise using iMyFone UltraRepair to start the procedure. This third-party software will allow you quickly access your files and is completely virus-free.