[2023] 7 Word File Repair Tools to Repair Doc Files
Category: Repair Files
4 mins read
Microsoft Word has been widely utilized for creating reports and documents across the globe. However, there are instances when you encounter a corrupted or damaged Word file, which is always frustrating.
But don't worry! In this article, we'll look at some of the best Word file repair tools for quickly fixing any Word document, so that you can check out all your important content again.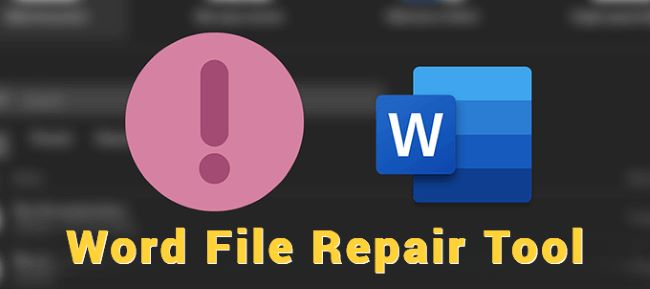 Download UltraRepair to fix broken/damaged/corrupted Word files easily.
Check out the comparison table of these Word file repair tools first:
| Tool | Compatibility | Success Rate | Batch Process |
| --- | --- | --- | --- |
| | Supports all file formats | High | |
| | Supports various file formats | Middle | |
| | Supports various file formats | High | |
| | Word Only | Middle | |
| OnlineFile.Repair | Word Only | High | |
| DocRepair | Word Only | Middle | |
| RS Word Recovery | Word Only | High | |
Part 1: 7 Chosen Word File Repair Tools
1

iMyFone UltraRepair

The first docx file repair kit of all to be introduced here is iMyFone UltraRepair. As a reliable file repair tool, it is a use-friendly desktop software that works to retrive your Word file using its deeping scanning technique.

What's more, the files it repair will retain all the original content, which means it's a safe way to repair Word file on both Windows and Mac operating system.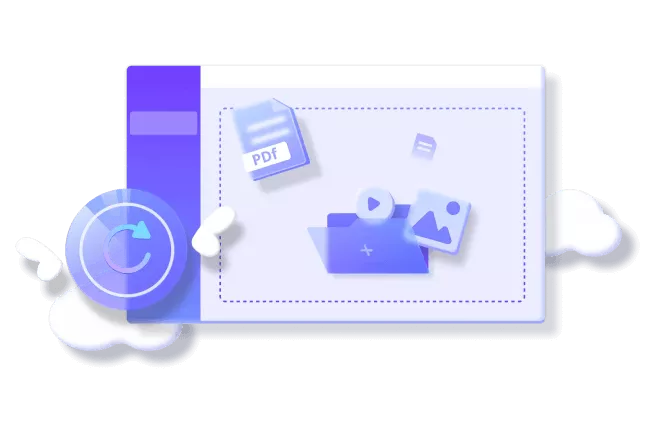 Key Features:
Fix all Word file issues including Word not opening, Word unreadable, Word file is corrupted.
It works for Microsoft Word documents of all versions, including 98/2000/XP/2003/2007/2010/2013/2016/2019/2021.
Support to repair Word files, corrupted Excel, damaged PowerPoint and PDF of all kinds of circumstances!
Support to batch process multiple files at a time.
Support to repair files without size and number limit.
Watch the video on how to repair broken .DOC/.DOCX files:
Step 1: Download and launch the software to choose Repair tab, then click Add files and start repairing to import the files.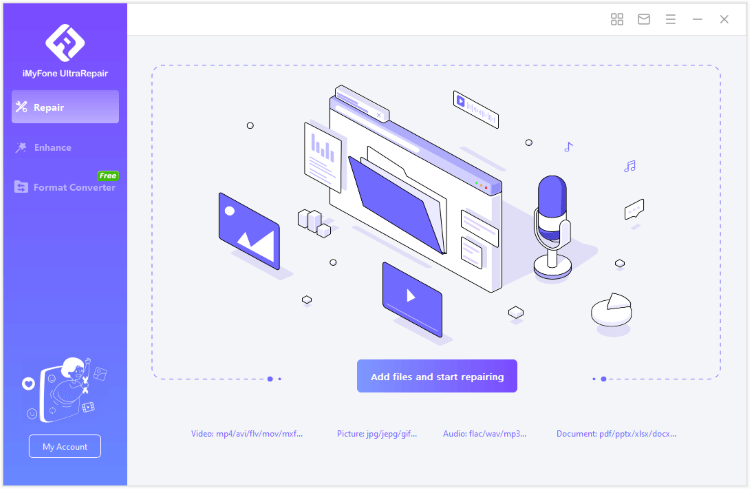 Step 2: After uploading all your corrupted Word files, click Repair.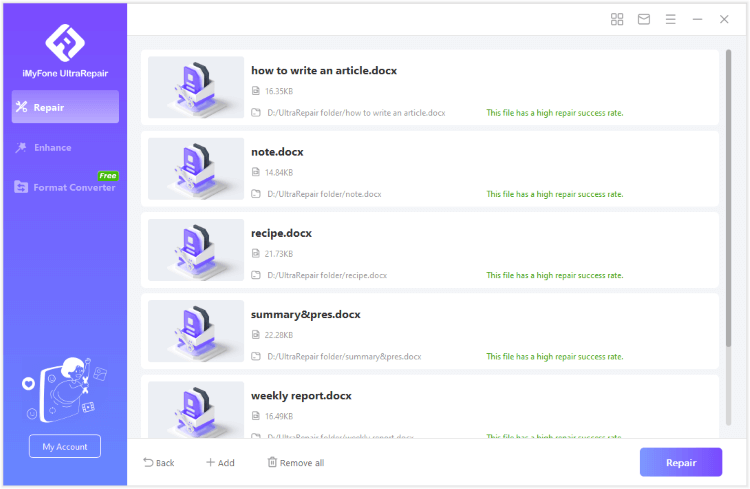 Step 3: Preview or save the repaired Word files as copy.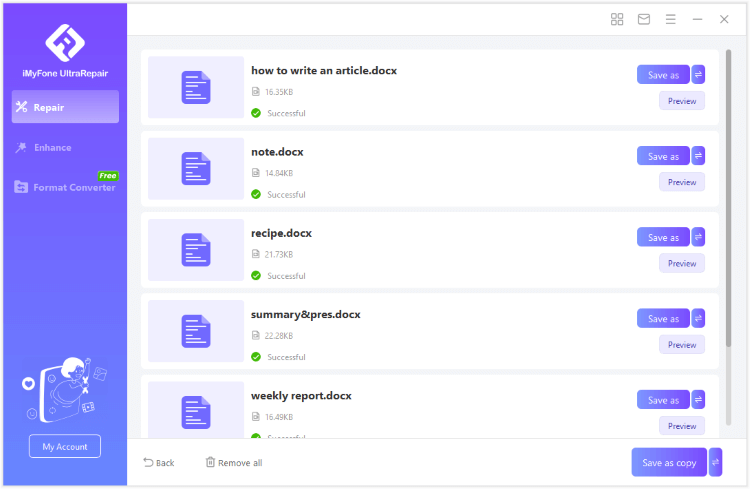 Easy to use with high success rate.
Repair damaged Word files without losing the original file data.
No limits on the number of files you can upload.
It's a desktop tool, so you have to download it to have a try.
2

Microsoft Office Open and Repair Tool

When it comes to the repair Word file tool, Microsoft Office Open and Repair Tool is also an option. It's a built-in repair feature provided by Microsoft, so you don't need to download any additional software. Plus, its official nature ensures it's a reliable solution to repair docx file.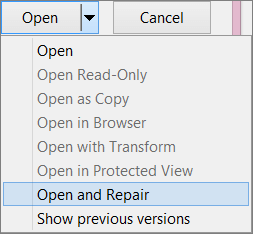 Step 1: Click on the File > Open from the menu.
Step 2: Turn to Browse to navigate where the file is stored.
Step 3: Once you've located the file, click on it, and then click the arrow next to Open. Finally, select Open and Repair to initiate the repair process.
If you're using Office 2013, choose the appropriate location like OneDrive or the local Computer, and then select "Browse." If you're using Office 2010, you can skip the step of clicking "Browse."
Its built-in feature makes it easily accessible.
No need for downloading another software.
It is compatible with various versions of Microsoft Office.
The Open and Repair Tool is designed specifically for file repair.
Limited success when compared to other solutions.
If you don't have Microsoft Office installed on your computer, you won't be able to use this tool.
3

S2 Recovery Tools

Another useful and dependable Word file repair tool is S2 Recovery Tools. Corrupted or damaged Word files can be safely and simply recovered using this tool. It is available for free download and supports Windows OS.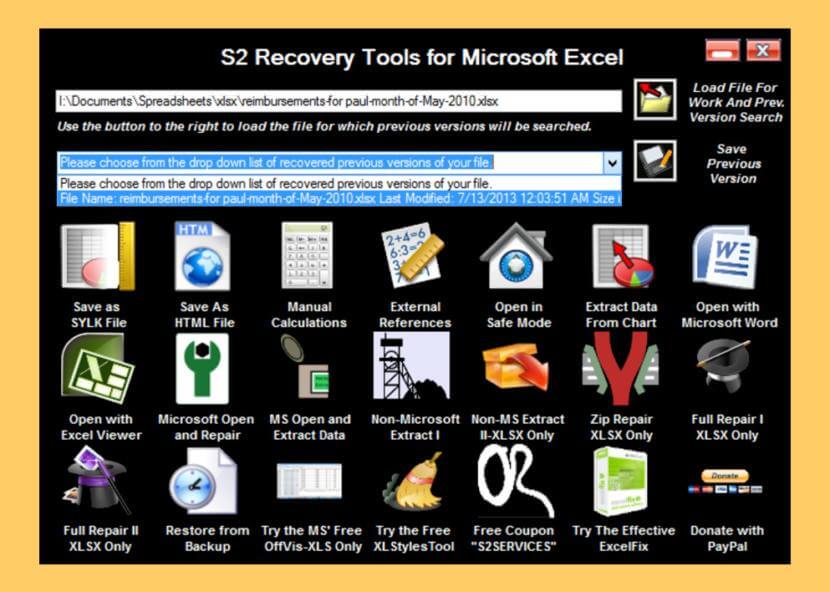 Varied independent methods for opening and repairing corrupted Word files.
you can utilize its file recovery and repair capabilities.
Easy access to prior versions of your corrupt file if they exist on your PC.
Free service takes 14 days to complete.
4

Online Office Recovery for Word

And to find a tool to repair .doc file online, Online Office Recovery for Word can be a choice to try using any browser. With its web-based nature, you can effortlessly access to it for free on any platform, without the hassle of downloading any software.

It offers the convenience of being an online service.
You can utilize its file recovery feature at no cost.
Can only be accessed when the network is stable.
When using an online service, it's important to consider the security of your files.
The average success rate of this tool can be relatively low.
5

OnlineFile.Repair


OnlineFile.Repair website is a user-friendly and visually appealing platform that specializes in fixing corrupted Microsoft Word documents. The best part is that it's easy to use so you can repair your Word docx files online in a matter of seconds.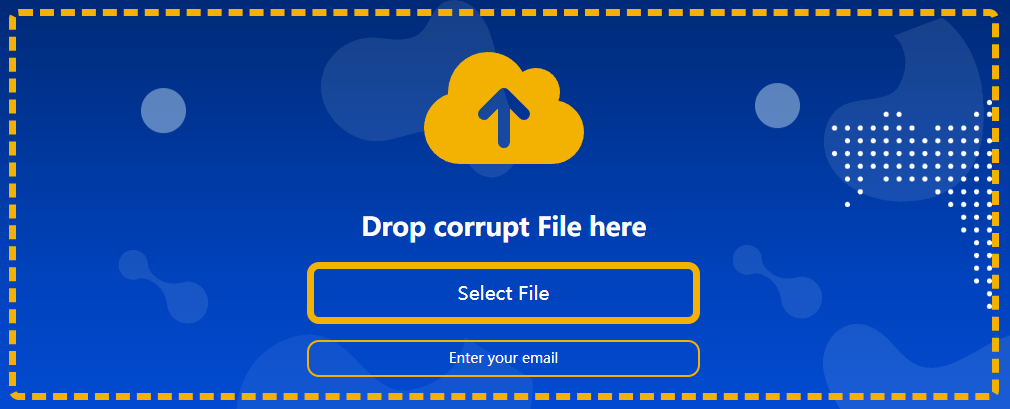 The tool focuses on extracting text from damaged Word documents.
The service supports documents with ASCII and/or Unicode encoding.
Easy access to prior versions of your corrupt file.
It does not restore tables, images, hyperlinks, or other objects from the documents.
The service does not recover data from password-protected or encrypted Word files.
It has limits on the file formats.
6

DocRepair

This nifty docx file repair kit is also your go-to solution for restoring damaged Word files. Just keep in mind that it's exclusively compatible with Windows. And it offers the free trial version to let you run the test first.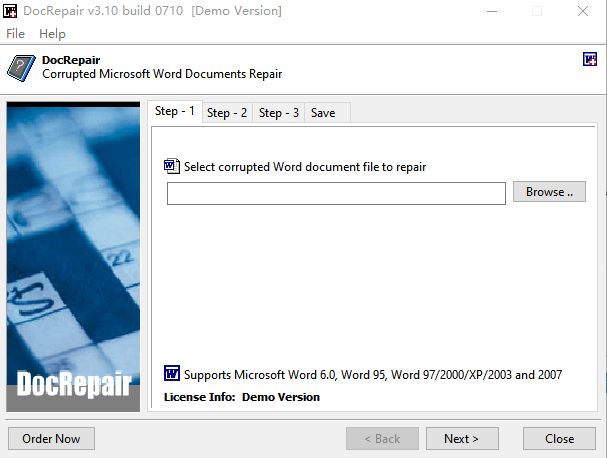 User-friendly interface.
Offers the free trial.
For advanced repairing, you need to pay. 
No guarantee of complete recovery.
Lack of additional feature.
7

RS Word Recovery

RS Word Recovery works seamlessly with various storage media and file systems. By employing Content Aware Analysis, it thoroughly scans the entire disk surface, enabling it to locate the file's origin by searching for its distinctive signature.
It offers multiple recovery modes, such as Quick Recovery, Full Recovery, and Raw Recovery.
It enables you to verify the integrity and quality of the recovered data.
It requires to pay before trying to use it.
No that easy to use.
Part 2: Hot FAQs about Word File Repair
01

How to define if it's the Word application or the Word document corrupted?

There's a potential that a Word document you have is corrupt if it's acting strangely. Among these signs include, but are not limited to:

The moment you open the document, the computer becomes unresponsive.
Formatting and layout of documents are always changing.
The paper is filled with characters that are difficult to read.
When trying to load the document, you receive a "Unspecified error" warning.
02

Where is open and repair in Word?

Launch Word and select File > Open > Browse. Click the dropdown arrow next to Open to display the Open and Repair option after selecting the corrupted Word file.
03

Why is my word document not opening?

You can't open word documents on Windows for the following reasons:

The error message displays when you attempt to open a document created in an earlier version of Microsoft Word, like 2007.
Perhaps you installed add-ins that are now interfering with your ability to open documents in Windows, which is why it's happening.
If you have several open documents and attempt to save them all at once, your Microsoft Word window may close as a result.
04

How do I fix a corrupted DOCX file?

Try using the Word file repair tool such as iMyFone UltraRepair, which makes it easy to recover the whole DOCX file by deep scanning the data.
Part 3: How to Prevent Word Files from Corruption
Though you can always try these tools to repair the Word files, knowing how to prevent the problem from happening again is also important.
Interrupted downloads or transfers can result in incomplete or corrupted JPEG files.
Create and maintain backups of your Word files at a regular time.
Opt for high-quality and reliable storage devices.
Ensure Microsoft Word and your OS are up-to-date all the time.
Use reputable antivirus software to safeguard against malware.
Always shut down Word and your computer properly.
Avoid editing over slow or unreliable networks.
Keep file names reasonably short and free of special characters.
Conclusion
Though as a crucial tool, MS Word is vulnerable to damage and corruption. Incase like that, using a dedicated word file repair tool to repair doc files should be the quickest solution.
And with all tools discussed, iMyFone UltraRepair is considered to be the most professional and simplest tool to fix the corrupted Word files, with no data loss during its file-repairing process! Download to let it repair your files now!