MDM has been widely used in businesses. It helps companies manage mobile devices. Due to its inconvenience and insecurity, many people want to bypass MDM for full access to their devices. Here is a breakdown of the 3 best MDM Bypass Tools that you could try.
Part 1: Brief Introduction to MDM
Mobile Device Management (MDM) is typically deployed by organizations that need to monitor and limit how the mobile devices are used. The software allows organizations to keep track of devices, install certain settings and apps as well as many other capabilities.
One of the main reasons that many corporates apply is that it provides high-level security to enterprise data. It ensures that the devices are secure therefore keeping the business information that is stored on the device safe and secure. Corporate data such as email and enterprise apps will be encrypted and processed separately from personal data.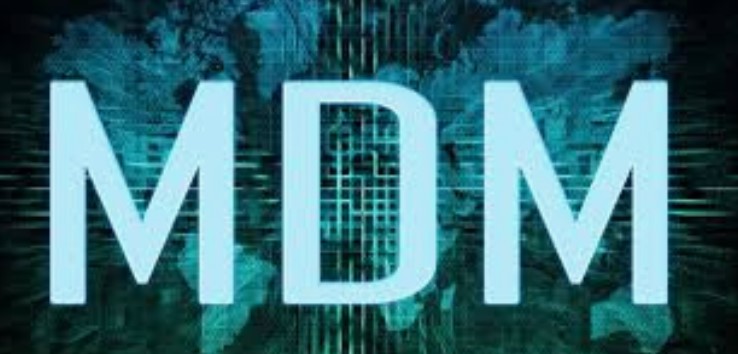 Part 2: Top 3 Best MDM Bypass Tools in 2023
For whatever reason, someone may wish to remove this management tool from their device. This requires a bypass tool. There are loads of different tools but they all do the same thing, simply remove the management tool on the device, allowing you to use it as you wish.
Top 1: iMyFone LockWiper
As one of the most popular programs used for solving MDM problems, iMyFone LockWiper requires no technical knowledge about removing MDM.
If you are suffering from MDM problem, you shouldn't miss iMyFone LockWiper. With high success rate of MDM removal, this software can easily bypass MDM activation on iPhone, iPad and iPod touch.
Key Features:
User-friendly and even first-time users can use the software smoothly.
Bypass MDM quickly with only 1 click.
No need for username and password during the MDM bypassing.
Your device will be no longer monitored and limited by any organizations.
All features of your device will be accessible once the MDM has been bypassed.
It can also unlock Apple ID, bypass Screen Time passcode or restriction passcode and remove passcode from locked/disabled/broken device.
Here's the step-by-step process on how to bypass MDM activation using iMyFone LockWiper.
Watch Video Tutorial to Bypass MDM Activation step by step in 2023
Step 1: Download iMyFone LockWiper and launch the software. On the main interface, Click on "Bypass MDM" mode.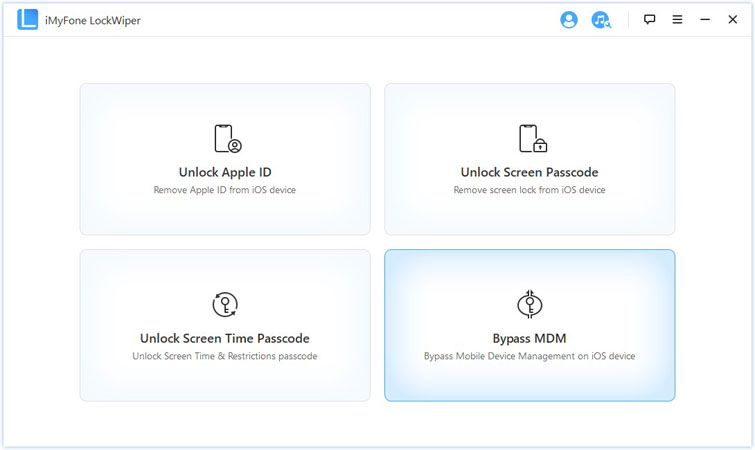 Step 2: Connect your iOS device to PC via an appropriate USB cable.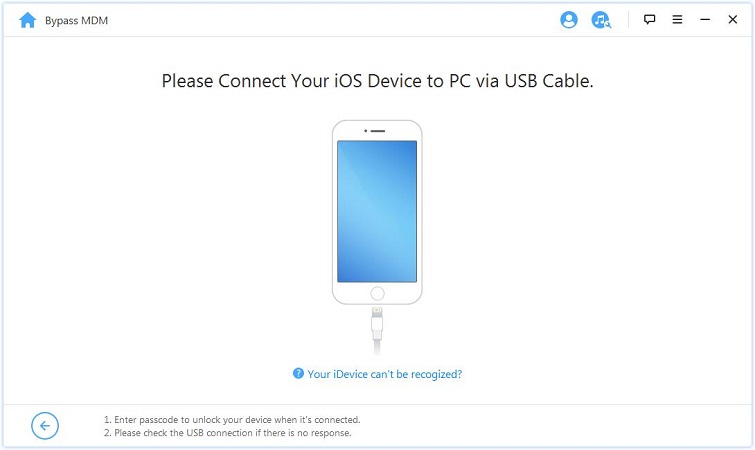 Step 3: If your iOS device is locked out of the MDM screen, please directly press the "Start to Bypass"; if you want to directly delete the MDM restriction, reset your device first via "Settings > General > Reset > Erase All Content and Settings". Then click "Start to Bypass".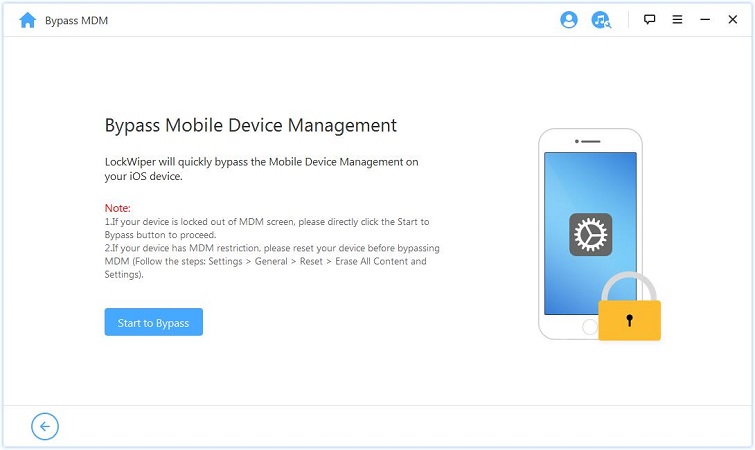 Note:
Please make sure your iOS device is on the MDM Remote Management screen before you start to bypass MDM.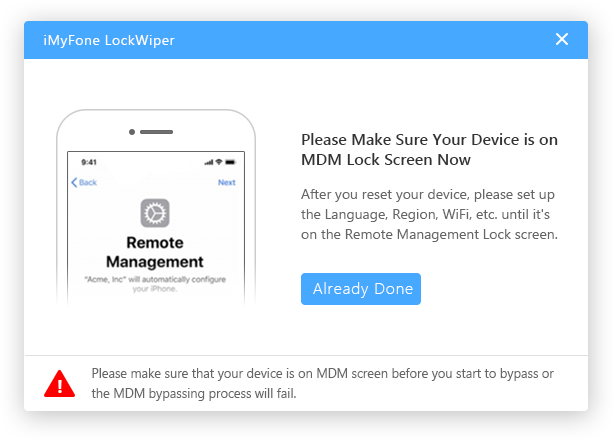 Step 4: Then LockWiper will immediately bypass the MDM on your iOS device.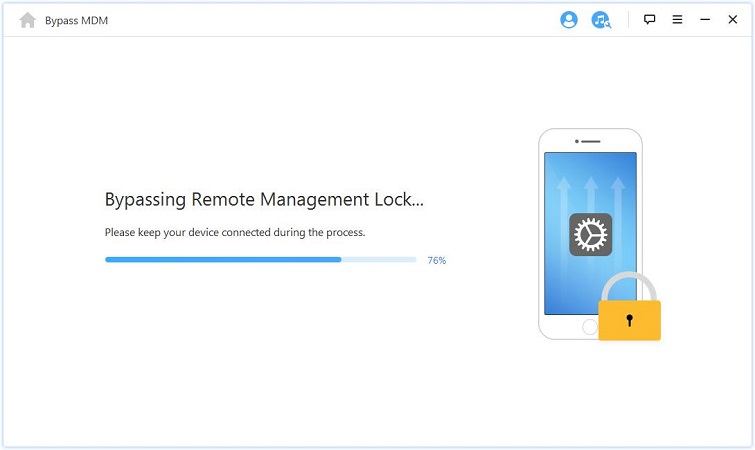 Once the process is finished, the MDM on your device has been successfully bypassed or deleted.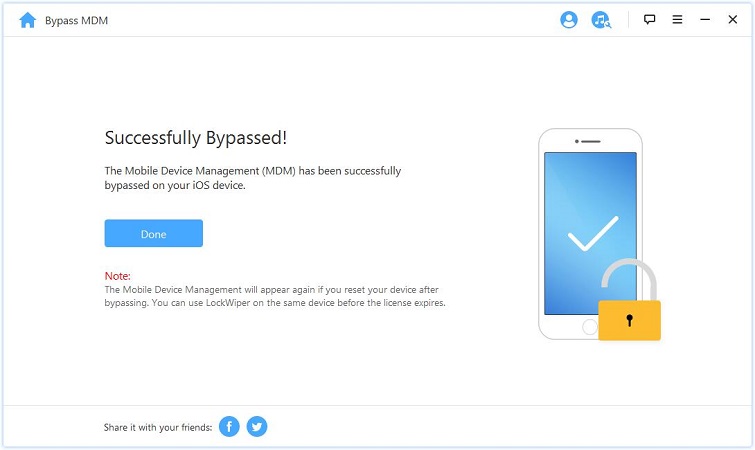 ---
Top 2: iActivate
iActivate is specifically designed to bypass and remove MDM configuration profile on iPhone, iPad, iPod touch. It supports all iOS systems including the latest iOS 13.5. It requires no special knowledge to use this software.
The tool is able to remove MDM's from any iPhone, iPad or iPod in as advertised on their site, 'just one click'. They also make it very clear that they provide full support for future updates and the bypass tool will be provided for the device, for free, after any updates.
Main features it can offer:
It can remove MDM/DEP in settings.
Remove all iOS restrictions made by cRemote Management iOS Profile.
It can completely remove your device's corporate supervision.
Easy to use with simple user interface.
How to use iActivate to bypass MDM:
Step 1: Make sure your "Find My iPhone" function turned off on your iOS device.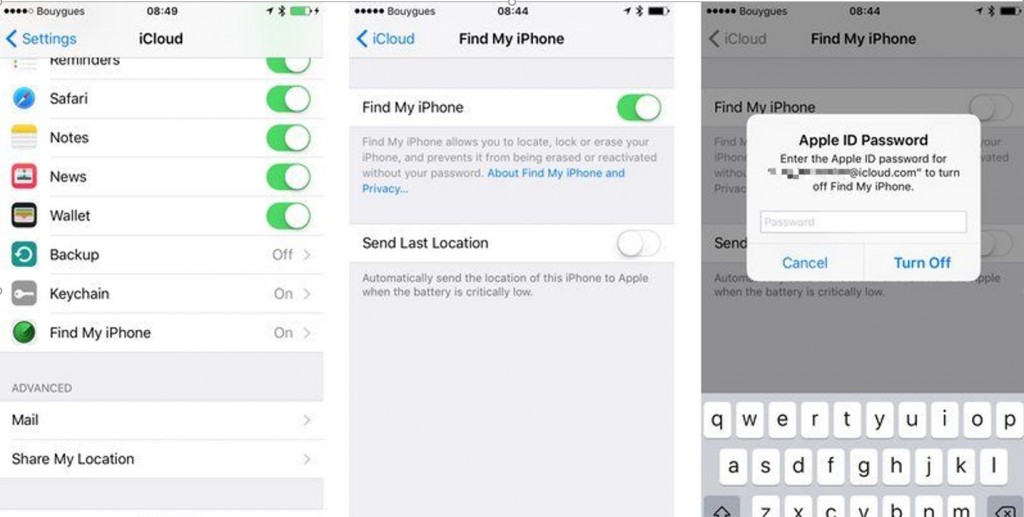 Step 2: Order MDM Bypass Service and download the software.

Step 3: Your device must be turned on. With this, connect your iOS device to your computer for iTunes to detect it. Click on "Trust This Computer" on the connected device if required.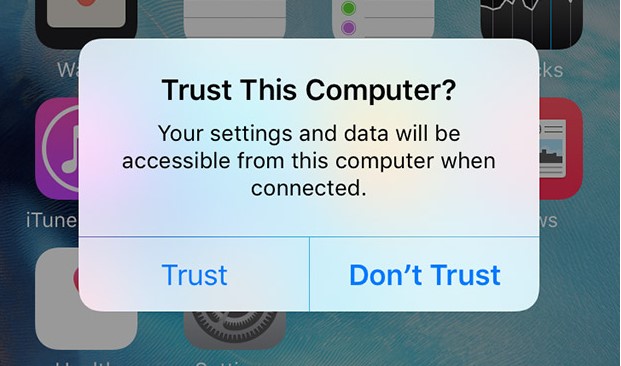 Step 4: Install and Run iActivate. You will see details of your device like IMEI, Serial and UDID, iOS version. This means that our soft successfully detected your device. Click on "Start MDM Bypass".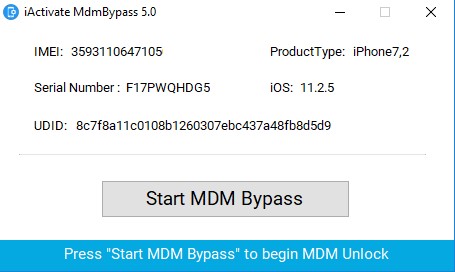 Step 5: Wait for the bypassing until device reboots. Then activate it using Wi-Fi.
---
Top 3: MDMUnlocks
MDMUnlocks is a well done MDM bypass tool that helps secure and manage your iOS devices. It works by installing MDM software to your laptop/desktop device - can be windows or mac - and as you reset your device for the bypass, you run the software. The tool provides a bypass for all Apple iOS devices (iPad, iPhone or iPod) and support up to iOS 12.
Main features it can offer:
Support MDM removal on iPhone/iPad/iPod Touch.
Support operation system both Windows and Mac.
More affordable price to provide MDM bypassing service. (It costs $10.)
It can also unlock iCloud and network (with extra costs).
How to bypass MDM with MDMUnlocks:
Step 1: First, go to the its official website: https://mdmunlocks.com/. order the service by clicking on "AUTHORIZE NOW" or "BUY NOW" button. Then enter in the field Device Udid or SerialNumber which will be registered automatically.
Step 2: After your SN/UDID gets authorized, download the tools based on your computer running system.

Step 3: Download iTunes from Apple Store (if you have Microsoft Store, uninstall it). Restore your device with iTunes. When the restore is finished, iTunes will start counting down to 10. Immediately close it and open MDMUnlocks.
Step 4: Wait for tool to detect the device. When the tool detects the device, just hit "Bypass MDM" button and wait for Message Bypass Done. Disconnect device and follow the steps to activate it.
---
Part 3: Which Tool Should I Choose
After 3 best MDM bypass tools have been introduced, you may be confused that which tool suits you the most. Take a look at the following comparison between these 3 software tools:
1. MDMUnlocks
most affordable
most user-unfriendly
most limited features
If bypassing MDM with low cost is the only thing you want, then maybe MDMUnlocks will suit you most. It only costs you $10 to do the MDM bypassing job. However, not only do you need to download the software, but you also need to register the udid or serial number on the server. Besides, it can only support iOS system up to the iOS 12.x. If your iPhone has updated to the latest iOS 15, then this tool may not solve your problem.
So, the basic MDM removal feature and low price are what MDMUnlocks can only offer.
---
2. iActivate
higher in price
user-friendly
a few more features than MDMUnlocks
The price of iActivate is $45, 4.5 times higher than MDMUnlocks in price. However, it can not only remove MDM but also DEP, Data Execution Prevention for computer security which is similar to MDM. After purchasing and downloading the software, you can use it to remove MDM easily with just 1 click. However, there is not much to offer apart from MDM removal.
Therefore, if you only want to remove the MDM easily without caring too much about the price, iActivate may be the one you want.
---
3. iMyFone LockWiper
easy to use
support various lock removal features including MDM removal
offer different purchasing plans
If you are searching for a user-friendly software tool to bypass or remove MDM, then you can also consider iMyFone LockWiper, which enables users to remove MDM with only 1 click. You don't have to do any registration like MDMUnlocks does. It offers 3 plans for your purchasing: 1-Month Plan for $29.95, 1-Year Plan for $39.95 and Lifetime Plan for $59.95. Besides, iMyFone LockWiper's 30-day money back guarantee can relieve you from the worry about using your money on an unsatisfying product.
What makes iMyFone LockWiper stand out is that apart from removing MDM, it can also do some other unlocking jobs such as unlocking Apple ID, removing iDevice passcode, bypassing screen time or restriction code, etc.
In conclusion, if you want a most cost-effective, most multifunctional yet easy to use MDM removal, then iMyFone LockWiper is the best option you can get.