iPhones are fantastic devices. From their beautiful designs to all the features they pack and their cameras. Thanks to these features, people use their iPhones for almost everything, and this means a lot of useful data is stored in iPhones. What then happens if you forgot your iPhone passcode or get locked out of your iPhone?
Top 4 Methods to Change Passcode on iPhone If Forgotten
Forgetting passcode is usually a daunting situation. Here we are going to introduce you top solutions to change your forgotten passcode and regain complete access to your device.
1

Forgot Passcode on iPhone? Change It by Using iMyFone LockWiper
Forgot your iPhone Passcode and get locked out of it? The first thing you should do is unlocking your iPhone. iMyFone LockWiper is such a fantastic tool which can perform unlock operations. A significant point you would notice on using this app is its simplicity - whether or not you have technical skills, you can use LockWiper intuitively.
Key Features of iMyFone LockWiper
Allow you to change passcode on iPhone even if you forgot it.
Bypass screen passcode for iDevices which is locked, disabled or with a broken screen.
Support all sorts of screen locks including 4-digit/6-digit passcode, touch ID, face ID, etc.
Remove Apple ID/iCloud account devoid of password for iPhone, iPad, and iPod touch.
Works with all iOS versions and iPhone models, including the iPhone XS (Max).
Steps to Change Passcode on iPhone with the Help of iMyFone LockWiper
Step 1: Open LockWiper on your PC, click on the "Unlock Screen Passcode" mode.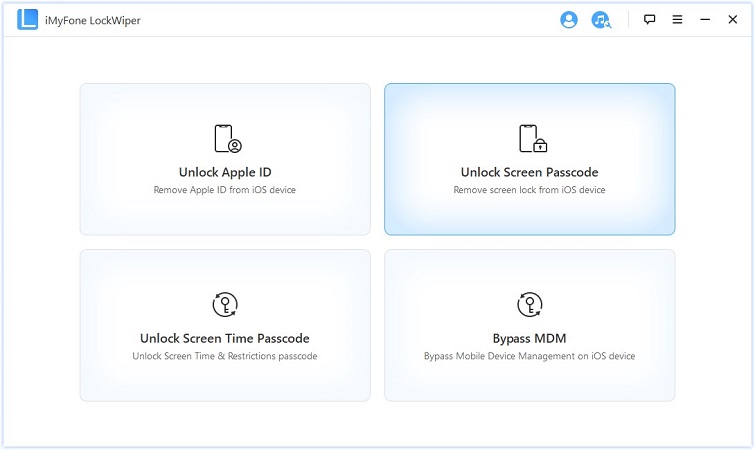 Click "Start" to commence the operation.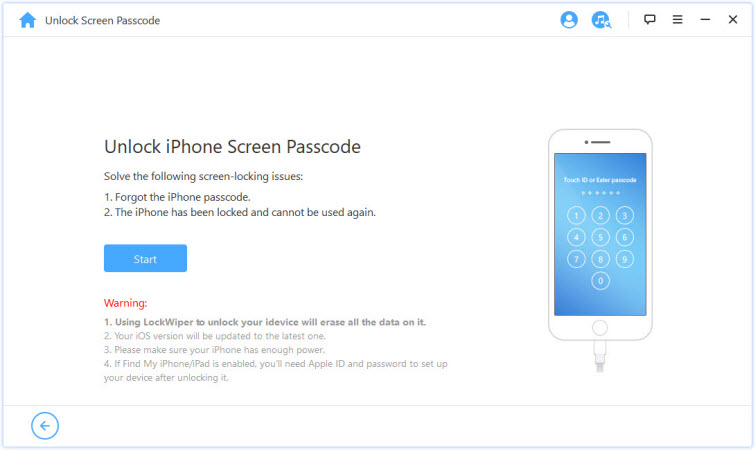 Connect your iPhone to your computer with a reliable USB and click "Next" to load your device information.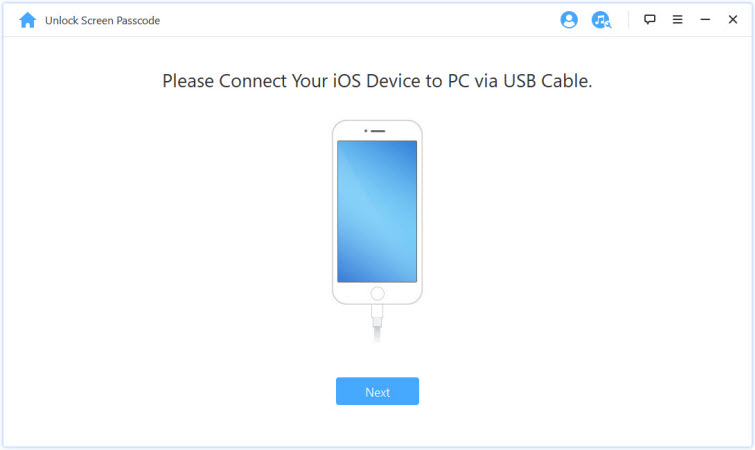 Step 2: Your device information will be loaded up automatically. If something is inaccurate, you can edit it manually. If it is correct, click "Download".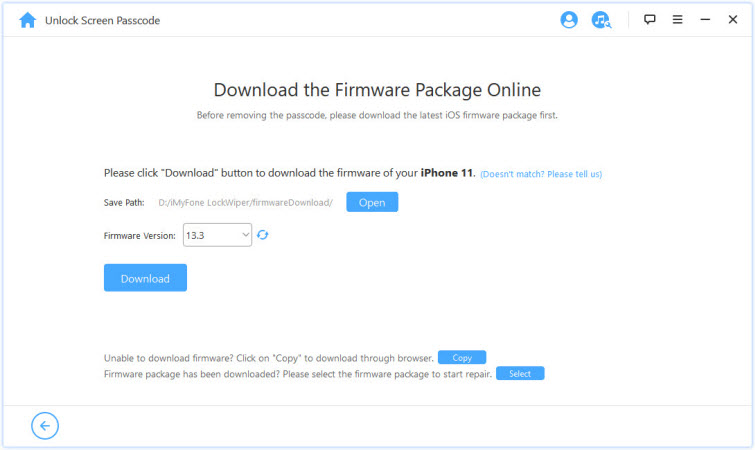 Step 3: Click "Start to Unlock" to commence the screen unlocking. Make sure your phone stays connected to your computer.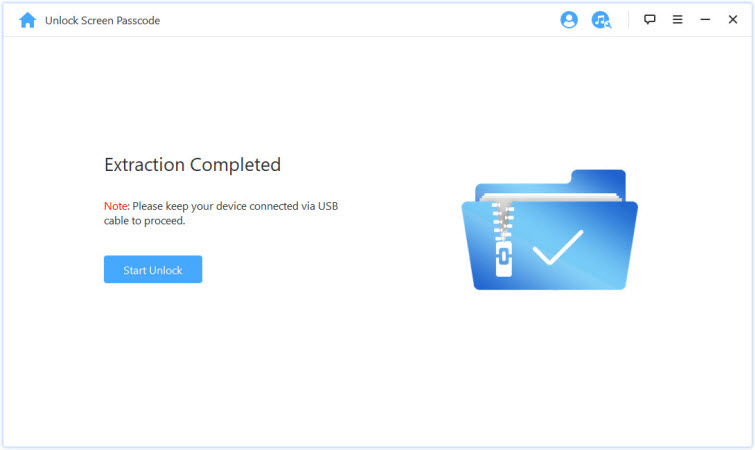 In a few minutes, the screen passcode would be removed from your iPhone.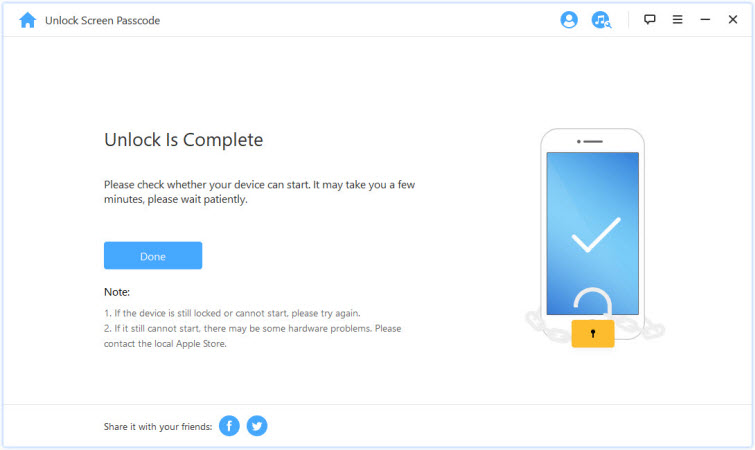 Afterwards, you can set a new passcode on your device.
Note:
The unlocking will update your iPhone to the latest iOS version.
2

Using Recovery Mode to Change Passcode on iPhone If Forgotten
Recovery mode is essential for fixing iOS software issues, and it can also be used in this context of changing forgotten iPhone passcodes. Below is how this works:
Attach your iPhone to a PC or Mac via a reliable lightning cable and run iTunes.
Put your device into recovery mode following the instructions:
On an iPhone X/iPhone 8 or later: Press and quickly release the Volume Up button. Press and quickly release the Volume Down button. Then, press and hold the Side button.
On an iPhone 7/7 Plus: Press and hold both the Side and Volume Down buttons simultaneously.
On an iPhone 6s and earlier: Press and hold both the Home and the Top (or Side) buttons at the same time.
Once the recovery mode screen appears, release the held buttons.
A notification will show up on iTunes. Choose the "Restore" option.
Your device will restart as a new one, you can set a new passcode on it to guard its security.
Note:
All data stored in your phone would be wiped out in this process, make sure you've backed up your important data previously, then you can restore them from iTunes or iCloud.
3

Change Passcode on iPhone with iCloud Find My iPhone
If you have enabled "Find My iPhone" on your device before forgettting password, you can erase and reset it with iCloud to remove the forgotten passcode.
Steps:
On your computer, visit iCloud.com/find and log in with your Apple ID credentials.
Click on All Devices located at the top of the page.
Select the relevant device that you wish to work on.
Click "Erase iPhone" and confirm the operation.
After the process is complete, your iPhone will reboot as a brand new device. Set it up with a new passcode.
At the point in which you should restore from a backup, click Restore from iCloud Backup, and then choose the most recent backup.
4

Change Your Forgotten Passcode on iPhone with iTunes
If you have synced your phone with iTunes in the past and you have Find My iPhone turned on, then you have an extra option of changing your iPhone passcode via iTunes. Here is how to do this:
Step 1: Connect your iPhone to the computer you synced it on via a USB cable. Keep your phone connected throughout this operation.
Step 2: If your phone or computer prompts you for a passcode, and you can't remember it, make sure you are using the computer you synced on previously. If it is, you can put your phone in Recovery mode to skip that.
Step 3: iTunes will go on to sync and backup your phone.
Step 4: On your computer screen, located on the top-left hand side should be the icon of your device. Click this icon to bring up your device information.
Step 5: On the Summary tab, click "Restore iPhone".

After the restore operation, your phone will be entirely blank. You can then set up the device and restore your data when you are prompted.
How to Change Passcode on iPhone When You Remember It
If you remember your passcode, then changing it should be a breeze. Below are the simple steps to follow if you want to change a passcode that you remember.
Go to passcode settings.
On iPhone X and later: Go to Settings > Face ID & Passcode.
On earlier iPhone models: Go to Settings > Touch ID & Passcode.
On devices without Touch ID: Go to Settings > Passcode.
Input your current passcode to access settings.
Scroll down to see "Change Passode" and tap on it.
Enter the old passcode to be able to change a new one.
Enter a new passcode and then confirm it to complete the process.
Bonus Tip: Never Forget to Backup
It's great that you now know how to change passcode on iPhone if forgotten. Now, equally as important are some things you should bear in mind about preventing this incident, minimizing data loss, and securing your phone.
Always Backup Your Device:
Back up your phone from time to time, so that if you ever have to wipe your phone, you would have a recent back up; hence, you will not lose much data if at all.
Always Update iOS:
Software updates are necessary for many reasons - to fix a bug, implement additional features, improve the efficiency, and so forth. Always try to use the latest iOS that is available for your device.
Always Use an Easy-to-Remember, Strong Passcode:
Your passcode should be complex. There are many useful guidelines for creating a strong passcode, but ensure that this passcode is hard to forget.
Conclusion
How to change passcode on iPhone if forgotten? Of all the solutions listed above, iMyFone LockWiper is highly recommended as the software is easy to operate as 1-2-3. What's more, it can help you unlock your Apple ID without password and change to another account. Download it immediately to bypass your locked iPhone and enjoy all its features.