Along with the new iOS 16/15/14 comes the highly anticipated Screen Time Tools feature. And if you've ever wondered how much time you're spending on your phone, how much time you actually spend on Facebook, or how much of your time you spend scrolling through Pinterest, this new feature is made just for you.
Part 1. What's Screen Time Default Passcode iOS 16/15/14?
Located under the Settings > Screen Time menu, these options give you a better understanding as to how much time you spend using your phone, as well as the different apps within it. If you find yourself spending too much time on certain apps, the new feature also lets you limit your screen time on that specific app. The new feature is fantastic, but a lot of users seem to be having some trouble with the Screen Time Passcode. What can you do if you forget your passcode?
a) Try the Default 4-digit Passcode - Some users report that, even though they have never used Screen Time before, it still asks for a password. In such a case, you can try the passcode 0000 or 1234, though the success rate to unlock your Screen Time is very low.
b) Enter Your iOS Restriction Passcode - If you remember this passcode from iOS, you can try using it to log in to screen time.
Part 2. What to Do If Screen Time Default Passcode Doesn't Work
Method 1: Use LockWiper to Remove Passcode without Data Loss
When the Screen Time default passcode doesn't work, your another option is to use an unlock tool like iMyFone LockWiper iPhone Passcode Unlocker. It's a multifunction tool which not only help you remove the Screen Time passcode in just minutes, but also help you to unlock iCloud account or the lock screen without passcode. With it, you can take full control of your device again.
With LockWiper, You Can
Instantly remove Screen Time locks without passcode without data lost.
Simply recover Restrictions passcode from any iPhone/iPad/iPod in just 2 clicks.
Completely remove lock screen when you are locked out of your device.
Unlock Apple ID/iCloud account without password so you can set up a new account.
Compatible with all iOS version and devices including iOS 16/15/14 and iPhone 13.
Here's a video guide for you to use LockWiper to remove screen time passcode:
You can also follow these guide to remove screen time passcode easily:
Step 1: Download and launch the LockWiper, and click the Unlock Screen Time Passcode button.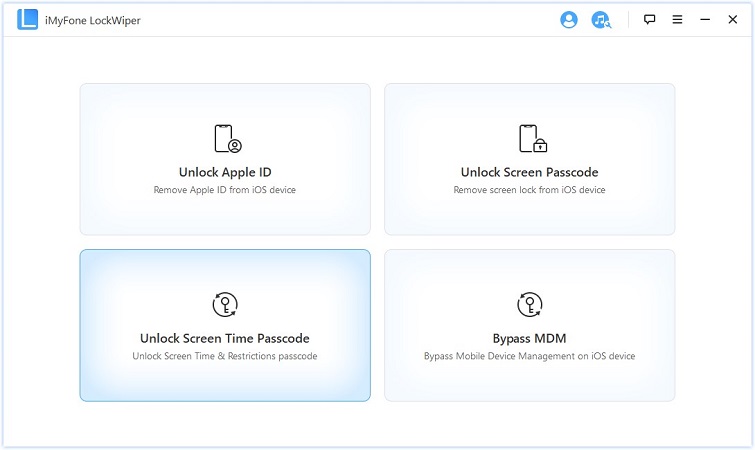 Step 2: Connect your device to the program. When your device is detected, click Start to Unlock.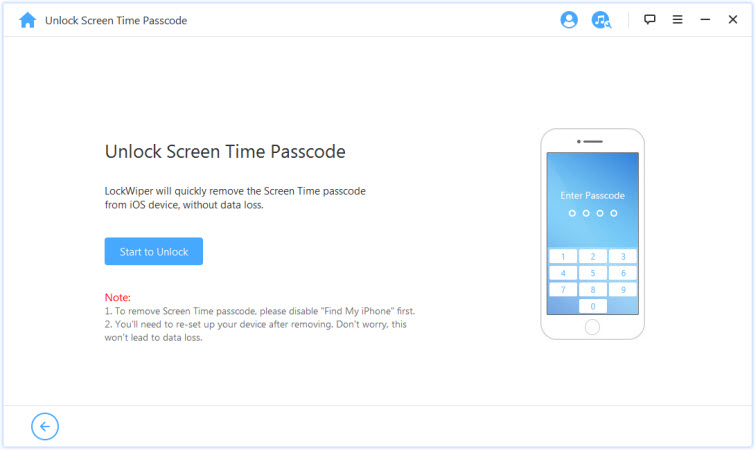 Step 3: LockWiper will take a few seconds to complete the unlocking process, kindly wait for it to finish.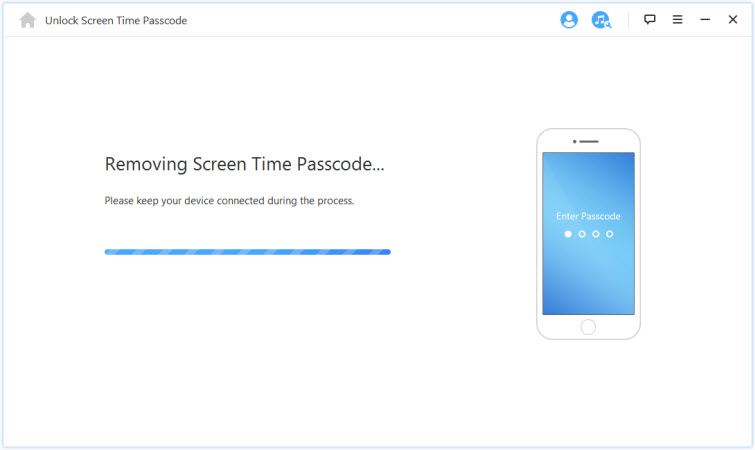 Note: You'll need to set up your device after unlocking. But don't worry, this won't erase data on your device.
Method 2: Use iTunes to Restore iOS 16/15/14 & Remove Passcode
The second option to reset your screen time default passcode is to use iTunes. Many people find that iTunes is not user friendly, but if you are comfortable using it, this process will work just fine too. Here's how to do it:
Step 1: Update to the latest version of iTunes.
Step 2: Connect your device to your PC and open iTunes.
Step 3: Click on your device, and click "Restore iPhone".
Step 4: Wait for process to complete.

Unlike LockWiper, iTunes will completely restore your iPhone and all data will be lost.
Part 3. Managing Your Screen Time Passcode on iOS 16/15/14
1) How to Change Screen Time Default Passcode on iOS 16/15/14
Like everything else that has a password, you may want to change the screen time passwords regularly. Luckily, doing so is easy. Here's how:
Step 1: Go to the Screen Time Settings page.
Step 2: Tap "Change Screen Time Passcode" .
Step 3: Enter the passcode and follow instructions.
2) How to Disable Screen Time Default Passcode on iOS 16/15/14
If you want to use screen time but just don't want a password, you can do that too. Here's how to disable your screen time passcode:
Step 1: Go to the Screen Time Settings page.
Step 2: Click "Screen Time Passcode".
Step 3: Choose "Turn off Screen Time Passcode".
Step 4: Enter your 4 digit code to complete.
---
When you have problem like "can't remember my screen time passcode", you should check the methods above. However, once you have your iMyFone LockWiper, worrying about your lost passcode isn't a problem and this article has given detailed approaches to solving your problems.