If you recently updated your iOS on an iPhone 7 or later model, then you may be receiving a red number alert regarding your Apple ID settings. You can verify your iPhone multiple times with the update Apple ID settings stuck without resolving this issue. If you have already tried to re-enter your Apple ID password, then here are some additional solutions that can help you to solve the problem.
Part 1. What is the "Update Apple ID Settings Not Working" Issue?
"Update Apple ID Settings Not Working" displays on your settings screen is the need for multiple services to have your Apple ID simultaneously. That means each effort to access that app or program triggers the update response. This issue can also cause a pop-up to appear on your home screen after unlocking your phone.
If you tap the Settings icon and click the numbered warning, you'll receive a prompt to enter your password. That should remove the issue. Each time you access a service that requires this personal information, then your iPhone will revert to the update Apple ID settings warning again.
Part 2. How to Fix the "Update Apple ID Settings Not Working" Problem Now
You may not be connecting to Wi-Fi or receiving a cellular signal when attempting to correct the issue. If your iPhone cannot send information to Apple's servers, then the red warning notification number will remain on the device until it can. If you are using Wi-Fi, then consider switching to cellular data to reduce potential issues with lag.
Once you've verified that these issues are not part of the problem with your updated Apple ID settings stuck in this position, then these additional steps may be necessary.
1. Ultimate Solution: Fix with iMyFone LockWiper
Using iMyFone LockWiper enables you unlock Apple ID and reset the Apple ID and password on your iPhone. This professional and powerful tool can help you unlock Apple ID/iCloud account, remove the screen lock, unlock screen time passcode in a few seconds.
Great features of iMyFone LockWiper:
Quickly unlock Apple ID without password.
Remove iDevice screen lock from locked, disabled, broken screen easily.
Unlock iDevice screen locks of 4/6-digit passcode, face ID, touch ID, custom numeri code, and so on.
Remove previous Apple ID and choose a new one.
User-friendly. No technical skill required.
Follow the steps and solve "update Apple ID settings not working" the problem now.
Step 1. Download LockWiper from iMyFone to your computer and launch the program.
Step 2. Select "Unlock Apple ID" from your menu options.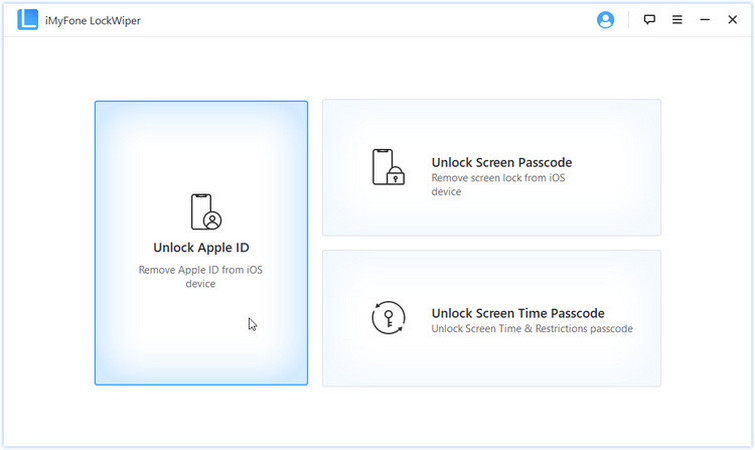 Step 3. Connect your iPhone to the computer and choose "Trust" if needed.
Step 4. Click "Start to Unlock" and wait for LockWiper to unlock your device if Find My iPhone is disabled.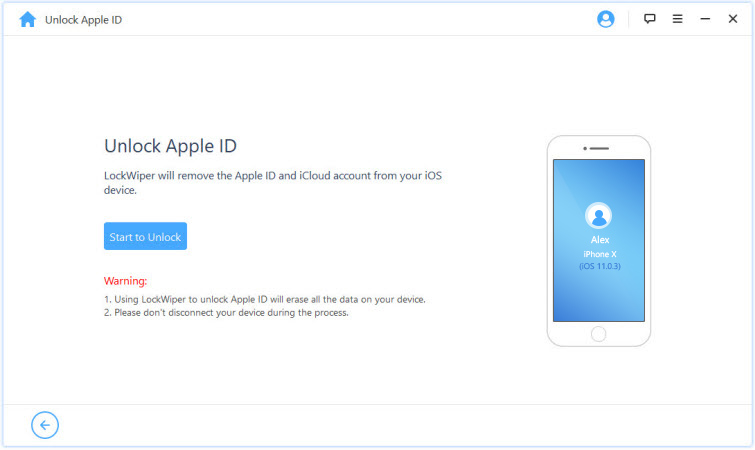 Or you can confirm through LockWiper that you want to reset all settings first by "Settings > General > Reset All Settings" if Find My iPhone is enabled.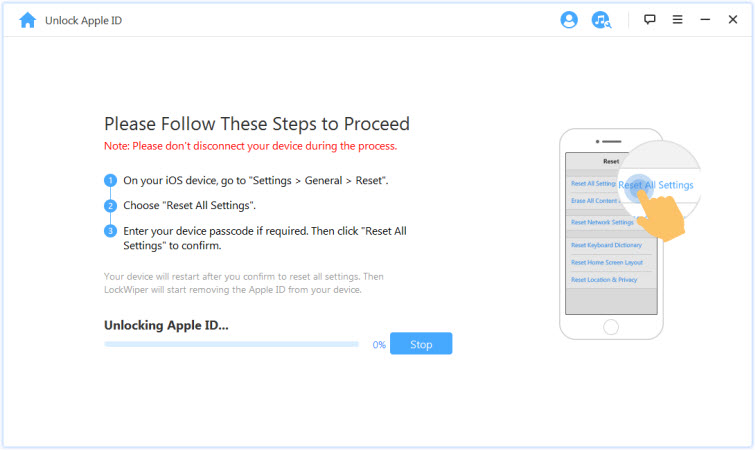 Then LockWiper will remove the Apple ID and iCloud account from your iPhone.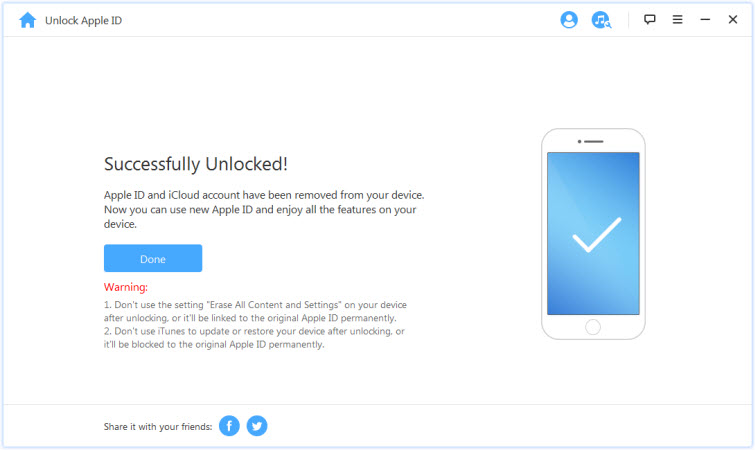 This method works well if you don't have data on your device that you want to preserve.
2. Sign Out and Back in With Apple ID (May Work)
Some users fix the update Apple ID settings stuck issue by logging out of their Apple ID account. Then you can log back in again to access your account information.
Step 1. Open the Settings menu and find your Apple ID at the top of the page.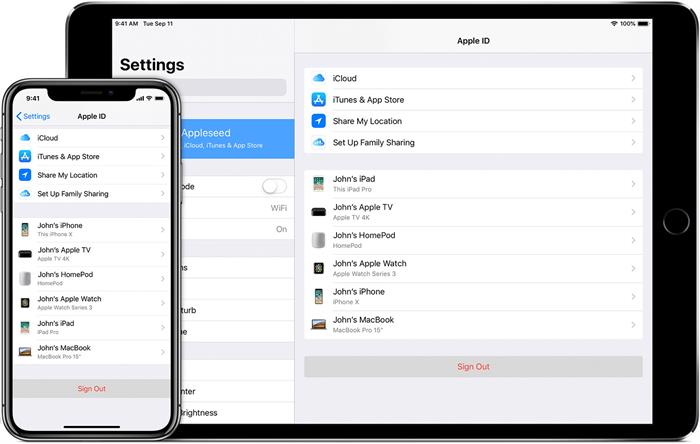 Step 2. Scroll down to the bottom, and then tap the Sign Out command. You can keep a copy of the data on your iPhone to prevent information loss during this step.
Step 3. Then use your information to sign into everything once again. You must also log into iCloud, with the recommendation to merge your data.
Step 4. If this step didn't resolve the issue with the update Apple ID settings stuck with the warning notification, repeat the process. Turn your iPhone off, and then on again, before signing into your account.
3. Check iCloud Services (May Work)
Some iPhone owners have found that system updates can sometimes cause their iCloud services to become disabled. If this issue happens, then your ability to sign in with your Apple ID temporarily disables.
Step 1. You can check with Apple's Customer Care team to see if there is a scheduled time for service restoration.
Step 2. If the issue doesn't go away after 24 hours, then your iPhone may have encountered a data error. Turning your device off and then on again may resolve the issue.
Step 3. You might need to sign in to your iCloud services with your Apple ID and password as part of this resolution.
4. Correct the Apple ID Verification Error
If you continue to have a verification error after checking that your Apple ID and password are consistent across all services, then some additional steps may be necessary to stop the warning notification.
Step 1. Your VPN can sometimes cause issues if your update Apple ID settings stuck this way. Temporarily disabling it could resolve the issue.
Step 2. You may need to remove any content or advertising blockers that you've installed on your iOS device. Some users find that a force restart of the iPhone can stop the notification issue from reappearing.
Step 3. The verification error could be the result of your date and time being incorrect. Go into the Settings menu, choose this option, and then set it to update automatically.
Step 4. If none of these efforts are working for you, then go to the Apple ID website to reset your account password. Once you've verified the new access code, try to update your iPhone with the information.
5. Request Help from Apple Support
When you continue to experience difficulties with the "update Apple ID settings not working" issue, then Apple Support may need to provide help.
Step 1. You can request technical help from Apple in the United States by calling 1 (800) MY-IPHONE, which is also 1 (800) 694-7466. If you live outside of the U.S., then a different support phone number will connect you with experts who can assist.
Step 2. You may also make a reservation at a Genius Bar if you have an Apple retail store close to your home.
Step 3. You may find help through the online support site that Apple provides. It offers in-depth technical articles, manuals, and quick answers for unique issues that cause the verification process to get stuck.
Part 3. Why Does My iPhone Say, "Update Apple ID Settings"?
When the notification arrives on your screen to update Apple ID settings, you're given two options: "Not Now" or "Update". If you keep trying to update the settings without success, then it usually means that your phone has lost your Apple ID.
Your device needs that information to access specific account services to protect your critical personal information. With your updated Apple ID settings stuck on that screen, it could mean that you are logged into an iMac or iPad with your information.
Signing out of all of your devices may allow you to access the iPhone once again.
Step 1. You can also try to adjust your Handoff settings to fix the update Apple ID settings issue.
Step 2. Go into the Settings menu of options on your iPhone.
Step 3. Then select "AirPlay and Handoff" from the available selections.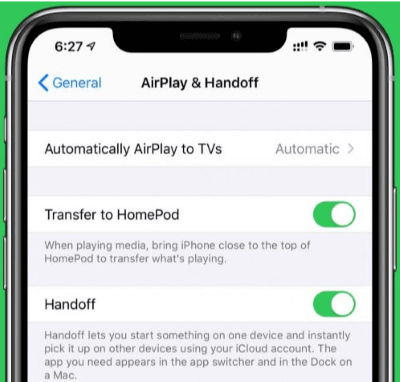 Step 4. Slide the "Handoff" toggle off and on to reset the information transfer between devices through your iCloud account.
Conclusion
At this stage, your issues with the update Apple ID settings stuck on a warning notification are hopefully gone. That annoying red number notification should be off of your iPhone. And you receive the full functionality of your device again. Any other passcode issue of your device can also get solutions by iMyFone LockWiperwhich is powerful and highly recommended.